Imagine that picture-perfect breakfast or snack, amidst the lullaby of birds chirping, leaves rustling and you sip a cup of coffee or bite into your meal and smile; life is good. Garden cafes and restaurants offer you a slice of that every time you visit them. The atmosphere of the places that we have selected for you in Namma Bengaluru will surely take your tastebuds for a ride and the atmosphere will soothe you into a gentle state of mind. So here are 6 cute garden cafes in Bangalore for you next date with bae.
1. Happy Belly Bakes In MG Road
Brightly coloured walls, stacked up with cute little cups, Happy Belly Bakes has a lot to offer just off MG Road. The outdoor space is complete with picnic chairs and pebbled floors, and with a fully loaded all-day breakfast menu, but most importantly they are known for their desserts and hot chocolate. Lasagna in their sunny and outdoorsy seating arrangement. It's also one of the best bakeries in Bangalore. 
Also Read: I Have Been Eating At Restaurants In Bangalore During The Pandemic & Here's What I Recommend
2. Rogue Elephant In Basavanagudi
This café in Basavanagudi has a calming and easy vibe. Simple wooden chairs, tables and being surrounded by the greenery sure has an effect. Dine in the presence of bountiful bougainvillaea and pretty corridors as you feast on their delectable range of salads, pasta and sandwiches. And their seasonal fruit pannacotta is a must-try.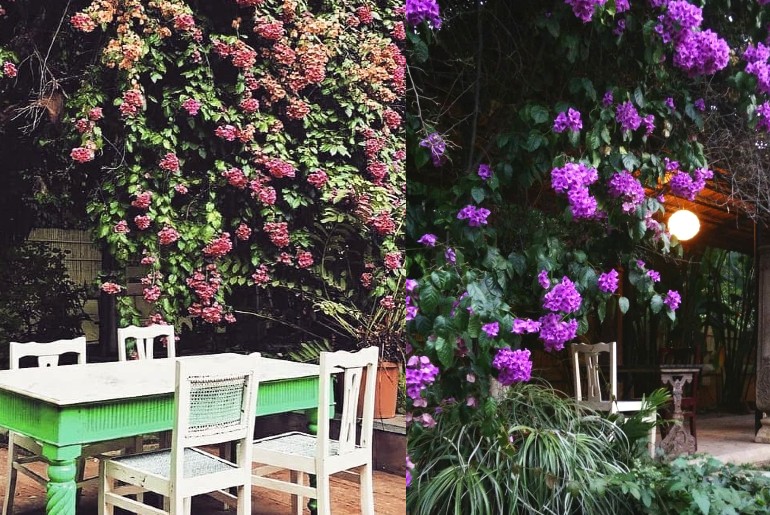 Also Read: 5 Bangalore Restaurants That Have Turned Into Cloud Kitchens To Survive & Satiate Your Cravings
3. Bistro Claytopia In Koramangala
Right in the brink of Koramangala 3rd Block, this café is a must if you love to hang out with friends and family and want to have a candlelit evening all at once! Apart from serving coffee and snacks, this café also offers clay moulds of mugs, saucers to paint. It could help you discover a side of yours that was hidden and long gone or laugh at the atrocity of your creation. They later glaze them, put your work of art on display or you can buy them as a memoir of art. They are never out of moulds and would be the go-to place if cafés and paint are your de-stress weapons.
Also Read: This Fairy Tale Getaway Just Few Hours From Bangalore Will Remind You Of Colmar In France
4. The Courtyard In Shanti Nagar
Quaint lover of nature and antique enthusiast, rejoice for this café is heaven on earth. This café is an easy getaway from your busy schedule and noise. Outdoor games like beach volleyball, cage football, pool, bouldering and foosball for the adrenaline pumpers who want a power-filled morning, and books for those who want it quiet are on offer. A counter that sells merchandise is also available at the adjoining store and is open to the public as well.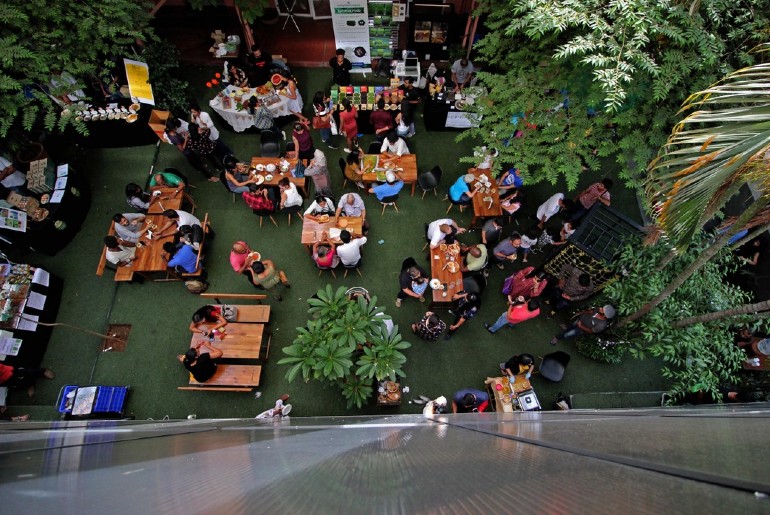 5. Café Cassia & Deli In Ulsoor
Built around an open courtyard and housed in Cinnamon Boutique, Cafe Cassia's simple yet appealing setup is great for when you want to catch up with your friends over a cup of coffee. Or even to just sit and work in peace for a while! With art on the walls and stores all around, don't be surprised if you end up spending a whole day there. The focus here is healthy and fresh food. So, load up on the salads and sandwiches, and end with one of their desserts. Trust us on this, the food and set-up is very inspiring – both creatively and culinarily.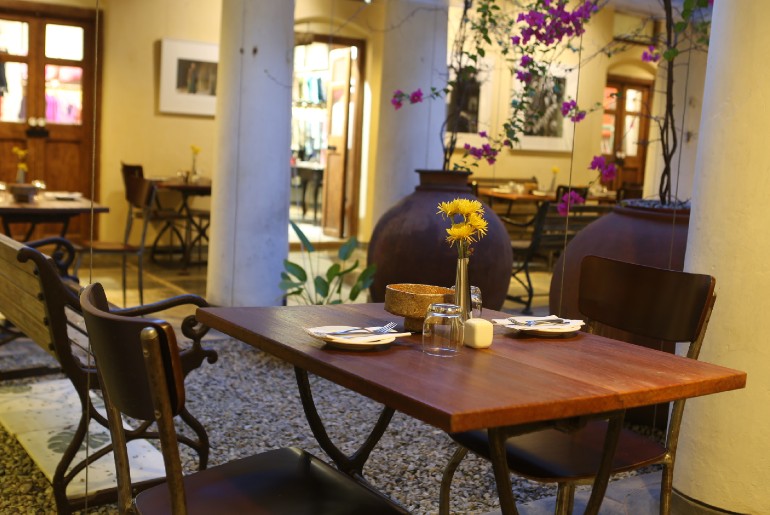 Also Read: Eat Breakfast Under INR 100 At This Iconic Cafe In Bengaluru
6. Dyu Art Cafe In Koramangala
Designed much like an old Kerala house, Dyu Art Cafe is known just as much for its amazing ambience as for their food. Think open courtyards, gabled roof, red oxide flooring, and cemented seats, all adding to the quaint charm of the cafe. Of course, artworks on the walls to gawk at while you sip on a cup of Cafe Mocha or Cold Coffee, adding that eclectic touch. We could spend many an evening here, lost in a book and savouring the pleasant vibes of the place.
So, these are some of the best garden cafes in Bangalore where you must go on a date with bae. If you're a minion fan, then go on a virtual tour to this minion themed cafe in Bangalore.