By looking at the intriguing 2.745m x 0.315 m cylindrical structure made by Kerala's Muhammad Dileef, you might be confused at first about what the giant object actually is. Is it some sort of new gadget? Or is it a tech-enabled gun? But if you continue to look carefully, you'll get to know how Dileef has 'made the mark' and set the world record. Muhammad Dileef has made the largest marker pen in the world and entered the Guinness World Record. The official Facebook page of Guinness World Record has also posted a video on the making of the giant 9 feet pen. The video has already left netizens spellbound. A Hyderabad-based jeweller has also bagged the Guinness World Record for creating a ring with 7801 diamonds.
Kerala Man Creates World's Largest Marker Pen And Writes 'INDIA' With It
In September, Muhammad Dileef from Kerala had bagged the Guinness World Record for creating the largest marker pen in the world. The huge marker pen is 9 feet long and 1 foot wide. On November 10, Guinness World Record has uploaded a video on Facebook on how the awe-inspiring pen was made. The video also shows Dileef writing 'INDIA' on the white board with the large pen. While he was writing, two to three persons were assisting him to carry the pen. The video has been captioned as, "Building the world's biggest marker pen – India's Muhammed Dileef's got the write stuff." Himachal Pradesh had also created a world record for making 1995 kg of khichdi.
Also Read: India Breaks Guinness Record By Planting 66 Million Trees In 12 Hours Along Narmada River
A Pen Is Mightier Than A Sword
The video posted by Guinness World Record on the world's largest marker pen has been flooded with loads with praises. In three days, it has grabbed around 8.4K likes. One user commented, "Great Creativity." Another user wrote, "This Pen is mightier than sword." Another wrote, "Very good try, The word India that you finally wrote is fantastic."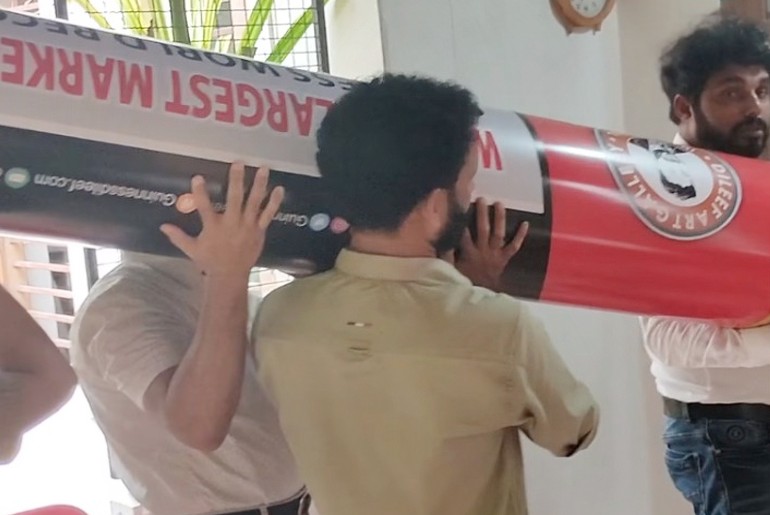 Also Read: India's Tiger Census Sets Guinness Record For Largest Camera Trap Wildlife Survey
What's your say on this mind-boggling pen? Tell us in the comments section below. Meanwhile, here's the inspiring story of Guinness Record holder Ghanta Paanwala of Borivali, Mumbai: