Are you getting hitched soon? If you still do not know where to go for honeymoon, Maldives should definitely be your top choice. Not only is Maldives one of the few places that are open for tourists, but it consists of more than a thousand tiny islands with endless panoramic views of the turquoise Indian Ocean. Can things get more romantic? Here, the only decision you will have to make is an overwater bungalow or a treehouse with private beach access. Besides, there are plenty of activities for couples. If you are not convinced yet, here's the list.
Also read: Taapsee Pannu Is On A Vacation To The Maldives & Her Pictures Will Make You Crave For A Holiday
1. Pamper With A Couple Massage
While you explore those white sandy beaches with your partner, book a couple massage, there are a plethora of couple massage packages to choose from in the Maldives. One And Only Reethi Rah, Six Senses Laamu, and PER AQUUM Huvafen Fushi are a few spas you must try out. Imagine pampering yourself with a massage with the breathtaking view of the azure waters. Maldives Resort Offers Work Meetings On A Private Beach & An Incredible Secluded Experience
2. Go For A Date In An Aquarium Restaurant
Imagine dining underwater with your bae? It is one of the most romantic things to do in the Maldives. The Maldives Rangali Islands resort and Ithaa underwater aquarium restaurant and will provide you with the most exclusive dining experience and stay. The hotel will surprise you by transforming from a restaurant space to a romantic bedroom. And the thrill does not just end there. You can enjoy champagne along with a delicious breakfast in the morning.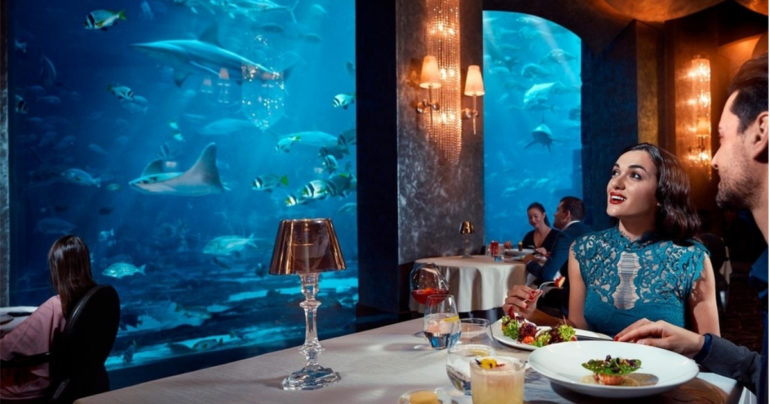 3. Get On a Submarine To Discover Shipwrecks & Sharks
Add some thrill to your romantic day by getting into a submarine and exploring the depth of the ocean. It is one of the most fun things to do on your Maldives honeymoon. You can book a Whale Submarine and descent into the blue and everything from shipwrecks to sharks. Walk With The Sharks In An Indoor Aquarium In Dubai
4. Go On A Romantic Boat Ride
Your Maldives expedition is incomplete if you do not row your partner in a private boat. You can book a stay at the Gili Lankanfushi resort or Crusoe Residence to enjoy a boat ride back to the isle. You can also enjoy a king-sized bed along with a private sun deck overseeing the Indian Ocean!
5. Go Windsurfing With Your Partner
Have some fun with your partner while the winds blow. It is one of the most romantic activities you will ever try. Most resorts provide the necessary windsurfing equipment and an instructor as well.
6. Enjoy A Helicopter Ride & Get A Bird's Eye View Of The Island
One of the most incredible things to do in the Maldives is an intimate helicopter ride with your partner. Witness the stunning islands of Maldives from above and soak in the views while you hold your partner's hand. You will be left in awe after the helicopter ride. Helicopter Rides To And Fro From These Denmark Islands Cost Less Than ₹900.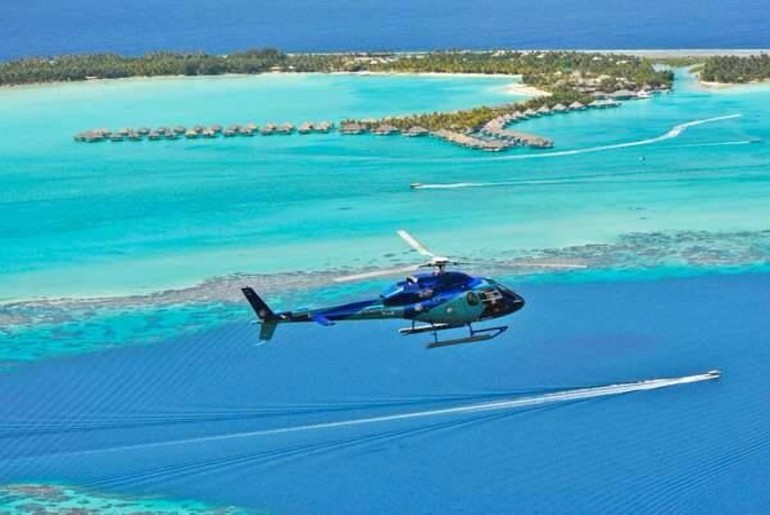 7. Spend A Romantic Evening On The Glow-In-The-Dark Beach
The glow-in-the-dark beach is one of the best sights to behold in the Maldives. Imagine stars on your feet while you stroll on the beach with your partner. Isn't this an experience straight out of a fairytale? Head to the Vaadhoo beach to witness the dazzling green-blue glow with your soulmate.
8. Romance In Solitude In A Private Yacht
Hire a private yacht and float in the middle of turquoise blue water. If you want to get away from the hustle and bustle of city life, you must consider this ride for sure. You can also choose to stay in the private boat for as long as you wish and encounter some beautiful species of the underwater world. This Luxury Resort In Maldives Is Offering A One Month Remote 'Work & Stay' Deal For AED 156,000.
9. Watch The Sunset With Your SO On A Boat
Sure, there's nothing that comes close to sunset on a beach. But watching the sunset from a boat in the middle of the sea is a one-of-a-kind experience. Your resort can arrange this experience for you. The best places to watch the sunset are Anantara Kihavah Maldives and Dhigghiri Sunset point.
10. Go Fishing With Your Partner
If you are a fish lover, you would not want to miss the fishing expedition with your partner. You can even arrange a barbeque night and grill your catches. You will absolutely adore the experience with your other half beside you.
A world of wonder awaits for you in the Maldives, so go and explore.