Remember those childhood days when travelling in a double decker bus was our favourite thing. Double deckers on the streets of Mumbai used to be the best view. Well it's time to get nostalgic as double decker buses are back on the streets but with changing times, it's in a new avatar. Minister of Road Transport and Highways of India, Nitin Gadkari launched India's first electric air- conditioned double decker in Mumbai. Yes, you read that right, the buses will run on electricity.
India's First Electric AC Double Decker Bus Launched In Mumbai
On 18th August, Nitin Gadkari launched India's first air-conditioned bus in Mumbai at the YB Centre. The double decker bus which is named as Switch EiV 22 will be run from September by the Mumbai civic transport body. Switch EiV 22 has been designed, developed and manufactured in India itself offering highest safety and best in class comfort. The amazing and feel good interiors and the exteriors of the bus simply add to its world class features. The new air-conditioned, electric double-decker bus will feature a bigger door on the rear overhang and a rear stairway, making it the first of its kind in the entire globe. The double decker has two staircases, an emergency door that complies with current safety regulations, and broad front and back doors.
View this post on Instagram
Also Read: Here's A Glimpse Into India's Fastest Double Decker Train Between Ahmedabad And Mumbai
Transforming Country's Transport System
Electric double decker buses are soon to be the best and most prefered option for urban travel because they take up less room per seated passenger on the road, in terminals, and in depots. The double decker's aluminium body is made of lightweight material, increasing passenger capacity and lowering cost per passenger-kilometre. Nitin Gadkari, Minister of Road Transport and Highways of India said that Long-term changes must be made to the nation's transportation infrastructure and this is a step towards it. He congratulated Switch Mobility which is a subsidiary of Ashok Leyland for reviving double decker with the best in class technology.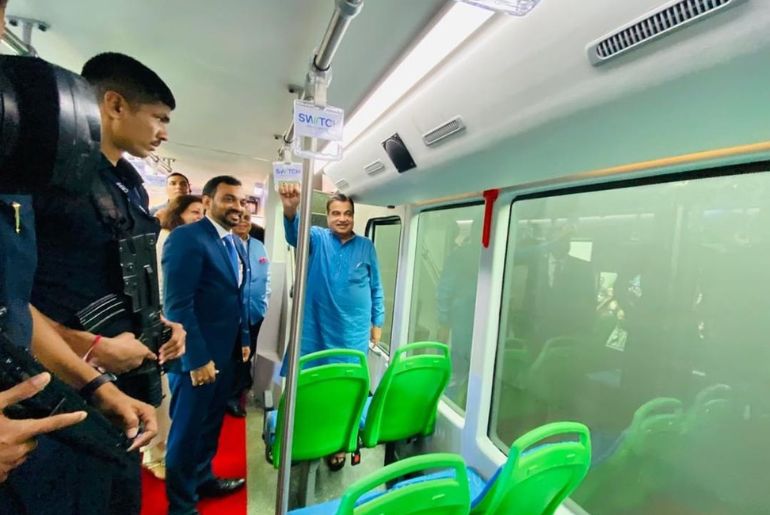 Also read: Vijay Deverakonda Ditches Car To Enjoy Mumbai Rains In An Auto-rickshaw