My name is Prerna Hotchandani and I am a soft skills trainer by profession. I adore food like no one else. I am a big foodie who loves exploring various food eateries, clicking food pictures from various angles and uploading them on Instagram. I am the go-to person amongst my friends and relatives for restaurant reviews and food recommendations. Working with Curly Tales as a food promoter/anchor has given me an opportunity to express myself better and give a handy recommendation to its followers and lovers all over the world.  So now that you know a little bit about me,  here's the story of my 3-days trip to the beautiful European city of Baku in Azerbaijan with my family.
Also read: I Got Stuck For 35 Days In Kanha Jungle During The Pandemic And It's The Best Thing That Happened to Me!
The Travel Bug In Me
I caught a travel bug early in my life whereby I got an opportunity to travel a lot of places in the north, south and west of India. My itchy feet just did not stop there. I even got a chance to explore Singapore, Malaysia and Dubai but there was a deep desire to travel and experience European culture. Being a young independent girl, I had always wished to travel to Europe by myself or with a group of people of my age for which I always used to be updated with various backpackers and their itineraries. Neither my parents nor my friends were influenced by my idea of travelling alone to a far off country. But I got lucky when we received an invitation by a relative of ours who were to celebrate their wedding anniversary in Baku, Azerbaijan. Here are 5 Reasons Why Azerbaijan Should Be On Your Bucket List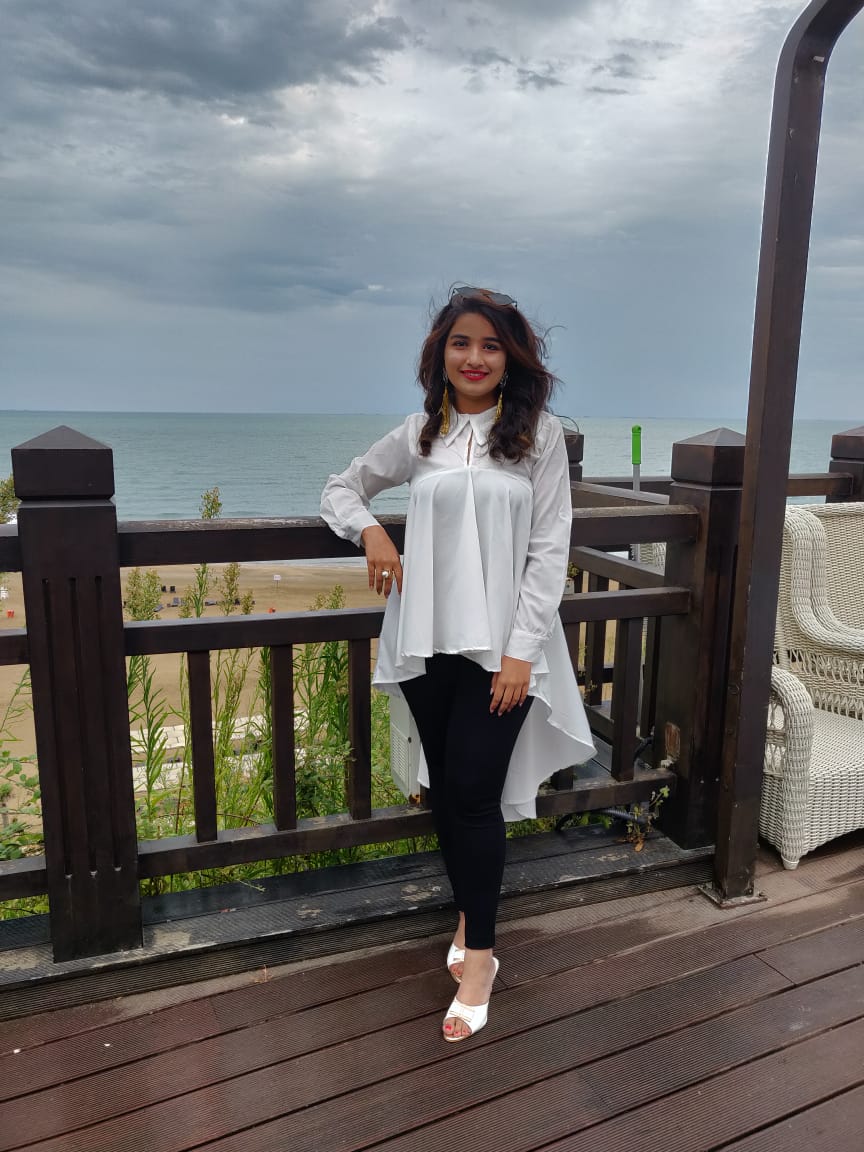 The Chance To Visit Azerbaijan
My family and I thought to cash in the opportunity and plan a vacation before the events begin.  Baku is untouched and does not hold a fancy name amongst travellers for now. After a little research on the net, we got to know that it is the capital and the largest city of Azerbaijan and an upcoming travel hub for many tourists globally after Dubai and Singapore. It was our first visit to a European country and I was tingling from the tips of my toes, making a list of all the places I would travel to and things I would pack as we had hardly 3 days to explore the city which would be followed by the family function so we wanted to make optimum use of that time.
As we were a bunch of almost 8 people travelling together, we relied on a family travel agent to book our tickets and hotel stay. We opted for an economic yet comfortable aircraft to and fro i.e. Air Arabia from Mumbai to Baku with a short transit at Sharjah. Our total flying time was almost 8-9 hours with food being included as a part of the package which is otherwise not served in an economic carrier like Air Arabia.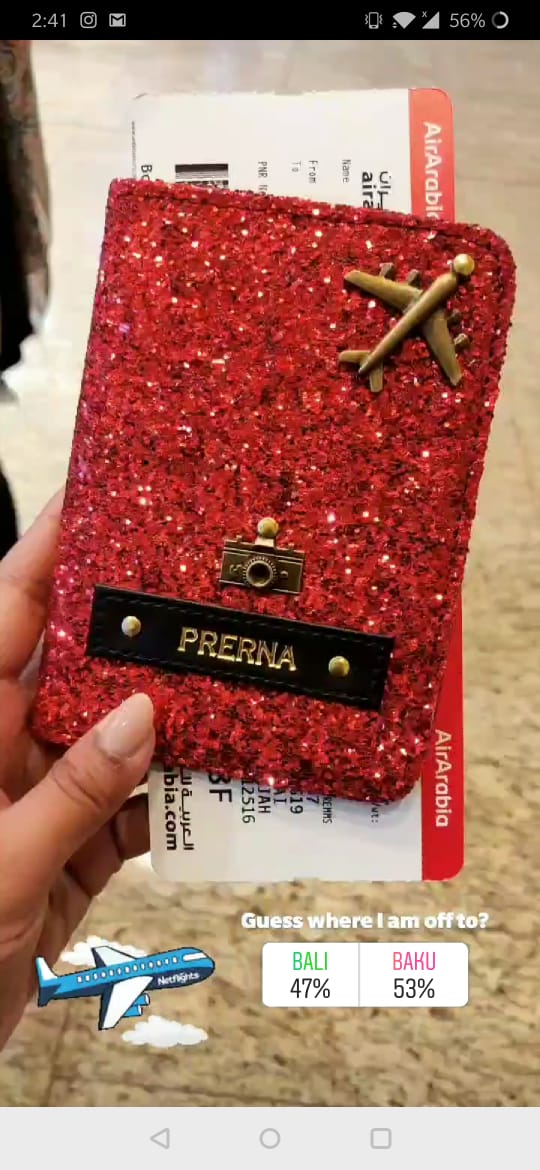 I visited Baku in the last week of August which is considered to be a good time to visit the city as it is warm and dry from May-August with an average temperature between 22- 31 degrees Celcius. Baku lies on the southern shore which is why it rarely snows in Baku. I also came across a lot of blogs which mentioned that the city is alternatively known as the "city of winds" as it is surrounded by the Caspian sea. What amazed me was it was rare to find a beach in Baku but I was again lucky to find one by my hotel.
Day 1
Though I had one a long flight, I couldn't get my eyes off the beautiful city of Baku. The airport was really clean and the people courteous. Quickly after clearing the immigration and exchanging the currency, we got into our mini yet luxurious Mercedes bus.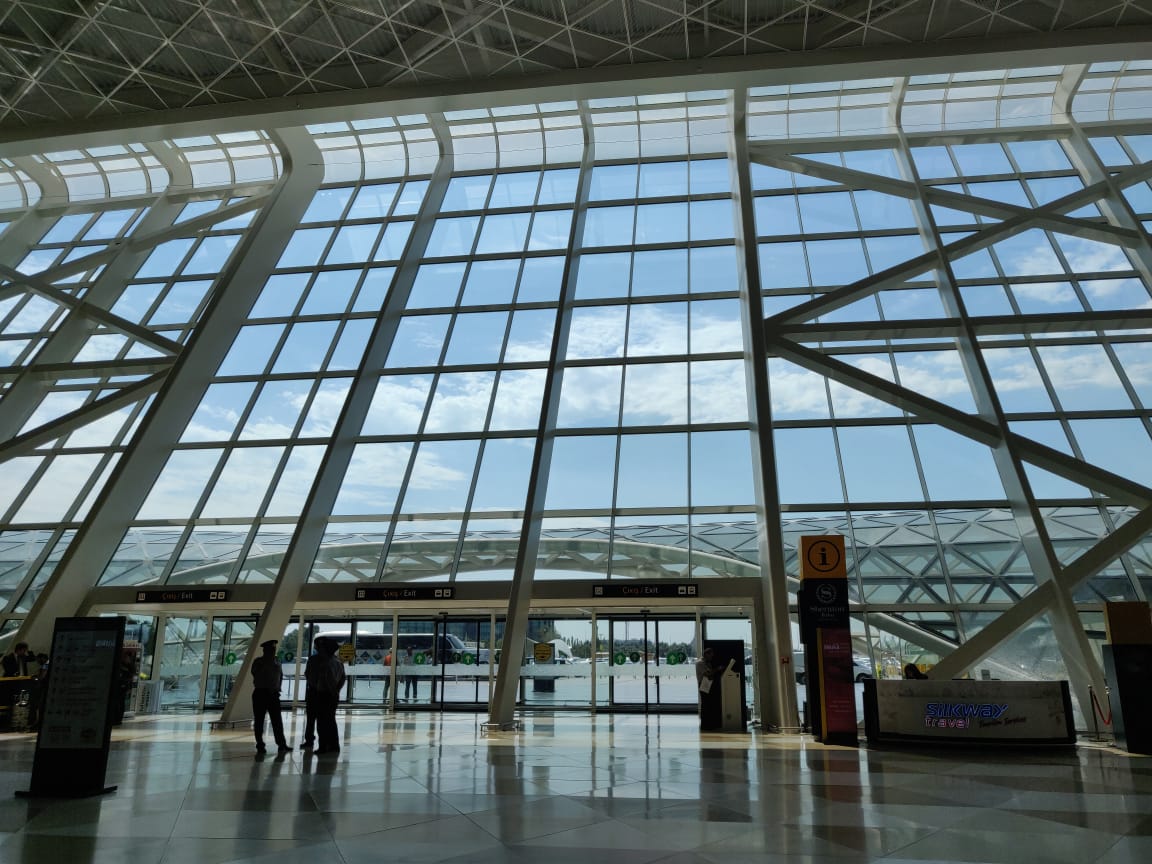 People usually fancy Mercedes as a luxury brand in India but sadly it was not so in Azerbaijan. I later realized that it was very casual for people in Azerbaijan to travel in luxurious vehicles like Audi, BMW and Mercedes.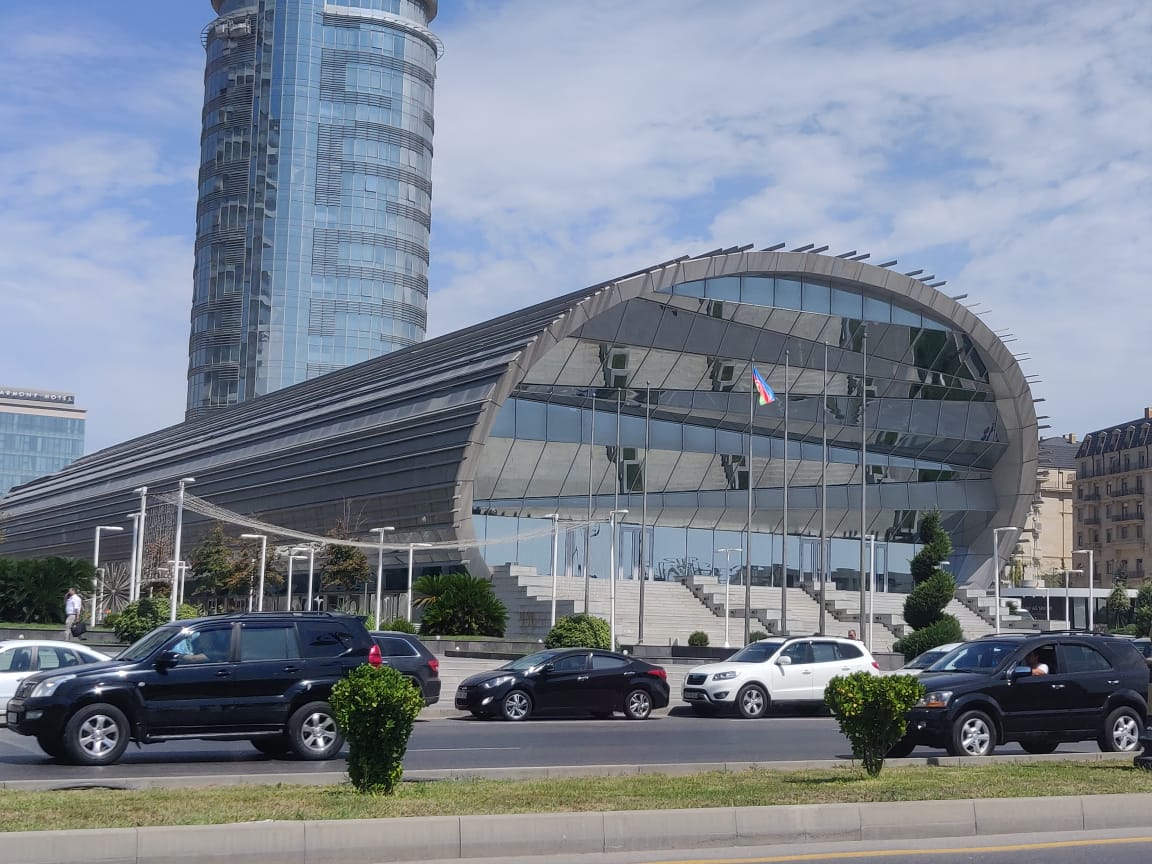 As I entered Baku city, I realized it was much more beautiful than what it looked on the net. The city was beautifully planned with wide and clean roads, lush and green gardens along with elevated buildings that had amazing architecture. I even saw a lot of people who preferred travelling on foot rather than using various modes of transportation. Dubai Parks And Resorts To Reopen This September With New Rides & Discounts.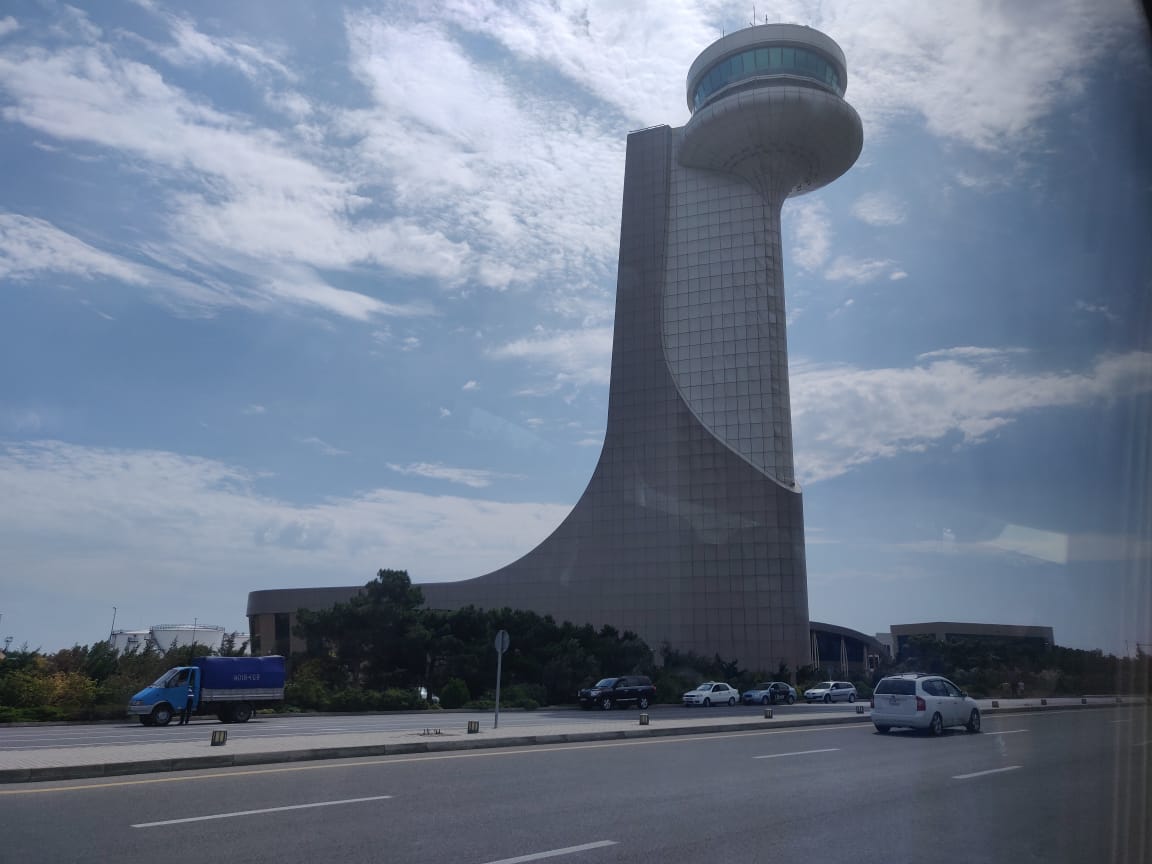 One of the best parts of our stay in Baku was we got to stay in a 4-star luxurious hotel named Premier Palace which gave us a tariff worth a steal of just ₹4000 a day. The hotel had rich cultural yet modern interiors. It had really good amenities and complimentary services like hammam which is an integral part of the Azerbaijani culture where ladies and gents separately get together cleanse, relax and strike a conversation.  Apart from the complimentary hammam, the hotel even had amazing spa services ranging between 30-100 Manat( ₹1251 to ₹4172) and I can vouch that I was thoroughly enjoying a sense of Bali in Baku.
After a rejuvenating hammam, I headed over to the heart of the city i.e. The Flame tower which is a combination of three standalone buildings each comprising of a luxury hotel, a residential building and an office. The height of the tallest towers amongst the three is 182 meters. The Flame Towers are completely covered with the LED screens that display the movement of a fire visible from the farthest points of the city. The light show transitions from giant flames, the colours of the Azeri flag, a figure waving a flag, and giant tanks of water being filled. Transition times are approximately 2 minutes. It is truly mesmerizing to see the LED flames in the trio towers from its neighbouring areas.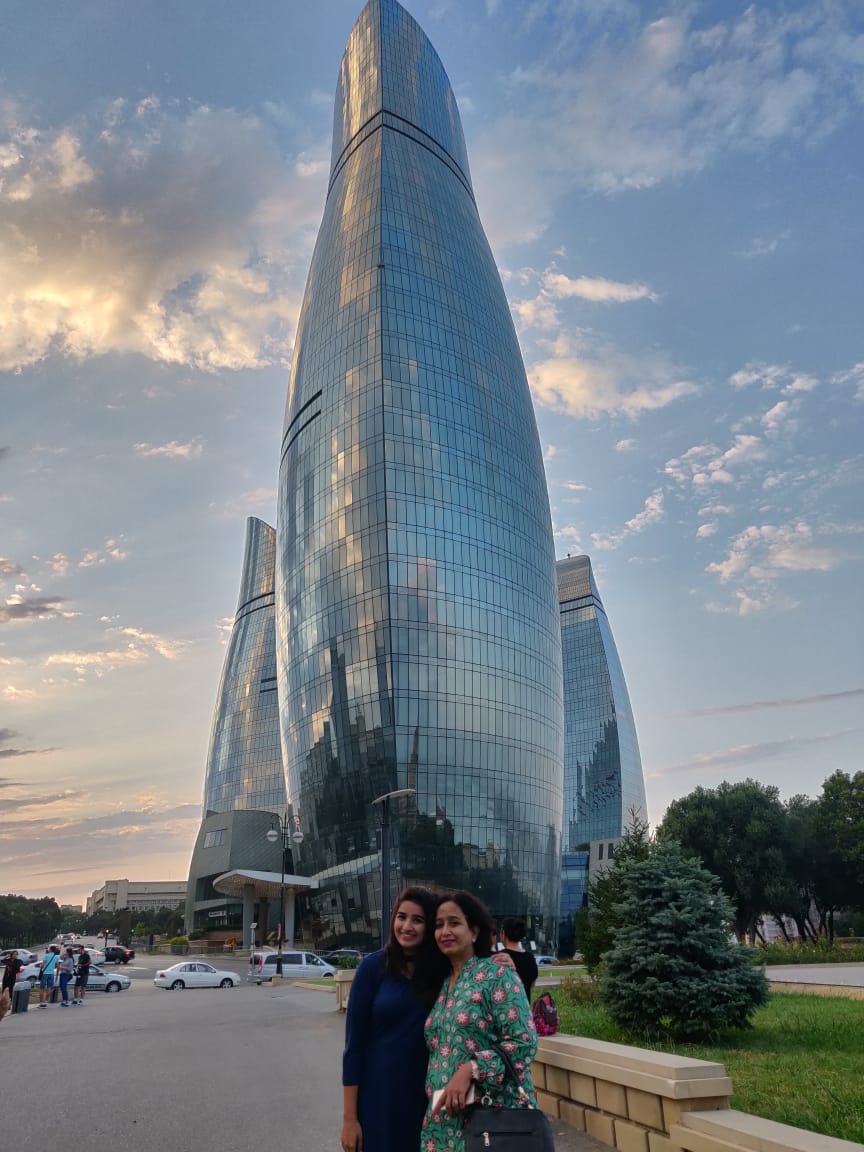 Having captured a lot of photos of the Flame Tower we headed deep into the history of Baku by visiting the Martyr's Lane which was walking distance from the Flame towers. The 1 km long cemetery lane buried over 15,000 patriots who lost their lives in the Russian civil war.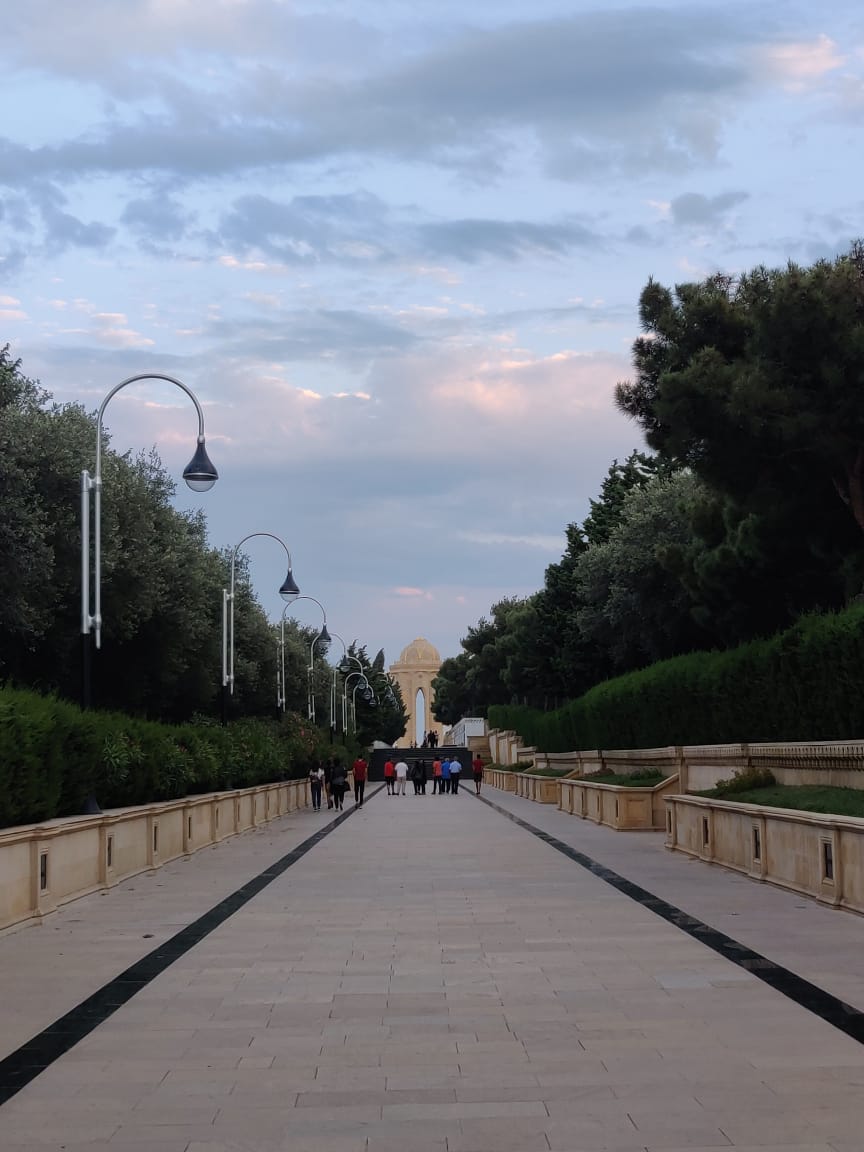 Our travel guide narrated a lot of stories and events from the war experienced by him and his ancestors. The place was peaceful and super windy as it overlooked the Caspian Sea. The place was so windy that it almost blew us. It was one of the windiest evenings we had ever experienced before.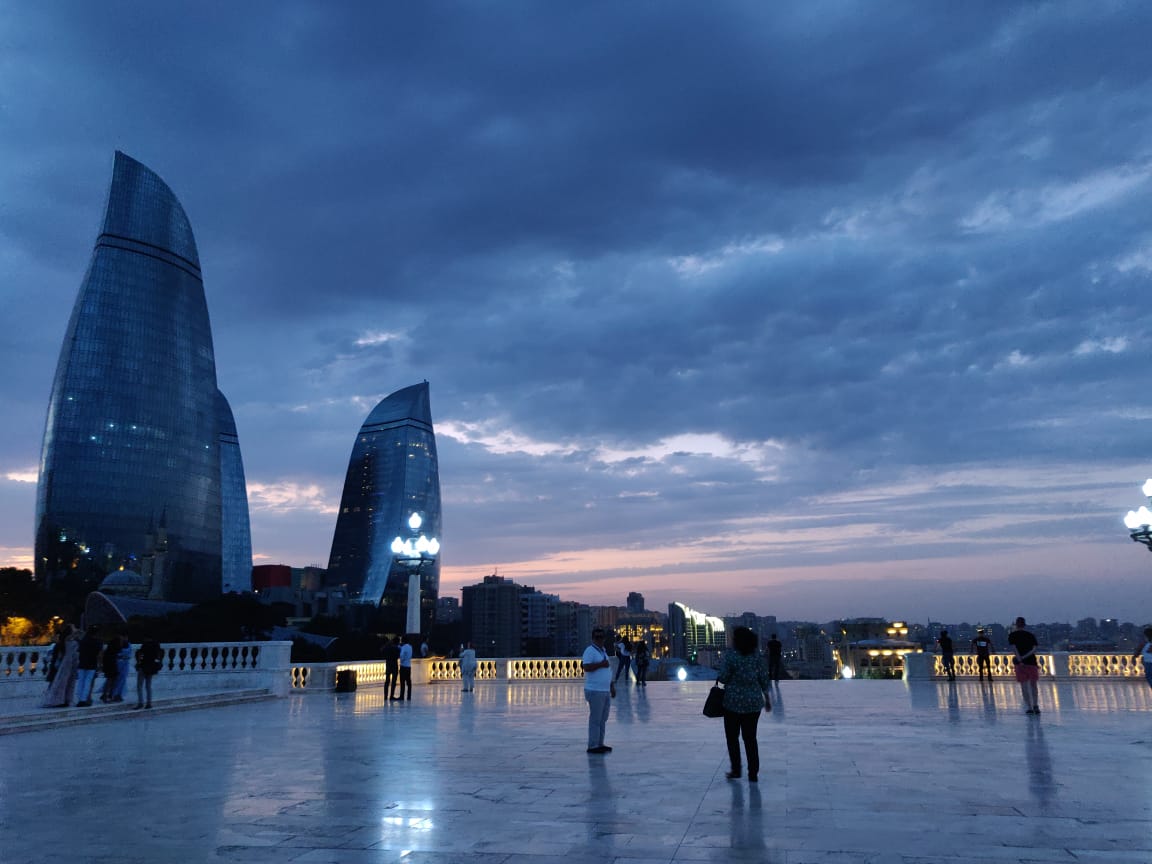 Day 2
Next morning, we got all geared up to explore and experience the rich culture of the old town of Baku. It had small alleys,  open kafes (cafes are known as kafes there) and cute purple coloured taxis(known as taksi in Baku). I even posed next to one of them as I found it quite fascinating.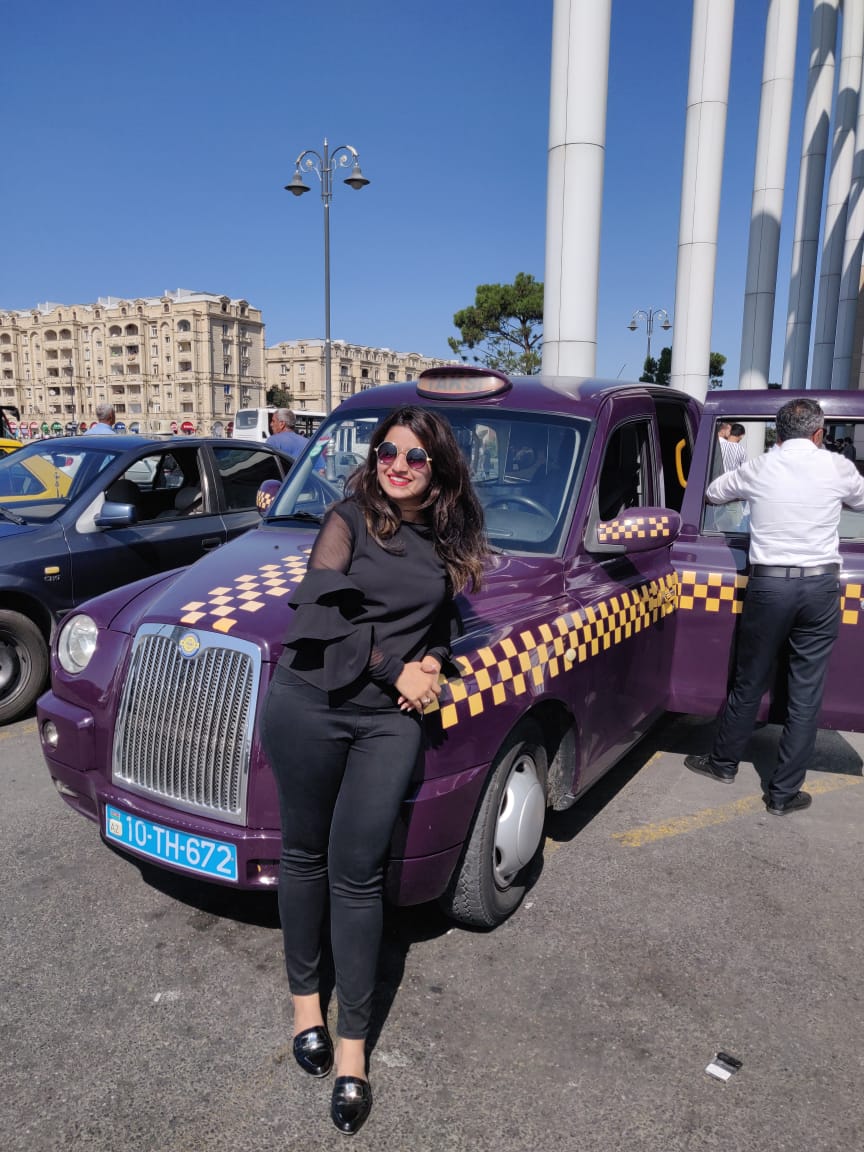 The streets of Baku were just breathtaking. It had an old town vibe to it. My family and I just couldn't have enough of the old town area. The scenery there almost seemed as if it came out of a postcard.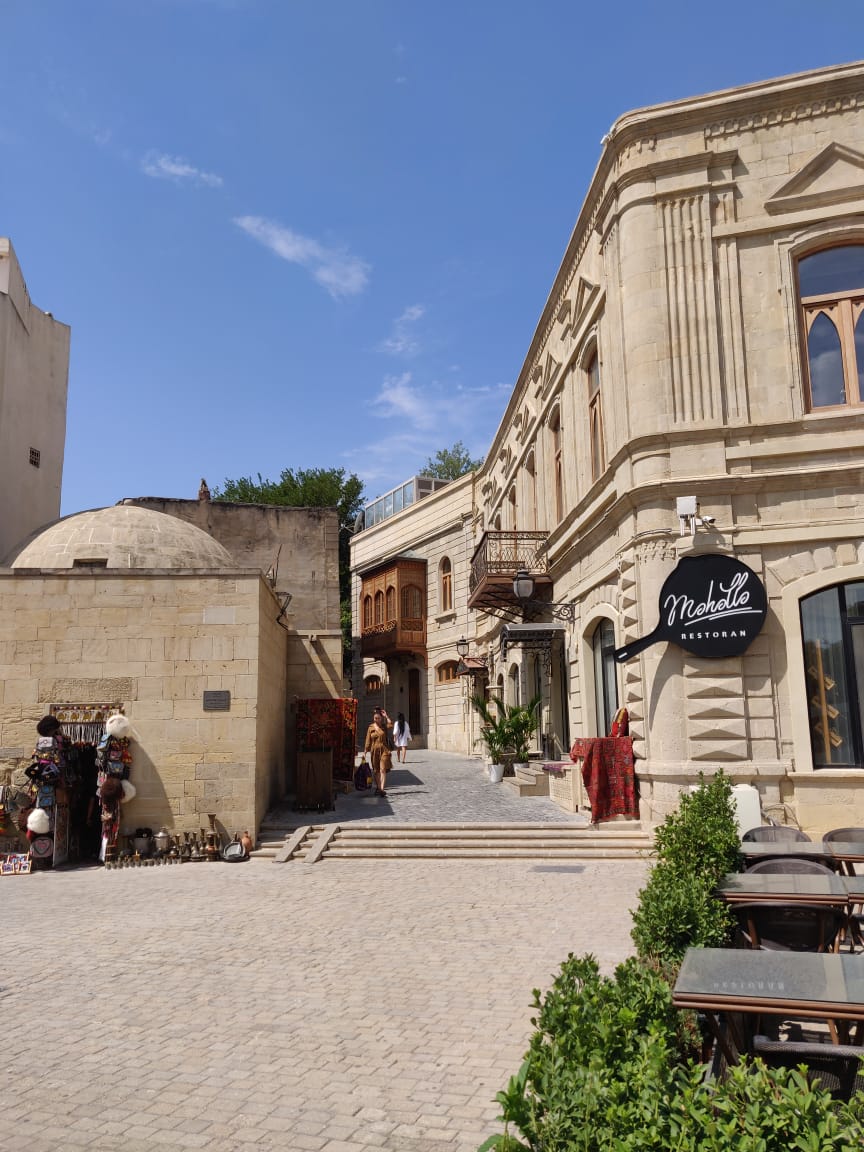 Azerbaijan's capital, Baku had a scenery which was just pleasing to the eye. The vibrant graffiti on the streets, beautiful buildings had an artistic appeal to it. Art was seen in the littlest to the biggest of things here. The potted plants adorning the streets were painted in a vibrant, intricate manner. It just added to the charm of the place.
Also read: I Have Travelled To 6 Countries, 12 Cities And 2 Islands In The First Year Of My Marriage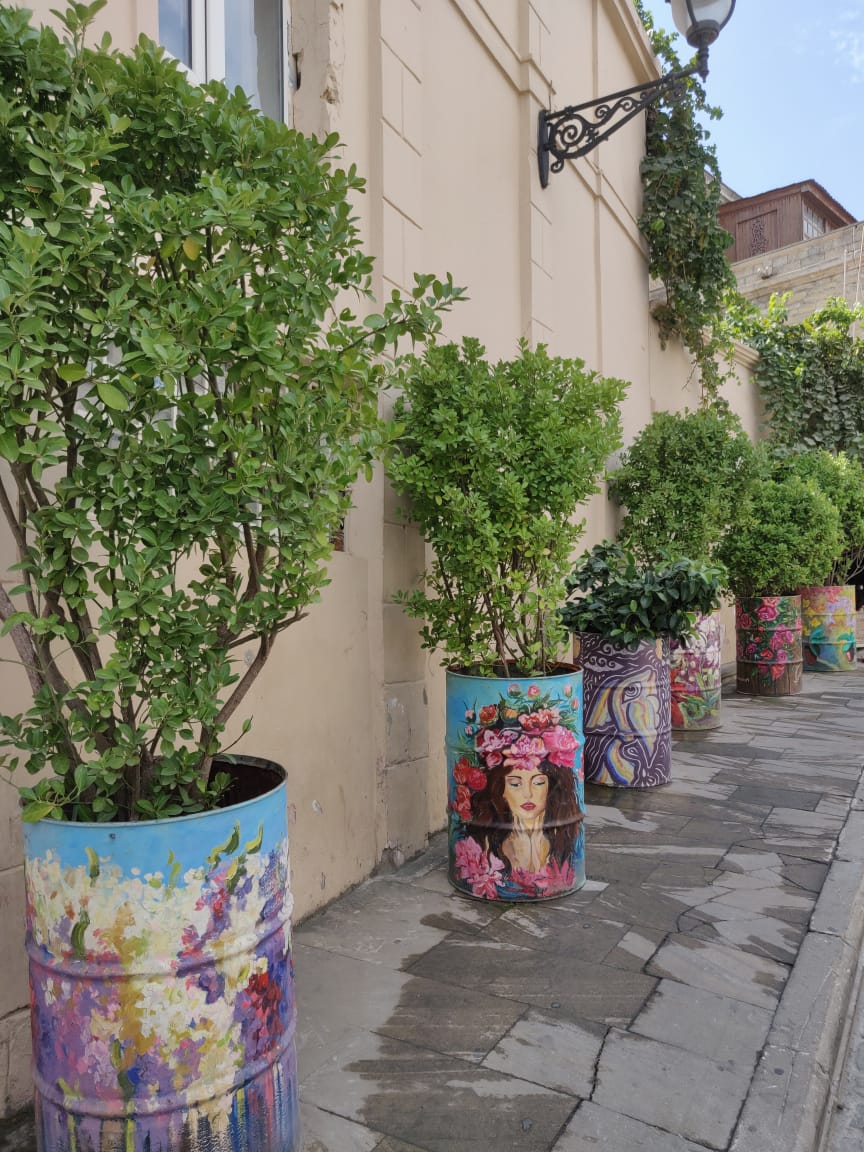 The old town of Baku was also laden with tree art, graffiti and local handmade handicrafts, carpets and shawls prepared by the local Azeri artists. The locals there are not only adept in making the carpets and handicrafts but also creating human sculptures which you would see in various parts of the city.
We started our day by gobbling Dondurma which is the local rendition of sticky ice cream which usually comes in four flavours i.e. plain, fruit nuts, hazelnut and pistachio. The best thing about eating this ice-cream is snatching it from the seller as they try various stunts. Their local dressing and manual speed and dexterity attract the attention of a lot of locals and tourists of Baku adding a rich flavour to Azeri culture.
Apart from the rich culture, we also got a chance to see modern graffiti art in the old city which tells various stories of specific times about people, culture and art of the city. The locals also displayed hangers where they hung various types of local wigs which one could lend and click picture costing 1 manat (₹40) each.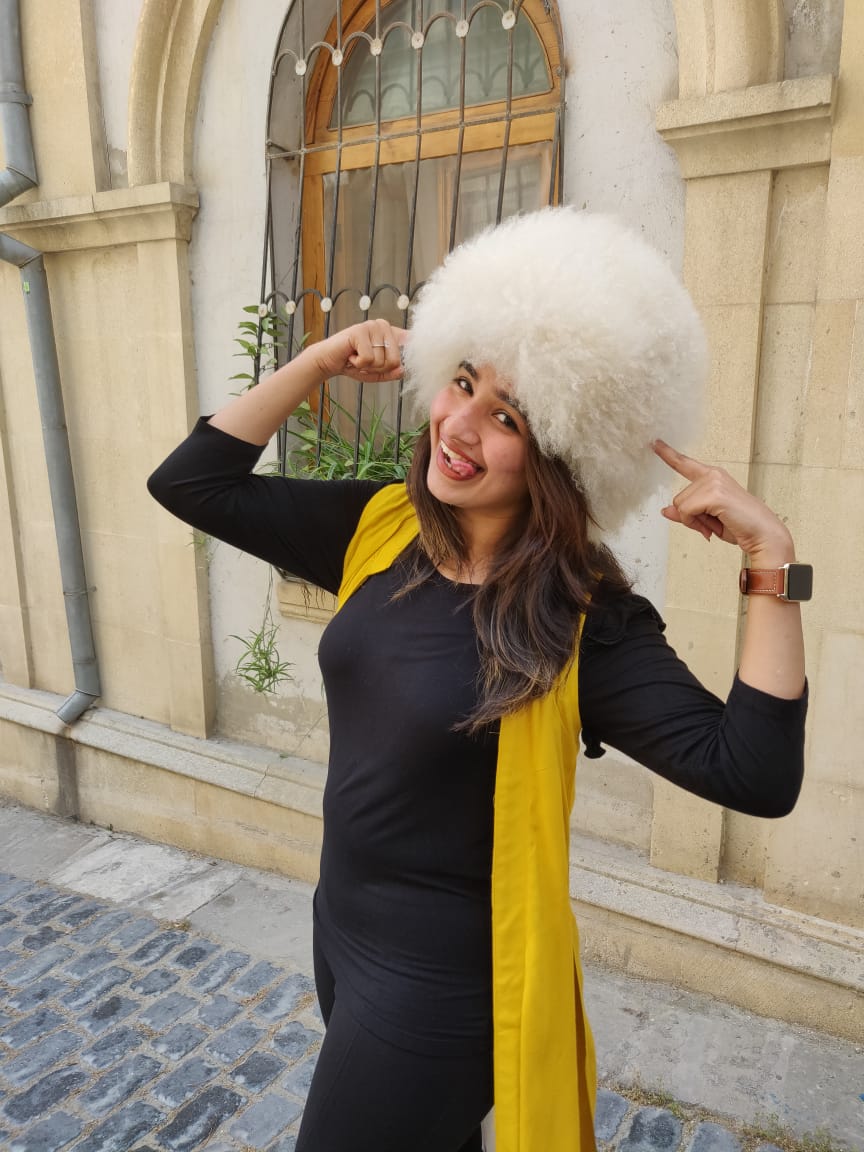 Walking down the alleys of Old Baku city, we reached the Maiden tower which forms a group of historic monuments listed in 2001 under the world heritage list. It is one of Azerbaijan's most distinctive national emblems and is thus featured on Azeri currency notes and official letterheads. The view from the rooftop gives a panaromic view of the Old City, the Baku Boulevard, the De Gaulle house and a wide vista of the Baku Bay. Entry to this heritage site comes at a cost of 15 manats (₹600).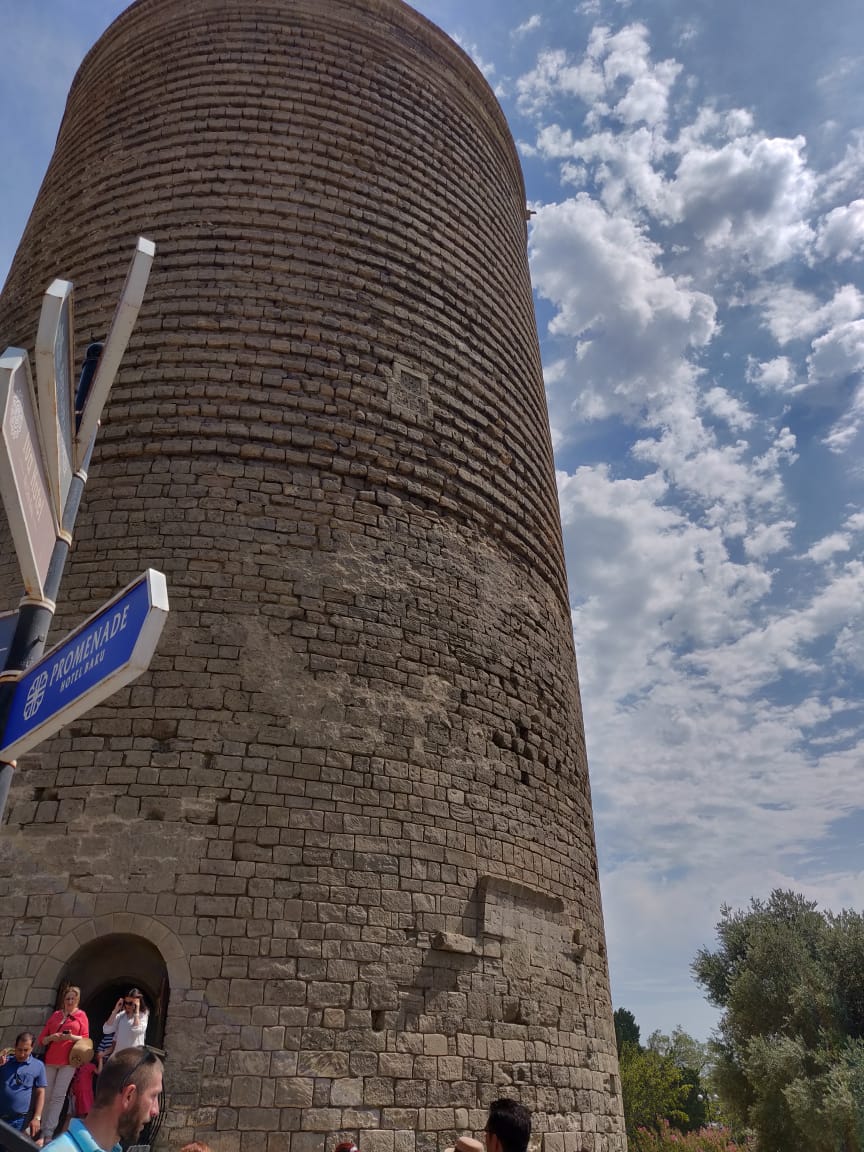 One way to familiarize oneself with a city is by indulging in its local dishes. Baklava is a rich, sweet Azeri savoury made of layers of filo filled with chopped nuts and sweetened and held together with syrup or honey. One can easily find Baklava in the streets of the old city.  Apart from indulging in the local sweets, one "must eat" dish I would recommend everyone to eat is the local tandoori bread also known as Tendir bread which one will only find in the old city. I found a really small bakery serving it in a freshly wrapped newspaper for 1 manat. It was hot, fresh and sumptuous.
After a mesmerizing experience of Old city of Baku, we headed to the Nizami street which is a large pedestrian and shopping street in downtown Baku, Azerbaijan, named after classical Persian poet Nizami Ganjavi. The place had a combination of local gifting items, souvenirs, fashion and beauty products and even beautiful statues along the paths. Here are 10 Budget Countries That Are Close To India.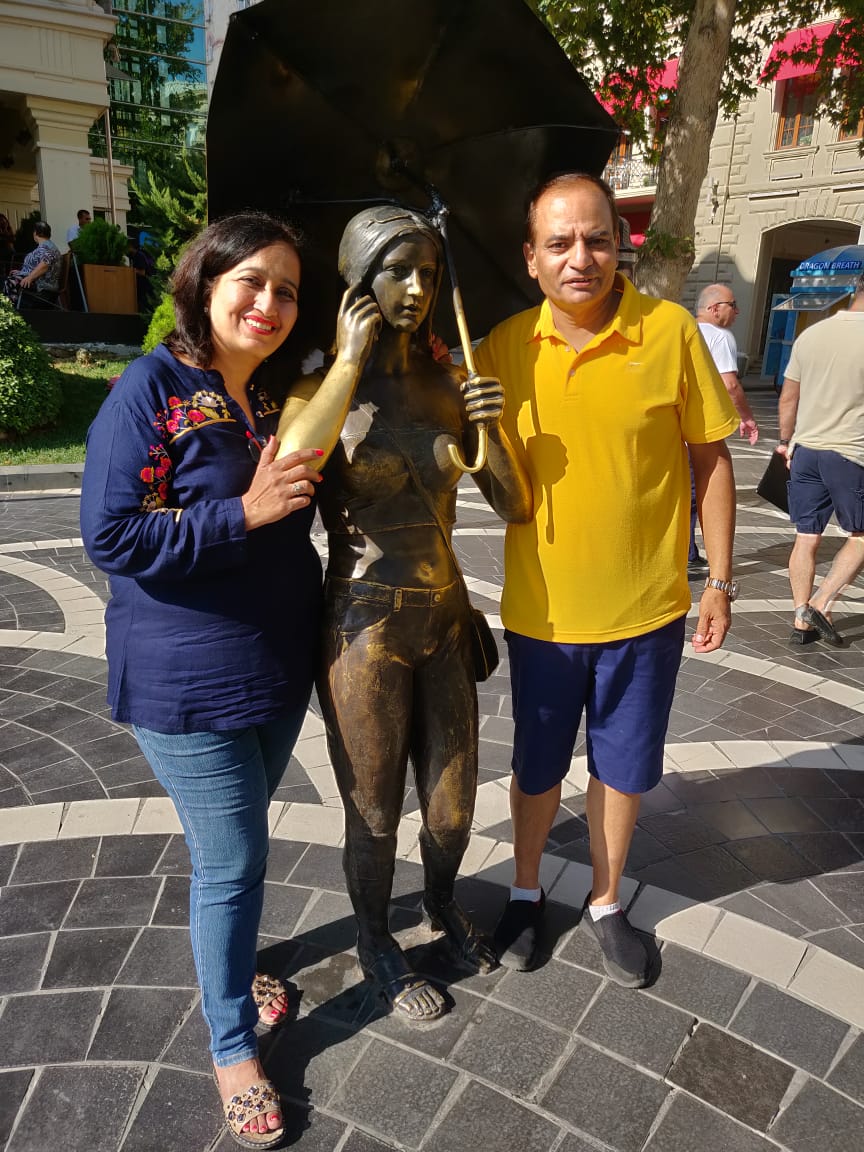 It has various open cafes with cute planters by its side making it a perfect hangout place. We even encountered human cartoons and a naughty baby monkey which caught the eyes of a lot of tourists on the street.  The total length of the street is 3,538 m.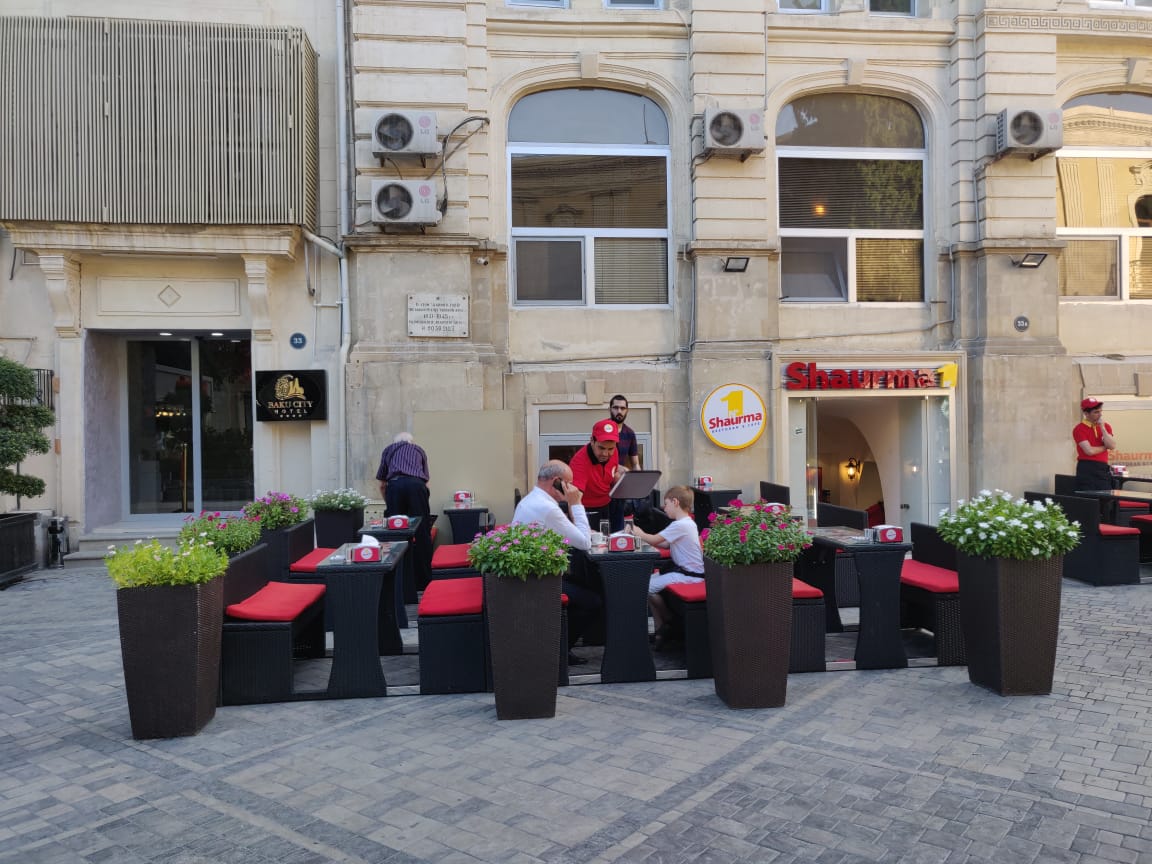 The day had much more in store for us. After filling our shopping bags we witnessed the stunning skyline of the city by taking a cruise ride on the Caspian Sea. The duration of the ride was approximately an hour.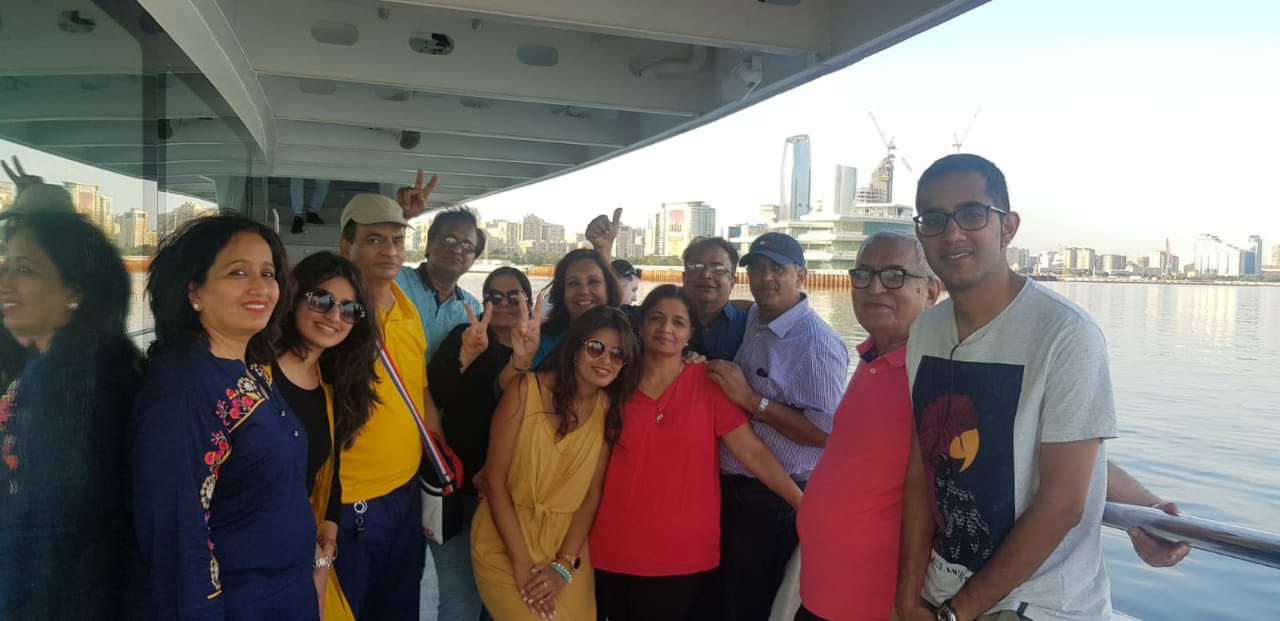 And we got a chance to experience a beautiful and lit evening of the old and new city through the eyes of Caspian sea. The highlight of the ride was the glowing flame tower and the sparkling city of Baku.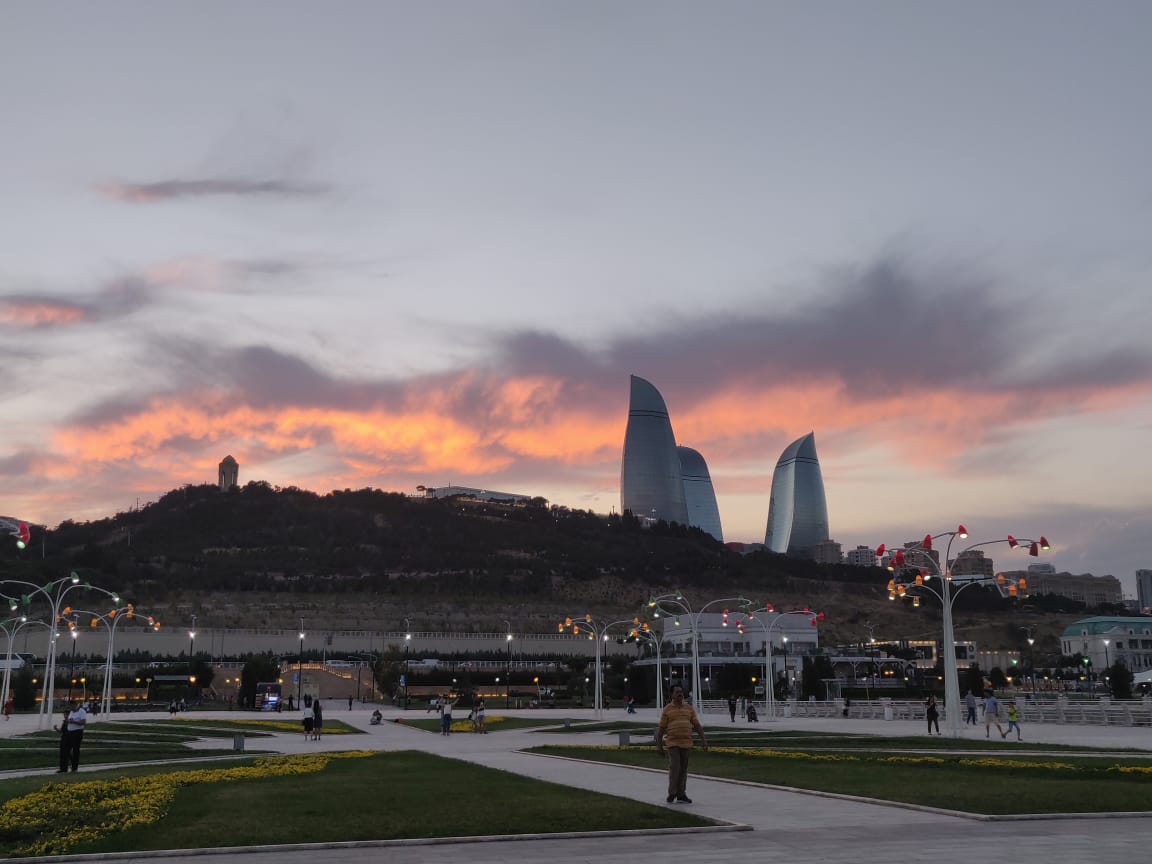 I am glad we could cover so much in just a day but visiting the Baku eye added a cherry to the cake. Baku eye is also known as the Ferris Wheel gains a lot of tourist attraction as it is 60 metres (200 ft) tall and has 30 cabins, each holding eight people. It takes 15 minutes to complete a ride with an average charge of 5 manats(₹208 approx) per person.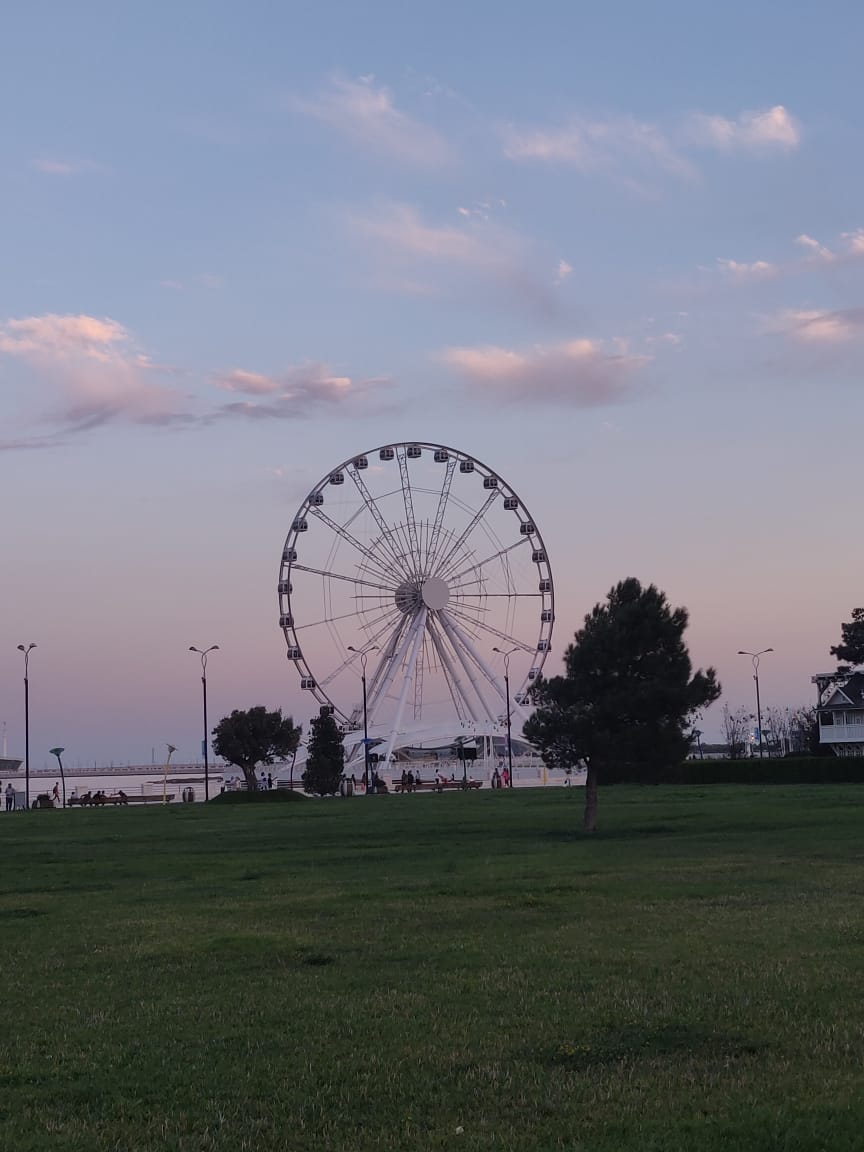 The perfect time to experience the Baku eye would be in the evening as one can have a spectacular view of the setting sun and Caspian sea on one end and the flame towers being lit on the other. It might seem from the outside that the wheel is not working but the speed at which moves is negligible and it is totally safe to take an elderly member of the family along with you just like we did.
Also Read: I Travelled To 10 Cities In 7 European Countries, In 16 Days Under ₹1 Lakh (Including Flights)
Day 3: Yanar Dag, Heydar Aliyev Centre
Last day we were all set to visit Yanar Dag which also means Burning mountain in Azerbaijani language. It is a natural gas fire which blazes continuously on a hillside on the Absheron Peninsula on the Caspian Sea near Baku, the capital of Azerbaijan. What is unique about Yanar Dag is that the fire it in has never ever exhausted. The reason offered behind this is hydrocarbon gases that emanate from below the earth's surface. Though it was unique to see a nature fire gas mountain my family did not feel it was worth spending time and money. It was far from the city and occupied a major part of our day.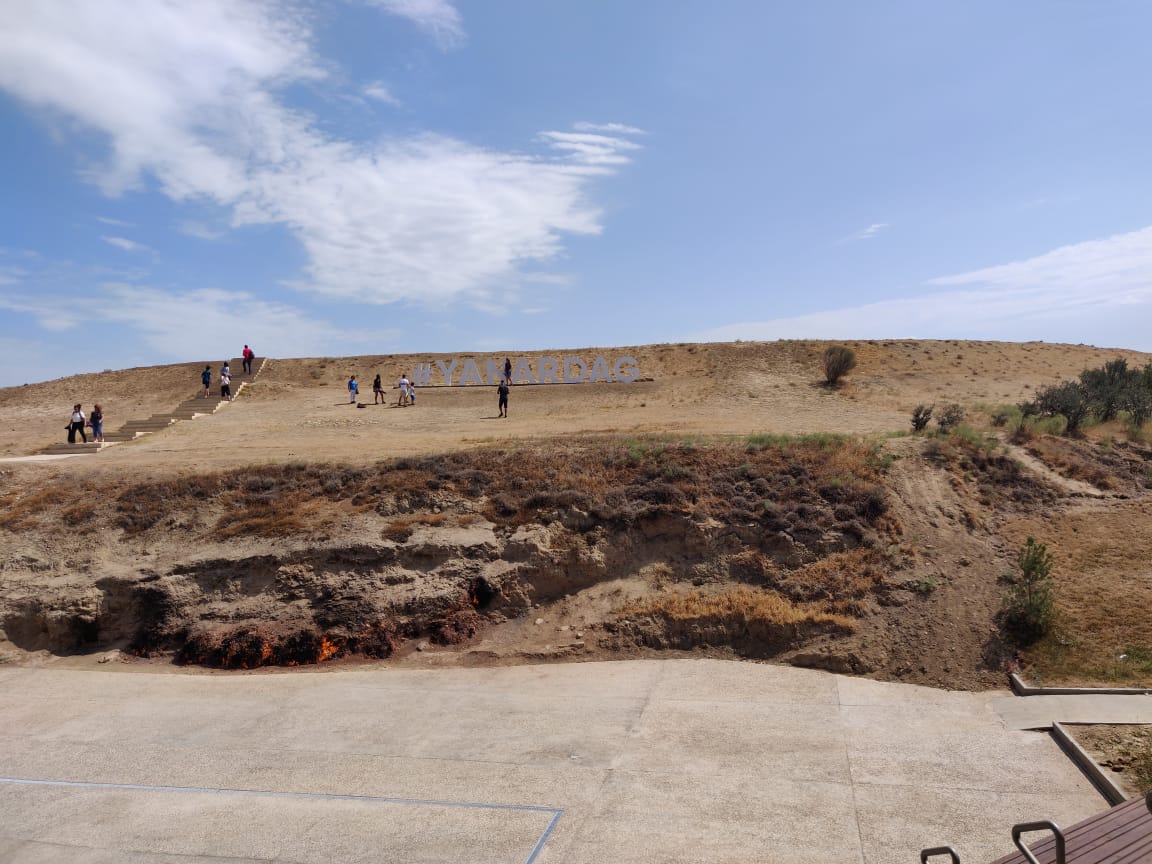 Our next destination was the Baku Ateshgah which is used as a place of worship by the Hindus and Zoroastrians. It is located in Surakhani town which is far away from the main city of Baku. The pentagonal complex, which has a courtyard surrounded by cells for monks and a tetrapillar-altar in the middle, was built during the 17th and 18th centuries.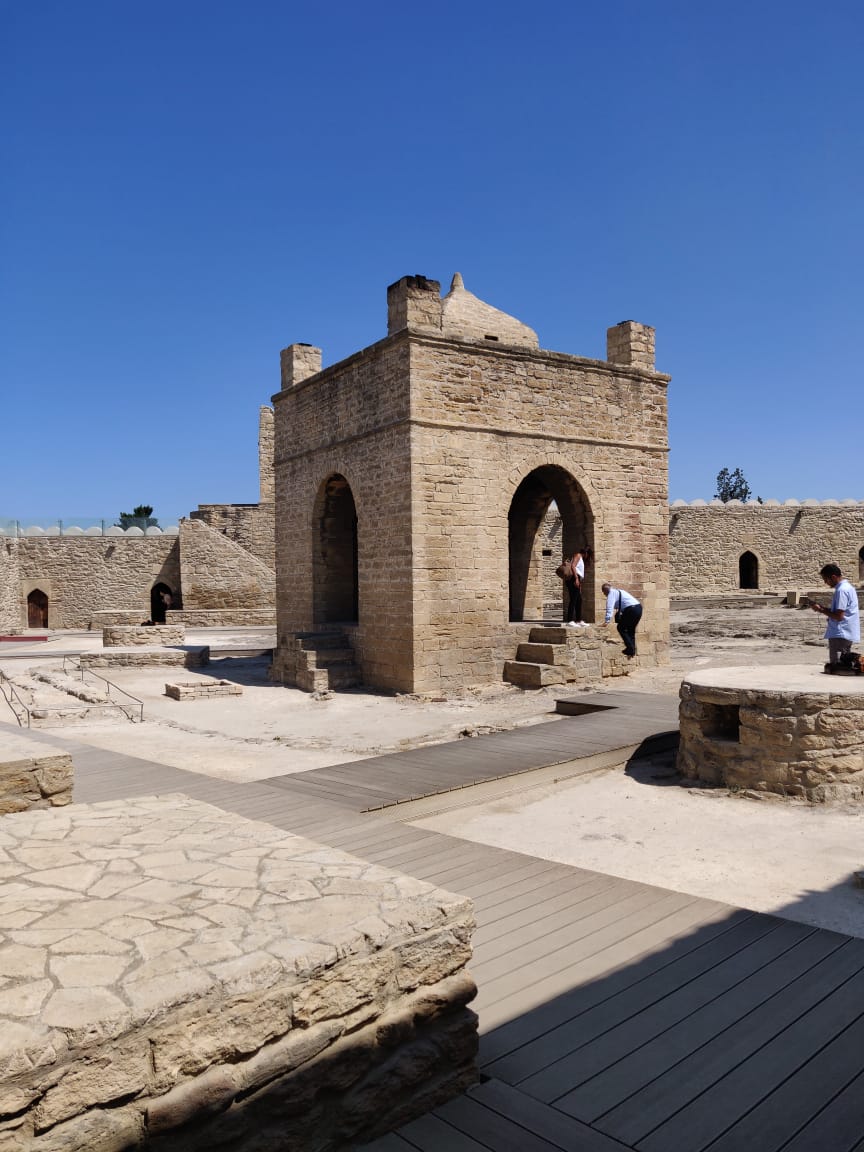 After a lip-smacking lunch at an Indian restaurant, we headed to Heydar Aliyev Centre whose beauty was mesmerizing me from day 1. The building is noted for its distinctive architecture and flowing, curved style that eschews sharp angles. In my opinion, it was the best building in Baku. Various cultural events and exhibitions are organized in it.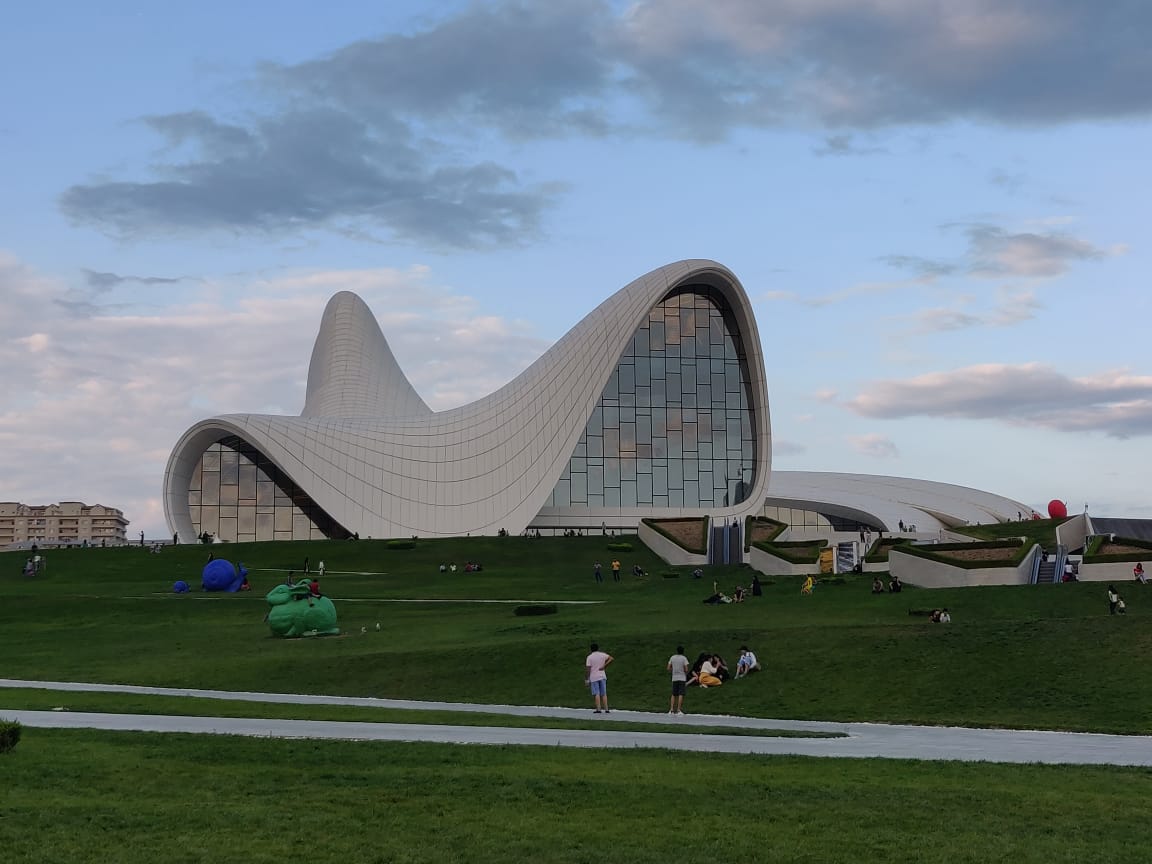 Just outside the building is a big garden with a big 'I love Baku' signage which again attracts the attention of a lot of tourists. There are a lot of toy snails and rabbits to add to the beauty of the garden. My family and I clicked various pictures in and around the signage and created a lot of memories to cherish a lifetime.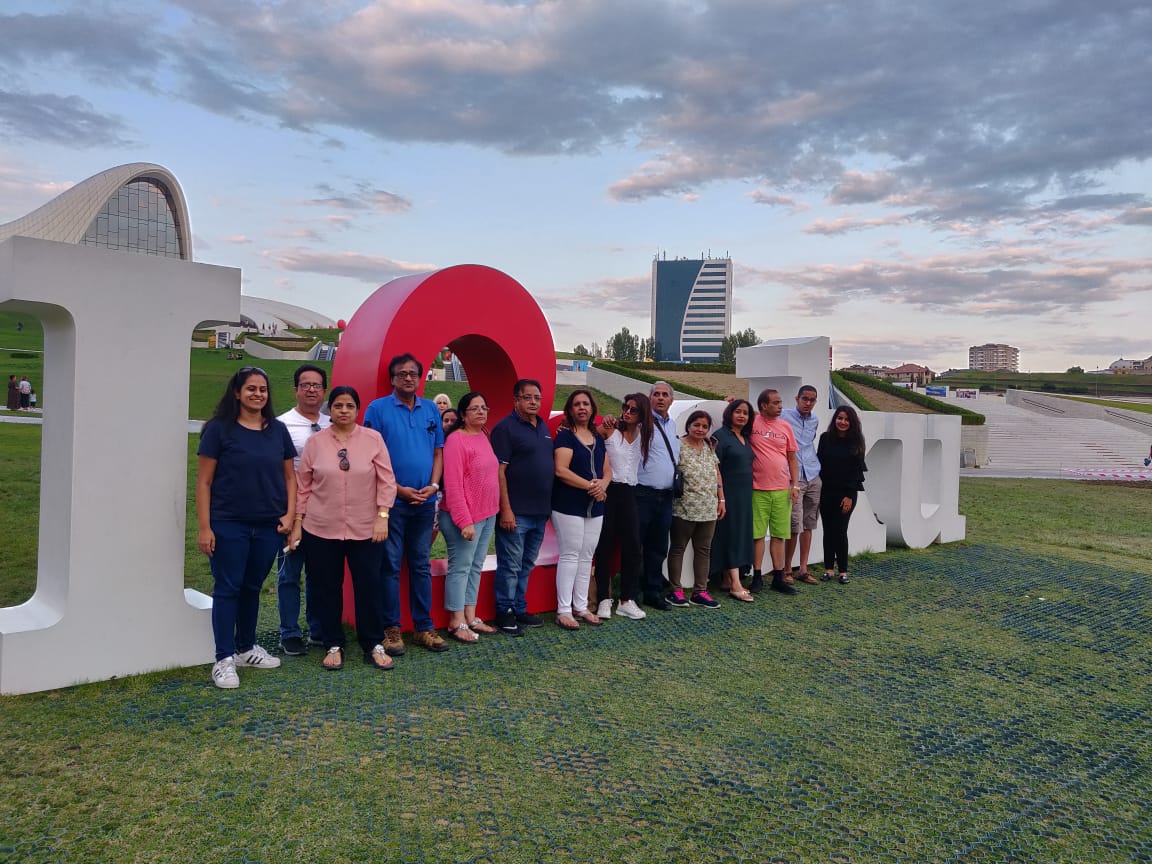 Tips For People Visting Azerbaijan
Baku is a super-duper windy city so it is essential to carry appropriate clothing. I was wearing a dress and had a tough time managing my hair and dress at the same time.
It is useful to know a little Azerbaijani or Russian if you plan to visit Baku. Fortunately, we had a guide to translate things for us which made our life easy.
Do not buy a sim card unless it is very important. Sim cards and their services are pretty expensive. When we inquired at the airport they were charging us 35 manats (₹1460) for 1GB of data. Plus, WhatsApp works well
It is better to get your currency exchanged at the airport as you will get a better value of exchange there.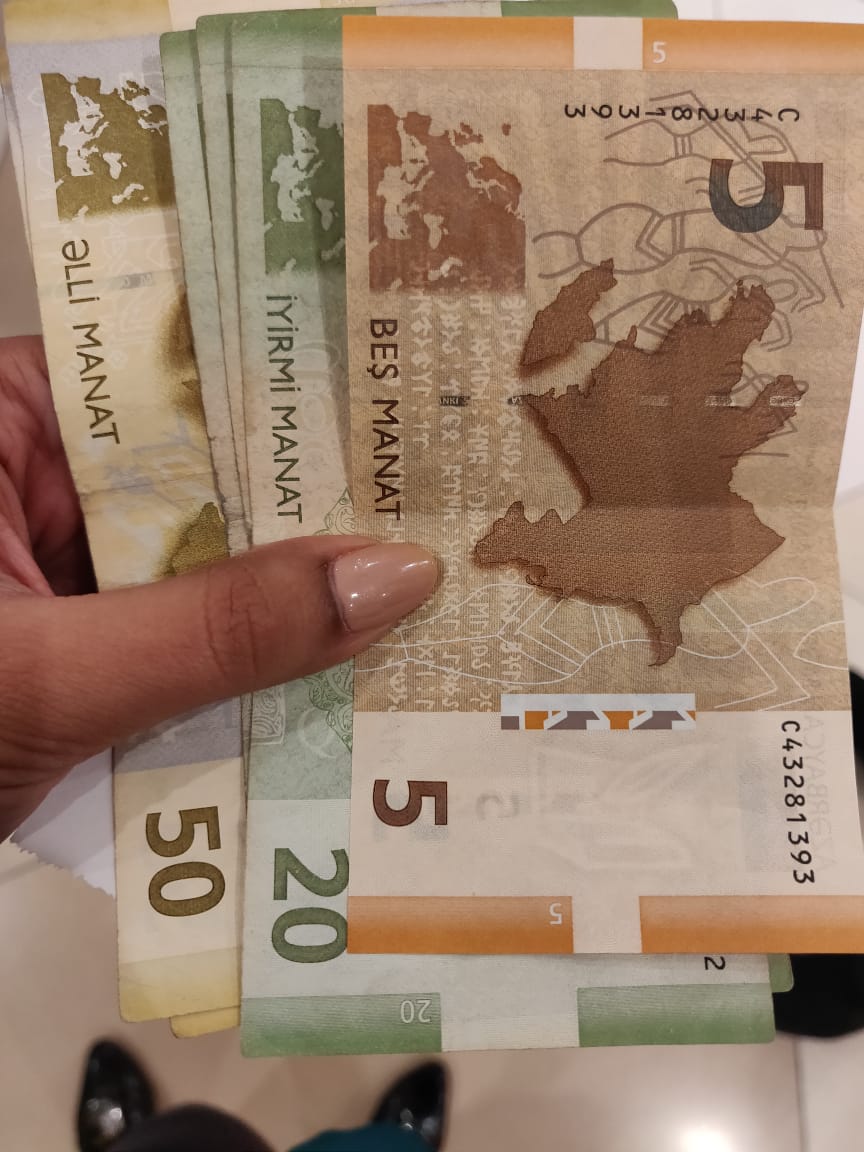 Right after the tips, I would like to recommend each and every one of you to visit Azerbaijan at least once in your lifetime. It might be known as 'poor man's Europe' but the warm hospitality of the people, the beautiful landscape, majestic monuments, artistic buildings, picturesque streets and whatnot makes this place worth a visit. And if you ask me it's one place where you would rarely find many Indians. Like come on whether its Dubai or Singapore I have always found so many Indians, and I've felt like I never left my country at all. But here, it was a breath of fresh air, to be some of the only Indians around. Azerbaijan is a safe, economical and beautiful country.  I had a ball of a time with my family, and I'm sure you will too. Check out 5 Reasons Why Azerbaijan Should Be On Your Bucket List
This article was contributed to Curly Tales by Prerna Hotchandani. If you have an article or similar experience to share, do write to us on hey@curlytales.com