This was one of the most memorable trips I took when I was in college. We all know how much time we spend planning a trip but if you are going to Dehradun in the month of January, then don't be surprised if the weather takes over your plans. And that is exactly what happened to us! But it actually turned more fun when the trip just turned uncertain for us. It was an 'Industrial Visit' planned by the college administration but ended up being an impromptu visit to Uttarakhand! Here is how it goes!'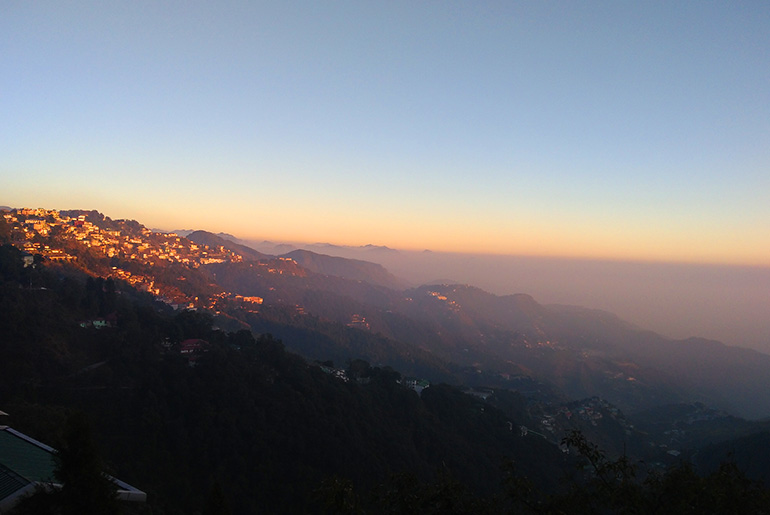 Also Read: 6 Reasons You Need To Visit Dehradun At Least Once
Day 0- We started early morning around 6 from CSMT station, I never knew that CSMT could be this quiet and beautiful! The Haridwar Express came to the platform all neat and tidy with fresh bed sheets, filled Bisleri bottles and cute little packets of Amul Butter were neatly arranged. We were travelling by 3AC so the tickets were somewhere between ₹ 1,500-1700. It gets costlier if you book it late or a day prior.
Also Read: Live In A 100-Year Old English Style Home At Hotel Raghushree, Mussourie
I was pumped for this trip as it was the first day of a new year and I had made resolutions which I failed to keep the very next hour but apart from that super pumped for the new journey! The not so enthu batch of Jaihind BMM turned super electrified when the train left from CSMT. Singing some old Taylor Swift and Rihanna songs we left Maharashtra. It was around lunch time and we were served some average paneer sabzi with roti and tasteless daal. Well, most of our batch returned the food back in the way it was served and opened some nice crunchy packet of Khakhras and junk food. We also played some old school card games and we got bored with it in no time. Well, in a batch of 120 somebody had to be smart enough to carry a different indoor game. I was then introduced to something called 'Cards Against Humanity' man, that is an interestingly naughty game.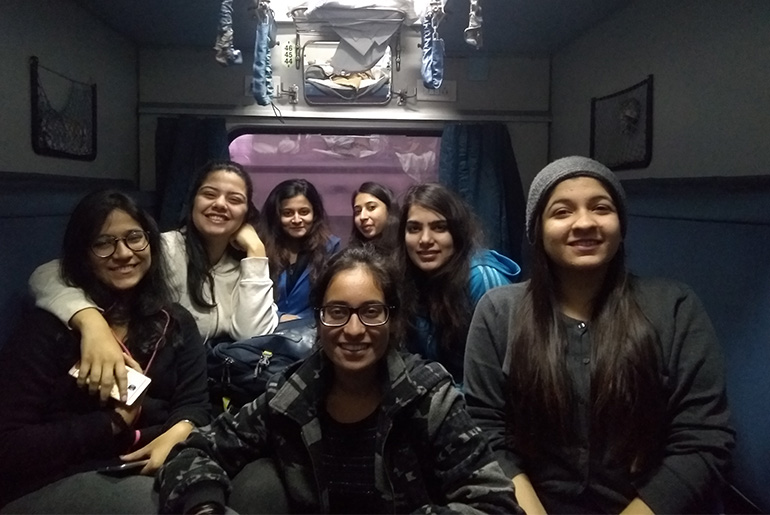 Also Read: Turban Traveller, Amarjeet Singh Chawla Drove Delhi-London In The Most Epic Road Trip
We reached Ratlam late in the night and my very stubborn yet creative friends refused to eat the food provided by the railways and ordered pizza that was delivered to Ratlam Station after a lot of calls and tracking every minute of where the delivery man had reached and if he would make it. And guess what, he did! And we munched on to the sweet taste of capitalism. And that was how Day 0 of the trip ended. Next morning I expected to wake and reach Haridwar, but that did not happen!
Also Read: CEO Aakanksha Bhargava &  10 Month Old Baby Samaira Have Travelled Together To 5 Countries And 7 Cities
Day 1 – Dehradun toh abhi bohot durr tha. We had just reached Delhi and I was always fascinated with the idea of Delhi. I quickly got down with my friend to click a photo near the Hazrat Nizamuddin station board. The train honked we grabbed chips and jumped into the train! And the most boring part of the journey began. The train went extremely slow beyond Delhi! We were told the driver couldn't see the tracks in front of him that is how foggy it was. The first time we heard that it sounded like a fair excuse but when the train was stuck in the same place for more than 3 hours, the fog got annoying. We resorted to Netflix and 'chill' (only selective people chilled). The trip turned even more boring and the same batch that was enthu at the start regretted even getting on the train. The train was literally crawling, I could run faster and reach Haridwar. Somehow cribbing all the way we reached there post 7:30.
From Haridwar station, we took buses till our hotel in Dehradun. If I am not wrong it was Madhuban hotel and since all the booking were done by our college so we did not have to worry about that. But the hotel room costs between ₹ 5,000- 6,000 per night. Since 4 people were in one room the cost was split and seemed like a pretty good deal. It was luxurious and all food arrangements were already made. We reached late at around 9 or something and just went to the serving area first thing.
Dehradun was freezing, it was 1 degree when we reached, but this time I had 4 layers on me and I sat closest to the bonfire!
Also Read 5 Things You Can Do In Defence Colony, Delhi
Day 2 Dehradun – Next morning after we had heavy breakfast we left for the famous spots in Dehradun and just because we were 'Media Students' they took us to Door Darshan Kendra in Dehradun where we learnt what goes behind a news show, the camera and how it is seen from the viewing area. All of this some of us had already seen in our internships or while helping out for shoots. Now you all can visit a lot of beautiful places in Dehradun like Tiger Falls, Sahastradhara, Robber's Cave and the beautiful Mindrolling Monastery. Since we were short on time we directly left for Mussorie on another bus. I am not aware of the bus fare, but you can take a cab, local transport and taxis take ₹ 1,000- ₹ 1500. You can also choose to take a bus which will be between ₹ 50-100 rupees per person which is economical and also the best option!
Next Stop – We directly jumped to Mussorie, here we stayed at the Fortune Hotel. This I remember vividly because I absolutely loved it. The rooms were lavish and the view from my room was stunning. I could see the beautiful mountains and let me tell you, it was magical!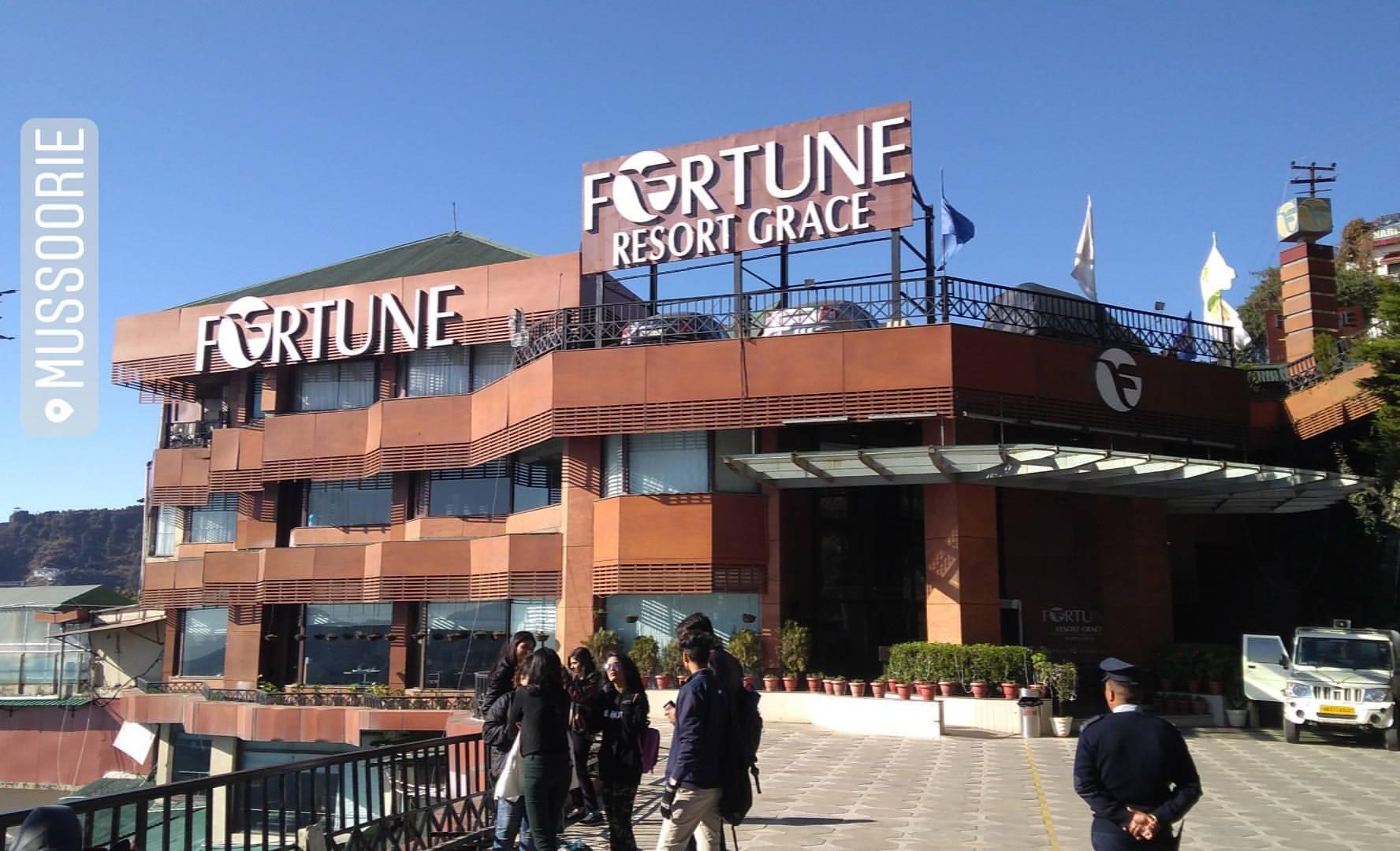 After lunch at the hotel, we explored the local markets of Mussoorie. Mall road was right in front of our hotel. In Mussoriee you must not miss out on street delicacies. It will be expensive than the usual but you will love them. We had the best butter Maggi, chicken momos when it was 1 degree outside, chicken noodles, rice, soulful soup and to finally end it on a sweet note we went down to this beautiful cafe called 'Chic Chocolate' for some hot chocolate. Some other cafes you can visit are Cafe Ivy, Little Llama Cafe, Mud Cafe and Clock Tower Cafe.
Also Read: Long Weekend Getaway From Mumbai To Sikkim- Gangtok
Day 3- Kempty Falls, Mussoorie – Come to Mussoorie and not visit Kempty? Don't do that. It is beautiful and one must climb up till the top to see the entire waterfall! On your way up you will find tea and Maggi stalls. Tea acts as a fuel and will keep you going in the mountain areas.
There are a lot of other spots to explore and two things I regret are not sitting in the cable car and going to Lal Tibba for one of the best views. Other places you can visit in Mussoorie is the famous Mussoriee lake and Gun Hill Road.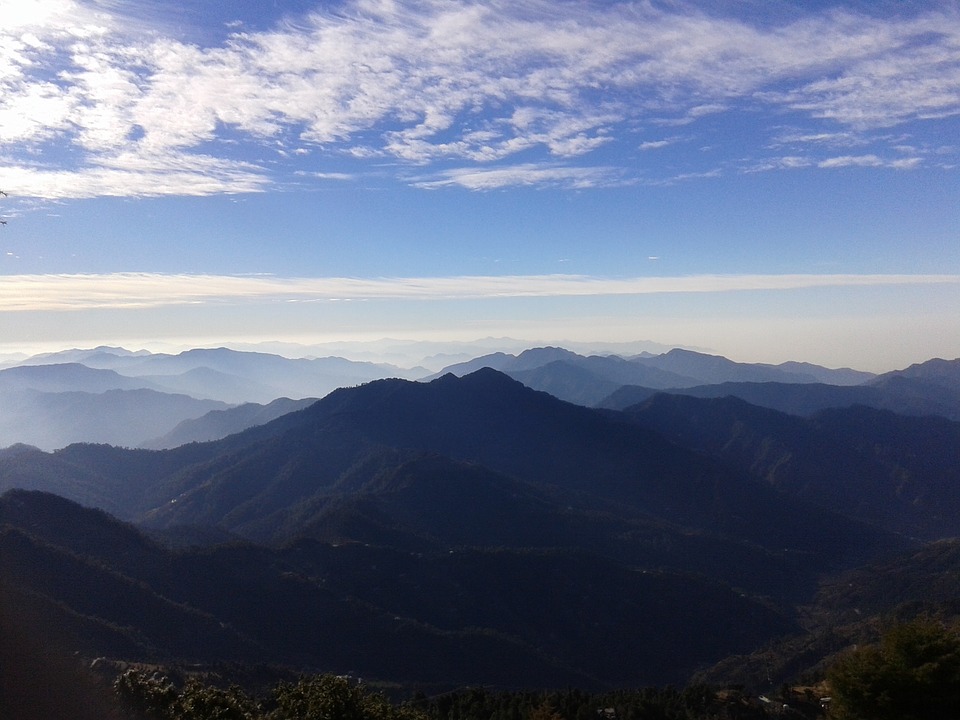 Also Read: Live In A 100-Year Old English Style Home At Hotel Raghushree, Mussourie
Twist In The Story – We got an update that our train is delayed by a good 10-12 hours. Our train was on the same day that night but after the delay due to fog, it was going to arrive the next morning. We had to check out of the hotel since our bookings were made only till that night, there was no other option but to leave the hotel. Now accommodating 3 batches in one hotel or making bookings last minute was impossible. It was freezing outside and the teachers and the trip planners were doing their best to find us rooms to stay and a decent place to eat. So they decided to take us to Rishikesh just in time for Ganga Aarti.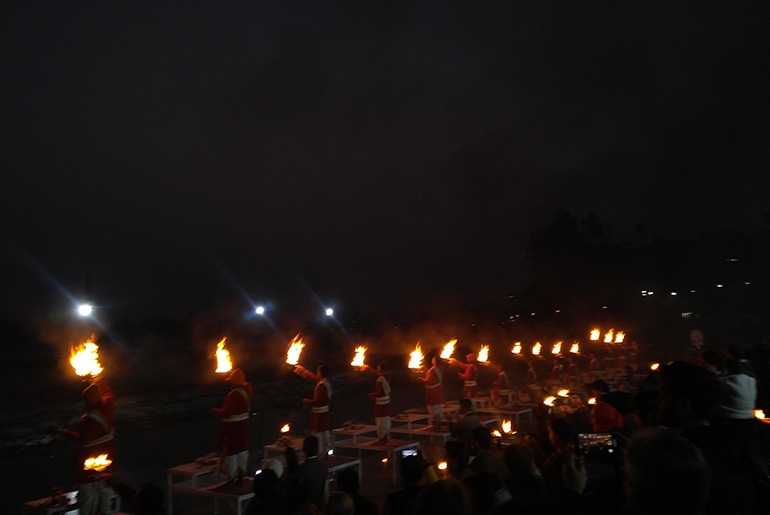 Also Read: All You Need To Know Before Planning A Trip To Bhutan
Day 3 Ganga Aarti – We reached Rishikesh by bus and it took us about 2-3 hours to reach there. We reached at 5 in the evening and my god, I loved the delay. Rishikesh was so blissful and the entire atmosphere will leave you mesmerised. The aarti was so peaceful and we just did not utter anything and kept looking at the pandits who were singing, chanting and making offers. We also took the holy water of Ganga back with us to Mumbai!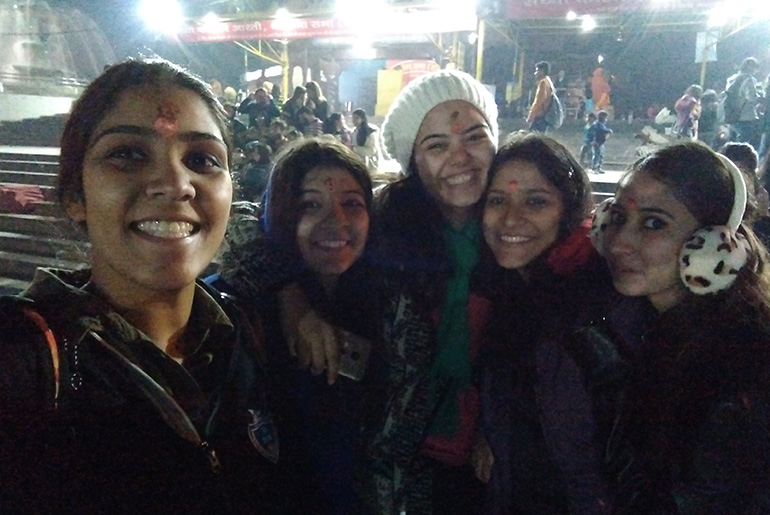 I don't clearly remember the chronological order in which this happened but I remember we went back to a hotel which had a huge lawn and took us in for dinner and got some nice bonfire running for us. I must say the food was good, we were all so hungry that at that moment we thought it was the best meal ever!
Also Read: Experience The Best Of Kerala In Just 7 Days!
Now we were all wondering if they were going to ask us to spend the night in the lawn where it was freezing to death. But fortunately, the buses took us to a Jain Ashram. It was huge enough to accommodate all of the batches. What a fun night, fighting for rooms and looking for warm blankets.
The next morning we headed straight to the station and I wanted badly to see my bed and just rest for the entire week! The train getting delayed was the best thing that happened, just to experience the best of Rishikesh and it was more fun because it was unplanned! So, this was my very detailed and adventurous Dehradun- Mussoorie- Rishkesh Trip!