Goa is popularly known as the party capital of India. The breezy beach parties, intoxicating Feni and delicious seafood, beckon tourists from across the world. While, beaches, parties and booze always make it to your to-do list in Goa, let's remind you that the smallest state of India, is much more than this. From tropical spice plantation treks, guitar making workshops, to fascinating museum visits, here are 10 offbeat things to do in Goa, that must make it to your wishlist, the next time you're in town for some fun.
1. Go Dolphin Spotting At The Beaches
Dotted with beaches, you're probably familiar with Goa's water sports scene. But what you may not know about is, dolphin spotting. Sit in a little boat, and let the boatman take you to right in the middle of the sea to spot the gentle creatures jumping with grace. You can ask the experts or local fishermen to take you on a boat to spot dolphins. Mobor beach, Cavelossim beach and Palolem beach are some of the spots you must visit to spot dolphins.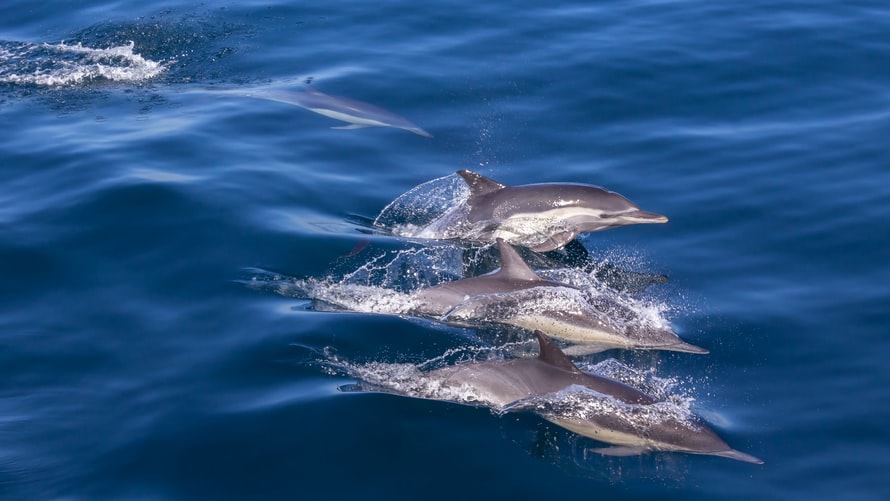 Also Read: 7 Local Drinks From Goa You Must Try In Your Next Trip
2. Explore Ancient Temples In South Goa
South Goa is a treasure trove of historical temples. You will come across temples with intricate architecture featuring a combination of European, Mughal, Portuguese, European and Jain styles. The Konkani community have many family temples situated in South Goa, where head priests conduct divine rituals to date. Some of the temples you can visit are Mahalasa Narayani Temple, Shanta Durga Temple and Mangeshi Temple.
3. Click Insta-Worthy Pics At The Colourful Fontainhas
The Latin Quarter of Fontainhas is one of the most Instgrammable streets in India. Peppered with vibrantly coloured houses painted in shades of green, yellow, blue with red roofs, you'd instantly fall in love with this place. With overhead balconies and artistic doors, Fontainhas is the best place to click Insta-Worthy pictures and get the perfect pic for your dp! Dine-in cafes and get a slice of cake from one of the 100-year-old bakeries in Fontainhas. Interestingly, all homes follow a strict Portuguese rule here where they get painted annually to ensure the street stays beautiful and fresh.
View this post on Instagram
4. Hot Air Ballooning Above The Sea
Have you ever gone hot air ballooning? Or do you want to recreate your hot air balloon ride memories? Well, you can definitely do this in Goa. One of the best offbeat activities in the beach destination is surely hot air ballooning. Head to Chandor in South Goa, get on a hot air balloon with your loved ones and float up the skies, as you witness the gushing sea below. Propose your loved one, socially distance, or soak in the beauty of Goa from 900 feet above. Hot air ballooning gives you the chance to experience a relaxing and rejuvenating, side of Goa. 
Also Read: India Gets Its Very First Offline Legal Sex Store In Goa
5. Take A Guitar Making Workshop
You'd come across plenty of workshops to learn to play the guitar all across India. But it's quite rare to find workshops where you can learn to make one. That's exactly, what Goa has to offer. Jungle Guitars conducts workshops on Baga beach for people who want to learn the process of guitar making. Learn everything right from sanding the sides, drilling, clamping, tuning slots and more here. The course is usually conducted between the months of November to March by Chris. While guitar making might not be everyone's cup of tea, it's definitely a new skill to hone. After all, it's fun to learn something new right?
Also Read: 6 Gorgeous Resorts In Goa To Book Under ₹2,000 For A Perfect Beach Holiday
6. Visit Fascinating Museums Like The Big Foot
As wacky as the name sounds, Big Foot is actually the name of a fascinating museum in Goa. Better known as Ancestral Goa, this museum houses handmade artefacts, clay mannequins, an auspicious foot a saint and a stunning 14-feet long rock carving of Sant Mirabai, created by owner and local artist, Maendra Jocelino Araujo Alvares. Immerse yourself in the ancient Goan culture and enter a different world through interesting representations. Apart from the Big Foot Museum, other museums worth visiting are the Goa Chitra Museum, Houses of Goa Museum and Archeological Museum of Goa.
Also Read: Heading To Goa? Order Global Dishes From These Home Chefs For An Exquisite Experience
7. Underwater Sea Walk At Baina Beach
Goa offers India's first-ever underwater walking experience at Baina beach. Walk on a soft bed of sand underwater, spot fishes and weeds. You can even feed fish and unravel the mysteries under the sea, all on your two feet. But yes, participants must be over the age of 12 and knowing swimming is mandatory. For this 20-minute activity, you will be taken by boat to Piccanye Island. Instructors shall teach you underwater sign language. H20 Water Sports conducts these underwater sea walks which usually take place anytime between 8 am to 4 pm. You can literally sing "Under the sea", while you have your Little Mermaid moment!
Also Read: 6 Marine National Parks In India That Are A Treasure Trove Of Underwater Life
8. Witness Glow In The Dark Phenomenon
Glow in the dark phenomenon is nothing less than magic right amid nature. Goa has two prominent spots where you can witness the flow in the dark phenomenon. Firstly, head to Mhadei Wildlife Sanctuary to spot the bioluminescent fungi, glow in pitch dark of the night. The glowing mushrooms grow on decaying log, twigs and stumps and light up the thickets in a magical way. Apart from this, South Goa's Betalbatim beach also boasts of glow in the dark waves. The waves of this quiet and clean beach shine in bright blue colours at night, due to bioluminescence. Dance, click pictures and revel in the magic that nature gifts us.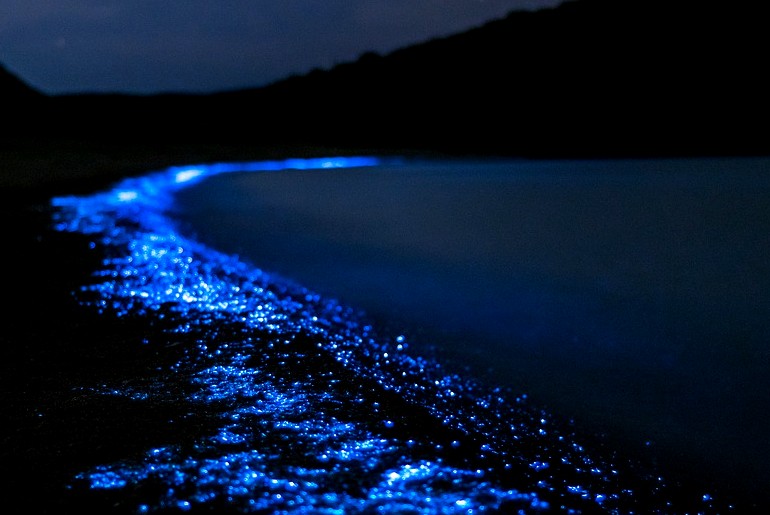 Also Read: South Delhi Parks To Start Yoga Classes Soon With Professional Teachers
9. Learn Yoga & Reiki Healing
Connect to your spiritual self, by learning yoga and reiki healing in a serene ashram in Goa. Foreign tourists visit the beach destination to learn yoga at ashrams here. So, you can experience the traditional way of living in the midst of nature, while you listen to the gushing waves of the sea. Sarvaguna Yoga at Agonda Beach offers courses for both students and teachers in yoga, meditation and Reiki healing. These classes are conducted between the months of November to March, sign up for them, stay in their retreat and experience Goa like never before.
10. Go On A Tropical Spice Plantation Tour
One of the most offbeat places to visit in Goa, spice plantations are the perfect spots for nature lovers to walk through aromatic plantations and learn about different spices. Savoi plantations and Sahakar Spice Farm are two of the most popular spice plantations that you must head to. The tropical spice plantation tour promises a relaxing experience for you mind and body. Witness various spices like cardamom, black pepper, vanilla and nutmeg, growing in the wild. Learn about their medicinal properties. Spot animals like majestic elephants and chirping birds here. Finally, end your tour on a delicious note at the open-air restaurant at the plantation.
Now that we educated you on the offbeat things you can do in Goa, make sure you add these to your wishlist. After all, beach hopping, partying and boozing are so cliche in Goa. Enrich your mind, relax and dive into a whole new world of nature, rejuvenation and knowledge at India's most happening destination.