Water babies! There's so much life to explore under the sea. And you don't have to go all the way to Australia to witness a glorious marine life, India houses 6 marine national parks that have coral reefs, mangroves, sea turtles and rich marine life. Enjoy a unique collection of flora and fauna here. From Andaman & Nicobar Islands, Odisha to Gujarat, here are 6 marine national parks in India that must be on your wishlist.
1. Rani Jhansi Marine National Park In Andaman and Nicobar Islands
Andaman and Nicobar Islands houses the gorgeous Rani Jhansi Marine National Park. Established in 1996 this marine national park is spread over three islands of Ritchie's archipelago. When you visit this park witness coral reefs, lagoons, beaches, mangrove forests and even fruit-eating bats. Get up close with crocodiles, leatherback turtles and Olive Ridley turtles to name a few.
2. Gahirmatha Marine Sanctuary In Odisha
Odisha's Gahirmatha marine sanctuary welcomed over 4.5 lakh Olive Ridley Turtles nesting on its beach amid the lockdown. The 1,435 sqkm of the coastline of Gahirmatha was declared a protected marine park by the Odisha government in 1997. At this marine sanctuary, you can witness thousands of turtles in various stages of the birthing process. The thick mangroves, nutrient-rich water content makes this spot an ideal place for turtles to hatch. Drive down 75km from Odisha's capital Bhubaneswar to visit this gorgeous place.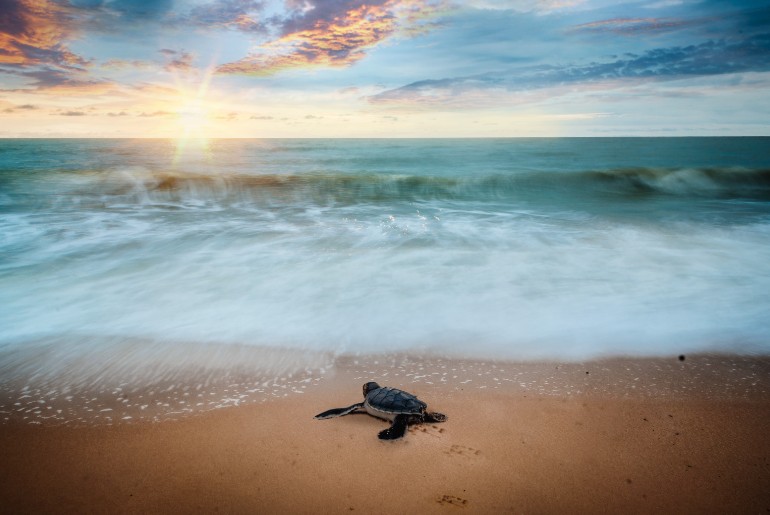 Also Read: Best of Gokarna: From Beaches To Falls, 7 Must-Visit Places
3. Gulf of Mannar Marine National Park In Tamil Nadu
Interestingly, Tamil Nadu also has a marine national park named the Gulf of Mannar Marine National Park. COmposed of 21 small islands and adjacent coral reefs, there's a lot your see and do here. This marine national park forms a part of the world's 3rd largest oceanic divisions. So, it's one of the richest regions on death for marine biodiversity. When you're here learn about the coral reef, mangroves and seagrass. Get on a glass-bottom boat and spot seahorse, sea cucumber, pearl oyster, seagrass and other vulnerable species of mammals.
4. Malvan Marine Wildlife Sanctuary In Maharashtra
Maharashtra's Malvan Marine Wildlife Sanctuary is the perfect spot to watch dolphins galloping in the blue waters. This marine park also houses seaweed, anemones, molluscs, pearl oyster, corals and a variety of fish. This includes Putitora mahseer, catfish and many more. You can also see these if you go snorkelling or diving. Bird watchers can witness tern, plover, waterfowl and egrets. Tourists can visit this marine national park during a trip to Sindhudurg Fort.
Also Read: India To Launch ₹4000 Crore Deep Sea Mission To Explore Minerals & Marine Diversity
5. Mahatma Gandhi Marine National Park In Andaman and Nicobar Islands
Set up in 1983, Andaman & Nicobar's Mahatma Gandhi Marine National Park aims to protect unique coral reefs and the local turtle population. This marine park houses 15 rocky islands with beautiful sandy beaches and tropical vegetation. Adventure enthusiasts can explore this space by scuba diving, snorkelling or even take a glass-bottom boat. Apart from marine life, this marine national park has more than 270 species of lovely birds including the Andaman teal and parakeet.
Also Read: Mangalore Beaches To Get Chopper Rides, Amphitheatre & Sculptures Soon
6. Marine National Park In Gujarat
Visit India's first-ever Marine National Park in Gujarat. This park houses over 52 species of corals, birds and 7 different types of mangroves. If you're lucky you can even spot bottlenose dolphins, endangered whale shark and green sea turtles. When the tide is low, you can go snorkelling here with your buddies. Spot the giant anemone shrimps, sponges, octopuses, jellyfish and pufferfish. Rent a boat from Jamnagar and visit this Marine National Park.  It's truly a treat to go here.
So, these are 6 of India's picturesque marine national parks that must be on your wishlist. These places are perfect for water babies who want to explore life under the sea.