When you think of the perfect beach destination in India, Goa would definitely come to your mind. But if gorgeous beaches, chilled vibes, cosy accommodations and delicious food is all what you need, then forget Goa, and instead head to Gokarna in Karnataka. Gokarna stands out as one of the most picturesque yet underrated beach destinations in India. So, here are 7 must-visit places in this beach abode, where you can enjoy the sun, sand and of course seclusion.
1. Om Beach
We promised you beach, and beach it is! When in Gokarna, visit the 'Om'shaped, Om beach. From thrilling adventure sports to shacks offering you an array of global cuisines, you can have it all here. Adventurers can go for surfing and even speed boating here. Spot fishermen, explore the black rock formations and laze around in this breezy abode.
2. Lalgulli Falls
Hold your bae's hand and walk up to one of the most breathtaking waterfalls you've ever seen. The Lalgulli Falls in Gokarna attracts hundreds of tourists every year. It's surrounded by lush greenery that just adds to its beauty. Go picnicking, river rafting and trekking here by the River Kali. Listen to the sounds of chirping birds and take Instaworthy pictures with the gushing waterfalls acting as the perfect backdrop.
Also Read: I Travelled To Gokarna For 3 Days In ₹7,000 Including Bus Tickets, Stay & Meals
3. Shiva Cave
Soaking in the secluded and serene vibes of Gokarna must definitely be on your wishlist when you visit this place. And one of the best ways you can do that is by meditating in the Shiva Cave. This hidden gem is situated near Kudle Beach. Enter this tranquil cave with your loved ones and meditate in front of the Lord Shiva statue there.
Also Read: This Beach Resort In South Goa Has In-Room Pools & Beachfront Cabanas With Stunning Sea Views
4. Gokarna Beach
Beach lovers! Gokarna has plenty of gorgeous beaches, so you can visit one beach a day. Gokarna beach must lace your bucket lists. It's white sand, serene waters and picturesque sunsets will truly make your day infact every day. Gokarna beach will give you the opportunity to just get away from the hustle-bustle of the city life and just spend hours on the beach, doing nothing. And there's beauty in that too! Here are 12 best beach hotels in India for beach lovers. 
5. Koti Tirtha
Koti Thirtha known as 'a thousand springs' is nestled at a walking distance between Mahabaleshwar and Maha Ganapati Temple. Legend reveals that Koti Tirtha is the origin of a thousand springs. People usually visit here to take a dip in the lake, and just like Ganga, there's a belief that it will wash away your sins. It's truly a spiritual experience to visit Koti Tirtha.
Also Read: The Tree House Resort In Jaipur Has Cottages Over Water, Glass Floors & Mini Waterfalls
6. Mirjan Fort
If Goa has the Dil Chahta Hai fort, then Gokarna has the majestic Mirjan Fort. Situated 11km away, this architectural marvel beautifully amalgamates nature's beauty. Mirjan Fort was built by Nawayath Sultanate in the 16th century. Later, the Vijayanagar Empire took over the fort. Surrounded by lush greenery, it's one of the best places to visit in Gokarna for adventure seekers.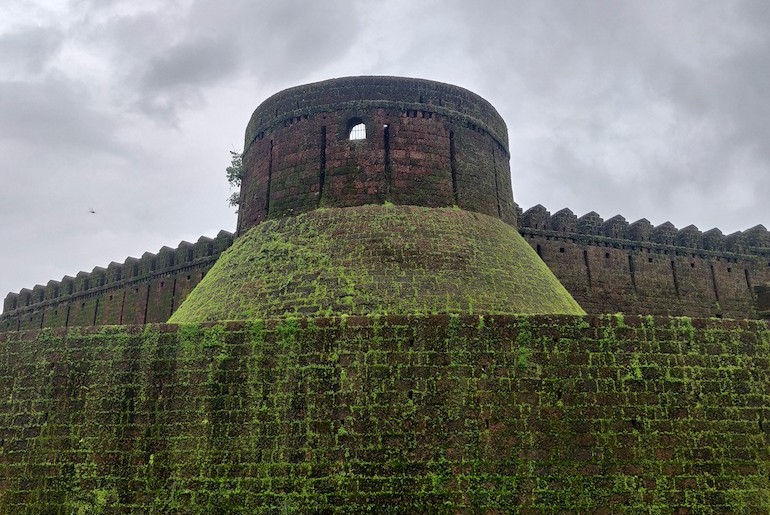 Also Read: You Can Enjoy A Session Of Yoga In A Treehouse In Gokarna
7. Paradise Beach
If you want to witness paradise on earth, then as cheesy as this might sound, just visit Gokarna's Paradise Beach. Popularly known as the Full Moon Beach, interestingly, this beach is almost 70% covered by rocks. The rest 30% is adorned with soft white sand. While you can't find water sports here, you can find serenity in abundance. Paradise beach isn't accessible by road. So get ready for a fun hike or boat ride. You can spot hippies and foreign travellers camping and cooking their meals here. Join the bandwagon and enjoy your slice of heaven.
These were 7 beautiful sightseeing spots in Gokarna you must visit. Add these places to your wishlist and have a wonderful time chilling by the beach, hiking and spending quality time with your loved ones.