Ranveer Brar is one of the best-known chefs in India and overseas. He has also been a judge on Masterchef India and was the youngest executive chef at the age of 25. He graced our show, "Curly Tales Sunday Brunch Middle East," with his presence. Our content producer, Saba Asif, was invited by the chef himself for a delicious Sunday brunch in Abu Dhabi. He served her his special Lucknowi Nihari, and it is the perfect breakfast dish. 
Lucknowi Nihari By Ranveer Brar
Chef Ranveer Brar treated Saba to a spread of some delectable dishes that he had cooked, some of them were Lucknow specialities. They relished dishes like Kichda, Foie Gras, Biryani, Galouti Kebab, and Lucknowi Nalli Nihari. While serving Lucknowi Nihari, he clarified that he was serving the traditional Lucknowi Nihari and not the Delhi or Lahori one. 
Chef told us that Nihari is a dish that is meant to melt in your mouth. If it does not melt, then the dish is not cooked right. The speciality of Lucknowi Nihari is that it is brothy in texture and slightly thin. It is not at all spicy. The reason for it not being spicy is that it is served as breakfast, and you cannot have an item that is super spicy for breakfast.
Also Read: Not Coffee Or Tea, Sanjay Mishra Drinks This Juice Every Morning | Curly Tales
Chef  Feels Abu Dhabi Is Enamouring
This was the very first-time Chef Ranveer Brar stayed in Abu Dhabi. He has visited the city multiple times but has never stayed. When Saba asked him to share his thoughts about Abu Dhabi, he called the city "enamouring." He said, "I think the city is very enamouring and enchanting." Brar stayed back for some cooking contests.
 The chef  found many similarities between the Middle East and India, among which the first is a love for food. During the course of Sunday brunch, the chef shared his food preferences with us. He also recommended some of the famous Lucknow restaurants for our visit to the City of Nawabs. If you want to know about this and much more, tune in to the recent episode of Curly Tales Sunday Brunch Middle East with Chef Ranveer Brar.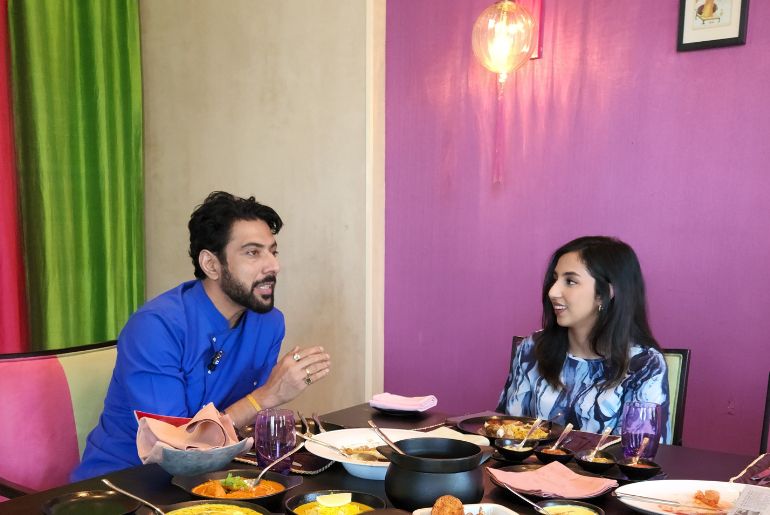 Also Read: Ranveer Brar Finds Abu Dhabi Very Enchanting During His First Visit | Curly Tales
Do watch the latest episode and let us know how much did you like it in the comments section below.
Cover Image Courtesy: Media Library