The Golden Temple of Amritsar has always been on the wishlist of not just Indians but many people across the globe. Every day around 1,00,000 people visit this iconic abode for not just peace but to satiate their souls. And while langar was started in 1481 by the Sikh Guru Nanak Dev Ji, the langar at Golden Temple was commenced by the fourth Sikh saint, Guru Ramdas in 1577. You can get served free langar in gurudwaras across the world, the langar served at the Golden Temple is extra special. After all, it's home to one of the largest community kitchens in the world feeding around 75,000 people a day. It's not just a meal, it's an experience soaked in spirituality and divinity. So, let's give you 5 reasons why you must eat the langar at the Golden Temple of Amritsar.
1. Everyone Can Dine Here Irrespective Of One's Status, Gender, Caste Or Creed
The Golden Temple's Guru Ramdas Langar Hall built over 50,000 square feet, divided into two parts hosts around 5000 people at a time. These 5000 people include you, me, celebrities, politicians and everyone you can possibly imagine. Everyone can dine here irrespective of one's economic status, gender, religion, caste or creed. You can walk right inside without standing in any VIP queues. You are surrounded by people who come from different walks of life but are united by a hot meal prepared and served with love and devotion.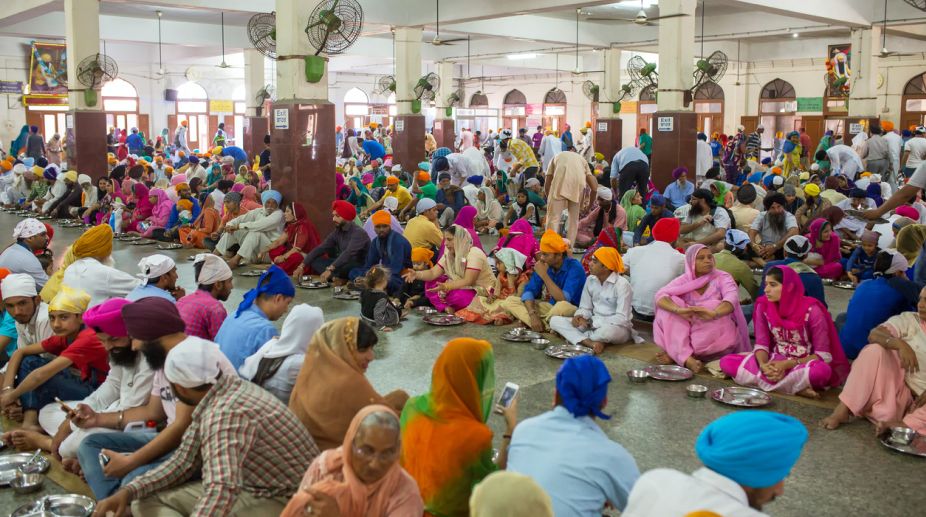 Also Read: Visit These 5 Most Scenic Gurudwaras In India To Find Inner Peace
2. It's One Of The Largest Kitchens In The World
Soak in the opportunity and blessings to eat a meal prepared in one of the largest kitchens in the world. The Golden Temple has two kitchens where the food is prepared, 11 hot tawas, machines for sieving and kneading dough, burners, mechanised oven and conveyor belt to churn 11,000 rotis an hour, among other equipment. On normal days all dishes are made by hand by the volunteers. But during special occasions, the roti making machine is used. This kitchen is not just big because of its size but also due to its large scale operations. The temple uses around 1500 kg of rice, 13,000 kg of lentils, 12,000 kg of flour and 2000 kg of vegetables regularly. The sheer scale at which this kitchen operates is truly commendable.
Also Read: Gurudwaras In Punjab Have Included Pizzas And Burgers In Their Langar!
3. The Food Is Prepared And Served By Volunteers Working Selflessly
The food tastes great and touches your heart not just because of the delicious ingredients and fresh produce used, but because of the immense love and respect went into preparing it. At the langar in the Golden Temple Of Amritsar, the food is not only cooked with lots of devotion, but its served with equal respect by the selfless volunteers or sewadars. Around 90% of the working staff here are volunteers who work selflessly for free. Some people volunteer here for a few hours, others for a day and some others for days on end. There's a lot of hard work and selflessness that goes into their services. From cleaning vessels five times before drying it to cooking meals in huge quantities in gigantic vessels it's truly a larger than life experience to dine here.
Also Read: 5 Indian Cities That Celebrate Lohri With Pomp & Grandeur
4. The Meal Is Nutritious & Tastes Divine
The cooks at the Golden Temple langar commence their day by offering prayers before they start cooking food for the people visiting the gurudwara. And probably this coupled with their selfless services explains why the food tastes not just delicious but divine. The langar meal includes rice, dal, roti, sabzi, channa, kheer and sheera. This meal is a perfect balance of proteins, carbohydrates and other nutrients. This vegetarian meal takes three hours to prepare it. And during Baisakhi, you can feast on sumptuous hot, crispy jalebis.
Also Read: Exquisite Temples Around Bangalore That You Need To Visit Atleast Once In Your Life
5. Kada Prasad Is Blissful & Known To Heal Ailments
The experience of visiting any place of worship is heightened by its prasad. Amritsar's Golden Temple offers one of the finest tasting prasads in the world, the Kada Prasad. Prepared with pure desi ghee, sugar, whole wheat flour and water, you can get smell the aroma of this prasad throughout the premises. Devotees believe that eating the Kada Prasad served here can rejuvenate your body and cure many ailments. It's powerful and truly magical. And this is definitely a sweet and delicious reason why you must dine at the langar at the Golden Temple.
So, these are 5 blessed reasons why you must not only visit the Golden Temple of Amritsar but also eat the langar here served with love, warmth and selflessness.