A Starbucks barista, Lenin Gutierrez in San Diego refused to serve a customer because she was not wearing a face mask amid the coronavirus pandemic. To humiliate him, the woman named Amber Lynn Gilles posted on Facebook about him. Thankfully, people realised her mistake and showered the barista with praises and tips worth $80,000 ( ₹60,39,000) according to CNN.  In The USA, Last week, an Indian restaurant was vandalised with racist graffiti sprayed on its walls. 
Starbucks Barista Received  Over ₹60 Lakhs In Tips After Refusing To Serve Coffee To Customer Not Wearing A Mask
Lenin Gutierrez a Starbucks barista in San Diego, gathered praise and over $80,000 ( ₹60 lakhs) in tips when he refused to serve a customer, Amber Lynn Gilles because she didn't wear a face mask. As per California's rules, people must wear a face mask when they step out in a public place. In Las Vegas, vending machines in the airport now churns out PPE, masks and sanitizers. 
In a fit of rage, Amber Lynn Gilles posted a picture of the barista on Facebook with an aim to criticise him for not serving her coffee because she was not wearing a mask. She captions, "Meet Lenin from Starbucks who refused to serve me cause I'm not wearing a mask. Next time I will wait for cops and bring a medical exemption." Her post backfired. And many Facebook users defended the Starbucks barista as he just did his job. The post received over 1,00,000 reactions and comments and 50,000 shares.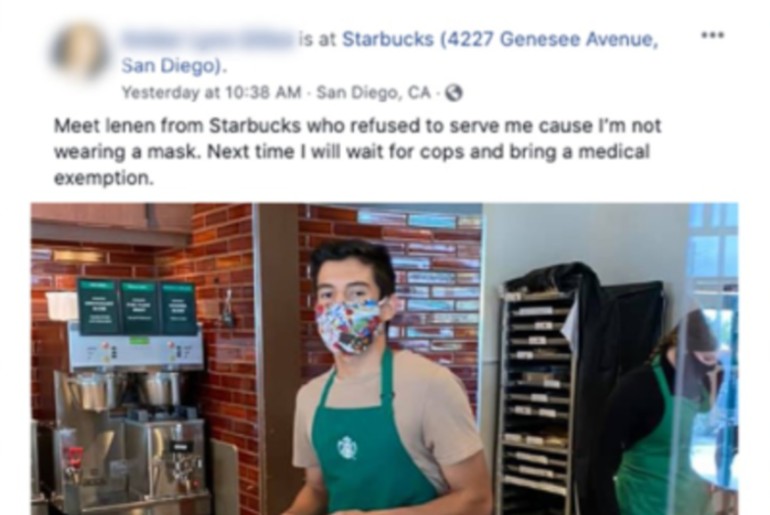 Also Read: Study Claims Filter Coffee Is The Healthiest Coffee And Can Extend Your Life
Netizens Stand By The Barista And Support His Initiative
One Facebook user wrote: "There's no reason to publicly shame a kid who's trying to work his shift like any other day." Another said: "I don't blame the kid behind the counter. They need to follow the rules that they are given."
In another post, Gilles said she wasn't "scarred or bothered" and thanked everyone for "the ratings" with a peace sign. One of the top comments on this post reads, "You do realize the only one who is benefiting from these "so called ratings," is Lenen!! He has almost 10,000 dollars in tips!!! ??"
Also read: Bhopal Man Creates Face Masks With PM Modi's Nose And Lips On Them
Lenin Gutierrez took to Facebook to thank everyone for raising funds for him. He revealed that through these donations he can now fulfil his dream of becoming a dancer as well as a dance teacher.
I've received numerous messages asking for my side of the story. Since this seems to be the most popular thread I decided to post my personal experience here. Thank you all for the love and support.

Lenin Gutierrez यांनी वर पोस्ट केले बुधवार, २४ जून, २०२०
This incident showcases the mentality of many people who do not understand the severity of the situation and continue to mock corona at its face. Thankfully, responsible citizens help balance the scales. Till then if you're craving for a chilled cup of coffee you can make Dalgona Coffee from the comfort of your home.