A minute walk from the shoreline, in a secluded expanse of the ravishing Gokarna beach, there's a solitary property standing out from the rest of the world. A quaint property where murmurs of people aren't heard much, but the sounds of waves are the loudest! Every day, Trippr Gokarna witnesses the sky changing its colours over the vast Arabian sea, during the sunrises and sunsets. And guess the amount with which you can experience all of it. It's as low as ₹400. A rare treasure that doesn't come with a heavy price tag. Ain't so?
Enjoy Camping, Bonfire, Barbeque And More Right Beside The Arabian Sea
If you're a backpacker who loves the beaches, we've found out the perfect place for you. Trippr is a cosy hostel cum camp on the hidden beach of Karnataka, Gokarna where you can stay at just ₹400. The cottage-style hostel has rooms with amenities like free wifi, CCTV, private parking and more. What's more, there is an outdoor fireplace facing the beach with Barbeque facilities available at extra charges.
And if you're an indoor games freak, they have board games and puzzles too. Love scuba-diving? You can pre-book the activity as well through the hostel. They might even allow your pet to stay with you at additional charges. There is a restaurant too adjoining the hostel that serves delectable food options. Meanwhile, here are the best places to visit in Gokarna.
Also Read: I Travelled To Gokarna For 3 Days In ₹7,000 Including Bus Tickets, Stay & Meals
Feeling The Silence With Every Bit Of Heart And Soul
The beachfront hostel also believes in sustainability and is absolutely run on renewable energy sources like solar. It also focuses on the reduced use of single-use plastics. The property is around 10 metres from the ocean, 8 kilometres from River Aghanashini and 23 kilometres from Mirjan Fort. The silence around the property can be felt with every bit of heart and soul. People who've stayed here say that the place is clean and hygienic and the hospitable hosts make the experience all the more heartwarming.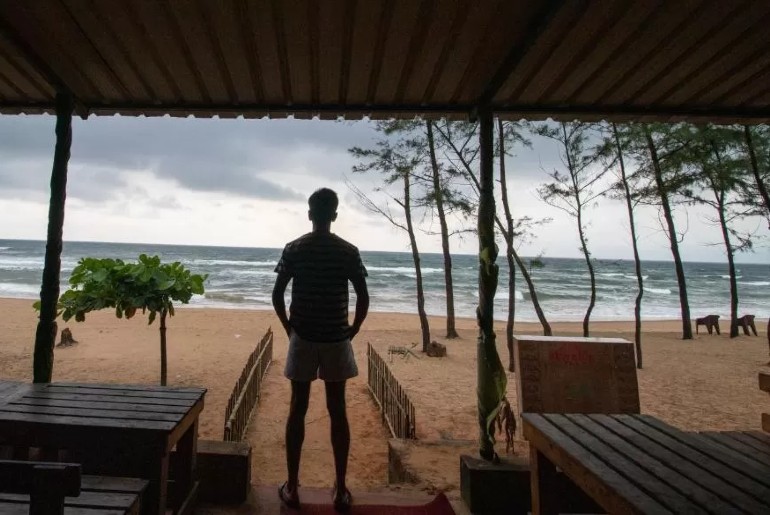 Also Read: Spend A Luxurious Vacation At The Kahani Paradise In Gokarna
Rules And Safety Measures
The hostel guys have now placed screens in appropriate areas to ensure social distancing between guests and staff. The cleaning personnel have been disinfecting the rooms on a daily basis. One thing that you need to keep in mind before heading to Tripper is, they do not allow children. Other than that, if you're on the quest for the best budget hostel in Gokarna, your search can finally end here. Meanwhile, here are 5 secluded islands in India perfect for social distancing: