This pandemic has left shops, restaurants and businesses desperate to attract customers and cut down their losses. It's not uncommon now to witness massive discounts, buy one get one free offer on products and whatnot. And while these offers shall definitely entice you, it's all the more necessary to take safety precautions amid the COVID-19 pandemic. Venturing out without masks, standing in huge crowds is really unsafe. A Tamil Nadu hotelier recently came up with a promotional strategy to sell biryani for just ₹10 per plate for the inaugural of his restaurant. Thousands of people turned up without wearing masks and violating COVID-19 norms. The huge crowds led to police intervention. Read on to know more.
Tamil Nadu Biryani Shop Gave Biryani For ₹10 As Part Of Promotion Strategy
29-year-old Zahir Hussain came up with a promotional strategy to sell one plate of biryani for just ₹10 on the inaugural day of his restaurant. The eatery situated in Aruppukottai put out a poster for the ₹10 biryani. It stated the validity of the offer from 11 am to 1 pm on October 18.  According to The New Indian Express, by 10:30 am itself the restaurant witnessed huge crowds of people. Many of them didn't wear masks or follow social distancing.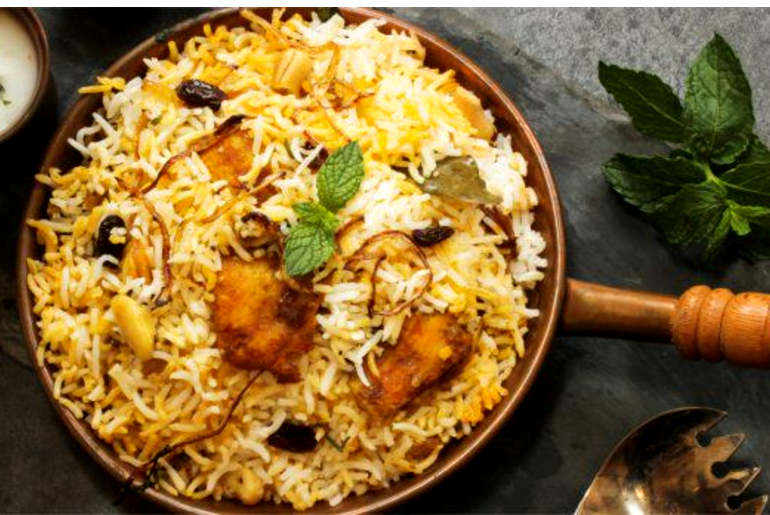 Also Read: From Malabar Biryani To Appam, You Have To Try These Dishes From South India
Zahir Hussain and his team prepared 2500 packets of biryani for sale. They sold 500 packets in a jiffy. The huge crowd of people filled to the roads and nearby areas. The Aruppukottai town police arrived and tried to drive away people. The biryani madness ended up blocking roads in the area. Two policemen stood in front of the shop to prevent crowding. And the police later took Zahir under custody for his scheme.
Also Read: Trans Woman Harassed For Selling Biryani In Kerala Set To Open A New Eatery Soon
Biryani Shop Owner Booked For Attracting Crowds & Violating COVID-19 Norms
In order to not let the biryani packets go to waste, Inspector Balamurugan distributed the food to the needy. Volunteers arrived and took the food away. They distributed it to specially-abled people and the underprivileged. As for Zahir, the police booked him and registered an FIR against him. But he later got out on bail. His sop was closed for the day. Fortunately, the police didn't seal it. They warned Zahir not to attempt such promotion gimmicks during the pandemic. If you do wish to have biryani, watch this video and enjoy biryani from the comfort of your homes.