Goa has crystal blue beaches, welcoming shacks, delicious seafood, divine places of worship and whatnot. Yet, on your next trip to Gia, if you find yourself craving for more and yearning to cover more, then you certainly can. Go on a scenic road trip from Goa to its stunning bordering regions. Lush green palm groves, splashing waves and cool breeze play perfect companions to make your road trip a special one. So, here are 6 scenic road trips you can take from Goa.
1. Dandeli
A happening adventure destination in Karnataka, Dandeli is one of the best getaways from Goa. Dandeli offers ample opportunities for cave exploration, river rafting, nature walking and bird watching. To reach Dandeli, you'd have to embark on a stunning 3-hour road trip from Goa. The 123 km long drive would be totally worth it when you can visit Dandeli's Kavala Caves and get up close with the wild at the Dandeli Wildlife Sanctuary. 
Also Read: 6 Places In India For A Fun-Loving Sagittarius Who Enjoys Free-Flowing Trips
2. Diwar & Chorao Islands
Diwar and Chorao islands are just a short distance of around 40km from Panjim. Despite being utterly gorgeous and unspoilt in nature, they are hardly on the bucket lists of tourists visiting Goa. Commence your road trip from Panjim to Diwar Island by hitching a ferry from Ribandar. You will reach Chorao Island after crisscrossing through the roads of Bicholim. Inhale the Portuguese influence, visit the prestigious Salim bird sanctuary and have a picnic with your family. 
Also Read: 7 Scenic Road Trips That Take You Through Almost Every State Of India
3. Panchgani 
If you have to pick between beaches and mountains which one would you choose? Well, I'd say both! And you can definitely get the best of both worlds by going on a scenic road trip from the beach destination of Goa to the dreamy mountains of Panchgani in Maharashtra. While this is a long road trip of 7 hours and 377km, a road trip to Panchgani would also mean touching base upon Mahableshwar nearby. Walk around strawberry farms, cuddle with bae in a cosy hotel on the hills, visit the Kamalgad Fort and the clear Dhom Dam Lake. The sightseeing spots are endless! 
View this post on Instagram
Also Read: 5 Insanely Beautiful Hill Stations In Kerala To Visit Instead Of The Mainstream Himachal
4. Cabo De Rama 
Nestled in the southern tip of Goa, Cabo De Rama is an ancient Portuguese fort.  It embodies the royalty, tradition and culture of the Portuguese. It's a wonderful place to go on a scenic bike ride with friends and explore hidden trails through the forest, Once you reach Cabo De Rama from Panjim, the spectacular views of the lush green coconut trees against the backdrop of the blue-green waters will take your breath away. Visit here during the non-monsoon period and don't forget to catch the stellar sunset!
Also Read: 10 Offbeat Things To Do In Goa Beyond Beaches, Parties &  Booze
5. Gokarna
Can't have enough of beaches? Well, just glide through from one beach destNatureination to another in a heartbeat. While the happening Goa will give you upbeat party life and touristy feels, Gokarna in Karnataka will take you on a quieter recluse. The beaches are devoid of commercialisation. It's a quieter, scenic and serene destination. It will not take you more than 5 hours to cover a distance of 168 km to reach Gokarna. Head to Om Beach, explore the Mirjan Fort and splash around in the Lalgulli Falls.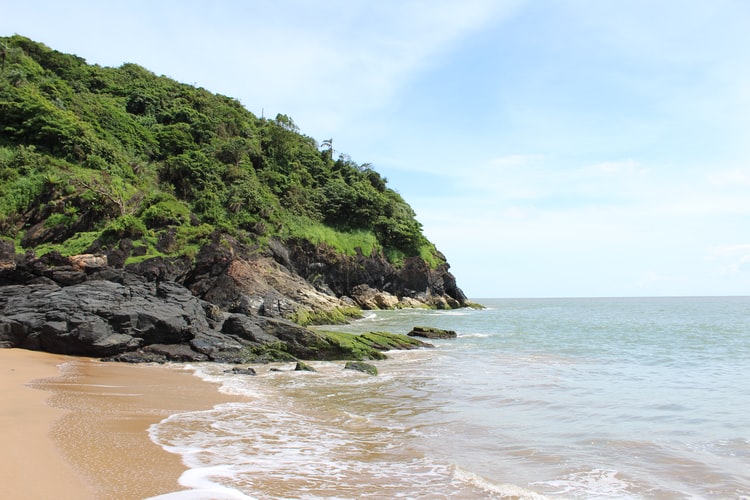 Also Read: Best of Gokarna: From Beaches To Falls, 7 Must-Visit Places
6. Chorla Ghat
Nature lovers must absolutely plan a trip to Chorla Ghat from Goa. A delight for biologists, photographers and ecologists, Chorla Ghat is home to rainforests and a huge variety of flora and fauna. Stay in the lap of nature and go on hikes, butterfly watching, bird watching and feast on ethnic cuisine. The 60km road trip from Panjim via Belgaum Highway is a pleasant and smooth one. Drive through hill cut roads that wade through dense forests. You can witness a variety of snakes, birds and butterflies.
View this post on Instagram
Folks planning a trip to Goa, must plan a road trip to these gorgeous destinations both in and outside Goa. They offer the best of nature, culture and a whole-hearted adventurous experience.