When it's safe to travel again travel and hospitality experts predict that road trips will pick up in India. With families driving across the country in their own cars, it's certainly one of the safest modes of travel amid the ongoing coronavirus pandemic. India has a plethora of scenic destinations that are as beautiful as the ones abroad, perhaps even more. Travel enthusiasts, here are 7 scenic road trips that you can take across almost every state of India.
1. Delhi To Agra To Jaipur
Take a road trip on the famous Golden Triangle Road. This is one of the best road trips in India. Delhi, Agra and Jaipur offer travellers a  culturally and historically rich experience. From Agra's Taj Mahal to Jaipur's Hawa Mahal  and various other monuments in the Pink City, this 7 hour road trip is worth every bit. The Yamuna Expressway (NH 93) is a smooth road and you can smoothly cover 449 km.
Also Read: 6 International Road Trips You Can Take From New Delhi After The Pandemic
2. Bangalore To Mysore To Alleppey To Munnar To Thekkady
A trip from the Garden City to God's Own Country is one peppered with scenic beauty, places of worship, floating scenic hamlets and soft breeze. Stay in a houseboat in Alleppey, visit the tea gardens in Munnar and explore the Periyar National Park in Thekkady. If you stay in Bangalore, then this is a road trip you must take at all costs.
Also Read: 6 Best Road Trips You Can Take In The Long Weekends Of 2021
3. Kolkata To Darjeeling To Gangtok To Zuluk To Alipurduar To Tawang
There can't be a better way to explore the Northeast then going on this road trip. Start your thrilling journey from Kolkata, next head to the iconic hill station Darjeeling. Next, ride through the Zuluk loops which takes you through the rolling greens of the tea estates and next visit the Buddhist abode of Tawang in Arunachal Pradesh. During winters, Tawang becomes a gorgeous winter wonderland.
View this post on Instagram
4. Mumbai To Baroda To Diu To Somnath To Gir To Rann of Kutch
Let the delicious food like dhokla, fafda, thepla of Gujarat make you travel all the way from Mumbai. The bustling city of Baroda, rich in culture will ensure you have a great holiday. After Baroda, head to the Union Territory of Diu. Next, let the spiritual getaway of Somnath help you connect deeper with the divine. Add in nature and lush green forests of Gir and compliment your trip with the expansive, Rann of Kutch. This is a culturally rich road trip, that will always be memorable.
5. Aurangabad To Indore To Bhopal To Sagar To Khajuraho
Leave behind the Tropic of Cancer and head to the heart of India, Madhya Pradesh. Aurangabad is the last town from Maharashtra that you would leave behind before you head to the Bhopal-Sagar-Khajuraho Road. Foodies need to go on this road trip to feast on a variety of special street from Indore. History fans and  the spiritual ones can have a wonderful time exploring the magnificent sculptures and structures of Khajuraho.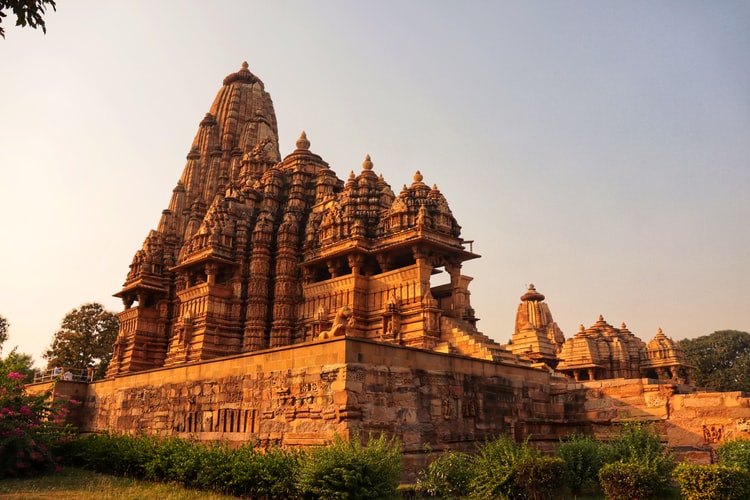 Also Read: Madhya Pradesh Launches Drive-In Theatre With 100 Cars Capacity & Food Court
6. Agonda To Gokarna To Coorg To Wayanad To Alleppey To Chikmagalur
Another super South Indian road trip you must embark has to be the one starting from Agonda in Goa and ending at Chikmagalur in Karnataka. This road trip is perfect for beach lovers. Starting from the shores of Agonda, you can visit the secluded and spiritual beach destination of Gokarna. From there visit the small, coastal towns of Karwar and Udupi before heading to the coffee rich Coorg. Your road trip would also include Kerala's Wayanad, Alleppey, Kodaikanal, Kovalam and Ooty. Finally, end this 2500km road trip by visiting Mysore and Chikmagalur.
Also Read: 6 Scenic Beaches That Are Just A Road Trip Away From Bangalore
7. Srinagar To Leh
If the mountains are calling you, then there can't be a better road trip then the one from Srinagar to Leh. You can travel from the snow capped mountains of Srinagar all the way to Leh, through the Zoji La Pass. But with this road you wont travel through the bushes or the jungles, instead you can get up-close with the imposing mountains and the  stunning valley of Fraas. On the way pass through the iconic Kargil. This is a 10-hour long road trip, but it's truly perfect for mountain lovers.
So, these are some of the best road trips to take you across most of the states in India. Do travel only when it's safe to, keep in mind all the Covid protocols of each state and do the needful. Stay safe!