As India and Pakistan are celebrating their 75th Independence Day this year. So, a few UAE restaurants offer amazing Independence day deals for all food lovers to pay tribute to this special occasion. However, celebrate 75th Independence Day with delicious food along with the chic ambience. So, come along with your friends and family and enjoy these special offers. 
Various Independence Day Deals
1. Tri-Colour Kebab Platter At India Palace 
On this Independence Day, visit the recently refurbished JBR location of the Indian restaurant India Palace to indulge in the Tiranga Vegetarian Platter & Tiranga Non-Vegetarian Platter. The non-vegetarian plate includes 12 pieces of Malai, Pahadi, and unique Chicken Tikka. In addition, 12 pieces of delicious Paneer Tikka, Malai Paneer Tikka, and Hara Bhara Tikka are included in the vegetarian plate. In addition, you can enjoy this Independence day deals veg platter at AED 49 and a non-veg platter at AED 75. The offer is valid throughout August 15. 
Location: Jumeirah Beach Rd – Jumeirah Beach Residence – Dubai

Contact: 04 437 0279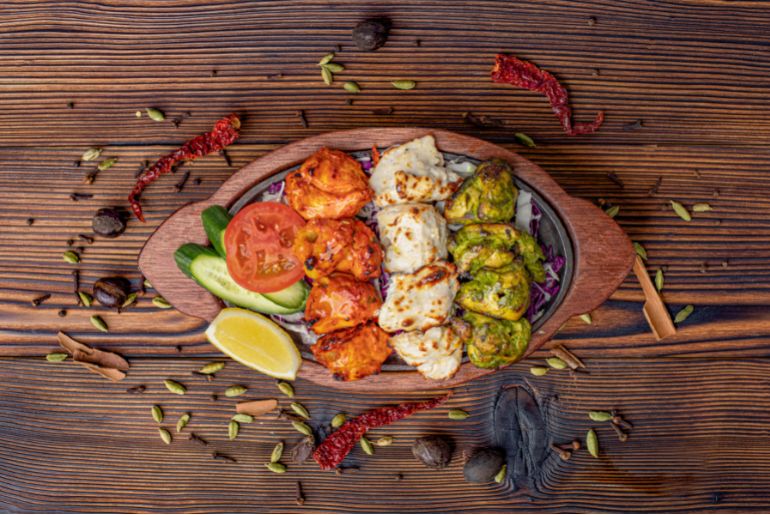 Also Read: Consulate General of India, Dubai Announces Divya Chakra 2022 To Celebrate 75th Independence Day
2. Tri-colour Paneer Tikka and Biryani at Sagar Ratna
On the occasion of the 75th Indian Independence Day, the locally owned traditional Rajasthani and Marwari cuisine restaurant Sagar Ratna will give its patrons a unique tricolour main course meal, Paneer Tikka & Biryani. Priced at AED 26, Tiranga Paneer Tikka is a three-colour Indian cottage cheese marinated in cream, spices, and mint leaf paste. Steamed rice, stir-fried in flavorful spices and herbs with fresh veggies, is called Tiranga Biryani and costs AED 30. Moreover, it also comes with fried onions, vegetables, and mint flavour.
From August 14 to August 16, Sagar Ratna JLT & Oud Metha will serve tri-coloured meals. 
Location: Cluster R, Lake Side, Jumeirah Lakes Towers – Dubai – UAE

Contact: +971 4 453 3364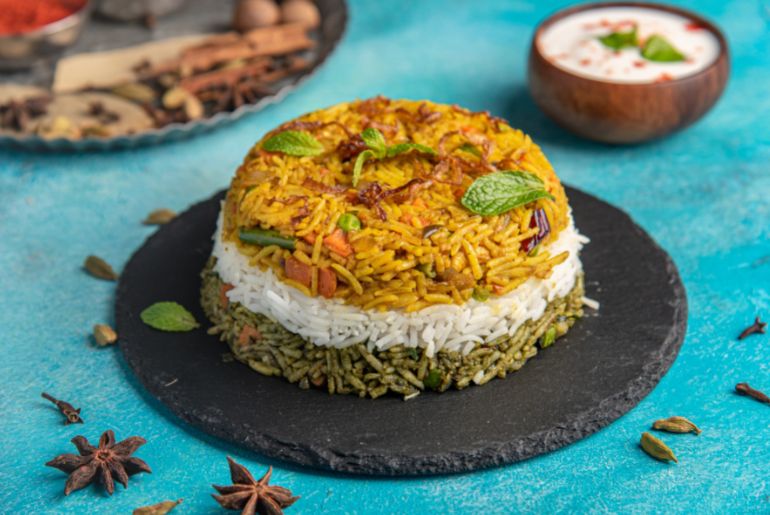 3. Tri-colour Dosa at Yummy Dosa
Yummy Dosa will serve a unique tricolour dosa to customers. However, renowned for its more than 100 variants of Mumbai street style fusion dosas, to commemorate the 76th anniversary of Indian Independence Day. The three flavours of the tricolour dosa—Pizza Dosa, cheese chilli dosa, and plain cheese dosa—will highlight the stunning hues of the Indian flag.
Moreover, a dosa that is picture-perfect and flavorful in this Independence day deals. If you want to celebrate, go to Yummy Dosa on August 15 and get a Tiranga Dosa. The cost is 28 AED. 
Location: 83 Sheikh Khalifa Bin Zayed St – Dubai – United Arab Emirates

Contact: 048767982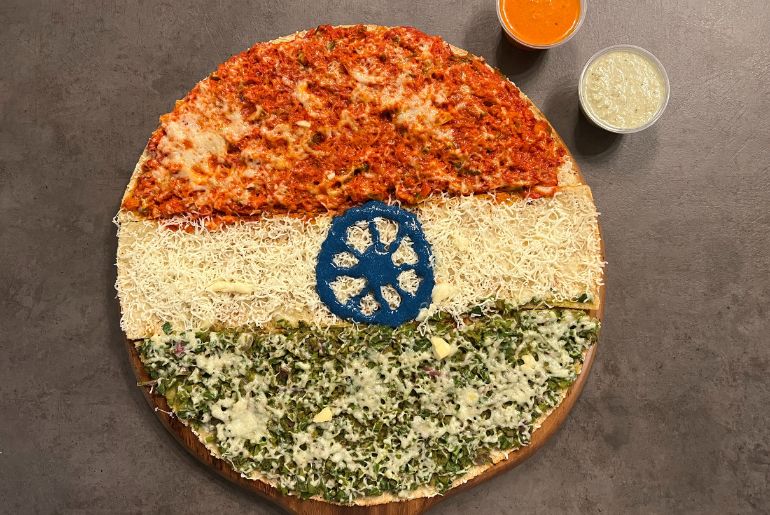 Also Read: This Airline Is Offering UAE-India Flights For As Low As Dh330 For Independence Day
4. Tirangs Shots at Dhaba Lane
The locally owned Punjabi eatery Dhaba Lane is honouring India's 75th Independence Day by giving all of its patrons free tri-colour shots. Shots for the colours green, white, and saffron include Mint Cooler, Pina Colada, and Santa Banta. The free shots for the Independence day deals  will be available from August 15 to August 20.
Location: Opposite Spinney's. Behind Park Regis Kris Kin Hotel, Al Karama, Dubai 

Contact: 043583554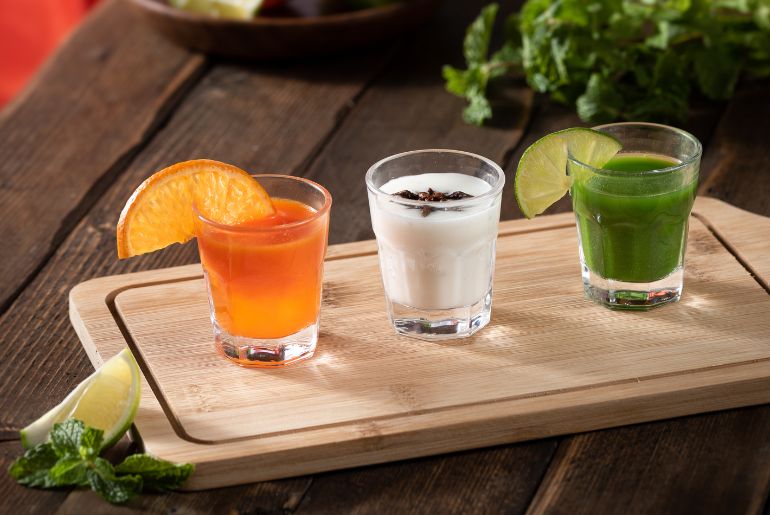 5. Sizzling Set Menu at Yoko Sizzlers
On August 15, the day of Indian Independence Day, Yoko Sizzlers, the oldest sizzler restaurant (open since 1986). Moreover,  home to more than 60 different sizzler kinds, is offering a fantastic set meal bargain for only AED 76. At Yoko Sizzlers, you can receive any vegetarian sizzler on the menu, a beverage, and a brownie for AED 76.
Location: Opp. Burjuman Centre – 2 A St · Near BurJuman 

Contact: 04 250 5504
View this post on Instagram
Also Read: Celebrate 75th Independence Day In Dubai With House Of Curry And Tri-Colour Biryani
6. Tri-Colour Thali at Khau Galli
Visit the eccentric Bollywood eatery Khau Galli on this 75th Independence to savour their delectable Tri-color thali, which includes two appetisers, three curries, rice, rotis, and salad. The stunning thali includes appetisers of paneer tikka and veg kebabs and curries of Dal Makhni, Palak Paneer, and Malai Kofta. All of this for only 32 AED. On August 15, tri-coloured thalis will be available all day at all three Khau Galli locations in Jumeirah Lakes Towers, Ibn Battuta Mall, and Mall of the Emirates. 
Location: Fortune Executive – PL 2&3, lake level – Cluster T – Jumeirah Lakes Towers – Dubai Mall of Emirates & Ibn Battuta Mall Food Courts 

Contact: +971 4 589 6525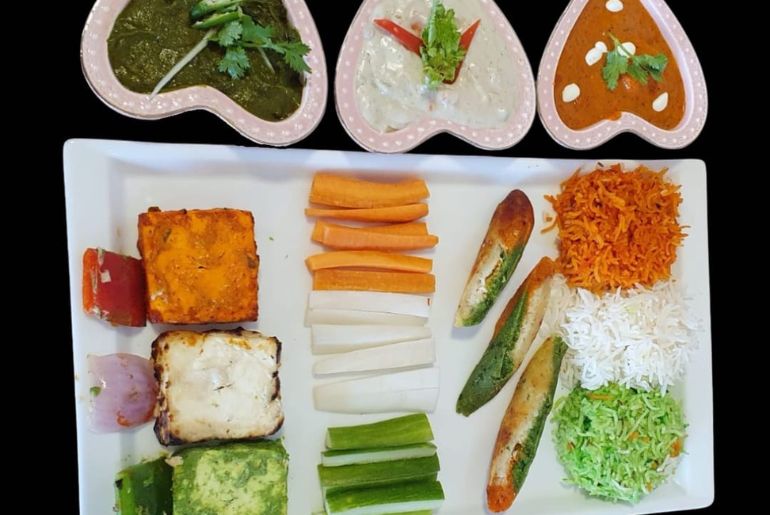 7. Independence Day Deals at Pool & Sky Lounge 
Right here in Dubai, celebrate the 75th anniversary of Indian and Pakistani Independence. A new release from High Note Pool & Sky Lounge is "Legalized." On the occasion of India's Independence Day, High Note will formally introduce their very own resident band. The band will play on Sunday and Monday, August 14 and 15, in honour of the celebrations of Pakistan and India's Independence, which are dubbed "Divided by Boundaries, United with Music." 
The band has talented members. First, we have Prateek Prakash from India's Got Talent 7 and Jhalak Dikhhla Jaa. Second, Anoop Kumar, a.k.a. Anny, provides thrilling percussion sounds, while Marshal Masih plays nostalgic, calming guitar. 
Location: Rooftop Level, Aloft Al Mina Hotel – Dubai – United Arab Emirates

Contact: +971 58 591 8153
Also Read: Independence Day Long Weekend: Here's How To Use Credit Card To Plan Travel Better