If you are an economy class flyer, there might have been times when you would have thought about the perks that the other class flyers have. Most of it is related to sleeping, isn't it? Well, looking at this, Air New Zealand has recently announced the 'Skynest' option. The economy class passengers now can sleep stretching out for on actual beds.  Read on to know more.
New Boeing 787 Dreamliners
Economy class passengers will have the opportunity to stretch out during their flights on actual beds for the first time ever. On its new Boeing 787 Dreamliners, scheduled to enter service in 2024, Air New Zealand will offer its "Skynest" concept, featuring six full-length sleeping pods. Some of the longest flights are operated by Air New Zealand and such sleeping pods would come to the rescue of all the passengers who have a tough time sleeping sitting up. In September, this year, Air New Zealand will be launching non-stop flights between New York's JK airport and Auckland which will be 17 hours long.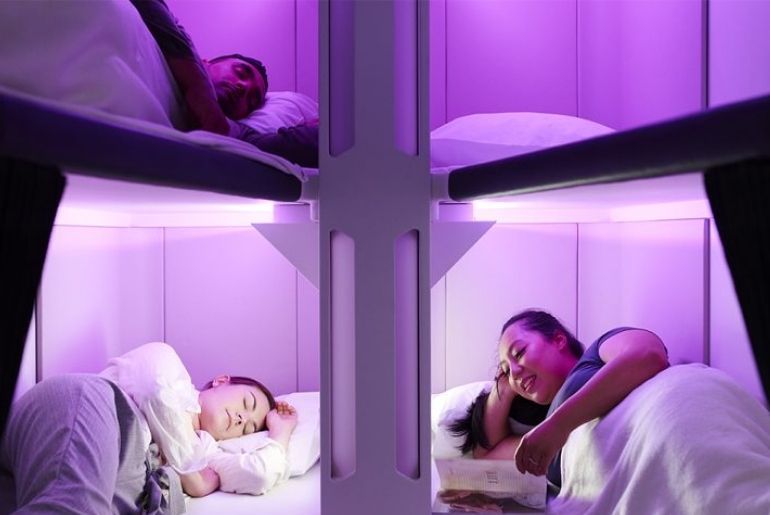 Also Read: Rajpal Yadav Unveils A Hidden New Zealand In Mumbai Surrounded By Lush Greenery
Four-Hour Session In One Pod
The pods include a full-size pillow, bedding, a reading light, USB port, ear plugs and a ventilation outlet. The pods will be located between premium economy and economy cabins in the sleep zone. The pods will be placed in two rows each containing three beds and will be stacked like bunk beds. At an added cost to their regular Economy class seats, each passenger will be limited to a four-hour session in a pod. The idea of four-hour session comes after researching well about sleep cycles. 
Also Read: Kartik Aaryan Flies In Economy Class; Says ' Ticket Mehengi Thi'