Gone are those days when you feel guilty after indulging in some savoury and cheat meals. If you are a foodie but a health freak at the same time, then the food ordering situation becomes a bit tricky. But Pune peeps don't have to stress before eating something outside anymore as there is a cafe in Pune with the most delectable dishes that are completely healthy. Say hello to 'Chafa Cafe & Studio', a place dedicated to healthy and clean eating full of nutrients and not at all junk foods.
This Cafe In Pune Is The Ultimate Place For Health-Conscious Foodies
Nestled near Koregaon Park, 'Chafa Cafe & Studio' is serving the yummiest and highly nutritious dishes with completely healthy ingredients. The crowd loves to indulge here as they are very particular about what they use to prepare the dishes.  This place is the perfect balance of both mouth-watering cuisines and a healthy approach to life.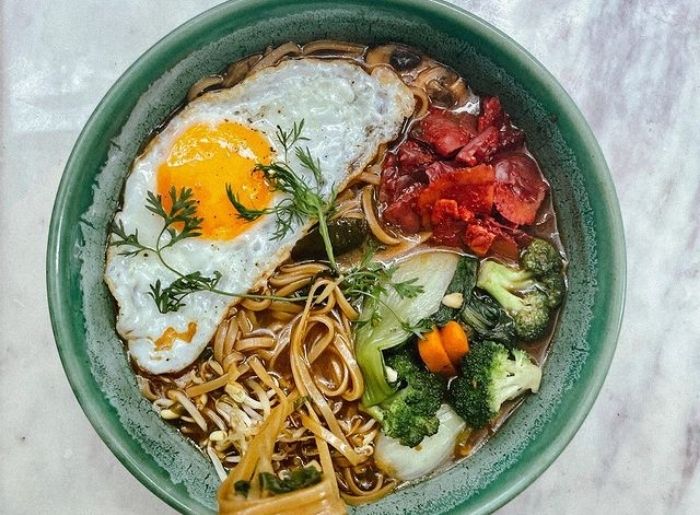 Also read: An Insider Guide To Pune's Best Mutton Thalis
Chafa Is The Perfect Pinterest-y Cafe
This cafe is not only an expert when it comes to its menu but its decor is stunning too. The vibe and the ambience will blow your mind as soon as you enter. Surrounded by greenery with a blend of earthy tones, this place looks magical. Chafa features both indoor and outdoor sitting arrangements. While the indoor sitting area has aesthetic swings, wooden furniture, and plants surrounding the place, the outdoor sitting area has a hint of vintage style in its decor. Just like the interior, wooden furniture has been used to decorate the outdoor sitting arrangements as well. The atmosphere and aura of this cafe in Pune are very fresh, simple yet so stunning.
View this post on Instagram
Also read: This Cafe In Pune Offers Free Food To Indian Army And Their Family
Relish Guilt-Free
You can gorge on foods guilt-free as much as you can as these are gluten-free, dairy-free, keto-friendly, and also have a wide range for vegans. Their menu is quite elaborated with its and bits of various cuisines. Here are some recommendations to try out from the endless list of gourmet and healthy foods from Chafa.
Raw Mango Papaya Salad
Asian Soba Noodles Bowl
Pink Bowl
Pesto Burrata Cheese Pizza
Chicken Chimichurri Salad
Crispy Tofu Open Sandwich
Moroccan Salad with Cumin and Lemon vinaigrette
Pink Flamingo Smoothie
Chocolate and Avacado Bowl
Almond Lemon Ricotta Cake
Chocolate Ganache
Gluten-Free Strawberry Cake
View this post on Instagram
Well, the list of recommendations can go on and on as everything on the menu is super delicious. If you are in Pune, then don't miss this cafe. No matter if you are on a diet, Chafa Cafe & Studio won't disappoint you.