If you have done and dusted Pondicherry, you must be wondering where to go for your next weekend getaway. Just six hours away from Chennai, there is a surprise waiting for you – a Dutch town called Tranquebar, and it is straight out of the storybooks. With a Danish fort, churches and a lovely beach, the town sees tiny crowd adding even more to its storybook appeal for such a picturesque location. Here's why you should visit this quaint Dutch town.
Also read: This Pretty Town Surrounded By Western Ghats & Arabian Sea Is The Kashmir Of Karnataka
The Town's Danish Connection Dates Back To 1618
The former Danish town was a prosperous trading port. The village's Danish connection dates back to 1618 when an admiral, Ove Giedde fell in love with the coast's tranquility. The Danish then acquired trading rights from the Maharaja of Tanjore and built a fort to strengthen the pepper trade slice. They lived in Tranquebar until 1842 and eventually sold it to the British East India Company.
A Town Full Of Colonial-Era Buildings & Fort
The town gate of Tranquebar has a Danish insignia inscribed on it, and it will immediately transport you into a historical oddity. If you are a history buff, you can go on a heritage tour across the town. Begin at the town gate or the Landporten and then explore the colonial-era buildings, carriage porches, a fort and majestic churches. The Rehling's House, a collonaded house, will take you by awe. Next to it is Van Theylingen house, which is home to a small maritime museum. Here are 6 Best Road Trips You Can Take In The Long Weekends Of 2021.
Tranquebar Beach – A Slice Of Heaven
There is also a dilapidated church called the Zion Church, one of India's first Protestant churches. The German missionaries built the New Jerusalem Church, which is also worth a visit.
If you are a laid-back traveller, Tranquebar can be a slice of heaven. Curling up on an old armchair with a book and watch the waves crashing on the rocks. Take a stroll on the Tranquebar beach or spend some moments of quiet sitting upon the ramparts of the fort. There's A Hide And Seek Beach In Odisha Where The Sea Disappears Before Your Eyes.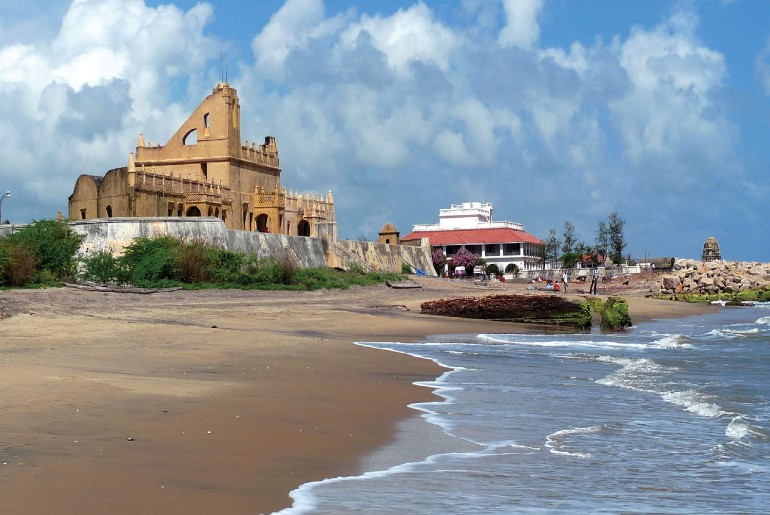 Stay At A Bungalow Overlooking The Beach
When you are here, you can stay by the beach at the Neemrana properties. While they have tree heritage properties in the town, there is a bungalow on the beach where you should park yourself for Instagood views. Here, you can wake up in the morning to an English breakfast while enjoying the azure waves.
So, for your next weekend getaway, look no further than this Dutch