Its not a daily affair to laze around in the UK beaches. Needless to say, the weather does not permit the much-loved activity. However, this summer came as a surprise for residents of southern England. Thousands living in Bournemouth and Sandbanks, in Dorset flocked to the beach over the weekend to enjoy the hottest day of the year so far.
On another note, Almost 6000 Kgs Of Trash Found On Cocoa Beach In Florida After Lockdown Measures Were Eased.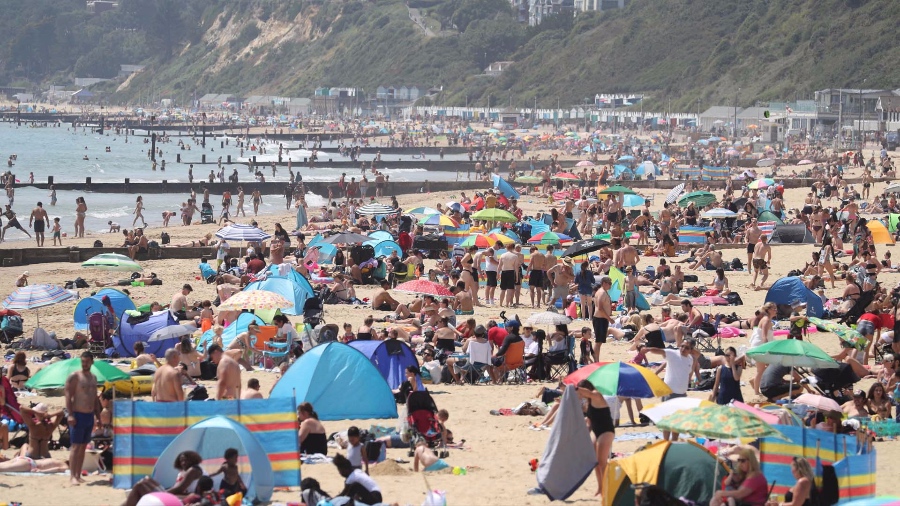 Despite repeated warnings to stay away from the area, the coastline was flooded with cars and sunbathers, enjoying the outdoors. This also led to anti-social behavior, illegal parking as well as over 40 tons of waste accumulating along the coast. Local authorities in the popular beachside town of Bournemouth were appalled at the scenes on its beaches. Visiting beaches is permitted in the country, but residents are advised to avoid large crowds.
Besides, the weekend's heat wave was also celebrated with street parties in London and Manchester. Speaking about the incident, Prime Minister Boris Johnson said that people need to understand that mingling too much" could set the UK back. Besides, ministers also warned that beaches in the country could be closed if Covid cases increase. However, for now, a major incident has been declared and additional resources, have been deployed to ensure safety.
Following this incident, Formby Beach in Merseyside has put strict rules in place, allowing police to move on anyone they suspect might cause trouble. Meanwhile, Beaches In Spain Use Reservation System To Ensure Social Distancing.
The Current Scenario In UK
Covid death toll across the UK has crossed 43,000 and the country has been under strict lockdown since 23 March. However, these restrictions are due to be relaxed on 4 July. British Prime Minister Boris Johnson announced that pubs, restaurants, museums, cinemas and hairdressers in UK are set to open in early July.
In addition, places of worship, wedding with up to 30 people, leisure centres and tourist attractions such as theme parks will also reopen on July 4. Further, hotels, B&Bs, hostels, holiday homes and camp and caravan sites will also be allowed to reopen in a bid to boost UK's local tourism.
Indoor hospitality will be restricted to table service in order to ensure minimal contact between staff and customers. Besides, Johnson also announced that residents can meet each other indoor or outdoor, from July 4.
However, nightclubs, indoor gyms, bowling alleys and swimming pools will continue to remain closed. The UK has been one of the hardest hit countries by the pandemic. However, there has been a 2-4 percent decline in the number of new cases, and the Government believed there was no risk of a second wave.
Rules For People Traveling From UAE To UK
With Emirates resuming operations from 15 June, the UK Foreign and Commonwealth Office (FCO) rolled out a list of guidelines for anyone travelling from UAE to the UK. All passengers arriving in the UK from the UAE must enter a 14-day quarantine. Besides, travellers must provide their journey and contact details up to 48 hours before landing in the UK.
On a lighter note, did you know a UK Couple Exchanged Onion Rings At Burger King After Their Wedding Got Cancelled Due To Covid?
Travellers arriving in the UK will be under self-isolation for the first 14 days. In addition, those who fail to refurbish travel and contact details will be fined up to £100. Travelers who break this rule more than once will be fine more. Further, those who fail to self-isolate will be fined up to £1,000.
The FCO also added that while the UAE has eased restrictions, travellers must monitor the government closely as things may be subject to change at short notice. Here's a Step-By-Step Guide For Stranded Residents Returning To UAE.
The UAE government announced that visas (visit visas, residency visas) and entry permits that expired after 1 March 2020 are now valid until the end of December 2020. In case you're planning to travel, here are 7 Destinations Dubai Residents Can Travel To This Summer.  And in case you didn't know Bali Might Welcome Tourists By October. Apart from Bali, Portugal has also opened doors to tourists from select countries. 
Take a look at the 26 Countries That Have Opened & Are Opening Up For Tourism Again Rather Cautiously.