More than three crore Gods are worshipped in India, and there are a whopping 20,00,000 lakh temples in our country. Out of these temples, there are a few in which the devotees have shown a different level of creativity. The beliefs around some of these temples are even more fascinating. We are talking about the mist unusual temples in India. Allow us to take you on a tour of the top ones. You really have to read to believe!
Also read: 5 Fascinating Ancient Ganesh Temples In India You Need To Visit
1. Karni Mata Temple, Rajasthan
The first one on our list is the Karni Mata temple in Bikaner of Rajasthan. Also known as the temple of rats, this temple is famous for the 25,000 rats that are worshipped here. People from all across the country come here to praise these rats, and you will also find a few foreign travellers visiting this place out of curiosity. When you pray in this temple, you will find rats roaming around your feet. The devotees consider themselves lucky after eating the foods eaten by the rats. Here a silver statue is created after every rat dies. You also need to visit these 5 Beautiful Lord Krishna Temples From Across India. 
2. Bullet Baba's Mandir, Rajasthan
The story of this temple in Jodhpur's Pali district is fascinating. Om Singh Rathore Banna, fondly known as Om Banna was travelling to Pali from Chotalia on his bullet bike. He lost his control while riding, met with an accident, and he died on the spot. The local police got his bike to the police station the next day, and very shockingly, the bike was missing from the police station. It was spotted at the accident spot. The police made multiple attempts to move the bike to the police station, but it was always found on the accident spot. This episode was nothing less than a miracle for the residents, and since then they started worshipping the bike. Every traveller ensures that they bow down in front of this temple and failing to do believed to be inauspicious.
3. The Whisky Devi Temple, Madhya Pradesh
Also known as the Kal Bhairav temple in Madhya Pradesh, God is offered alcohol in this temple. Many years back, five items had to be offered to the GoddessGoddess as per panchmakara tantric rituals, but now, only alcohol is served to the GoddessGoddess. The vendors outside the temple sell a thali including coconut, flower and alcohol to offer to the shrine. There are many other shops outside the temple set up by the Government where you will get both country and foreign liquors. You can Experience A Virtual Tour Of Ancient Temples Of Kashi Via A Museum.
4. Aeroplane Gurudwara, Punjab
It is believed that many years back when a group of boys were waiting for their visas to go abroad, they offered toy aeroplanes at Baba Nihal Singh Gurudwara to fulfil their wish, after which their wish was granted. Since then, this Gurudwara in Jalandhar is known as Aeroplane Gurudwara. Every person who aspires to go abroad, worships God and offers toy aeroplanes. Around 200 toy aeroplanes are collected on weekends and then distributed to the orphans.
5. Channapatna Dog Temple, Karnataka
There is a saying that in this era, you should trust animals more than humans, and this businessman in Karnataka has given a new meaning to this belief. In 2010, a resident businessman built a temple to worship Goddess Kempanna and very mysteriously, two dogs disappeared from the village. That night the Goddess Kempanna appeared in the man's dreams and wished for the temple to be built in the name of those dogs. Since then, dogs have been worshipped in this temple.
6. Munch Murugan Temple, Kerala
Baby Murugan also known as munch Murugan, is a 300-year old God who fell in love with munch chocolate. A Muslim child visiting this temple ten years ago, fell ill and was chanting Murugan's name all night. The family took him to the temple the next day, and as guided by the priest, they offered prasad to God. The kid was stubborn about only offering munch chocolate, and he surprisingly recovered at that very time. Since then, every devotee travelling to this temple offers munch chocolate to the shrine. Nestle company just got luckier. Did you know Karnataka Has A Magnificent 700-Year-Old Temple That Was Once Submerged Underwater?
7. Chinese Kali Temple Kolkata
The fusion name of this temple aptly describes it. Located in Tangra, also known as the Chinatown in Kolkata, the Goddess is offered noodles, chop suey and rice. It is believed that this temple plays an integral part in the life of Chinese people. Every Chinese entering this temple ensures that they go in barefoot just like us Indians.
8. Azhagar Kovil Temmple, Tamil Nadu
About 20km away from Madurai is the Azhagar Kovil temple. Also known is Lord Vishnu temple, here the devotees are offered dosa as prasad. Here the dosa is made of black urad dal and ghee, and people from far and wide travel to this place to try the dosa. Here devotees also offer grains along with the dosa to the Lord.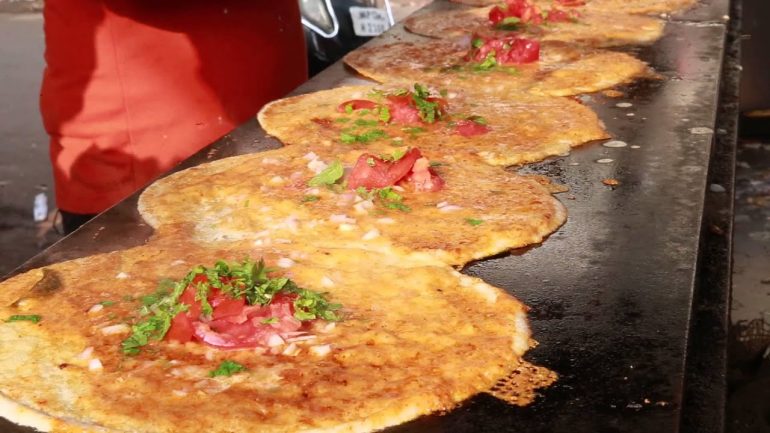 9. Brahma Baba Temple, Uttar Pradesh
In Jaunpur area of Uttar Pradesh, every devotee worships God with the offering of the clock. It is believed that a devotee prayed here for the job of a driver after which he got the job. The devotee then offered God with clocks in this temple after which every devotee who visits the temple offers clocks. Here are Exquisite Temples Around Bangalore That You Need To Visit Atleast Once In Your Life.
10. Sonia Gandhi Temple, Telangana And Modiji Temple Gujarat
You heard them, right! There are temples named after Narendra Modi and Sonia Gandhi. After Telangana was announced as an independent state in 2014, the legislator of Telangana was so happy that he decided to build a temple on Hyderabad-Bangalore highway. The statue is made of bronze and weighs 500kg. Similarly, there is a temple dedicated to PM Modi, which took two years to build. Many bhakts frequent this temple residing in Rajkot.
How many of these unique temples have you visited?