Papad, this thin, crunchy wafer completes every Indian meal. Whether it's masala papad as a chakna with your drinks, Rajasthani Papad Ki Sabzi or poppadum with your rice and sambhar, our love affair with papad is an eternal one. Earlier, women in the households would gather together on the terraces to slice, peel and sundry these disc-shaped wafers. Overtimes with skyrise buildings and changed lifestyles we have resorted to buying papad packets from the stores, frying in hot oil and savouring it to the last bit. These super addictive snacks undoubtedly give every meal its X-factor. So, here are 8 varieties of papad that you must try if you're a hardcore papad lover.
1. Rice Papad
Every South Indian's favourite rice papad needs no introduction. Papad in general is prepared all across India. But rice papads are a speciality in South India. This is prepared with rice and salt. It's low on spices and high on addiction values. Pair it with sambhar-rice, rasam-rice or dal-rice and you'd surely know what heaven tastes like.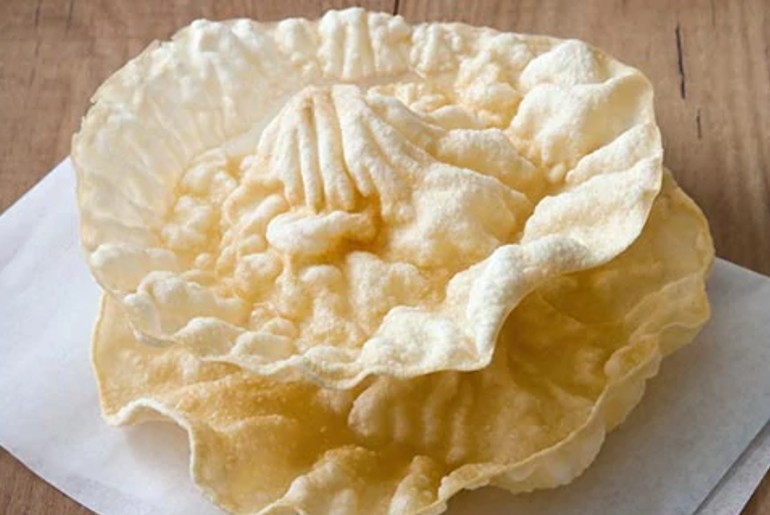 Also Read: 6 Best Dishes To Try In Lucknow Apart From The Legendary Lucknowi Biryani
2. Ragi Papad
Ragi papad is also known as Nachni papad or Nagli papad. This Maharashtrian delight has a rich brown colour and a slightly more coarse texture to it. The use of ragi gives it the added health benefit apart from this distinctive colour, texture and taste. Ragi papad is super crispy. And you can also prepare a great chaat using Ragi papad, spices, veggies and lemon.
Also Read: 8 Scrumptious Varieties Of Cheese Other Than Paneer That Truly Belong To India
3. Kali Mirch Papad
Interestingly, many Indian restaurants in the Middle East serve Kali Mirch papad as a complimentary starter. In India, this is a common papad that remains everyone's favourite. With just the right amount of heat, this black pepper papad hits your palate on the right note. Yet, you can't help reaching your hand to grab another one. It goes great with North Indian food.  
4. Garlic Papad
Garlic might have it's distinctive, pungent smell and taste, that most people either love it or hate it. And if you're that garlic lover, who knows that this condiment makes everything savoury taste better, then maybe it's time you try garlic papad. This papad has mostly dal as the core ingredient. But the unmistakable flavour of garlic just elevates this crunchy snack to another level. Garlic papad is popularly consumed in states like Madhya Pradesh, Maharashtra and Gujarat. 
5. Sabudana Papad
Sabudana or tapioca pearls are used to prepare the white bubbly looking Sabudana papad. This papad is widely enjoyed during festive occasions or fasts like Navaratri. Sabudana papad usually doesn't have any spices. So, you can enjoy the wholesome flavour of sabudana, with every bite of this papad. It will fill your tummy quickly and leave you feeling full.
Also Read: 10 Mouth-Watering Street Foods Of Indore You Just Can't Miss Out
6. Aloo Papad
If the West have chips, then India has Aloo papad. Prepared with boiled and mashed potatoes, with a hint of salt, these crispy snacks are popular in places like Delhi, Uttar Pradesh and Punjab. Infact Aloo papad is also a regular dish on the Holi menu. It's crunchy, flavoursome and super filling. After all, it has everyone's favourite aloo, so who's complaining right?
Also Read: Deepika Padukone Reveals Her Favourite Food That She Is Great At Cooking
7. Hing Papad
Asafatida or Hing is India's answer to MSG. This flavouring agent has a distinct aroma and taste. And when you prepare Hing Papad using this very hing, even simple dal and rice can taste super exotic. Hing papad is popular across the western belt of the country. This is one papad variant that must be on you foodie list.
8. Shakuli
Himachal Pradesh has its own unique style of papad called Shakuli. Made from refined flour and salt, this paper-thin fried snack is super light. Shakuli is a common accompaniment with an authentic Himachali Thali. It's white, thin and so light, that you cannot help but ask for more. Some recipes also add spices to it, to give the extra zest. Meanwhile, here's a video of Himachal Pradesh's first microbrewery. 
So foodies or might we say, papad lovers, these were 8 varieties of papad from all across India that you must enjoy with your meals. They will elevate your dishes and give you palate the extra zing that it needs!