Whether you are an adrenaline junkie, a party animal, or an architecture lover, you should include Thailand in your travel bucket list. Affectionately known as The Land of Smiles, it is the perfect place for your dream vacation whether you want to bask under the sun or go for scuba diving. If you're going to soak yourself in the architecture of grand Buddha temples or enjoy a crazy nightlife, Thailand will not disappoint you. This country is like a cocktail for travellers, and it has something for everyone!
Before you travel alone to Thailand, do your research about staying safe and local customs. The chances are that you will make lots of friends as soon as you arrive at your hostel as there are many other solo travellers throughout all of Southeast Asia. While Thailand is considered very safe for women travelling alone, always being aware of your surroundings would be very beneficial. While roaming around, be prepared to be asked questions about why you are alone, or whether you are married. But in my opinion, the intention is often curiosity and not to pester. Some of the most important considerations include dressing aptly, respecting the monarchy of Thailand, being polite, and always making sure that someone back at home knows where you are going.
I explored Chiang Mai, Bangkok, and Krabi while travelling solo here. Let me take you on my incredible journey across the three vibrant cities located in northern, central, and southern parts of Thailand with this Thailand Travel Guide.
Also read: I Went For Road Trips With My 60-Year-Old Parents & 5-Year-Old Son Covering 3,00,000 Km Across India
Chiang Mai
Wondrous Wat Phra That Doi Suthep
Opening hours- 5 am to 9 pm on all days
Ticket cost- 30 baht (₹70)
Crowning the Doi Suthep Mountain on the western outskirts of Chiang Mai, this is one of the most sacred temples in Thailand. It's a half-day trip to visit the temple and appreciate the stunning views from there. You should not miss the beauty of the surrounding area. The whole route is also stunning as you have to drive through the Doi Suthep–Pui National Park to reach Wat Phra That. Spend at least a few hours walking around the temple and exploring every corner. The shiny golden temple is the highlight but do not rush your visit. You will see something beautiful at every turn. 
Before climbing up 306 steps that lead to the temple, there are so many vibrant shops where you can buy clothes, souvenirs, singing bowls, etc. And after returning, you can enjoy mouth-watering Pad Thai at a restaurant.
View this post on Instagram
Marvellous Museum of Jade
Opening hours- 8:30 am to 5:30 pm on all days
If you love jewellery made with ornamental minerals, especially jade, then you should visit Orchid Jade Factory that is located just below the temple. Along with the highest quality jadeite jewellery, several big and small statues are also available there for sale. These are exclusively made and are handcrafted. Jade, also known as the "Stone of Heaven", is considered to inspire the wearer's highest spiritual aspirations. So, if you are willing to buy jade earrings, rings, bracelets, or a luxurious decorative piece for your living room, then this is a good place in Thailand. Thailand Has A Luxury Quarantine Centre With Private Pools & Fancy Meals.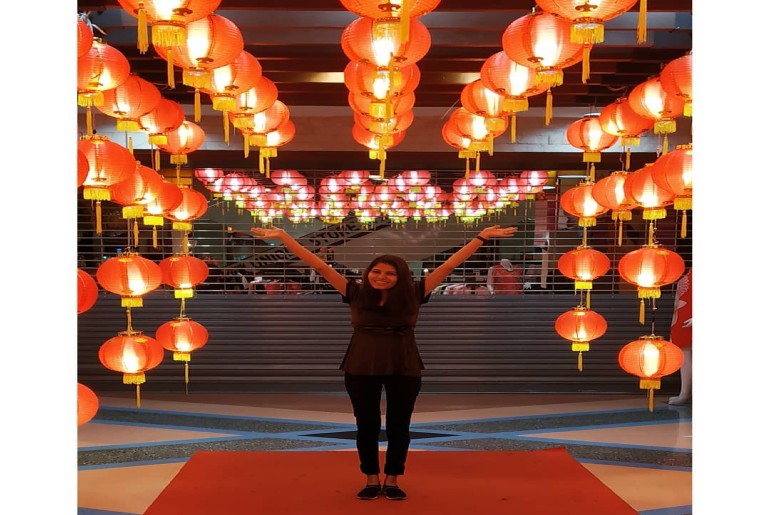 Captivating Central Plaza Chiang Mai Airport
Opening hours- Monday to Friday 10:30-21:00, Weekend and Holidays 10:00-21:30
Just five minutes away from the airport, this is the one-stop destination if you want to buy international brands or purchase souvenirs at the last minute before taking off. But I went there for a completely different reason–Dinner. There is a food court that sells all kinds of non-vegetarian and luckily a little bit of vegetarian food as well. 
The mall is famous for its handicraft and memento section. Also, you should check out various boutique shops selling a wide variety of typically Northern Thai souvenirs such as silks, clothing, teak trinkets, traditional toys, etc. Prices are a little higher here, but the quality is top-class. Travellers Can Now Enjoy Staying In Thailand For 9 Months, If They Quarantine For The First 14 Days.
Bangkok
Tranquil Temple of the Emerald Buddha (Wat Phra Kaew)
Opening hours- 8:30 am – 3.30 pm on all days
Ticket cost- 500 baht (₹1170 ) Children under 120 cm are free. The ticket also includes entry to the Grand Palace.
The temple is located inside the Grand Palace itself and is the biggest attraction of Bangkok. In the main hall, you will see a figurine of the meditating Buddha that is made from a solid one piece of green jade and clothed in gold and diamonds. I was overwhelmed with profound joy and incredibly blissful experience while meditating in front of the Emerald Buddha. Perfect examples of exquisite royal architecture, including countless majestic courtyards surround this magnificent temple.
View this post on Instagram
Gigantic Grand Palace
Spread across an area of 218,400 square meters, the Grand Palace is located on the banks of Bangkok's major river, the Chao Phraya. It has a complex of various halls and temples that are set around open lawns, gardens, pavilions, and courtyards. Since 1782, the palace has been the official residence of the Kings of Thailand. It is partially open to the public as a museum with several working Royal offices situated inside. It is still used for official events and extravagant ceremonies.
View this post on Instagram
Kooky Khaosan Road
This short street is ground zero for backpacker culture. If you want to see Bangkok's nightlife at its best, then head to this road, which is the traveller's hub of Southeast Asia. It is jam-packed with raucous pubs and restaurants along with pocket-friendly hostels. The city's most popular area for shopping, enjoying drinks, and getting a massage, this place has become a favourite for late-night revellers. At every few steps, you will be approached by someone selling barbequed and fried insects. Also, I saw a whole crocodile on display for sale. Being an animal lover and thus a vegetarian, I was traumatised for a moment. But then I diverted my mind towards shopping and hair braiding (I got in pink, blue, and purple colours!)
Krabi
Blissful Beaches
Just a ten-minute walk from my hotel, Ao Nang Beach was a great place to enjoy the ocean sound and a good book. It is a small, nice, and clean beach that offers a gorgeous sunset view. The stretch of sand alongside shallow waters is quite long, and thus, there are so many lively shacks as well as quieter spots where you can spend quality time alone or with your friends. For those who are looking for the sun and sea, this beach is the best choice as it offers a very relaxed atmosphere. And there are swings as well! Did You Know Smoking Is Illegal In Thailand?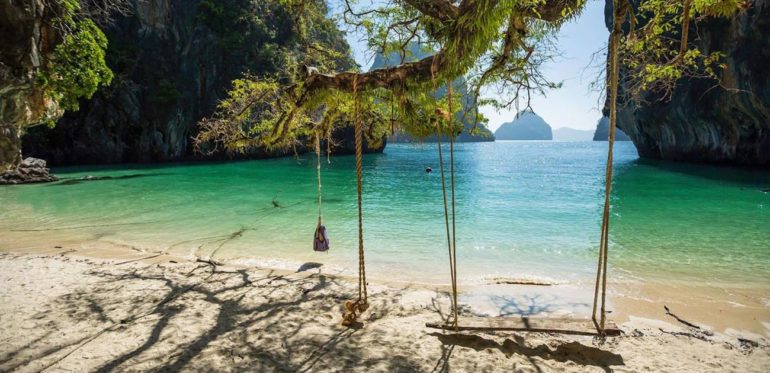 Naughty Nightlife
In Ao Nang, you have an eclectic choice of places to suit your taste and preference. There is a whole street lined with blingy and happening pubs. I chose to hang out at the Bamboo Bar that has a rustic ambience. With a pool table, foosball table, and other games, this club has enough options to satisfy night owls and partygoers. It's so much fun here! The place has a laid-back ambience that is sure to take away all your worries. Just enjoy a drink, listen to the rocking songs, and show off your dancing moves.
Scintillating Scuba Diving
Dive Sites- Koh Ya Wa Sam and Koh See
Cost- 4100 Thai Baht (₹9500  plus 500 Thai Baht (₹1200 ) for photos
There are several local dive shops available in Krabi that offer scuba diving at comparatively lower prices, but you should book your slot with someone more reliable. That's why, I trusted Kon-Tiki Krabi Diving & Snorkeling Center, which is a 5-star PADI centre. It offers single day Discover SCUBA experiences, dive instructor courses, and technical education, including side mount diving.
Jesus, my instructor from Spain, explained about the equipment I was going to use while driving. He taught me important techniques including equalising the air spaces at every meter, clearing water from the mask, using fins for swimming, etc. And the most important instruction was NEVER HOLD YOUR BREATH.
After wearing my diving suit, defogged mask, fins, weights, cylinder, and other equipment, I stood at the edge of the boat, ready to leap of faith. But before that, it was time for a small test of my knowledge. A questionnaire was given to test how much I have understood. Water Babies! Indulge In Scuba Diving at Havelock Island For The Best Experience
View this post on Instagram
To some extent, what you are going to see underwater depends on your luck. The marine life of these diving sites is pretty awesome. You have a good chance of spotting Leopard Sharks, Water Snakes, Scorpionfish, Seahorses, Barracudas, Bannerfish, Jellyfish, Box Fish, Sergeant Major Fish, Yellowback Fusiliers, and many more.
When I was relaxing on the boat after my dives, totally amazed by what I had just experienced, Jesus gave me the certificate of completion of the PADI Discover Scuba Diving Program and clapped for me to show appreciation. This achievement means a lot to me, and I will continue my education no matter what. I have set my heart on exploring the aquatic realm and making memories as much as I can.
Vegetarian Food Options In Thailand
Whenever I travel to a new country, food is one of my concerns since I am a pure vegetarian. When I was in the Philippines in 2018 for a week, I survived only on stuff like chocolates, chips, muffins, cup noodles, etc. But talking about food in Thailand, well I fell in love with its Pad Thai. I didn't face any difficulty in getting vegetarian food here. I ate the yummiest pizza at Mr Chan & Miss Pauline Pizzeria Restaurant in Chiang Mai and enjoyed Dosa and Dal Fry with Tandoori Roti in Krabi. It was expensive but amazingly delicious. Do You Have The Guts To Visit The 'Disgusting Food Museum' In Malmo, Sweden?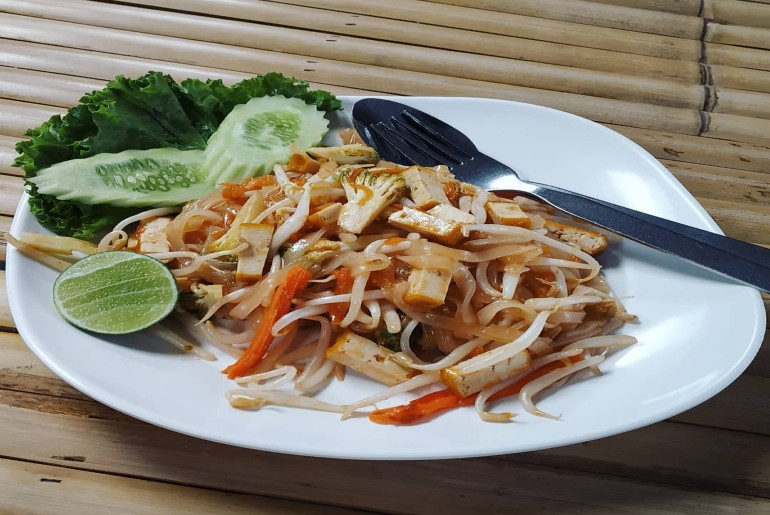 To have a fantastic me-time in Thailand, stay safe, exchange tips with fellow travellers, and do some research in advance!
Keep travelling! (after we defeat Coronavirus) Till then, Stay Home Stay Safe.