Winter is here and if you are yet to make plans, then this is sure to help! Did you know the UAE boasts one of the finest man-made wonders, located minutes away from Abu Dhabi? The Yas Island Abu Dhabi is truly a vacation paradise with endless experiences for all. From theme parks that satiate thrill seekers, to international shopping experiences for fashionistas, and an impressive dining scene, the Yas Island has a little something for everyone to holiday at leisure.
Warner Bros. World Abu Dhabi
Ever thought you could stroll in an animated world featuring some of your favourite characters? Warner Bros. World, Abu Dhabi makes fiction look real, feel real, and sound real. The theme park brings together six unique worlds, home to legendary characters such as Batman and Superman.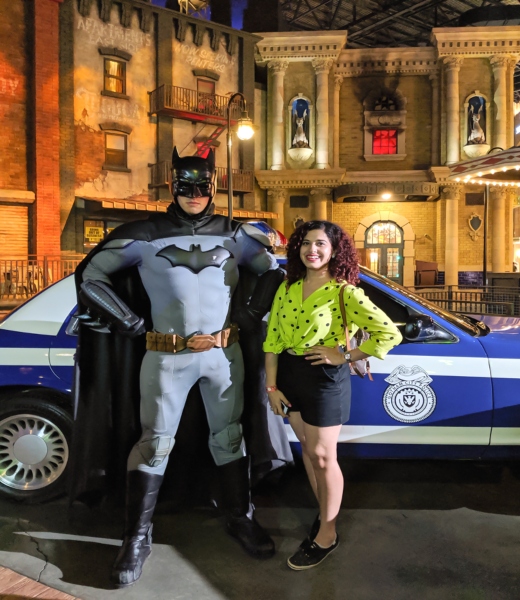 Join The Flintstones, Fred, and Wilma along with the rest of the clan in their Stonetennial Celebration, or climb aboard iconic cartoon vehicles and enjoy a colourful carousel ride with your favorite classic characters from Loony Tunes and Hanna-Barbera. If you're up for some chaos, join the hilarious cartoon duo- Tom & Jerry on their cheese chase.
Adventure enthusiasts can take on a series of challenges at the Joker's Funhouse while Superman fans can engage in a pulse-pounding 3D battle.
Whoever be your favourite superhero, Warner Bros. World Abu Dhabi has a little something for every superhero fan.
Funworks at Yas Mall
Not a shopaholic? Worry not, Yas Mall provides unforgettable entertainment for the entire family. Funworks at Yas Mall is the perfect place for kids to stay busy while you go on a shopping spree. The indoor play arena is a one-of-its-kind attraction in the region where children can play to their hearts' content, let their imaginations run wild, and feed their curious minds. Spread across two floors, Funworks is packed with rides, video games, and other interactive activities for kids and toddlers.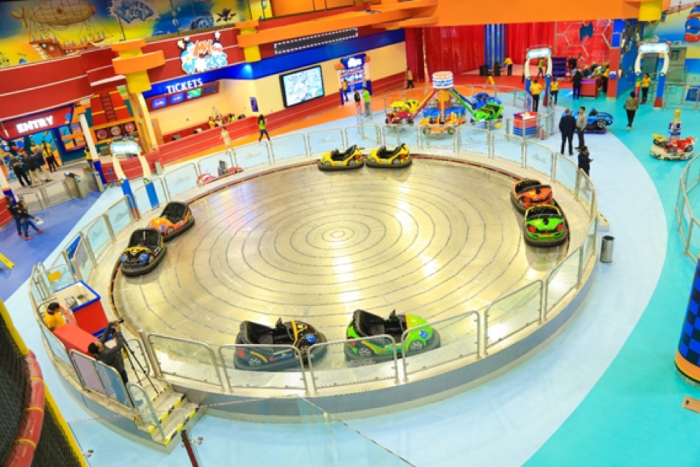 Kids can bounce up and down, and go round and round on Crazy Gliders, Hello Kitty Fun House, or the Ocean Carousel. Minis who enjoy some adrenaline rush can hang around at Wizz Works. Have a blast at the ball fountain, pop your opponents down in the balloon room, spiral down the slide, or jump on the LED trampoline. And after all this, you'll still have a lot left to do.
Those interested in drama and theatre can head to Mini Works- a place where kids can indulge in imaginative play, use blocks to build giant castles, take part in interactive cooking sessions (with play dough), play dress up or some coloring fun with arts and crafts. Lastly, the mall also features a theatre, where you can watch the latest blockbuster in 4DX.
Shopping at Yas Mall
What's a vacation without some retail therapy! The Yas Mall is the largest mall in Abu Dhabi and is home to various exclusive luxury brands. A go-to shopping destination, the mall offers a one-of-a-kind shopping experience for families and fashionistas alike. Shopaholics can stroll around three floors of leading international and regional brands.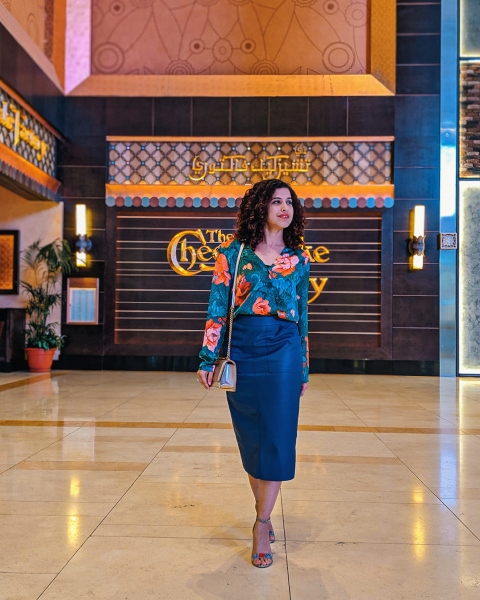 Yas Beach
If your definition of vacation means chilling seaside amidst a scenic backdrop, then Yas Island's Yas Beach is the best bet. The white sands, crystal clear waters and natural mangrove surroundings, makes Yas Beach an ideal leisure getaway for families.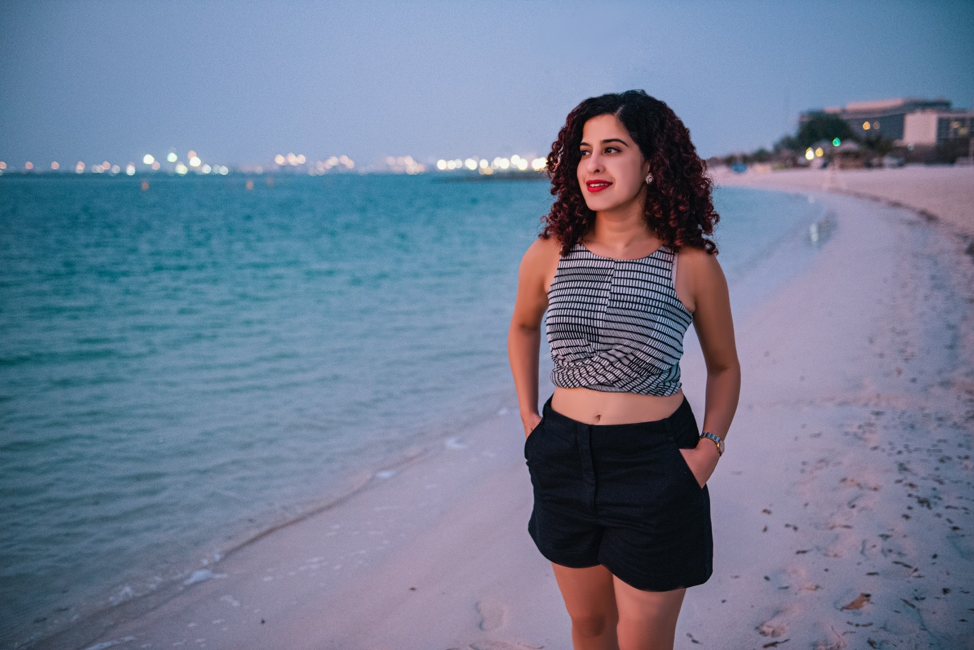 There are plenty of other outdoor activities to keep you fit while on the island. Spend a day under the sun and get that sun-kissed glow you've been waiting for. The island also offers a range of water sport activities you can engage in. Partake in an early morning bike ride along the island, or go jet skiing or kayaking along the stunning mangroves.
Yas Marina
Apart from offering stunning views, Yas Marina also has a host of activities to make your experience memorable. Stroll along the dock, paddle between the hidden mangroves or grab a bite by the waterside. If you're up for some adventure, get aboard a sea plane and admire the panoramic view of Abu Dhabi. Lastly, those who wish to enjoy a laid-back holiday can rent a luxury yacht and go on an unforgettable boating experience.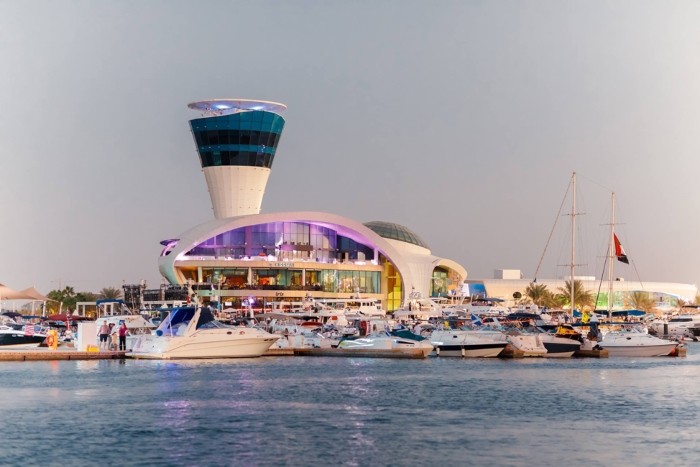 Seal the evening with a sumptuous meal at one of the quality restaurants. Whether you're a fan of delectable Italian cuisine or grilled seafood cooked, Yas Marina has an impressive line-up of restaurants that satiate every kind of foodie. And the gorgeous sunset views only make it a perfect end to the evening.
Kartzone at Yas Marina Circuit
Why should adults have all the fun! We're sure you know that Yas Marina Circuit is the only place in the world where you can get a first-hand F1 experience, and feel the adrenaline rush just like a racer. But, that's not it! Yas Marina Circuit also boasts a 1 km track dedicated to the 'little racers'. Kids can rip up the track at Yas Marina Circuit without a driving license. The little ones can challenge each other and whizz around the twists and turns of three track configurations.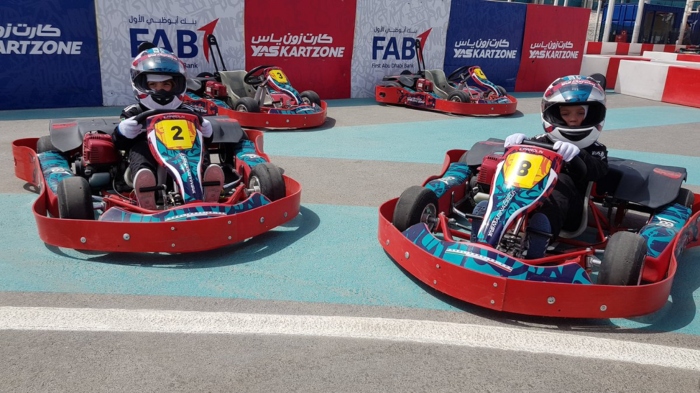 And once they're done racing, head over to the Yas Kartzone Box Park to refuel. The experience is priced at AED 55 for kids (5-7 years), AED 80 for juniors (8-12 years). Youth can also sign up for driving tuitions from AED 2040.