Ice-cream rolls have gained a lot of popularity in recent times among all those who love cold delights. Foodies have absolutely crushed on gulab jamun ice-cream rolls, KitKat ice-cream rolls and much more. And why not? The thin layers of ice-cream smoothly blend inside the mouth giving a comforting sensation. But wait, someone just added chilli to our favourite ice-cream rolls and the food experiment has clearly gone wrong with the netizens. The internet seems to be in disbelief of the bizarre combination.
Food Blogger Makes Ice-Cream Rolls By Mixing Nutella With Chillis
Indore food vlogger Rishab Singh has shared the video of the 'Mirchi ice-cream roll' on YouTube channel Spoons of Indore 2.0. And the video has already garnered over 405k likes, 77 lakh views and 1022 comments. In the video, the food vendor first cuts green chillies and then pours Nutella over them. Then he pours milk and mixes the chocolate and the chillies. We then see him making ice-cream rolls with his mixture. Unbelievably, he goes on to garnish the rolls with more chillis. A customer who tastes the ice-cream roll is heard telling in the video, "Too many chillies have been added."
Also Read: Food Blogger Makes Maggi With Milk And Chocolate Sauce; Internet Confused
Internet Left Hilarious Comments Under The Video
Commenting on the video, one user wrote, "We seriously need Food Abuse Control Bureau of India(FACBI)." Another sarcastically commented, "Thoda salt .. pepper .. cheesee bhi daldo." Someone stated, "Guess this is the final level of someone making an ice cream roll." One also wrote, "You are the next target of slayy point." Slayy Point is a YouTube channel that roasts food combinations that are strange and hilarious. Earlier, the page had trolled food combinations like Gulab Jamun Pizza And Jalebi Sandwich.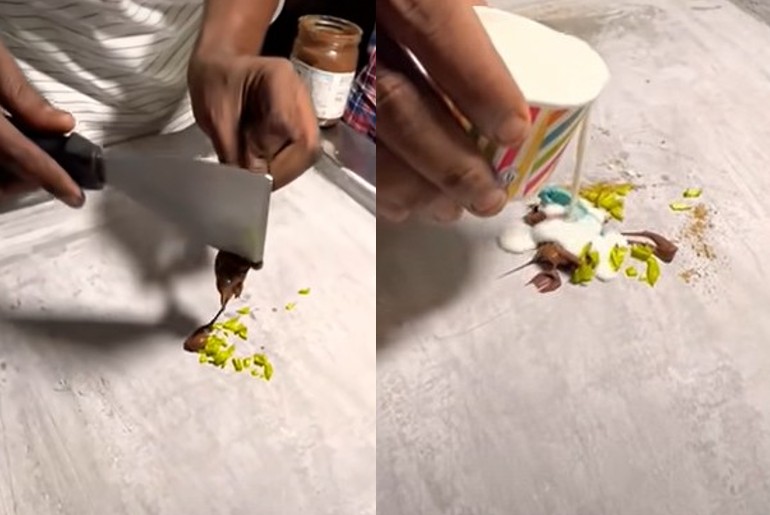 Also Read: Chocolate Biryani Is The Latest Bizarre Food Trend And The Internet Is Angry
What is the weirdest food trend you've come across till now? Let us know in the comments section below. Meanwhile, here is a list of the 7 Most Bizarre Food Trends Of 2020 That Made Us Throw Up.