Slurping on a bowl of piping-hot Maggi in the freezing winters is pure bliss. While we all love the classic 2-minute recipe wala Masala Maggi, eateries and food bloggers are coming up with many newer versions of the dish, like Corn Maggi, Chinese Sauce Maggi, Salsa Maggi, deep-fried Maggi and loads more. But food blogger Anjali Dhingra of So Saute tried her hands on a Maggi recipe which none of us could have imagined. Anjali ditched the usual tastemaker of Maggi and added milk and chocolate sauce instead. The recipe got foodies on the internet exasperated to the roof.
View this post on Instagram
Also Read: Chocolate Biryani Is The Latest Bizarre Food Trend And The Internet Is Angry
The Maggi Was Anticipated To Taste Like Meethi Sewaiyaan
After getting a request from a follower, Anjali decided to make the bizarre recipe. She first poured milk into a pan and then added Maggi to it. On top of the Maggi soaked in milk, she added chocolate sauce. While the recipe did not go well with the netizens, she admitted that it was actually tasting awful. She said, "Iska taste toh bohot hi zyada ganda tha". She had anticipated that the recipe might taste like Meethi Sewaiyaan but it did not. The video has grabbed over 10.8 K likes.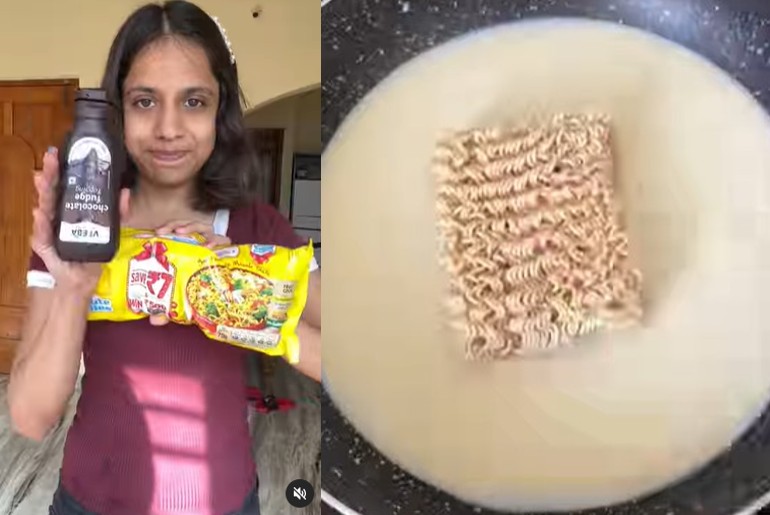 While some people were disgusted by the recipe, others rebuked the blogger for the wastage of food. One user wrote, "What's the point of wasting food? Go try some good recipes/combinations instead of this." Another commented, "Just for the sake of content, u waste so much food… Experimenting is a good thing bt when u know the consequences, u deliberately wish to waste food, I feel so pity for the people starving out there when I see ur such posts."Another said, "Yeh kya ghor paap kar diye".
Also Read: Bourbon Chawanprash Is Now A Food Trend Too! Say What?
Other Weird Maggi Recipes
This is not the first time someone made a weird recipe with Maggi. A few months back, someone had made a Maggi Milkshake, which too had checked the wrath of foodies. That's not all. Earlier, Maggi laddoos made with jaggery and cashew had also surprised Twitter. What's more, we even came across recipes like Maggi ice cream, Maggi burger and also Maggi crab curry. On that note, what is the weirdest Maggi recipe you chanced upon?