As a kid, you have huge plans about things you want to do and achieve when you grow up. I have always longed to experience every place I read about in my Geography textbooks. I am Mitali Lotlikar, a Brand Strategist from Mumbai. My husband, Jonathan and I are beach bums. We got married in Goa on a beach and made a pact that we'd spent every anniversary on a beach. This year for our anniversary trip I was fixated on Bali, Seychelles or Sri Lanka until I stumbled upon a picture of Krangsuri in
Meghalaya.
Its natural beauty was beyond compare. A drastic shift from the usual sun, sand and beachwear, the exploration of the verdant, rustic jewel that is Meghalaya inspired fresh perspectives to how we plan our vacations.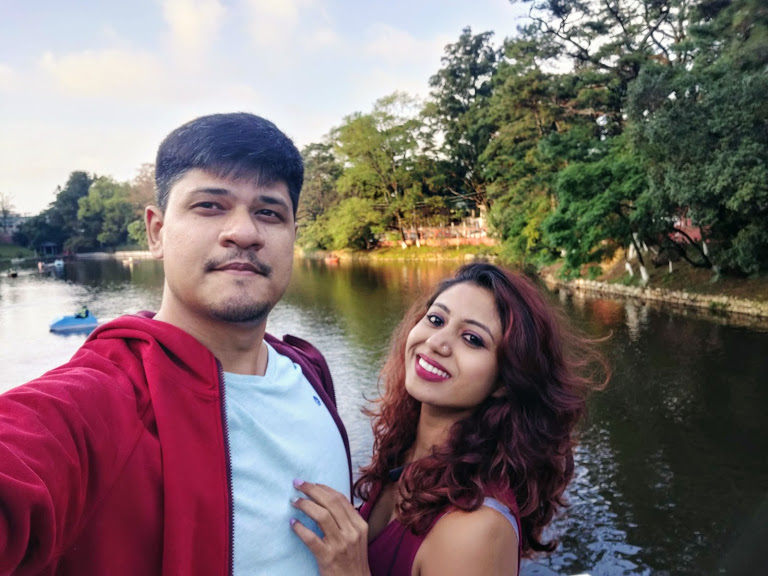 Planning My Trip To Meghalaya
Meghalaya, the land of pristine emerald waterfalls, deep green valleys, root bridges, and home to the cleanest village in Asia, Mawlynnong. The name Meghalaya means "the abode of clouds" in Sanskrit.

Now our rules while on vacation

1. Sleep – We love sleep, we ensure we sleep for a minimum of 9 hrs especially on a vacation
2. Quality over quantity – we prefer visiting 3 places a day and spending 3 hrs at each place than squeeze 8 places in a day with 10 mins at each place.
3. No stress vacations – we hustle enough in our daily life but on vacation, we like to be relaxed.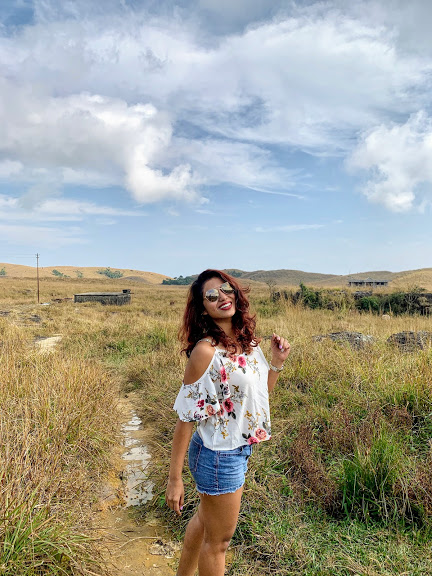 Budget For Our Trip To Meghalaya
Our overall budget was ₹40,000 per person for 8 days including flight, taxi, stay, meals and a bit of shopping. We booked our flight from Mumbai-Guwahati for 2 people ₹27,000 return. It was cheaper than booking it from Mumbai-Shillong. We hired a cab for ₹24000 for our entire 8-day trip. Rooms on an average are 2000/night and each meal is approximately  ₹500 for 2 people. We planned the trip ourselves. if you need details of the taxi service, etc you can DM me on Instagram and I can share the contact numbers. Our Stay plan was Guwahati-Cherrapunjee- Mawlynnong-Shillong-Guwahati
Day 1
Cherrapunjee is about 5 hrs away from Guwahati by road. We boarded the taxi from Guwahati airport at 11 am, enjoyed the ultimate traditional Pork thali in Guwahati for brunch. Since we were going to pass Shillong we decided to make an early evening halt at Wards Lake, Shillong for some hot momos and tea.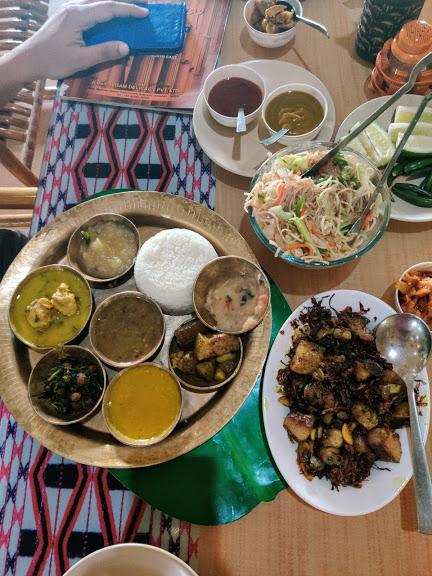 We visited Meghalaya in the 3rd week of November. Lucky for us the Cherry Blossoms were in full bloom. The feeling to be under the cherry blossom trees was priceless. Wards lake garden is one of the most beautiful gardens I have visited in my life. After a 45 mins stopover, we headed to Cherrapunjee and reached our hotel by 6 pm and it felt like 9 pm.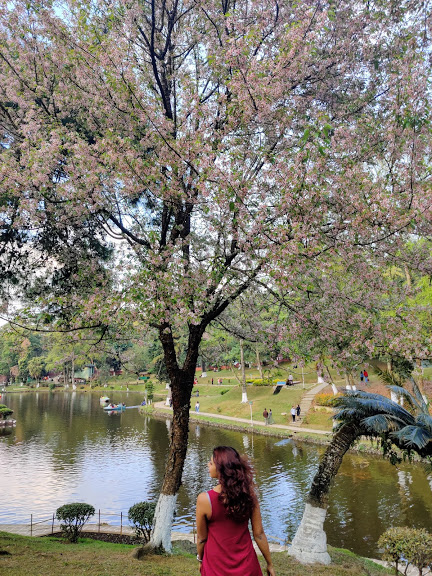 Day 2
After a great 12 hr sleep, we started our trek to the legendary Double-Decker root bridge. It is located in Nongriat, Tyrna. It was about 20 mins from our Hotel. A living root bridge is formed by guiding the pliable roots of the Ficus elastica tree across a stream or river and then allowing the roots to grow and strengthen over time.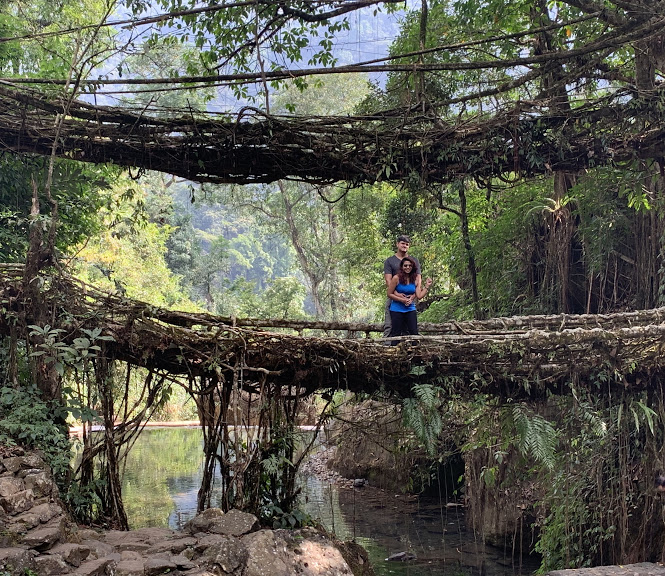 This bridge is about 150+ years old. The path to the double-decker root bridge is three kilometres (nearly two miles) long. It has approximately 3,500 stairs and descends 2,400 feet. One has to be physically fit to do the entire trek.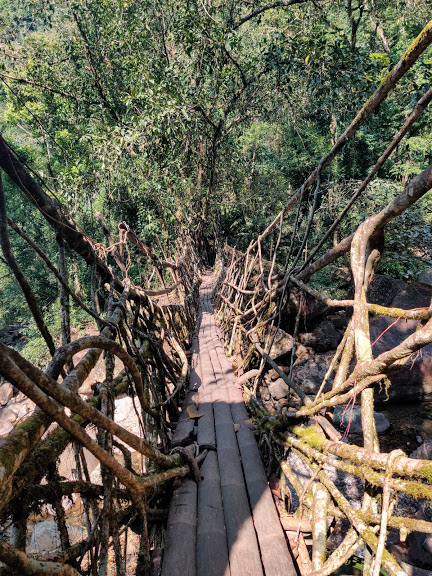 There are options to spend the night at Homestays at the Nongriat village. The Trek leads to the Single root bridge, Double Decker root Bridge, Natural Swimming pool and Rainbow falls. We decided to trek till the natural swimming pool, we hired a guide for Rs 900.
Also Read: My 5-Day Offbeat Trip To Arunachal Pradesh Where I Lived With Tribals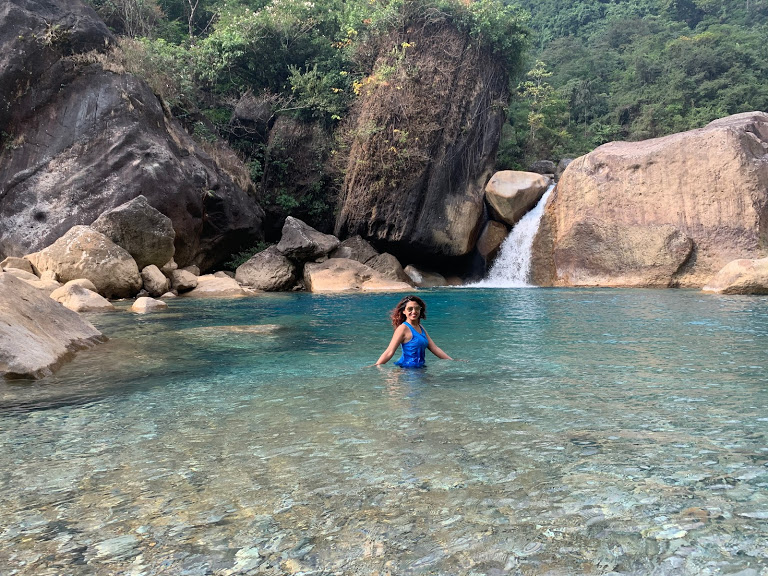 Do you need a guide? No! the route is pretty self-explanatory with signboards and there are no major shortcuts. But we needed motivation and a bit of pushing to complete the trek and last but not least he took great pictures. We started at 11 am and completed the trek by 4 pm.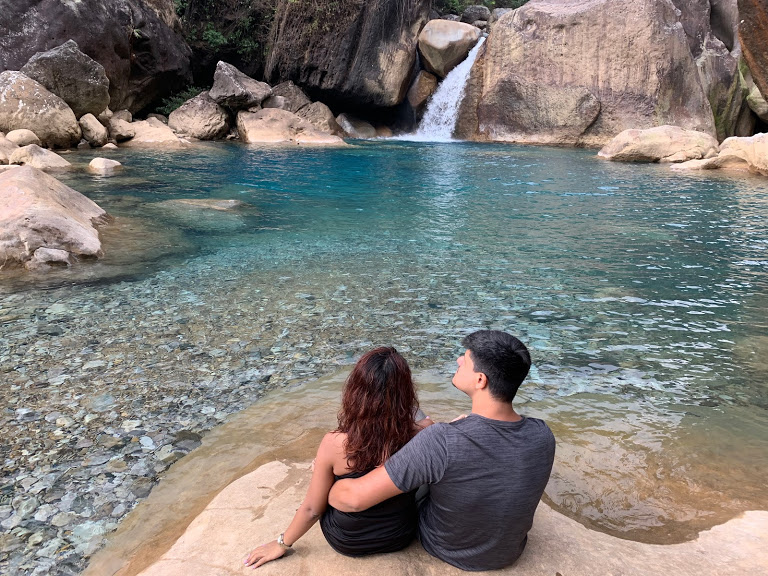 I will not describe the place you have to see the pictures to believe that this place exists in India. To dive in the natural swimming pool is not for weak hearted, the water was pretty cold but eh you can't leave without a dive. The evening was spent watching the sunset on our drive back to the hotel.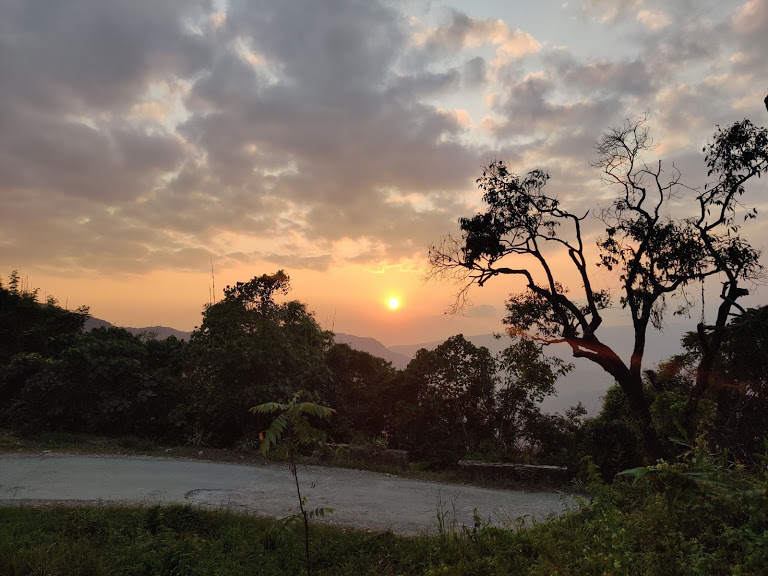 Day 3
Our exhausted feet needed a day off but there was still so much to do. We went to see Nohkilikai falls, it was pretty but not worth the hype perhaps November is not the best season to enjoy the grandeur Nohkilikai fall has to offer.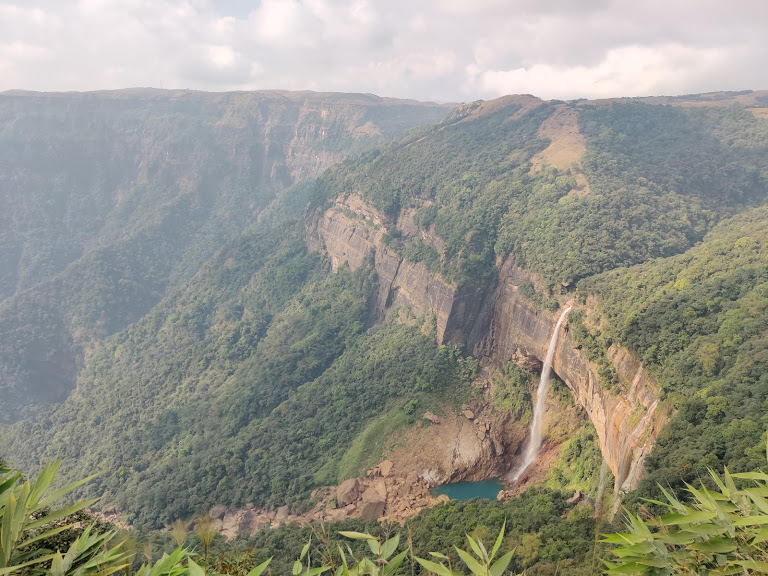 Next stop, Weis Saw dong waterfall, as much as I'm tempted to not popularize the place, one must see it. Also, there is no road or well-built steps, we walked with the help of the remnants of a wooden ladder, yep that's the path. If you want to travel with your spouse too then  here are the 10 Best Travel Destinations For Couples In 2020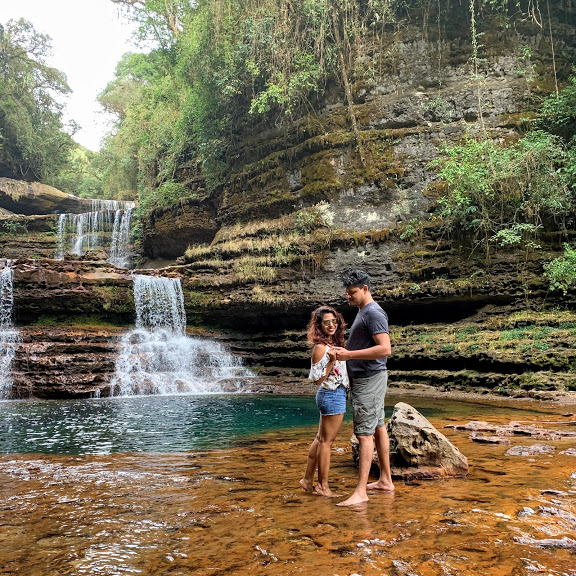 Word of advice, don't drink alcohol and trek. Once we reached the place we cancelled our plans to see other points. We were there for about 3 hrs, just taking in the view. It feels like you're in a scene from Jurassic Park.
On the way, we also stopped by to admire the view from the highway. And let me tell you, it was breathtaking. And we couldn't have enough of it. So we clicked loads of pictures there. Did you know Meghalaya Now Holds A Record Of The World's Longest Sandstone Cave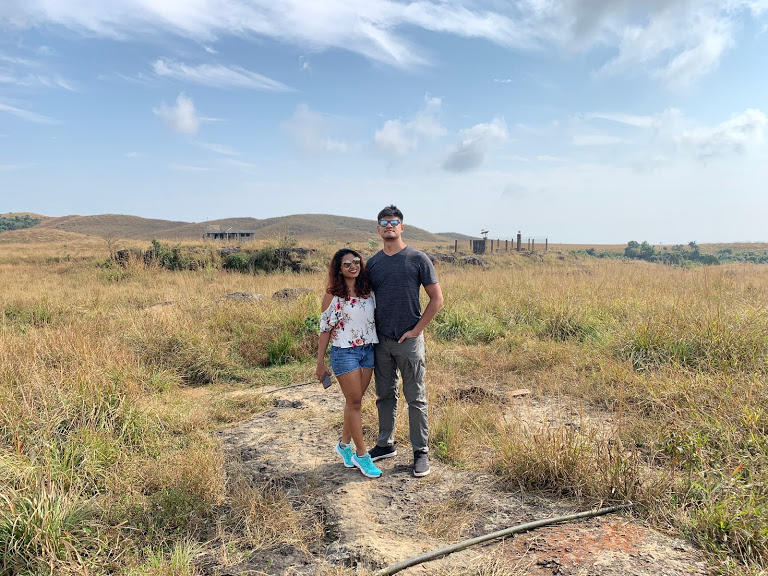 Day 4
We took off for Dawki. Its a 3 hr journey. The best part about Meghalaya are road trips, they're truly picturesque. The weather is pleasant, some stretches of the road have pine trees and for a moment you think you are in a European country.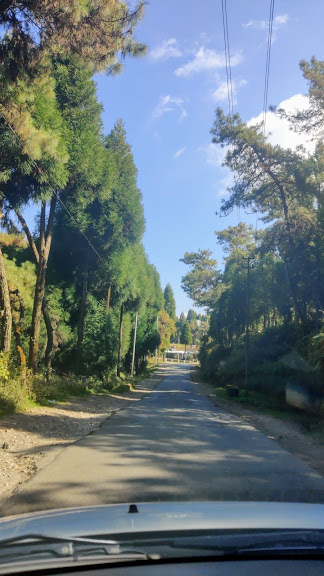 Dawki river is beautiful, it's a hidden gem. Dawki river is a friendly Indo-Bangladesh border. One can stop by Bangladesh's end and have "Bangladeshi Chai"!The river is on its way to being extremely polluted. It's high time that the government did something about it.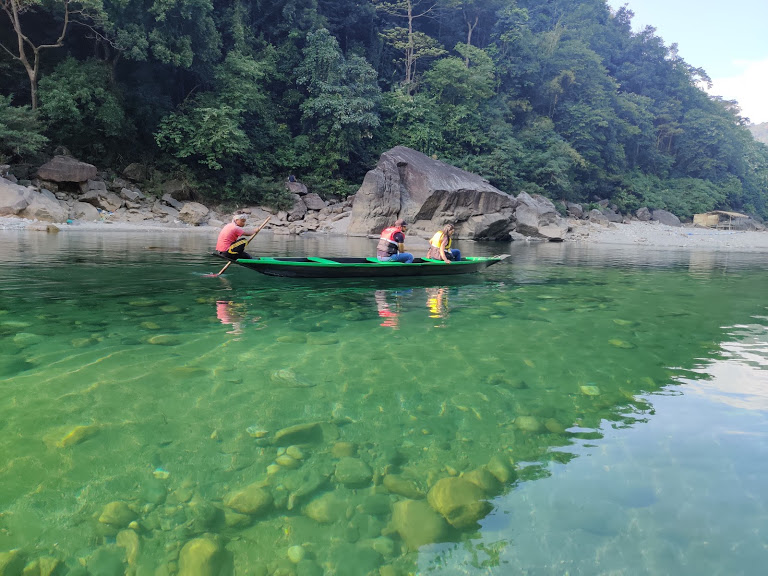 We did boating, snorkelling (carried our own gears) and cliff jumped. We then headed to Mawlynnong to check in our homestay. It is about 90 mins drive from Dawki. Mawlynnong is the cleanest village, you can stroll the entire village in less than 2 hrs by foot.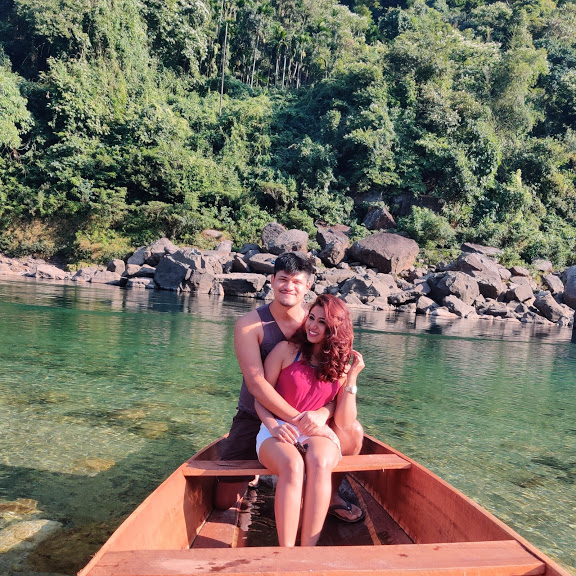 By the time we arrived in Mawlynnong, it was dark and we spent the night stargazing and walking around the village. Due to the amazing floral plantation, one gets to breathe sweet smell in the air. Being there walking around taking in the beauty is a beautiful experience.
Day 5
We started our day by exploring Mawlynnong in the daylight. We visited the balancing rock and the Bangladesh sky viewpoint.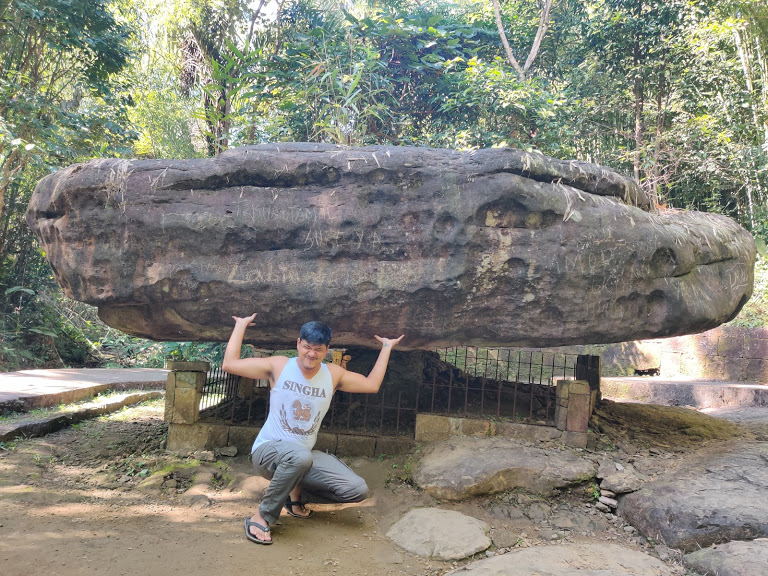 This viewing tower is 85 feet high and is made of bamboo. Once you reach the top, you'll be overwhelmed with the breath-taking views.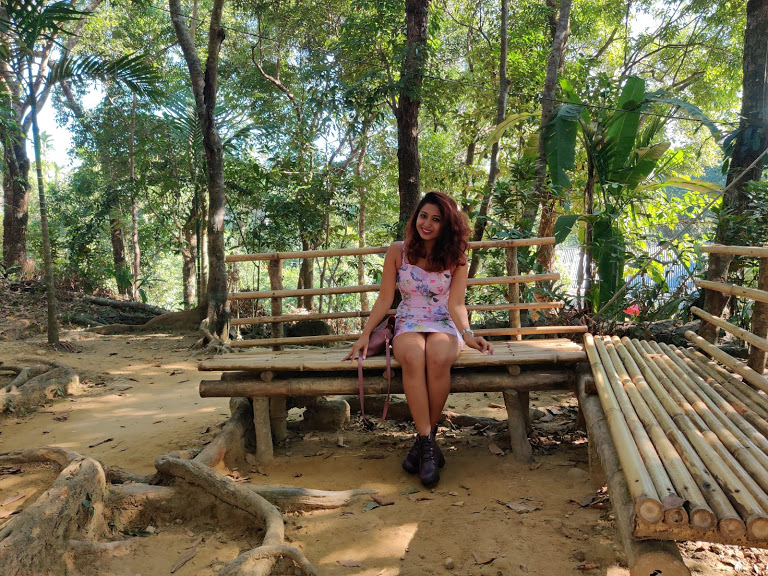 And since the village lies on the Indo-Bangladesh border, you'll be able to see the landscape of Bangladesh as well. we took off from Mawlynnong to Shillong. We took a detour to visit the next highlight of the trip Krang Suri waterfall. Pictures will speak louder than words but in person, it was simply majestic.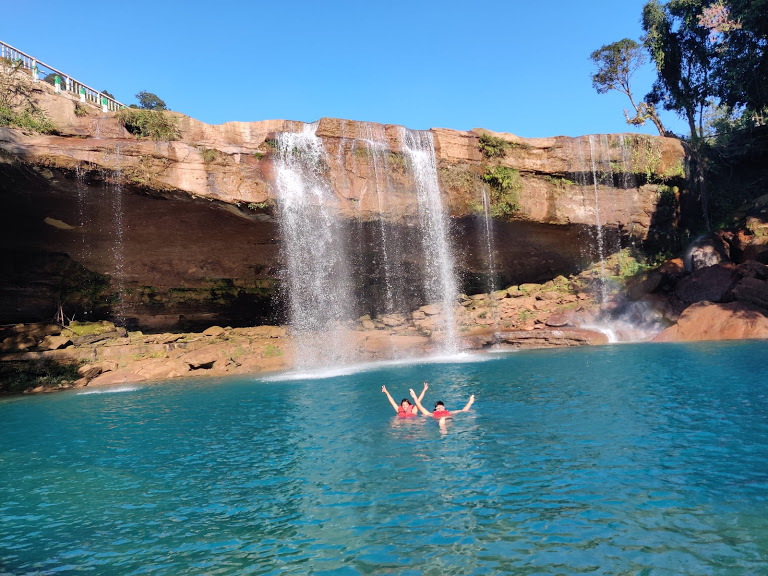 Set amidst the forest, Krang Suri is 20 mins walk through a stone pathway. With water as blue as the sky surrounded by lush green trees, Krang Suri is a sight to behold. As expected, we ended staying longer than our cut off time.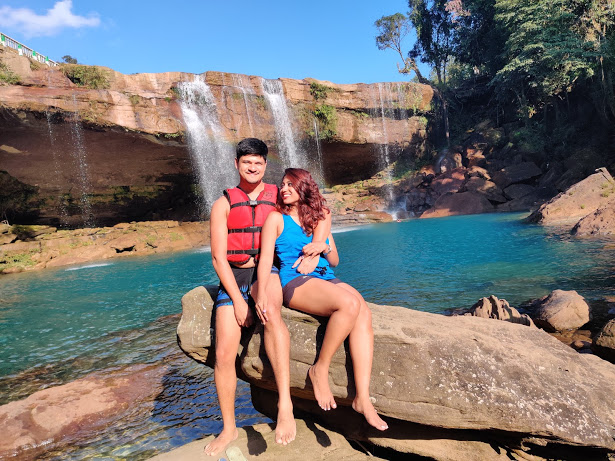 We reached Shillong at about 7.30, checked in our hotel and went to check out the Police Bazar market. The scene is maddening, the place is bustling with locals and tourists. The delicious street food is to die for, my fav was the pork tandoori. It was tender and just downright yummy. The market is recommended to buy souvenirs, moderate winter warmers, local fruits, etc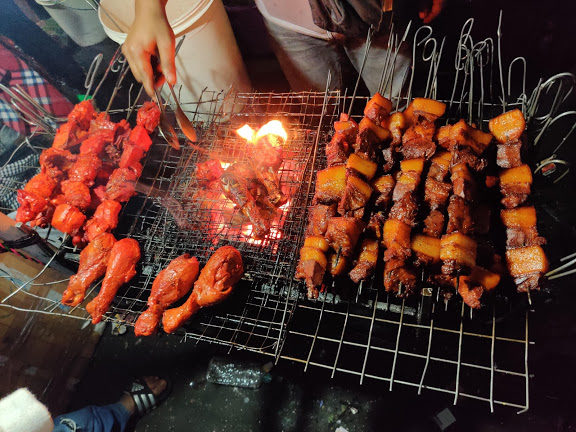 Day 6
We started the next day with a drive to  Laitlum Canyons. Most taxis will suggest u skip Laitlum Canyons saying the spot is average. They say so because the roads are bad. Do not pay heed to them. Visit Laitlum Canyons, the view is gorgeous and so is the spot.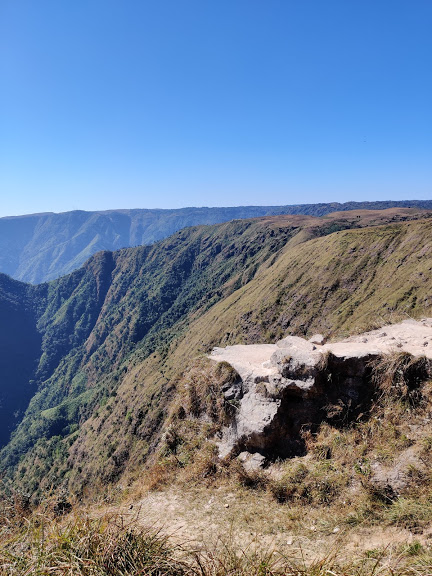 Covered in vast yellow/green grassland depending on the time of year you visit. It was nothing like I had seen before. You can sit enjoy the view, lie on the grass, enjoy the sun in the windy cold breeze. My husband even had a gala time petting two cute dogs there.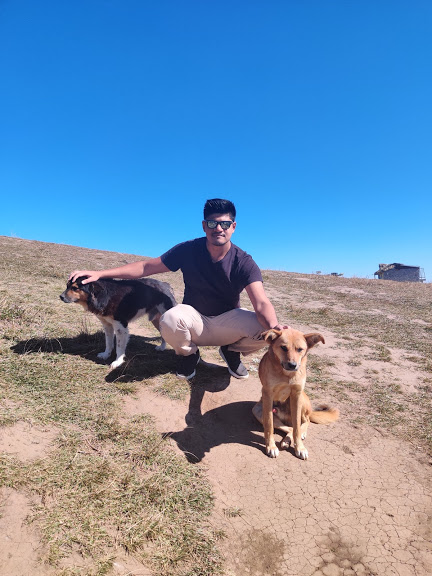 We consciously chose to skip elephant falls and a few other places. In the evening we went back to Wards lake because we weren't quite done with the beauty of it. The cherry blossoms were gone but the beauty remained. We spent another evening at police Bazaar shopping souvenirs. Did you know Meghalaya Introduces Permit For Travellers Staying For Longer Than 24 Hrs?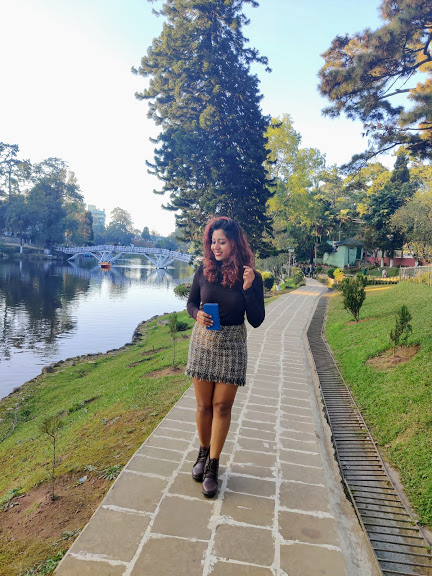 Day 7
After the exhausting trip, we needed a break. We booked a boathouse for 3500 bucks in Shillong and it was the best money spent. The speed boat ride to the boathouse was fun.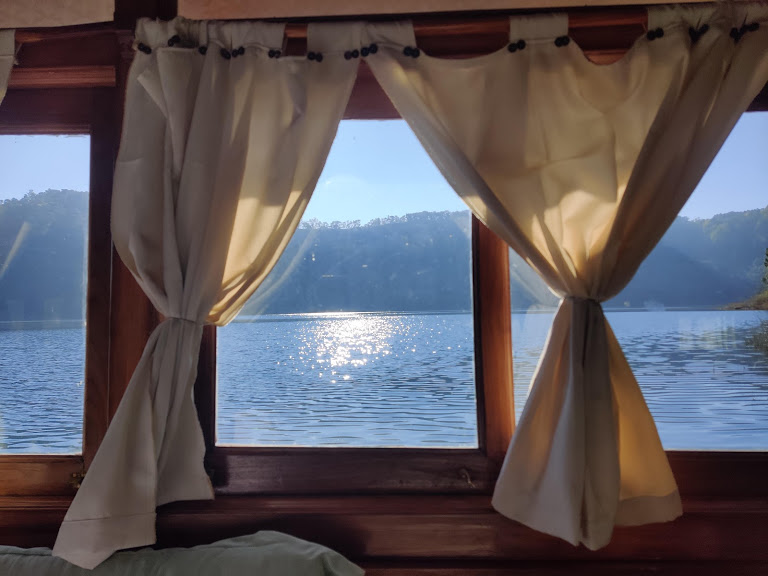 I couldn't take many pictures of the boathouse, as we were taken there by a speed boat in the lake. And we couldn't even let go off the handle, lest we fall off. But here's a pic of our cosy little boathouse.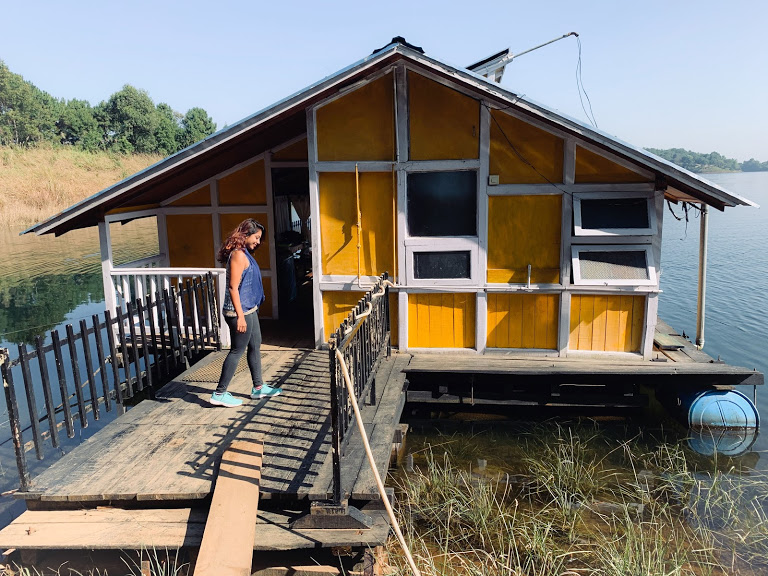 The couple running the place has a family of 5 dogs and they made our stay even more memorable.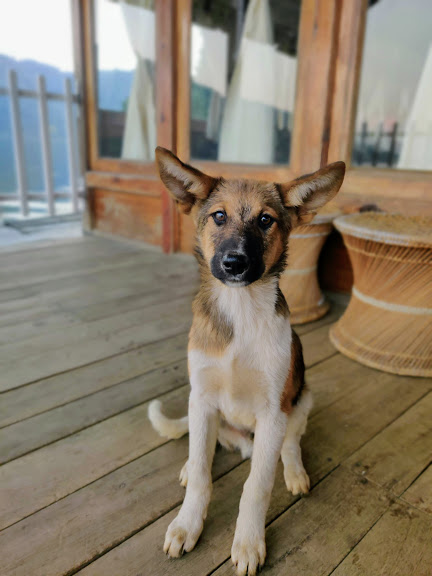 Dinner was home-cooked and absolutely delicious. The place works on solar so don't expect electricity for more than 10 hrs. We carried snacks and cup noodles to cater to passing hunger pangs.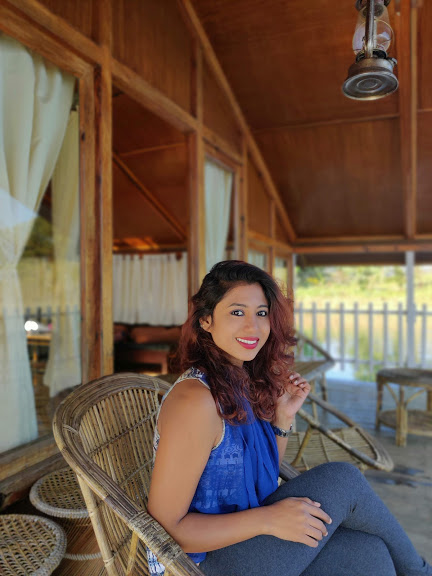 Day 8
We woke to the most amazing view-from-the-room scene of our life. Sunrise is even prettier from the boathouse. It was the perfect end to one of the memorable vacations of our life. As happy as we were to be heading back home to our pets we were also heartbroken to leave the hidden gem of India.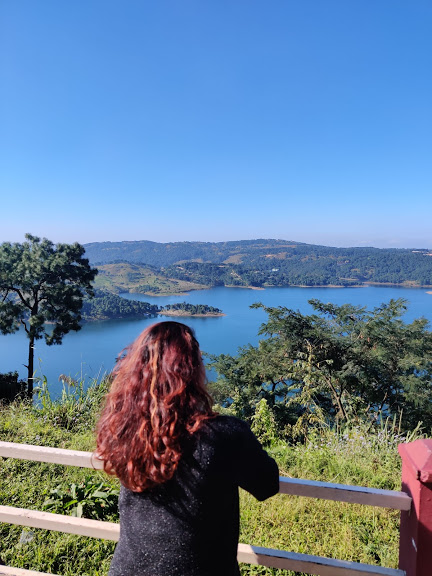 Note – Once back in Mumbai we hated the quality of air and cribbed about it for the next 2 weeks. Meghalaya spoiled us rotten in terms of the air, clean roads, food, waterfalls, and hospitality.
Tips For Travellers Wanting To Go To Meghalaya
Sunsets around 4.30 and rises at 5ish Basically it gets dark by 5.30 pm.
Some places in Meghalaya are remote, finding a pharmacy, the general store can be a challenge. Do not forget to carry snacks, cup noodles, first aid, portable charger, mosquito repellent, and swimming glasses.
If you are an Animal Lover carry small sachets of cat food and dog food. There are a lot of hungry strays, super loving and adorable strays. Lack of pet stores, animal shelters, and veterinary clinics make it impossible to care and neuter them. Most Locals are animal-loving. if you see a restaurant and homestays with pets pls donate some money for the pets, it encourages them further.
Writing this article was a pleasure, as it served as a great reminder to one of the most enriching, relaxing and rejuvenating trips of mine to Meghalaya with my beloved. Throughout the way, we made so many unforgettable memories, ate delicious food, soaked ourselves in nature's pristine beauty.  I would recommend everyone out there to definitely make a trip to Northeast, especially with your bae. It's worth it.
This article was contributed to Curly Tales by Mitali Lotlikar. If you have an article or similar experience to share, do write to us on hey@curlytales.com