With so many islands to visit in Thailand, some common names like Krabi or Phi Phi would be anyone's first option of choice. But our suggestion would be to visit an island that's not very commercially popular and is more secluded and quiet. You can thank us later!
Why Thailand?
Thailand is a great place to visit year-round in terms of weather, however, October-November being cooler months, is a more prefered climate. It's not cold, but it's cool and pleasant. Also, January is the peak season for tourism, which is when we visited. This is when the Southern beaches see sunny days and the Northern areas have cooler temperatures. Either way, just carry a lightweight jacket along.
Before I dive into further details and keep mentioning "us" in this article, let me show you who "we" are.
Day 1 
Our first day consisted of boarding a flight from Mumbai to Bangkok, then another one from Bangkok to Koh Samui. We checked into Royal Muang Samui Villas, had a cooking session at the villa, went for a Cave Rai Thai spa and finally had dinner at Sala Thai restaurant.
The Flight And Visa (For Indians)
We had a flight from Mumbai to Bangkok's Suvarnabhumi airport and a connecting flight to Koh Samui. The flight to Bangkok takes about 4 and a half hours and then another hour and 15 mins from Bangkok to Koh Samui. You can opt for a visa on arrival, which would involve you waiting in queues, so a better option would be to apply for an online or e-visa which takes just 2 days to arrive. All you have to then do upon arrival is get your entry stamp. (about 30 mins depending on tourist influx)
Avg flight cost- Mumbai to Bangkok – ₹13,500 (round trip per person)
Visa fees – ₹4,570 / 2000 Bahts (Post April 2020 – Currently FREE)
When we arrived at Koh Samui airport, we were so fascinated by the airport's look and feel because it didn't seem like any other regular airport. It looks like a resort in itself and you'll often see tourists clicking pictures at the airport against the pretty greens and wooden chalets.
Also Read: Camp In A See-Through Bubble Tent Surrounded By Elephants In Thailand
It was then time to check-in to our villas at Koh Samui, The Royal Muang Samui Villas. These private villas were every Instagrammer's dream. It indeed made us feel like we're living the island life, with its tropical vibe, private pools and spacious wooden chalet rooms. All of us almost immediately picked our favourite spots at the villa and settled in. We were really hungry however from our long journey and so it was time to head for lunch. But just as we did, we realised The Royal Muang Samui Villas does cooking sessions where they let you put your chef's cap on and learn how to cook some authentic Thai dishes. We learnt cooking green Thai curry and enjoyed our lunch
While the boys took a forefront in learning how to cook up Thai meals, we were all set to enjoy the spa. Royal Muang Samui Villa has not just any regular spa but a spa inside a cave! The resort has won the 12th Thailand Tourism Awards in 2019 and its spa is one of the bests there is. Once you walk in, it's like entering a cave and there are a number of essential oils given to choose for your massage. Once chosen, we were taken to our spa rooms, that came with a lavish bath area and a waterfall. Quite a sight to behold!
Post spa, we relaxed in our rooms, to get ready for dinner by the famous Chaweng beach. Sala Thai is a typical Thai restaurant, that lets you get a slice of the local culture. We watched a local performance and heard some Thai music as we had some yum Thai food. Also, if you visit the restaurant, don't forget to try the mango sticky rice. We didn't have any room left for it, but it was so good, we couldn't stop eating. Did you know Bangkok In Thailand Is The Most Visited City In The World?
Watch Episode one of our trip to Koh Samui here
Day 2
This day began with breakfast at the hotel and then we had an eventful adventure-filled day. We were headed to the Nangyuan island. This spot is very popular for scuba diving and snorkelling and it takes a speedboat to get to the island. We took a private speedboat (can accommodate 14 people) just to ourselves, but you can also take a seat in a speedboat.
Cost for speedboat – ₹91,000 / 40,000 Bahts
When we reached and saw the island, the view was just as scenic as we had expected it to be…maybe even more. The coral and emerald waters make it look very beautiful and we could see groups of people snorkelling in the waters. We quickly geared up and took some snorkelling lessons to witness some of the most beautiful underwater corals and fishes.
Next up, we headed to the Koh Tao island, aka turtle island. Here we decided to take a kayaking challenge between ourselves and kayaking in the pristine blue waters was a joy of its own. The feeling of being alone on an island with very few people was quite a beautiful experience.
Post an adventure-filled day, it was time for us to head to the resort and indulge in some amazing dinner. At Royal Muang Samui, they do a romantic setup too, if you request for and because the two of us lost the kayaking challenge, we decided to get a setup ready for the other two friends. Here are 5 Unexplored Places In Thailand to visit with your gang. 
Day 3
This day began with visiting the Lamai viewpoint which is the highest point for zip lining and quite n adrenaline rushing activity! We went up by a cable car and finally reached the Lamai Point which has a spectacular view! Everyone geared up in their harnesses and got all ready to zip line!
After one crazy activity, we were just about ready for more! But before that, we were extremely hungry and went to WeGreen which runs on a 'farm to table' concept. You can pluck your greens here and then eat them. The place is a great spot to visit for those who love coconuts, as you'll get to try a number of coconut items! We plucked our veggies and had the best organic vegetable meal here! Our best so far!
Next up, it was time to get our adrenaline rushing again with some ATV bike riding! We geared up, learnt how to ride one and get set drove! The spot we went to was one of the first ATV bike spots that opened in Koh Samui.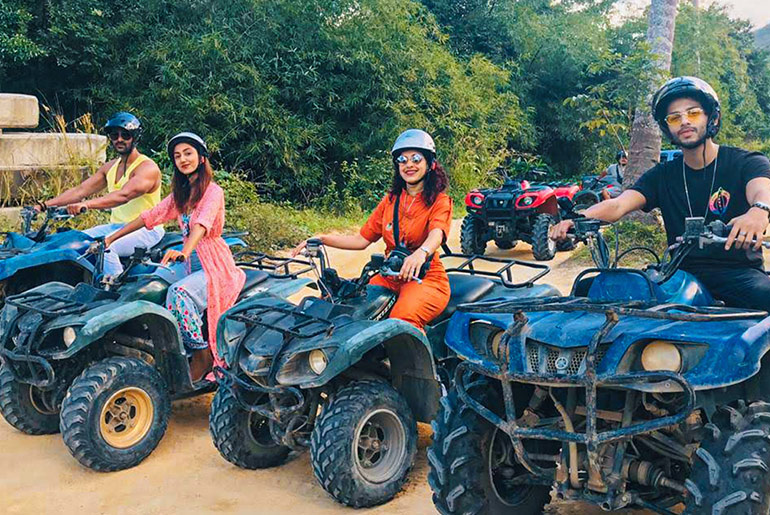 After a long drive across muddy lanes and rivers, we headed to our resort to relax for a bit. Once we reboot our energy, we were all set to party! But before that, we headed to try out some good local street food. We went to a night food market outside the Central Mall, where there was a variety of meats, fruit and even whacky items like insects to try.
Yes! We tried cockroach and silkworms!
After we filled our tummies with some flavourful yummy food, we headed to ARKBar, one of the best beach bars in Koh Samui! The place awakens at night and you'll find a number of fire shows, DJ gigs and dancers all around the beach. It's almost like the full-moon party! You can even chill at the Pink Water Lilies Lake In Thailand That's Absolutely Stunning
And that brought us to the end of our memorable and eventful stay at Koh Samui! What happened after this crazy party, we barely remember to tell! But the above places of suggestions are what helped us make our journey memorable and will, hopefully, yours too!!
Check out Episode 2 here:
To know about the top 10 things to do in Bangkok, click here