For those who have sipped chai and slurped on some soupy Maggi in the hills and valleys, the feeling needs no introduction. Maybe it's the warmth, the view, and that indefinite feeling of some sort of spiritual satiation that makes such a simple experience come heartily alive. But if you're looking for an even heightened (pun intended) experience, we've got something spectacular: head to the Rinchen Cafeteria In Ladakh which is the Highest Cafeteria In The World!
That Feeling Of Having Chai And Maggi At 18,360 Ft
Perched atop the scenic landscapes in the Himalayas, is a café unlike any other. The Rinchen Cafeteria in Ladakh owns the distinction of being the highest cafeteria in the world. Wondering, what is it that café has on its menu? Well, it certainly offers some of our all-time favourites! You can sip on some piping hot tea, heartily devour some soupy Maggi, and sometimes, if you're lucky enough, you can gorge on momos. The best part? All of this while you take in the panoramic view from 18,360 ft! Also, it sits along the Khardung La Road, which is one of the highest motorable roads in the world. Ah, Enfields and Ladakh make for such a love saga!
Also Read: This Cafe In Delhi Lets You Dine With Corona Warriors Like Sonu Sood & Vikas Khanna
Why Rinchen Cafeteria Makes For A Must-Visit Place
The café draws its name from a decorated ex-army officer, Col. Chewang Rinchen, who played a major role in defending the region of Ladakh on several occasions. In fact, it's also maintained by the Army. A few tables, chairs, prayer flags, curtains and lamps, define its humble, heart-warming interiors. But that's not it. Apparently, there's also a small souvenir shop, along with a small temple near the café. Overall, it's such a cosy place providing all the adventure buffs some refuge from the chilly winds that blow high above. Time to make new friends, eh?
Unique Things To Do In Ladakh
For most of us, Ladakh sits in our bucket lists because it offers unparalleled views. Just basking in the cold desert landscape sounds like an experience we would never miss out on. For some, it's the thrill of manoeuvring their vehicles as they traverse through the rocky trails. Then there's the sheer tranquillity that the prayer flags and monasteries bring along. Meanwhile, did you know that Nathang Valley Atop Sikkim Is Known As The Ladakh Of The East?.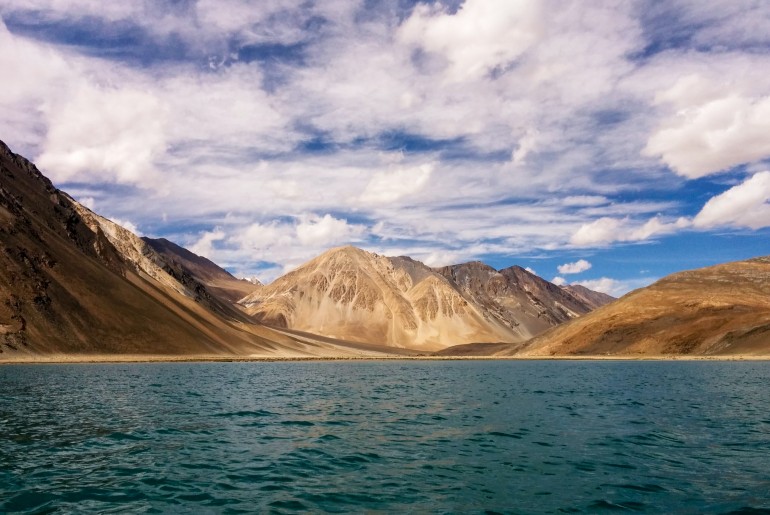 Also Read: Ladakh On A Budget? Totally Possible
But there's so much more that the mountainous region has to offer. For instance, you can soak in some warmth at the Hot Springs along the banks of Indus. These hot sulphur springs are found in Chumathang village, which falls on the road from Leh to Tso Moriri Lake. Then, there are a few monasteries in Ladakh, like the Lamauru and Thiksey which allow travellers to stay for the night. Also, The Donkey Sanctuary in Leh seems like an offbeat spot. Petting some donkeys in the Himalayas? Why not?! On that note, here's a virtual tour of the gorgeous region.
Well, that sounds like quite some heightened experience, na? For now though, travelling looks like a risky affair, and it's the best to tread cautiously. Till the, happy travel dreaming!