How would you like to stay on a private island in India? Take social distancing to a whole new level, dance on Kaho Na Pyaar Hai with bae, watch dophins jumping across, devour delicious food cooked by a private chef and have the time of your life. Well, here are 6 stunning private islands in India where you can book yourself a room in a resort or even rent the entire island all to yourself. Dive straight in and check out our list.
1. Vini's Farm In Kerala
Kerala is home to the ultimate paradise on earth, Vini's Farm. This entire private island can be booked for around ₹14,900 for two adults for one night and two days. This ultimate honeymoon has a charming wooden cottage that offers stunning views of the backwaters. You can go fishing, pick up organic ingredients for your meal, cooked by a private chef, indulge in watersports, all while living away from the rest of the world.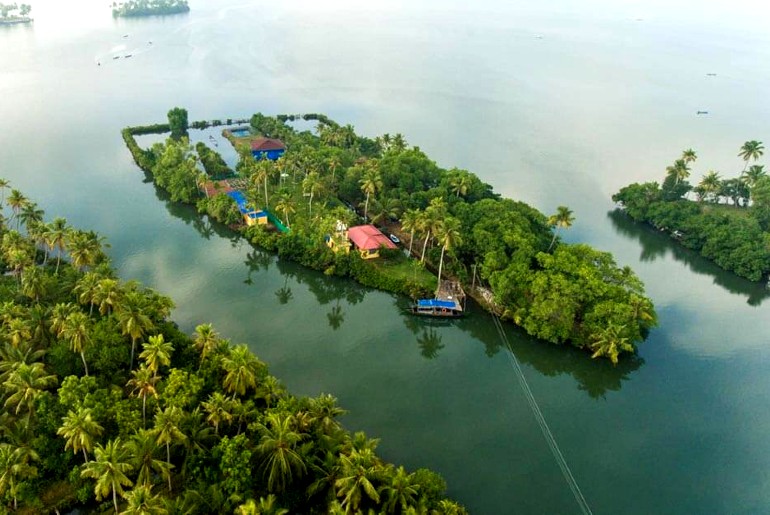 Also Read: 5 Insanely Beautiful Hill Stations In Kerala To Visit Instead Of The Mainstream Himachal
2. Cintacor Island Resort In Karnataka
A 20-minute boat ride from Karwar in Karnataka will take you to the remote Cintacor island. This turtle shaped private island is surrounded by the Arabian sea, It houses the luxurious, Cintacor Island Resort. Stay in stunning rooms inspired by ship cabins, gorge on authentic coastal dishes, go fishing and dabble in adventure sports. The ultimate highlight of this private island is dolphin spotting. Take a one-hour cruise to spot a pod oh dolphins swimming in the Arabian sea. This entire island can host around 45 guests at a time. Book a room here at this resort at prices starting from ₹15,000.
View this post on Instagram
Also Read: 5 Beaches In Goa You Need To Hit To Spot Dolphins
3. KM's Green Island Resort In Kerala
A 2.7-acre private tourism island, KM's Green Island Resort is perched near Kochi. Unlike your cliche swanky resorts, this resort is bang in the middle of a private island. Book yourself a room in a rustic cottage, try your hand at fishing at the Vembanad Lake, go pedal boating or on a houseboat safari ride. This private island also has an array of indoor and outdoor games to keep you entertained. Chill on a hammock or play antakshari around the bonfire while you make the most of your time social distancing on a remote island. You can book a standard room here for ₹2999 ad a double deluxe for ₹6000 approximately.
Also Read: 5 Insanely Beautiful Hill Stations In Kerala To Visit Instead Of The Mainstream Himachal
4. Suvarna Sangam In Karnataka
Most private islands across the world have luxurious resorts, but on a Karnataka island on the Suvarna river, there's a homestay. Suvarna Sangam is a romantic getaway in Udupi. This fancy homestay is a pet-friendly paradise situated 6km from the Udupi Railway Station. With 2 traditional styled bedrooms, 3 beds and 3 baths, this is the only property on the entire island. Enjoy stunning views of the river Suvarna, feast on lip-smacking Mangalorean meals, go kayaking and soak in the cool breeze. You can book a room for ₹6000 for two guests or the entire villa at ₹9000.
Also Read: 10 Beautiful Islands You Can Visit In India Instead Of The Maldives
5. Kayal Island Retreat In Kerala
Kerala is home to yet another private island, Kakkathuruthu. Unspoilt since the last 100 years, this island has been listed on National Geographic's 'Around The World in 24 Hours' list. In Kakkathuruthu, you can stay in the exclusive Kayal Island Retreat. This private island retreat is an hour's drive from Kochi Airport. Travel from the shores of Vembanad Lake to a rejuvenating island on an awe-inspiring boat ride. Kayal Island Retreat offers guests Ayurveda and traditional Kerala massages. Stay on this picturesque island away from the hustle-bustle of the city at ₹8842 for a room approximately.
View this post on Instagram
Also Read: I'm From Mangalore And Here's Why I Feel It's One Of The Most Underrated Beach Destinations In India
6. Raffles Hotel In Rajasthan
Udaipur is known to house some of the most beautiful resorts and hotels in India. So, India's first Raffles hotel in Udaipur likely stand out as it's nestled on a 21-acre private island in the heart of Udai Sagar lake. Offering 180-degree views of rolling hills, manicured gardens and foundations, it's truly a slice of paradise. The suites are inspired by Rajasthan's royal heritage and Islamic architecture. Stay on a private island and pamper yourself with a spa, astronomy, yoga and meditation sessions. Book yourself a luxury room at ₹27, 625 approximately.
View this post on Instagram
With this fascinating list of private island getaways, you can explore India with a whole new perspective. They offer luxury, privacy, great food, and unspoilt natural beauty.