With Scotland becoming the world's first country to provide sanitary products for free, Zomato introducing period leaves for women and Pune Airport providing sanitary napkins, the world is on its way to becoming a better place for women. While we still have a long way to go, Thane Municipal Corporation (TMC) has taken a step to lead the way. For the first time, a slum in Thane has introduced a special period room for women within the community toilet. This period room equipped with jet spray, urinal and soap dispenser will help menstruating women. Read on to know more.
A Unique Period Room Built In Thane Slum Helps Women During Their Periods
The idea for a unique period room came to light after TMC conducted a survey covering 1000 women staying in Thane slum areas. This survey highlighted the difficulties women face during their periods. According to the Free Press Journal, the survey conducted by Muse Foundation noticed that women in slum areas have a tough time managing their menstruation. So, TMC received the idea of "period room" by the NGO.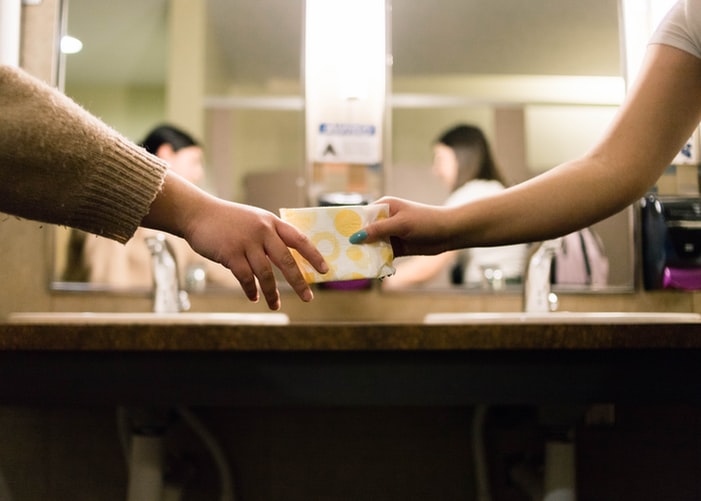 Also Read: Yemen Has An All-Female Cafe Run By Women Where Men Aren't Allowed
Manish Joshi, deputy commissioner of TMC stated to the Free Press Journal, "A survey has been conducted in Thane through 2019 to study women's menstrual hygiene practices covering 1000 women in 15 slums in Thane. The primary findings of the survey revealed the heavy dependency of women in slums on community toilet and the problems they faced to manage menstruation due to lack of water, unsafe changing rooms, absence of disposal mechanism for soiled napkins."
Also Read: Nagaland Citizens Give Free Lifts To Women At Night To Make India Rape-Free
This Period Room Has Better Water Supply, Jet Spray & Soap Dispenser
The Period Room designed by Recycle bin has better water supply, mirror, soap dispenser, hooks to hang clothes, urinal and jetspray. It also has a dustbin with a lid at the bottom to stop people from directly touching the soiled sanitary napkins. Infact the walls of this period room is also maintained with bright colours to invoke happiness and promote sanitisation. The wall also has important points to encourage sustainable menstruation. This is definitely a much-needed move. Meanwhile, here's the inspiring story of a Pune woman who converted old buses into women's toilets.