There are few things you can do with your bae amid this pandemic. Wearing your masks and heading out for a road trip is definitely one of it. And for Delhiites, we've found a gorgeous palatial fort resort in Jaipur, just a few hours away from Delhi. So you don't have to spend too much time on the road Lohagarh Fort Resort tucked away amid the Aravalli Hills of Kukas is the only resort in Jaipur that offers a luxury tent with a hot tub. So, you can spend a romantic staycation with bae. Now that we've piqued your interest in this picturesque palatial resort, let's tell you more about it, so you can plan a romantic getaway with bae.
Experience The Best Of Luxury & Nature's Beauty At Lohagarh Fort Resort
Adorned with nature's beauty in abundance, Lohagarh Fort Resort is surrounded by colourful flowers and trees which are almost 100-years old. Every nook and cranny of this resort screams regal and luxury. This fort shaped eco-friendly resort will leave you awestruck by its architecture. It's so rustic yet luxurious and might we say, welcoming. The over 21,000 species of flora and fauna here will leave you instantly feeling refreshed. In fact, legends say that a couple of Banyan trees as old ass as 150 years here near the open hall have rejuvenating soil that can bring joy to any distressed couple who spend a night here.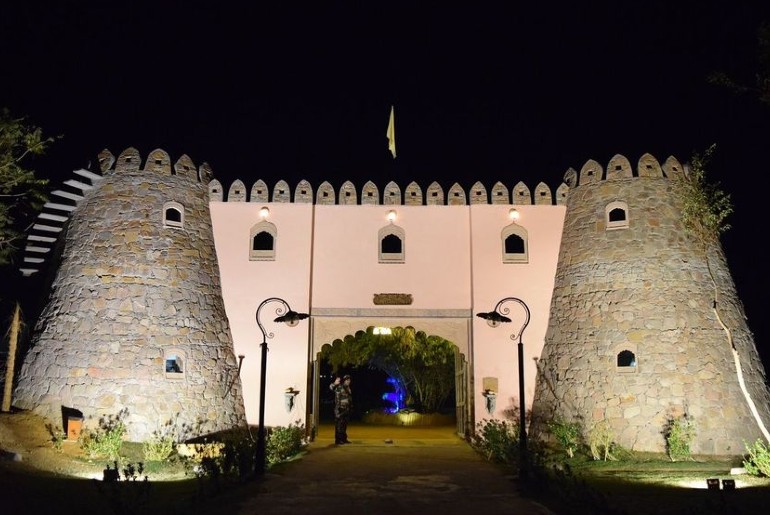 Pick From A Variety Of Gorgeous Luxurious Rooms That Have A Rustic Feel
Talking about spending a night here, let's get straight to the uber-luxurious yet rustic rooms. Lohagarh Fort is divided into four zones. Heritage zone, nature's bay, a wedding hall zone and an Aravalli Desert World are the four zones that you must explore. This gorgeous property offers around 30 extraordinarily designed rooms. The accommodations include a Luxury Tent with hot tub, Cottage with Mini Pool, Luxury Suite with Private Pool, Pent House, White Quartz Stone Suites and more.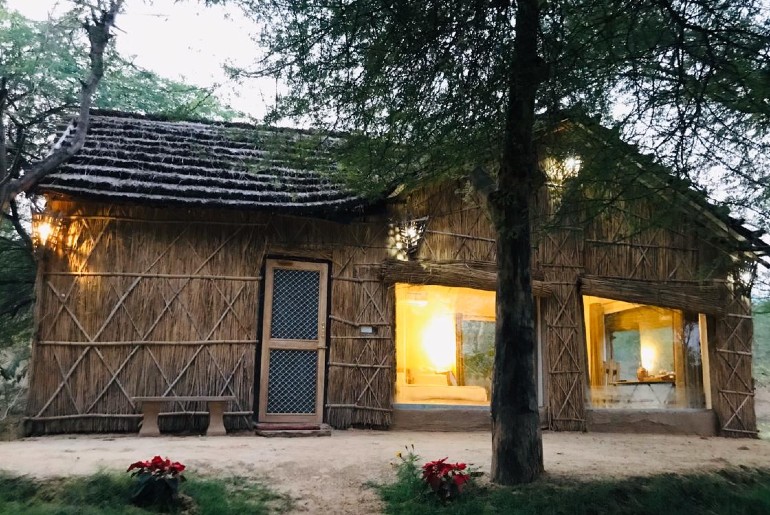 Lohagarh Fort Resort boasts of 100% unique and eco-friendly rooms at this 13-acre property. In fact, the ultra-luxurious interiors will surely catch your attention. And if you want to add a distinct twist to your stay, then the Luxury Suite With Indoor Pool room has a bed made out of stone that grows on its own every year. So now you know where you can stay with bae! The tariff for rooms start from ₹10,000 onwards.
Also Read: I Travelled To Jaipur For 5 Days In ₹10,000 All Inclusive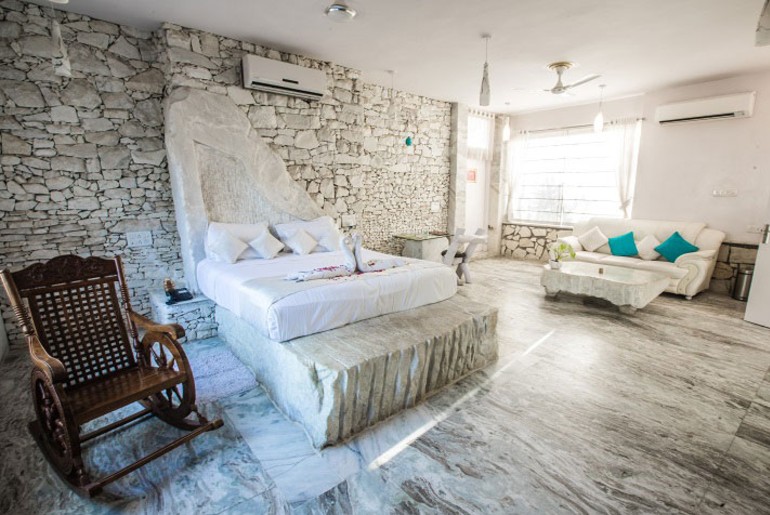 Spend A Glorious Night With Bae In A Luxury Tent That Comes With A Hot Tub
Waking up to the sound of chirping birds, and lush greenery as you wake up in a luxurious tent with your bae, is indeed a glorious experience. Get the best of both worlds, luxury and nature in this 5-star resort's luxury tent with hot tub. An incredibly healing experience that offers you a garden view, private sitting area, writing table, LED TV, AC, Heater, wardrobe and ofcourse a gorgeous hot tub. For Mumbaikars, there's also a resort close to the city that will give you Goa feels.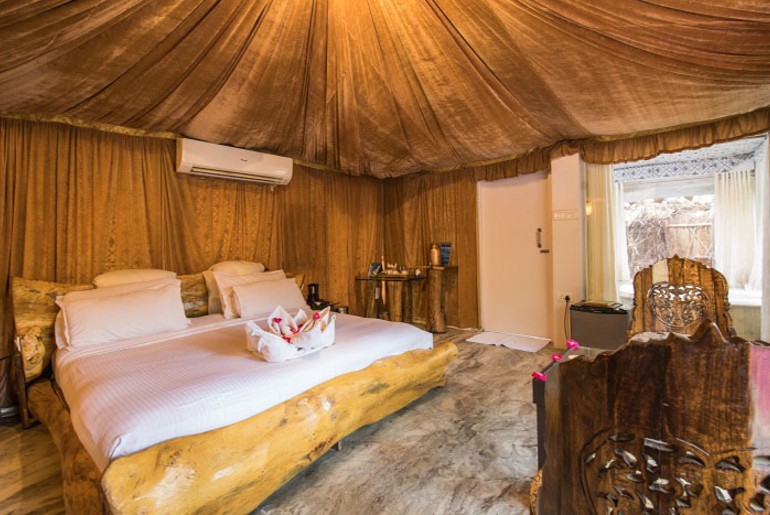 So, you know you're in for the most romantic time of your life.  This is, however, a no-smoking zone. But with wooden interiors, bed frame made out of rock and a hot tub, whose complaining right?
Also Read: 5 Beautiful Resorts Of Maldives That Are Now Open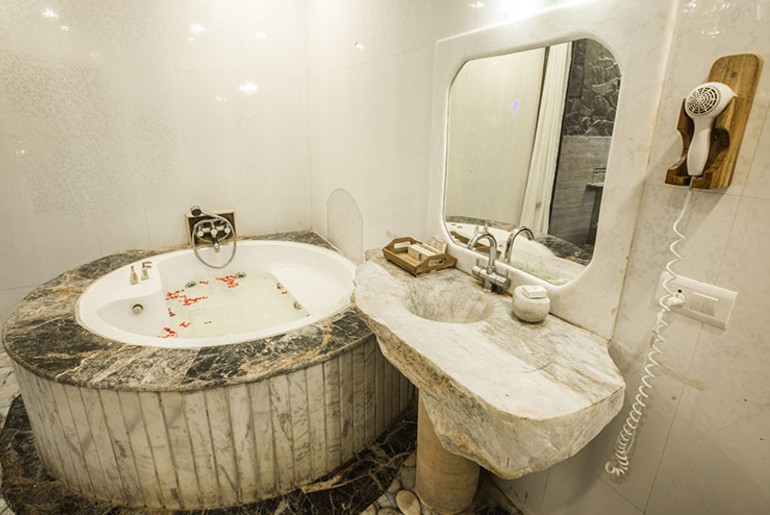 Indulge In Adventure Activities Amid Nature
Apart from private pools and breathtaking scenery, Lohagarh Fort Resort offers you a relaxing spa therapy at the Moksha Spa Parlour, elephant rides and Rajasthani dance programmes. They also have several day outing packages which include archery, camel or horse rides, Rajasthani folk and dance programmes. Head to the Desert World Zone with bae for a camel ride to the Flower Valley, Witness the farm where vegetables used in the resort's kitchen are grown. Unleash your inner Indiana Jones as you go cycling and wildlife spotting to explore the hidden treasures tucked away in nature's beauty.  And finally, don't forget to spend quality time here as you gorge on delicious delicacies and authentic Rajasthani food with at the restaurants here.
This palatial resort in Jaipur offers you adventurous activities of a lifetime. With the best of luxuries and nature's bounty, you're sure to have the time of your life with your loved one. Meanwhile, check out these 12 best luxurious Indian hotels visited by Kamiya Jani.