Nicknamed the Land of The Maharajas, Rajasthan has an expansive Thar desert, delicious local cuisine and rich culture.  Visitors arrive from far and wide to admire the ancient history, culture and to experience the endlessness of the desert on a camel or on a jeep safari. The calming and humbling experience to enjoy the wonders of the desert, with its rolling sand dunes and star-studded night skies, is a highlight of staying at one among the region's many glamping camps. We are here to help you with some of our top picks across 6 different categories. So here are 6 of the best desert camps in Rajasthan to make your Arabian nights fantasies, a reality.
1. SUJÁN The Serai
SUJÁN The Serai, a Relais & Châteaux is synonymous to luxury. This property is located on a 100-acre private estate to the east of Jaisalmer. Decorated in white and gold tonality, it's completely separated from the desert's other tourist camps and dedicates itself to providing the most opulent experience imaginable. All 21 tents are outfitted in regal style. Six of them have their own private walled-in garden and sunken, heated plunge pool; while the Royal Suite has its own spa, outdoor pool, and tents for dining and lounging. Talk about being spoilt like kings!
There are many ways to spend your time in the desert. Indulge in an Ayurvedic massage or reflexology session at SUJÁN spa, or get in touch with your spiritual side during the daily yoga and meditation classes. Local artisans conduct workshops on pottery spinning, wood carving, and weaving; while camelback jaunts take you into the dunes in time for romantic sundowner ceremonies. In the evening, traditional Manganiyar folk singers entertain guests as their ancestors have finished 13 centuries. Feeling hungry? Homegrown organic ingredients are used to prepare the very best local and international delicacies.
Also Read: The Lohagarh Fort Resort In Jaipur Has Tents With Jacuzzi To Laze With Your Bae
2.  Sand Voyages Camp
Sand Voyages Camp is also set back from most roads that connect Jaisalmer to the Sam Sand Dunes. Located near Kanoi, the camp offers camel and Jeep safaris into the dunes. It also offers cultural walking tours to a standard Thar Desert village, and Museum and Temple tours of Jaisalmer city. You can also enjoy games like cricket, badminton and volleyball if you choose a camp. If not, you can spend your day with the mealtime being a highlight.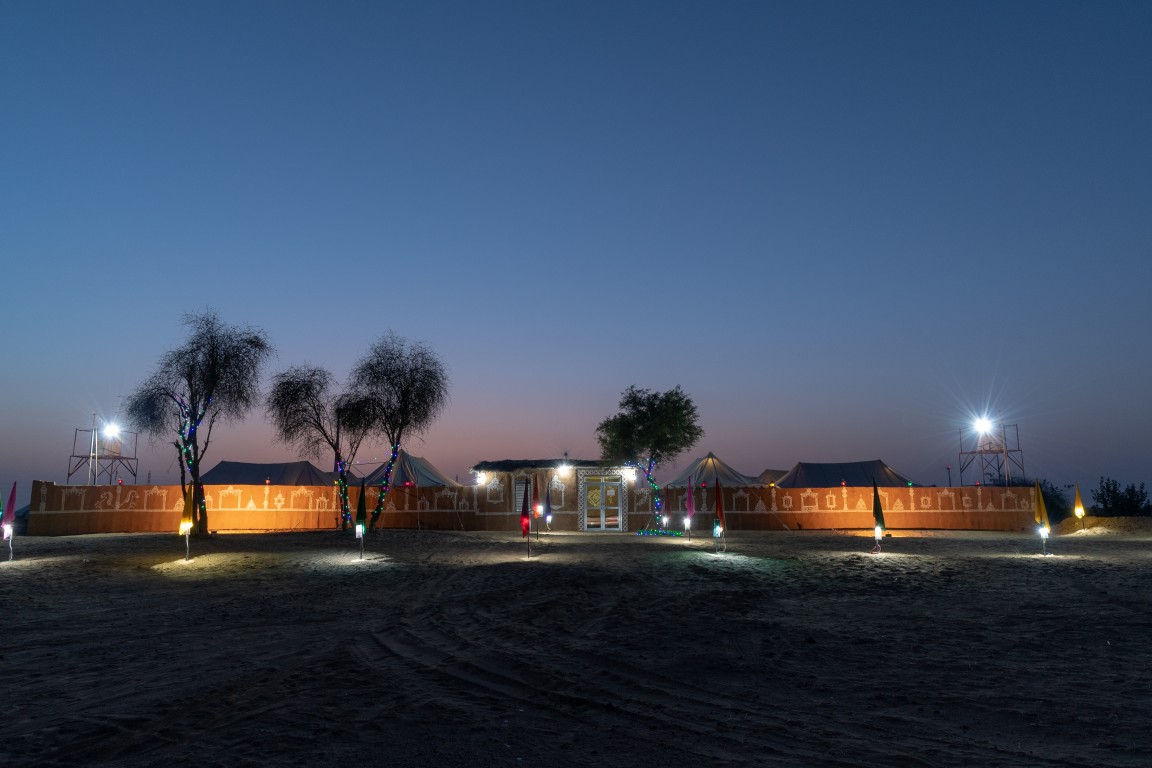 The camp restaurant serves authentic Rajasthani and pan-Indian cuisine. In the evening, you can choose to eat inside or outside around the bonfire, where you'll be serenaded by the camp's excellent folk musicians. All of the 20 luxury tents are decorated in Rajasthani style with hand-stitched and printed canvas walls. Amenities include a personal veranda, a king bed, and an ensuite bathroom with 24-hour hot and cold water.
Also Read: 5 Music Festivals In Rajasthan That Will Change Your Perspective About The Desert Land
3.  Oasis Camp Sam
Oasis Camp Sam is found on the road near the Sam Sand Dunes. It's both louder and more commercialized than the others on this list. However, it also receives rave reviews for its friendly staff.  And is taken into account one among the simplest options for those on a budget. Highlights include the complimentary sunset camel safari, and therefore the Rajasthani cultural program hosted around the campfire each evening. The latter tends to evolve into an active Bollywood dance party, which might be a professional or a con counting on your perspective.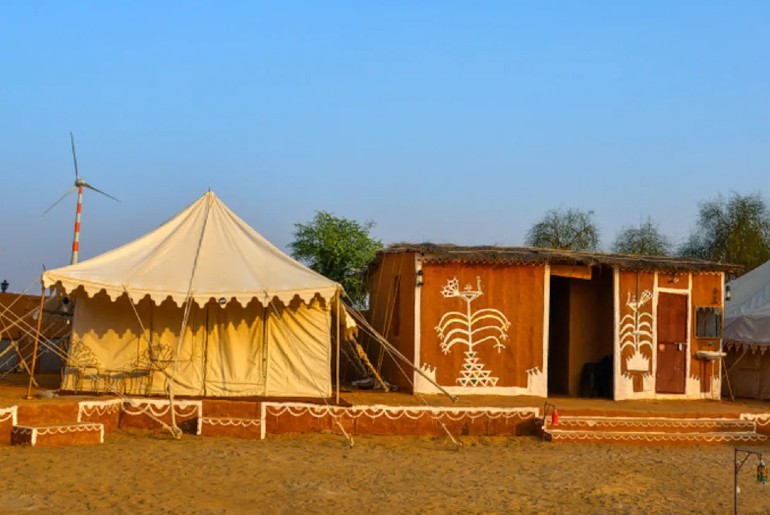 Tents are simple yet comfortable and equipped with all the essential amenities you would prefer. Outside, a table and pair of chairs offer you an area to take a seat and observe camp life in relative peace. For people who don't love the thought of sleeping under canvas, the camp also offers a variety of permanent cottages. Packages include welcome drinks, a buffet dinner with vegetarian and non-vegetarian options, and a buffet breakfast the subsequent morning.
Also Read: 5 Things You Must Do At A Desert Safari
4. Prince Desert Camp
If location is your top priority, Prince Desert Camp can't be beaten. In addition to being situated far enough from the area's larger, louder camps to ensure peace and quiet, it has the privilege of overlooking the Sam Sand Dunes themselves. This means you've got hardly any distance to travel when embarking on a camel safari or high-octane Jeep adventure. You can even walk into the dunes in time to catch the sunrise each morning. Alternatively, lie back and admire them from the comfort of your own bed.
The evening draws to a close with cultural dances and folk performances around the bonfire, although the real stars of the show shine brightly in the dazzling night skies above the camp. Your stay includes non-alcoholic drinks and buffet-style Rajasthani breakfasts and dinners. There are 30 Swiss tents to choose from, all with an ensuite bathroom, 24-hour electricity and hot water, and an electric heater to ward off the cold at night.
Also Read: Rajasthan Has One Of Asia's Biggest Libraries Housing 9,00,000 Books
5. Damodra Desert Camp
Although none of the camps on this list is huge, Damodra Desert Camp offers the most boutique experience of all with just 10 luxury tents. Located roughly 18 miles from Jaisalmer during a peaceful setting off the most road to Sam Sand Dunes, it prides itself on the heat of its traditional Indian hospitality. Each of the Swiss tents is air-conditioned and ensures your comfort with deluxe linens, premium Ayurvedic toiletries, and a Western en-suite bathroom. Spend quiet moments sitting out on your private patio.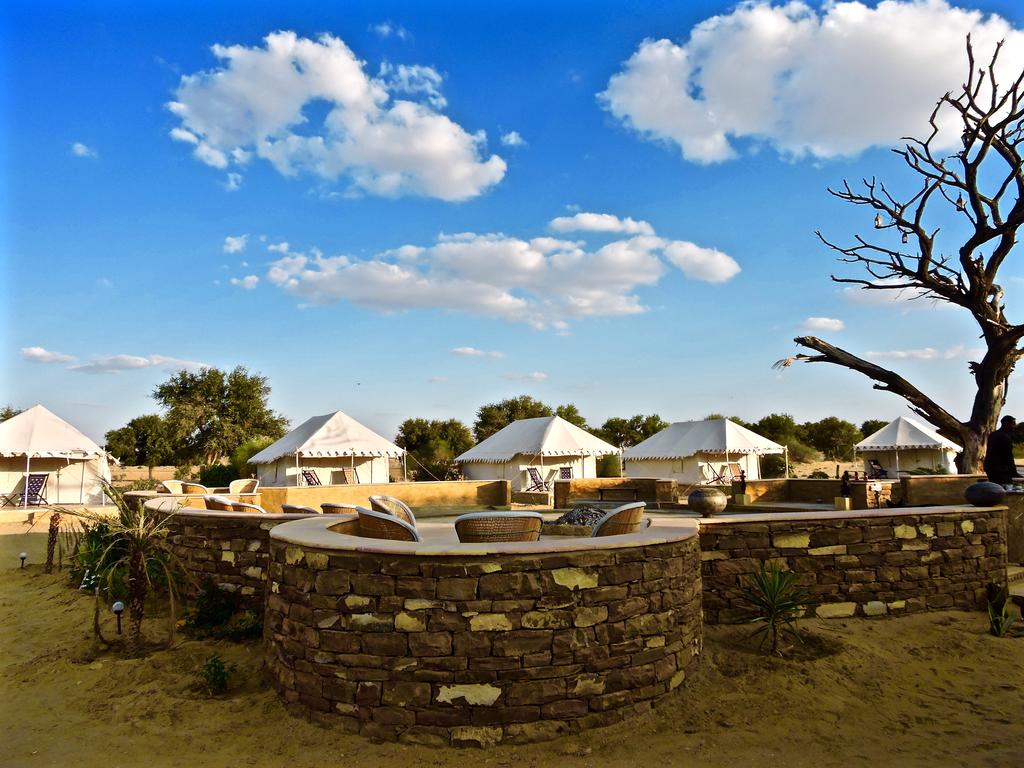 During the day, grab one of the camp's complimentary sandboards and head out into the dunes; or save your dune experience for the included sunset camel trek. Damodara also offers overnight and multi-day camel safaris for those with longer on their hands. In the evening, the campfire is lit, and traditional Rajasthani folk singers and dancers entertain while you sip chai and savour Indian appetizers. An authentic dinner is served in the air-conditioned dining area. The next morning, you can treat yourself to a sumptuous buffet with local and continental options.
Also Read: Bhangarh Fort In Rajasthan Is Infamous For Being The Most Haunted Place In India
6. Exotic Luxury Camps
Located 20 miles from Jaisalmer, Exotic Luxury Camps continues to receive glorious reviews for its cleanliness and hospitality. Unlike many of the Sam Sand Dunes camps, it's set back from the most road for a valuable sense of peace and seclusion. At night, the shortage of light and air pollution makes for a few spectacular stargazing. There are 26 luxury tents to settle on from, each with antique furniture and delightful blue stencilling on the canvas walls.
Take your pick from an area with air-conditioning or not. Then choose a tent with a king bed or two twins. Either way, you'll expect premium linens and an ensuite bathroom with a western-style toilet and predicament shower. The tents are arranged around a central performance space, where guests are treated to traditional Rajasthani folk dance and singing around the bonfire each evening. Afterwards, you and your loved ones can sit right down to a tasty buffet of authentic Indian cuisine within the dining tent. This stay also includes a buffet breakfast, a welcoming ceremony, and a 45-minute camel ride into the dunes to observe the sunset. Now that we've given you our best list of desert camps in Rajasthan, watch this video below to add more places on your bucket list.