The capital city of Rajasthan, Jaipur is home to a large number of marvellous forts, gorgeous palaces and magnificent temples. These historic architectures, along with the vibrant culture of Jaipur, attract tourists from all over the world. Be it the 300-year-old Hawa Mahal, the grandiose Amer Fort, the City Palace or the Nahargarh Fort, each and every place within the city leave tourists mesmerised. And if you're planning to stay in the Pink City in the perfect Rajasthani-style, here are 6 resorts that will get you sorted:
1. Chokhi Dhani Resort
Among the best luxury resorts in Jaipur, this resort is a gateway to traditional Rajasthani culture. The hotel premise has Rajasthani-styled suites and cottages where the fascinating traditional culture is practised. The resort has little tree huts where Rajasthani women make fresh butter, garlic chutney and bajre ki rotis. Room rates at the Chokhi Dhani cottage start at around ₹4500 per night. Also, here are some interesting facts about Jaipur's Hawa Mahal.
Website | Here
2. Oberoi Rajvilas
The magnificent property of Oberoi Rajvilas is apt for a royal stay in the Rajasthani way. One can also enjoy gourmand Rajasthani thali at the Surya Mahal restaurant here. Covering over 32 acres, this king-sized property is just the break you need from your hectic daily routines. This hotel follows a strict cleanliness regime which includes thorough sanitisation of all pubic touchpoint areas. You can book a splendid room here for two starting from ₹21,000 per night.
Website | Here
Also Read: There's A Tree House Resort In Jaipur With Views Of A Waterfall
3. Samode Haveli
Havelis hold years of secrets in their intricately built walls and majestic structures. Rulers of Samode resided in the 175-year old Samode Haveli once. Today it's occupied by descendants who converted this home into a luxury hotel. It houses 50 beautiful appointed guest rooms and common spaces for guests. Rooms start here from ₹5000 per night.
Website | Here
4. Narain Niwas Palace 
Designed in the Anglo-Indian style famous in the victorian era, Narain Niwas Palace is one of the finest heritage hotels in Rajasthan. With 52 gorgeous rooms decked by colourfully painted motifs, you will instantly feel like belonging to that era. This palace built in 1928 stands tall attracting tourists from all over the country even today. Unwind in one of its lavish rooms starting from ₹5000 per night.
Website | Here
5. Umaid Haveli Hotel & Resort
Each room of this royal boutique palace hotel has a minibar, a seating area and an electric kettle. The haveli is a Rajasthani masterpiece designed by some of the skilled artisans of the state. The walls of the luxury hotel feature intriguing classical artworks. The traditional canopy beds intensify the elegant aura of its rooms. Right from the entrance to the lawns, the dining spaces and suites, every corner in this hotel has a beautiful story to unfold. Room rates in Umaid Haveli, Jaipur start at around ₹3400 per night.
Website | Here
Also Read: I Went On A Trip To A Secluded Campsite In Pushkar During The Pandemic
6. Lohagarh Fort Resort
Tucked away amid the Aravalli Hills of Kukas, this is the only resort in Jaipur that offers a luxury tent with a jacuzzi. Thus, it is an ideal place for a romantic staycation. The eco-friendlyy Lohagarh Fort Resort strikingly blends luxury and rurality.  The resort has over 21,000 species of flora and fauna. In fact, legends say that a couple of Banyan trees here are as old as 150 years. This spectacular property offers around 30 extraordinarily designed rooms. The accommodations include a Luxury Tent with Jacuzzi, Cottage with Mini Pool, Luxury Suite with Private Pool, Pent House, White Quartz Stone Suites and more. The tariff for rooms start from ₹10,000 onwards.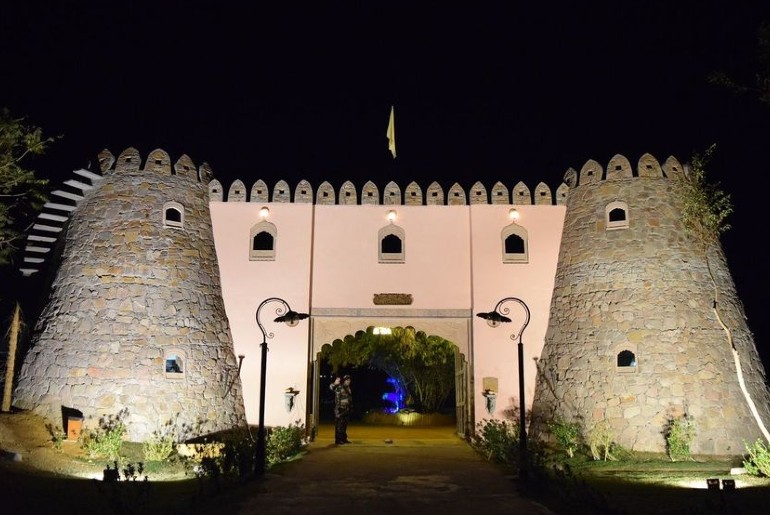 Website | Here
Also Read: Planning A Trip To Jaipur? Here Are Top 10 Places That You Need To Visit In The Pink City!
According to a Canadian travel website, FlightNetwork,  Jaipur is the 48th most beautiful city in the world. On July 6, 2019, UNESCO listed Jaipur among its World Heritage Sites. Booking a stay in one of these ravishing hotels will make your Jaipur trip all the more memorable. For now, enjoy this virtual tour of Jaipur from the comfort of your couch: