Dear Instant Noodles, you have been a significant part of our lives. From satisfying our late-night hunger pangs in college hostels to being our reliable companion on days we just didn't feel like cooking.  You gave every one of us, who didn't know cooking,  the confidence to feel like Masterchefs. Your convenience, pocket-friendly prices and delicious flavours have made you our eternal favourite dish. So as a tribute to you, we would love to visit your birthplace- The Cup Noodles Museum in Osaka, Japan. This is one of the weirdest museums in the world. 
History Behind Instant Noodles
So who is the man who solved our culinary woes? The name is Momofuku Ando. He is the inventor of the world's first instant noodles 'Chicken Ramen' on 25th August 1958. Momofuku Ando spent an entire year in his little shed in Ikeda-city, Osaka, perfecting the recipe using common tools. When he finally created instant noodles, he introduced a global food culture. With innovative ways, he transformed this 'made in Japan' instant noodles into a global phenomenon. Today, he is fondly remembered as 'The Father of Instant Ramen'.
In 1971, he invented Cup Noodles, which was the world's first instant noodles served in a cup. Momofuku Ando went on to become the CEO and Chairman of Japan's Nissin Food Products, the chairman of the Japan Instant Food Industry Association and the chairman of the World Instant Noodles Association ( Yes, there is such a thing, look it up). And on the fateful year of 2007, he ate his last cup of Chicken Ramen and died at the age of 96. But his delicious invention carries on his legacy, so much so that the Cup Noodles Museum was established in Osaka, Japan to honour his invention and celebrate the revolutionising Japanese Instant Noodles food culture.
About This Cup Noodles Museum
The Cup Noodles Museum is one of the most interesting museums in the world. Right outside this museum, you will see a beautiful statue of the inventor, Momofuku Ando standing on a big cup noodle box, proudly showing his invention. The minute you enter this building, your mouth will instantly(pun intended) start watering.
Tantalize your taste buds and relish the history of this dynamic museum and it's even more spectacular invention- Instant Noodles. The Cup Noodles Museum has a variety of engaging activities, installations, souvenir shop, workshop and creatively displayed products to excite you throughout the day. This purpose of this museum is to honour the culinary genius Mamafuku Ando, provide information about the growth of the Instant Noodle industry and the Japanese food culture, as well as give tourists a memorable instant noodle experience.
Also Read: Check Out This Insta-Worthy Dessert Museum In Manila, Philippines
Mouth-Watering Attractions Here
So here's how you can spend your day at the Cup Noodles Museum.
You can actually get transported back to the year 1958 when Momofuku Ando invented the Chicken Ramen. Witness the faithful replica of the backyard shed where there are a plethora of basic tools kept. This gives you the message that even with ordinary tools you can build extraordinary creations.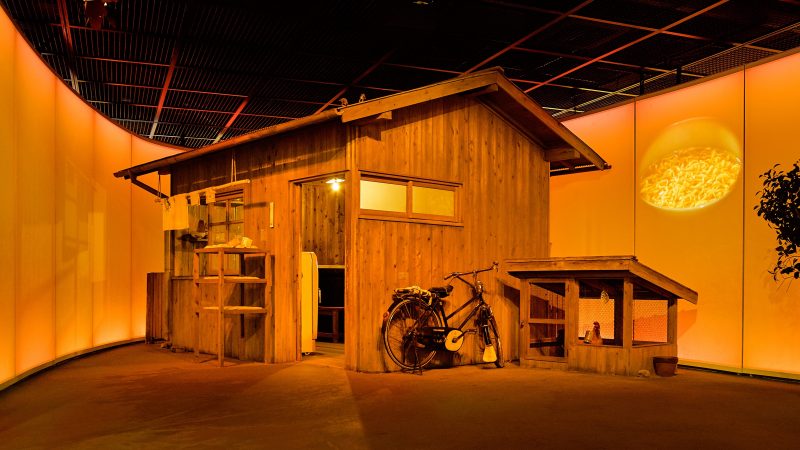 Take a stroll along the Instant Ramen Tunnel to see the hundreds of cup noodles packaging from around the world. You can observe how the packaging of the noodles and its flavours have evolved over time and showcases diverse global food culture.
Visit the Cup Noodles Drama Theatre here, which is a small theatre shaped like a noodle cup. You can watch an interactive movie which talks about interesting anecdotes which inspired this creation and other trivia through the large screen visual imagery.
Also Read: Do You Have The Guts To Visit The 'Disgusting Food Museum' In Malmo, Sweden?
For those of you who like to cook, drop in at the Chicken Ramen Factory.  Don the factory uniform, get your hands dirty and prepare your own ramen by scratch with a little assistance from the chefs there. Knead, spread and steam the wheat flour and later dry it with the flash-frying method. This sure is an exhilarating experience.\
Other Delicious Attractions Here
And for those of you who don't like cooking, there is something for you too. You can create your own original cup noodles at MY Cup Noodles Factory. You can pick your own empty cup from the vending machine, and design the cup creatively using the stationery provided. Once you're done, head to the live-counter and using the conveyor belt to put the instant noodles in your cup, in an upside-down fashion. Choose your flavoured powder and any 4 toppings from a plethora of options like corn, cheddar cheese, egg, fish sausage and more. And that's not more! You get to even seal your cup and shrink wrap it with the help of the staff. and voila! You have your very own customized Cup Noodles.
And once you're left badly craving for a cup of piping instant noodles, visit the Tasting Room. You can savour on lip-smacking limited-edition flavours of cup noodles here. Purchase your cup noodles from the vending machine and slurp the noodly goodness at the dining area.
Also Read: Dubai Has The Middle East Largest Coffee Museum
Once you're done roaming around this fascinating museum, gorging on flavoursome noodles, then head to the Museum Shop. Purchase some original products related to instant noodles and take fun souvenirs for your loved ones.
The Cup Noodles Museum should definitely be on our go-to list. After all what better way to pay reverences to our favourite snack than to visit this place!
Deets
Address: 8-25 Masumicho, Ikeda, Osaka 563-0041, Japan
Timings: 9:30 am to 4:30 pm ( Closed on Tuesdays)
Cost: Free Entry ( Certain experiences are to be paid for separately)
Contact: +81 72-752-3484