Foodies! New food combos are sometimes invented out of necessity. And other times it's invented just to try out something fun. Either way, there are more dishes to try out, so who's complaining right? From Chocolate Samosa Pav, Butter Chicken Pizza to Chinese Bhel, we've come across different food combinations from all across India. But let's push the boundaries and introduce you to more. So, here are 5 weird but amazing food combos in India that are absolutely worth trying.
1. Chocolate Khakhras
Khakhras are absolutely delicious! Cracking onto a crispy khakhra and devouring it with a cup of piping hot chai, makes your evening literally. And when you pair your khahras with pickles and chutneys it just goes to a whole new level. But have you ever tried Chocolate Khakhras? It's the good old Gujju khakhra with a sweet twist. Brown coloured khakhras with a sweet chocolatey flavour will tingle your tastebuds and eave you asking more.
Also Read: 10 Delicacies You Must Try In Hyderabad Apart From Biryani
2. Vodka Pani Puri
We often hesitate to try out new food combos, but if there's liquor in it, then just bring it on. Our favourite street food, pani puri has a boozy twist and that's Vodka Pani Puri. You will find a number of pubs and resto-bars serving Vodka Pani Puri. It's an amazing snack to devour with your gang undoubtedly. Call the shots and say bhaiya ek aur, and he gets another shot of vodka. So, cheers folks! This is one of the craziest types of pani puri in India. 
3. Ice Cream Vada Pav
The good'ol vada pav, has a new sweet version in town, and that's Ice Cream Vada Pav. A vendor in Gujarat recently started selling Ice Cream Vada Pav. He first poured multiple sugary syrups inside the pav. And then stuffed it with a scoop of ice cream instead of the vada. He garnished his dish with tutti-fruiti. Well, how'd you like to try the Ice Cream Vada Pav, where a scoop of ice cream replaces the aloo vada?
Also Read: Tracing The History & Origin Of Vada Pav
4. Schezwan Dosa
The chatpata schezwan flavour is great in anything, and yes even in dosa. If you can have schezwan maggi then why not schezwan dosa right! And you can try this weird yet delicious combination is many street food joints all across India. Devour the Chinese flavour of schezwan in South Indian favourite dosa. It's crispy on the outside and spicy on the inside. If you ever get bored of the regular dosa, then give this one a shot.
Also Read: Madurai Restaurant Is Making Mask Parottas And Corona-Shaped Dosas
5. Chocolate Sandwich
Can chocolate and sandwich go well together! Yes, they can. In fact, I'd go one step further and say that chocolate cheese sandwiches are even better.  Melted chocolate placed between two slices of bread, topped with grated cheese is just super delectable. At Mumbai's Subhash's Chocolate Sandwich At Matunga, you can taste delicious Chocolate Sandwiches. In Bangalore, you can head put to Hari Super Sandwich to gorge on their dessert, Chocolate Cheese Sandwich. This is one food combo, you must try, especially if you have a sweet tooth.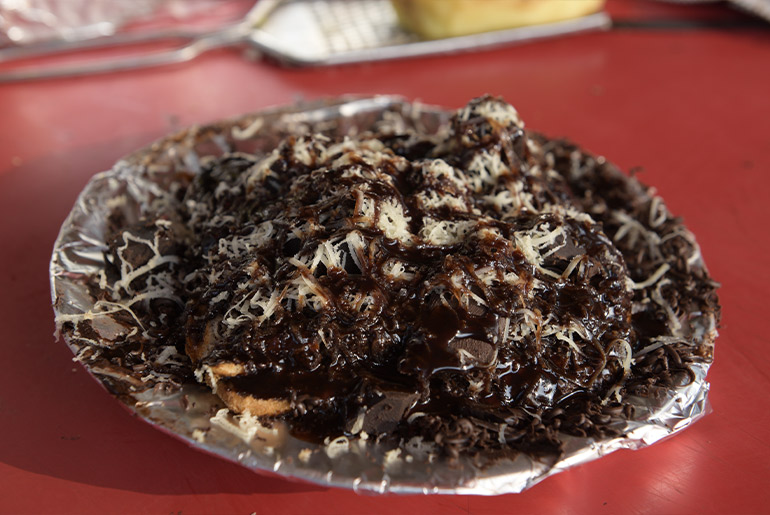 Now that we've enlightened you about these weird but amazing food combos, make sure you try these. And especially make a note if you'd like to go one step ahead and recommend them to your loved ones.