Will anyone stand up and say they don't like Pani Puri? Umm no! This mouth-watering delight will tingle your tastebuds and leave you craving for more. Personally, we can gulp down 80 pani puris in one go but who is counting? (well, just bragging) but we are here to help you relish these Pani Puri varieties that will surely make you say "Bhaiya, ek aur!" So check out these 10 different types of Pani Puri across India that will make your mouth water.
1. Fire Pani Puri At Nagpur's Chaska Chaat Corner
When you do visit Nagpur or currently living there, do try India's first Fire Pani Puri. It is prepared with larger puris for your guilty pleasure with a variety of ingredients. Firstly, spiced aloo filling is stuffed in puris, followed by dahi, spicy chutney and sweet tamarind chutney. Crispy Sev, desiccated coconut and other colourful spices are then added. After this like a cherry on the cake, Gulkand is the final ingredient to be stuffed in the Puris. Right in front of you the Puri, filled with colourful ingredients, is lit on fire.
2. Pani Puri From Gujarat's Pani Puri ATM
In the Banaskanth district of Gujarat, one man became the hero that we deserved by inventing the contactless Pani-Puri ATM for us all hungry foodies out there missing the sweet and tangy taste of Pani Puri. This contactless Pani Puri vending machine works just like an ATM. All you have to do is insert money into the machine and wait for a plate of Pani Puri to emerge out of the conveyor belt. It's a hygienic, contactless, innovative and nevertheless delicious way of eating our favourite snack.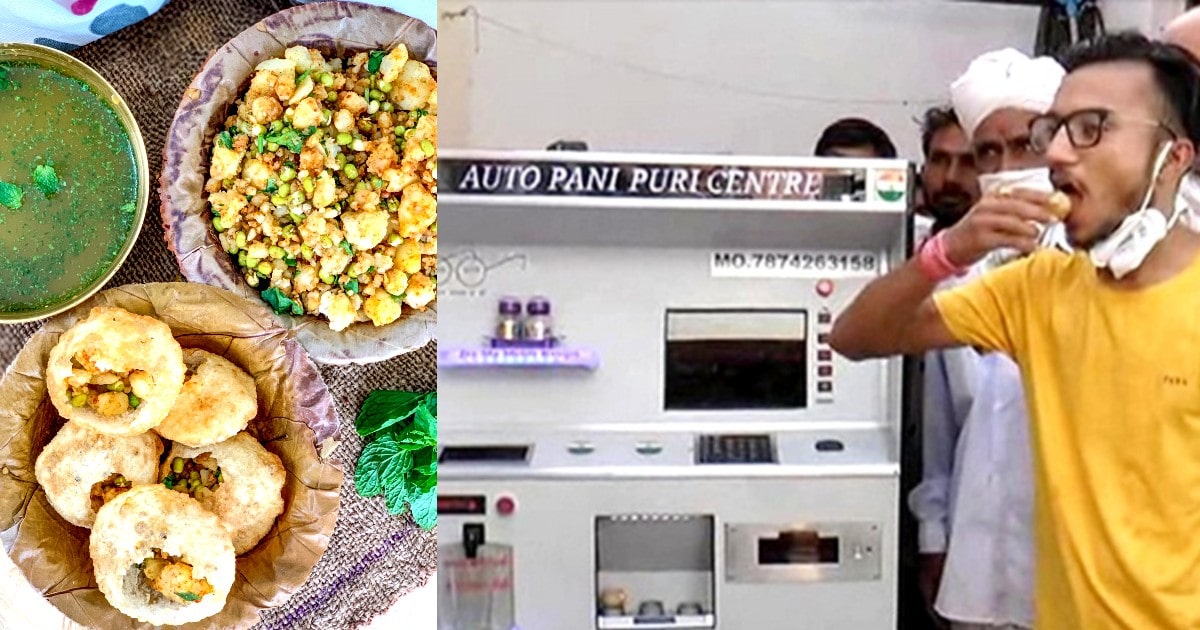 Also Read: 5 Bangalore Restaurants That Have Turned Into Cloud Kitchens To Survive & Satiate Your Cravings
3. Ice Cream Pani Puri At Mumbai's GoPure Ice Creams
There's Ice Cream, Pani Puri, for real and you can find it at GoPure Natural Ice Creams in Mira Road. No, we ain't kidding! Peeps, if you love Gol Gappas like monkeys love bananas, these babies are worth a trip. The folks at GoPure have created this version from scratch. Firstly, you have your normal pani puris that are then filled with small amounts of flavoured ice cream. These are further doused with whipped cream and for a final flourish, they add colourful sprinkles. If you fancy mint, they also add a fresh leaf to each of your Gol Gappas.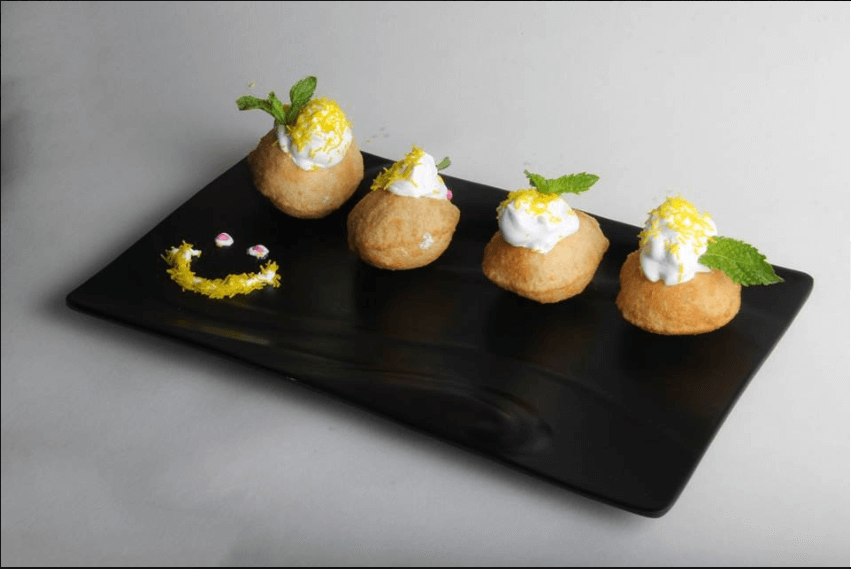 4. Pani Puri From Bangalore's Watershots Mr Pani Puri, Automatic Vending Machine
It's the very first people! An automatic Pani puri machine. Find it inside ETA And GT Mall in Bengaluru being served at Watershots Mr Pani Puri. All you have to do is order a plate of Pani puris at the counter, you will be given a plate of 6 aloo puris and you can take the Pani from the vending machine as and when you would want it. You can also choose if you want sweet Pani or spicy Pani with just a swipe of your finger on the screen in front of you. Ain't that a great deal?!
Apart from doing something different, the inspiration was to bring to audiences an automatic version which is much faster and hygienically prepared without compromising on taste. So no more standing in long lines, worrying about the water quality and the freshness of the ingredients used. Just get to ETA And GT mall and have a super experience with tasty and hygienically prepared pani puri. The inbuilt system makes sure that when the filtered water is over, it is duly filled back and cleaned.
Also Read: Ice Cream Vada Pav Is The Latest Food Fad; Gujarat Vendor Replaces Vada With Ice Cream
5. Chai Pani Puri At Mumbai's The Kettlery
The Kettlery is every tea lover's abode offering a variety of Indian teas, herbal teas and gourmet indulgences. If tea is your elixir then this place is for you, serving 75 types of teas that are perfectly blended to soothe your senses with exotic blends from across the globe, you'll be in a tea haven and spoilt for choice. One particular dish that really caught our eye is the Chai Puchkas. One that really caught our eyes is the Chai Puchkas in which pani puris are served alongside peppermint tea with customary fillings for just ₹200.

6. Pizza Pani Puri At Jaipur's So Cheesy
Affordable and funky, So Cheesy in Jaipur is true to its name. It serves innovative and insanely cheesy versions of dishes you have never had with cheese! The Pizza Puchka is one such dish. We all know our the Puchka to be spicy and tangy but have you ever thought of tasting pizza in a Puchka? Well, that's what they serve here. Puchkas loaded with cheese and pizza sauces. Its a must-try! You'll get 6 of the Pizza Puchkas at only ₹79! And that's not it, you must try the other crazy cheese dishes as the cheesecake shakes. Filling and just as delicious, not to forget, cheesy!
Also Read: Randy Santel Takes Up The 1 KG Jalebi Challenge In Mumbai
7. Butter Maggi Puchkas At Poochkawala In Kolkata
If you religiously rely on Maggi and puchkas to be your staple diet then don't forget to try this place in Kolkata which serves Butter Maggi Puchkas. Puchkas are a staple food for every person in Kolkata and combining these crunchy puchkas with creamy butter gravy and Maggi is something surely not to be missed. Find these choicest delicacies at a quaint Puchka cafe that dishes out offbeat puchkas. Their puchkas aren't like the roadside ones, but really crunchier and thicker in terms of the filling inside. We recommend the Butter Maggi Puchka which comes with a filling of butter Maggi topped with cheese.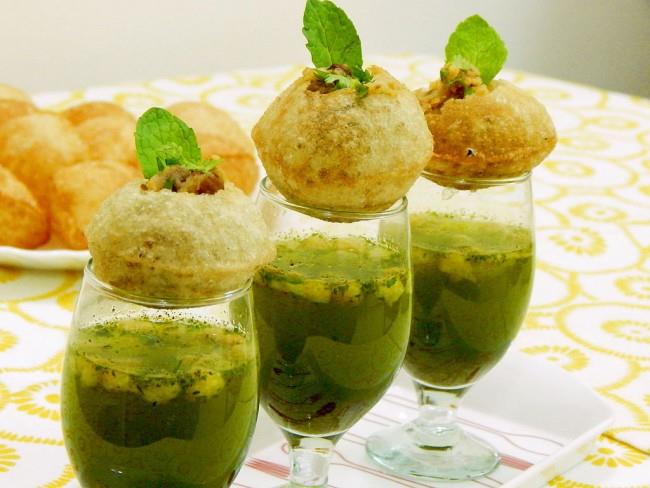 8. Fish Puchka At Kolkata's Puchkaman
Coming to the best part- Puchkas! You can get your favourite street food with a twist. From Corn Cheese Puchka, Pan-Fried Maggi Puchka, Puchkaman's Special Chicken Puchka to the Bong favourite Fish Puchka, there is something for every kind of Puchka lover be it vegetarian or non-vegetarian. The Puchkas are loaded with cheese, spices, and even Maggi. And if you're not in the mood for extreme experimentation, then there are puchkas which are closer to home too. Gugni Puchka, Kolkata's Special Aloo Puchka and Special Dahi Puchka are lip-smacking. Choose from sweet, tangy or Jal Jeera water and you're good to go.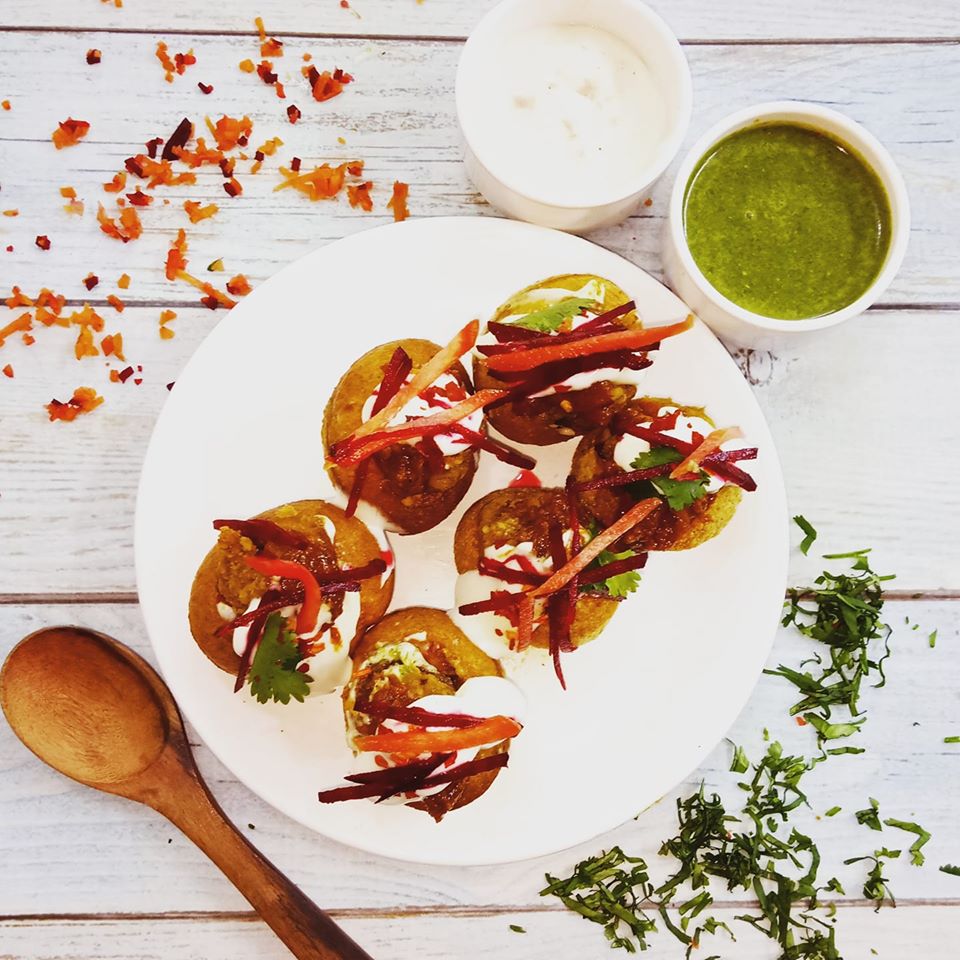 9. Suji Gol Gappa From Bangalore's Anand Sweets
This one's a North Indian classic, and it's also a personal favourite! Although it's made from Rava, it's super tasty and healthy. It has a lovely textured semolina crunch. This gol gappa is crispier and has a better texture than the usual golgappas. You'll have to try it out for yourself to taste the crunchy difference.
10. Vodka Pani Puri At Mumbai's Pratap The Dhaba
Kill two birds with one stone by visiting Pratap the Dhaba, that popular restaurant in Andheri West that serves Vodka Pani Puri (INR 243 plus taxes for a plate of 6) for those looking to start their evening on a rocking note. Hats off to the genius who introduced the trend of alcohol pani puri shots. Earlier, Mumbai Vibe also used to serve vodka pani puri, and we're so nostalgic just thinking about it. 
So, Pani Puri lovers! Now that you've seen our list of amazing types of pani puri in India, add these dishes to your wishlist.