With the coronavirus pandemic being a part and parcel of our everyday life and the looming fears of a Covid third wave, Bangaloreans are cautiously resuming their everyday routine. On the occasion of Guru Purnima on July 24, Sri Sathya Ganapathi Shirdi Sai Temple in JP Nagar was beautifully decorated with tablets, masks and sanitisers. This theme was chosen to create awareness among devotees about the possible Covid-19 third wave and the precautions to be taken. The medicines, masks, tablets and other essential items, used as decor, will later be distributed to the needy. Here's a closer look on what went into this unique decor.
Sai Baba Temple In Bangalore Decorated With Covid Essentials
As you step into the iconic Sri Sathya Ganapathi Shirdi Sai Temple in JP Nagar, Bangalore, you will be greeted with a huge poster outside the temple. The poster informs devotees about the items used for the alankara ( decor) or the temple on the blessed occasion of  Guru Purnima.
A total of 3 lakh Covid recovery tablets, 10,000 masks, 1000 bottles of sanitisers, 1000 antiseptic soaps, children's stationery and 2000 grocery kits were used for the unique adornment of the temple. All these essential items are claimed to be used to kill the coronavirus. So, they were used to create awareness of the impending third wave.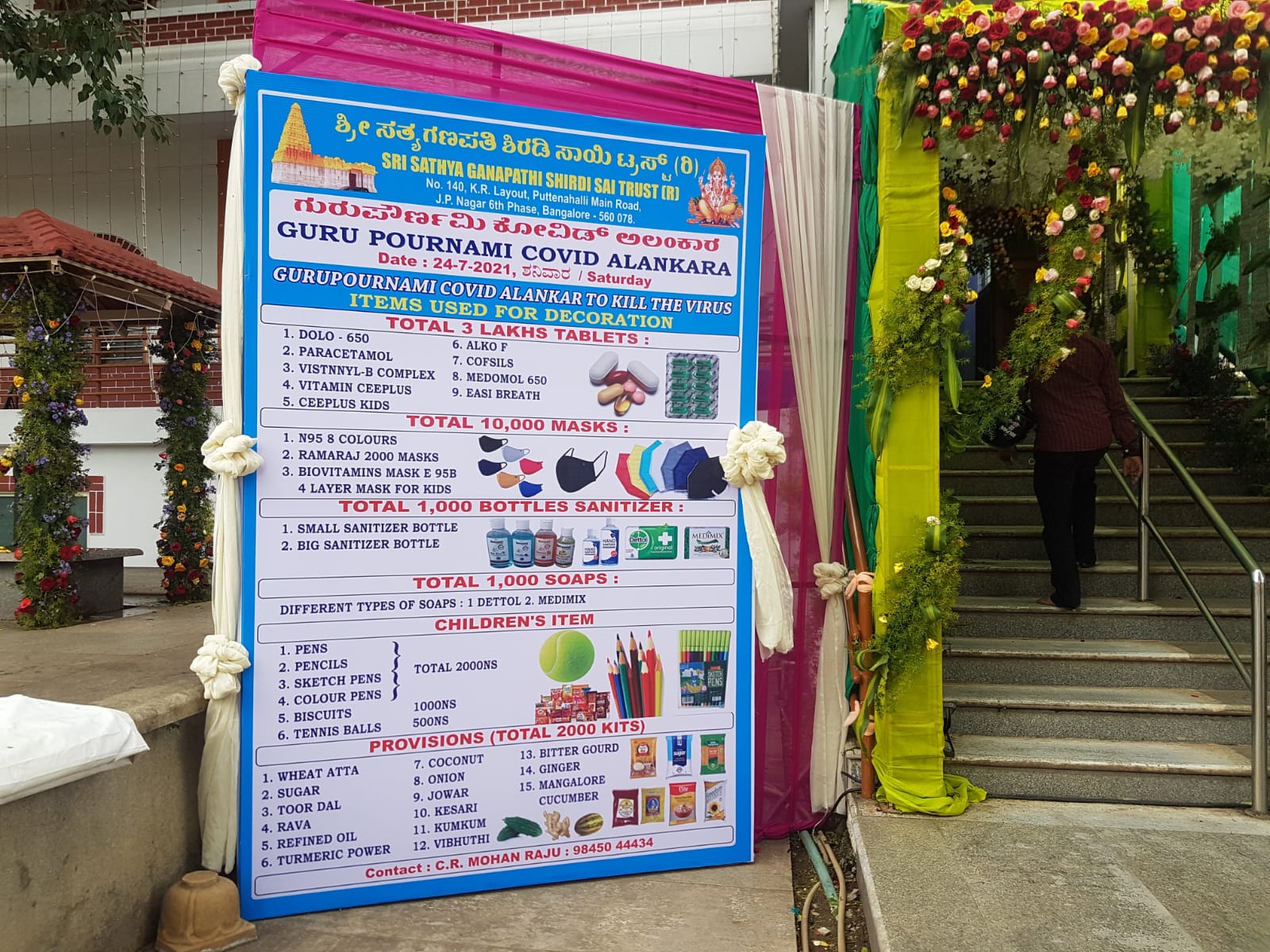 Also Read: 6 Temples In India That Offer Liquor, Chocolates & Other Unusual Offerings To Its Deities
Covid Recovery Tablets Like Dolo650, Cofsils Used For Decor
The Sai Baba Temple is beautifully adorned with bags of fresh onions, bitter gourds, corn and pumpkins hanging from the ceiling. The pillars of this temple is decorated with coconuts, packets of wheat flour, salt and long medicine sachets. You will witness a massive Christmas-tree like decor with glass cups filled with fresh roses, pumpkins and colourful Cofsils.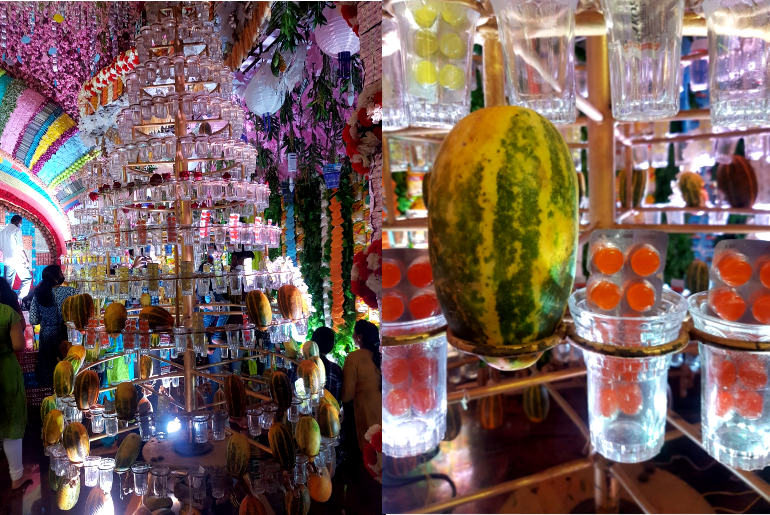 All across the divine Sai Baba idol there are Dolo 650, Cofsils, Medomol, Vitamin Ceeplus, and paracetamol tablets hanging around in a vibrant fashion. Colourful masks for both children and adults were also added. Children's items like sketch pens, pencils, biscuit packets and tennis balls were also part of the decor.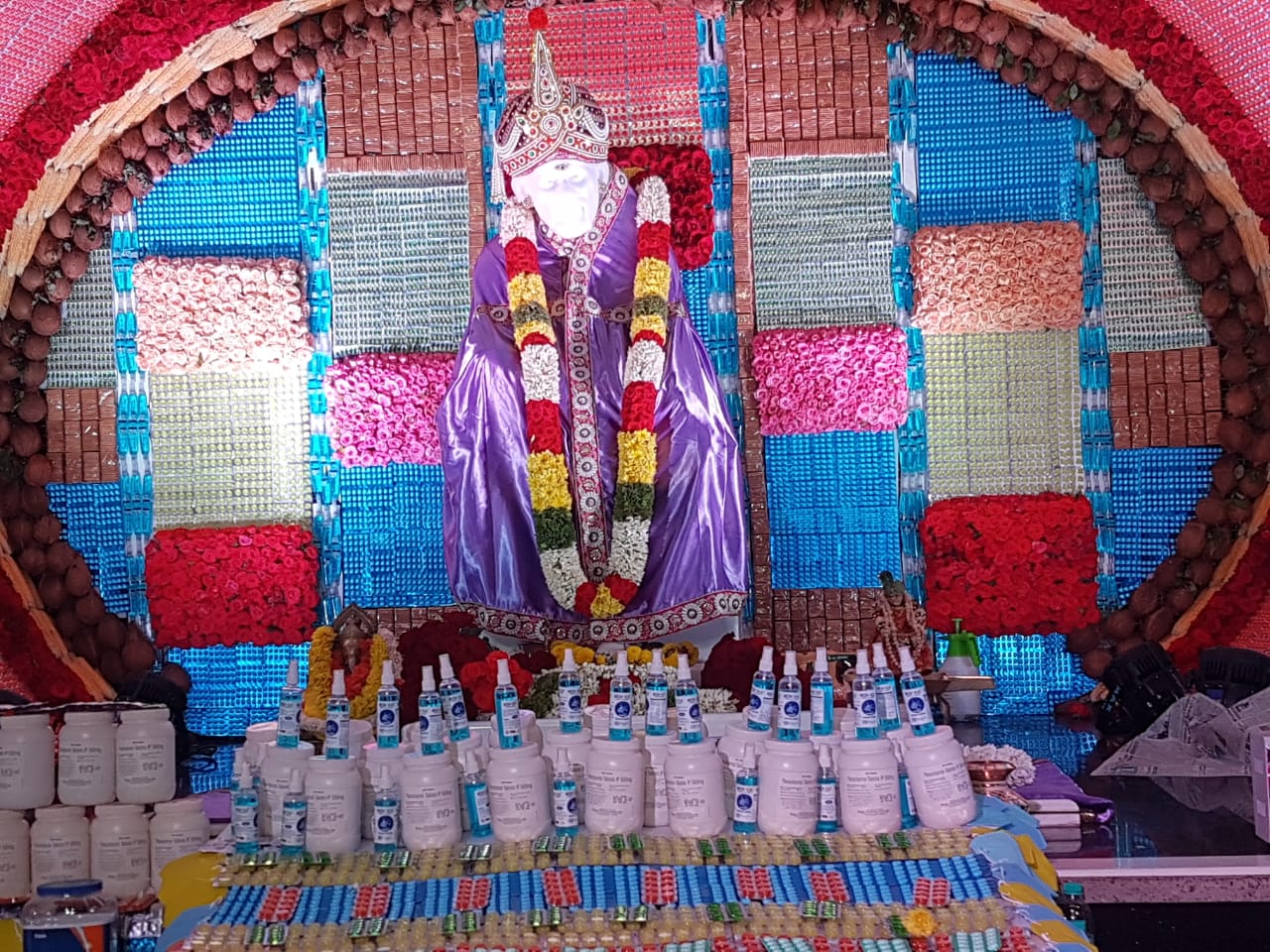 Also Read: This Kerala Temple Is Dedicated To Mahabharata's Most Hated Character Duryodhana
Unique Theme Chosen To Create Awareness On Covid Third Wave & Precautions
"Om Sai Ram", was chalked down using only orange and yellow Cofsils tablets. According to the Times of India, temple authorities spent around ₹30 lakh to buy these items essential to tackle the disease. Ram Mohan Raj, programme manager and temple trustee revealed to TOI that all materials used for temple decoration for the past 6 Guru Purnima occasions were distributed to the needy. He stated that the materials will be distributed as usual and will also create awareness among the public. Health kits will be made over the next 4 days to deliver to people.
All Items Used For Temple Decor To Be Distributed To Needy
Bangalore South MP Tejasvi Surya stated that instead of spending 4 lakh rupees on decorations that go waste, these medicines, grocery essentials, masks and sanitisers can be utilised in a thoughtful manner. Devotees from all over Bangalore flocked to the temple wearing masks and maintaining social distancing measures to witness this unique decor. The priest distributed Parle-G biscuit packets and also fresh bitter gourd that was used for the decor. During Ganesh Chaturthi, a few years back, the same temple, decorated the Ganesha idol with 9000 coconuts.