Ask your Middle East return friends, what they miss the most, and they'd instantly reply Kunafa. This rich traditional Middle Eastern dessert is prepared with white unripened cheese that's soaked in sugar syrup and baked in shredded phyllo or fine semolina dough. According to legends, Kunafa was invented in the Syrian city of Damascus  somewhere in the 7th century by Muawiyah l, Umayyad Dynasty's first caliph. It's believed that the King asked his royal cooks to prepare a dish that was rich enough to be consumed during the Ramadan, fasting period. Well, enough with the trivia, and let's get straight to the Kunafa. Bangalore is home to a charming dessert bar, Kunafa Lounge that serves 17 varieties of lip-smacking  Kunafa.
Kunafa Lounge Welcomes You With Arabic Music & Middle East Decor
Nestled in Bangalore's most happening spot, Koramanagala 5th Block, Kunafa Lounge is a tiny dessert bar that gives you a slice of the Middle East in Namma Ooru.  I visited Kunafa Lounge with my family before the Covid second wave. The minute I stepped in, peppy Arabic music, welcomed me. The seating space is compact with adorable yellow and black wooden chairs laid out. Just like me, if you're from the Middle East, then one look at the bright yellow wall with paintings of GCC countries and its monuments, and you'd go on a trip down nostalgia. I literally screamed in delight when I saw Kuwait with the iconic Kuwait Towers.
Also Read: Mitti Cafe In Bangalore Run By Specially-Abled Staff Offers An Exceptional Experience 
Feast On 17 Varieties Of Delicious Kunafa In Bangalore
Coming right to the most awaited part of this article, Kunafa Lounge serves over 17 varieties of  hot, delicious, melt-in-the-mouth Kunafa. Right from the authentic Cream and Cheese flavours, to the hatke ones like Nutella, KitKat and Lotus, you'd be spoilt for choice. All food served at Kunafa Lounge is 100 per cent vegetarian. The Kunafa comes in small and large sizes. So you can order according to your appetite. With intiital apprehension about how authentic it is, I ordered the small Cheese Kunafa.
It arrived piping hot, in a cute wooden plate, topped with a small yellow flag. A tiny jar of sugar syrup was served on the side, which needed to be poured over. The crunchy semolina, oozing white cheese and the sugar syrup gave it a heavenly texture and perfect amount of sweetness. Take it from a woman who spent most of her life in the Middle East, it tasted quite authentic. While I took the small size, it was definitely rich and satisfying.
Also Read: I Ordered Authentic Asian Dinner From Niyu In Bangalore & It Was Worth Every Bite
Apart From Kunafa Order Crepes, Pancakes, Waffles & More
Apart from Kunafa, you can also feast on an array of crepes, brownie, pancakes, waffles, falooda and fruit cream. My family and I ordered the Banana Caramel Waffle and the Cheese Kunafa. A generous portion of waffle topped with sliced bananas and sweet caramel sauce made it to our table. The waffle was fluffy and super delicious. You can wash down your desserts with a glass of refreshing fresh juice or milkshake.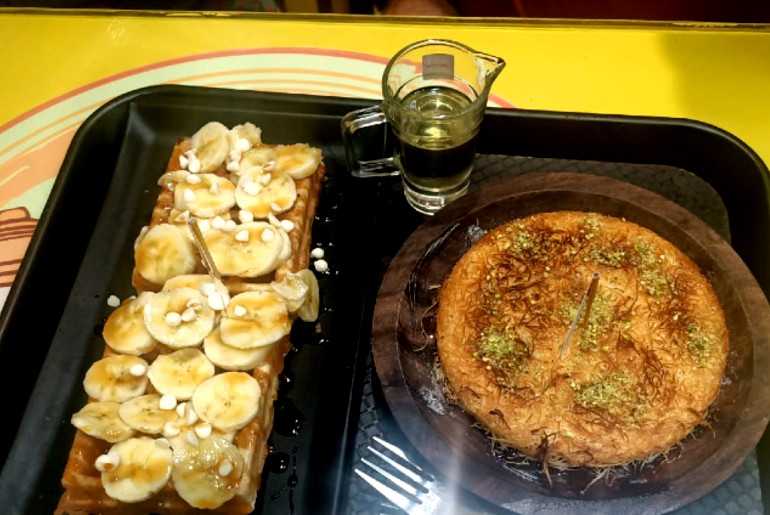 While, Kunafa Lounge awaits opening its doors to patrons for dine-in,  you can always order their piping hot, creamy and cheesy Kunafa. Get it delivered at your doorstep and experience the Middle East's palm trees, blue beaches and deserts all with a mouthful of the authentic Kunafa. This is one trip down memory lane you wouldn't want to miss out on!
View this post on Instagram
Address: PID 67-4-125/A, KHB Colony, Koramangala 5th Block, Bangalore
Timings: 1pm to 1am
Cost: ₹400 for two approx
Contact: +919074411027