Mumbai city is beautiful, but it turns absolutely stunning during the rainy season. With the corona virus scare, its best to stay indoors but here's a nostalgic trip to all the places we miss chilling at during the rains. A whole new side of it comes to life. So here are 5 places that we miss visiting in Mumbai during monsoon.
1. Marine Drive 
This is the most loved location in Mumbai throughout the year. Especially during the rainy season, it gets really beautiful and the weather is just perfect! You can sit with your friends, family and your partner when it gets cloudy. Marine Drive gives you all the positive vibes and motivation that you need in life. But I must tell you when Mumbai is on high alert or when it's raining cats and dogs, do avoid this place for the sake of your safety. But rest of the time, it is the best place to be. This should be on your list of must-visit places in Mumbai during monsoon.
2. Gateway Of India
Gateway of India is one historic location in Mumbai that turns absolutely beautiful during the monsoon season. The beautiful architecture of Gateway will sweep you off your feet. A flock of pigeons flying, grey clouds and drizzling rain is just the perfect weather. You get plenty of Monsoon special dishes like Bhutta, Garam chai, Pakode and  Samosas. And the Taj hotel on the opposite side is a beauty! The walls and the architecture is just symmetrically breathtaking.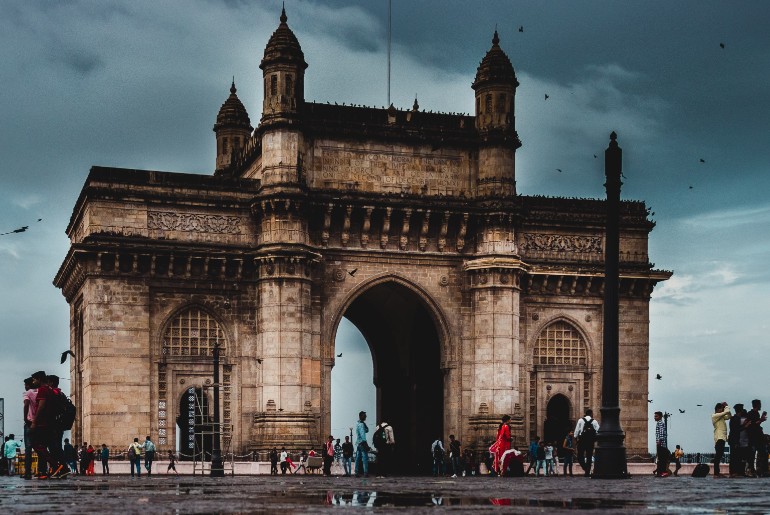 3. Bandra Fort
Bandra Fort is one iconic location of Mumbai that is a must-visit place during Monsoon. The view of Bandra- Worli sea link is stunning during sunsets. Barring the very clingy couples, you will have a great time in the Bandra Fort. The architecture of the fort is really amazing and it was built back in the 14th century. Bandra Fort should definitely be on your list of places to visit in monsoon.
Also Read: 13 Places To Visit In Mumbai
4. Walk Through Powai
Well, Hiranandani gives you a feel of Roman architecture, the buildings here are just so beautiful. The entire Hiranandani location is covered with trees on both sides. Take a cup of Natural's ice cream and enjoy the nature. The lake in Powai just adds more to its beauty. Instead of just sitting home and looking out of your window, take a stroll along the lanes of Hiranandani in both Thane and Powai.
Also Read:15 Historic Places In Mumbai To Take You Through Time
5. Sanjay Gandhi National Park (SGNP)
Sanjay Gandhi National Park is a paradise for nature lovers. You can come here for bird watching. People also come here for treks, nature photography, picnics and cycling. SGNP is a huge place and there is a lot you can do here like visit the caves, take a stroll in the dense forest and if you are lucky enough you will get to see some deers and wild animals. So when it's a pleasant atmosphere outside, come here and enjoy SGNP at it's best.
These were some of the must-visit places in Mumbai during monsoon, do let us know if we missed out on any place important.