Working in the hospitality sector is not as easy as it sounds. You have to make sure that you are at service of the customers right in time. The waiters too have to make sure that every dish reaches the right table at the earliest time. It is said that it takes time to master a craft. Here, this waiter in a viral video lifts more than a dozen plates together and serves multiple customers at once. 
Waiter Lifting A Dozen Plates At Once
These days things don't take time to go viral, thanks to the crazy reach that social media has. A video is going viral on the internet which features a waiter who is on his way to serve customers. The unique part about this is that he lifts about more than a dozen plates together. The waiter picks up a serving tray which is stacked with plates with food arranged in a circular formation. He lifts it from the kitchen and carries it single handedly over his shoulder to an open area of the restaurant where the food has to be served. 
Take pride in your work and whatever you do, do it well. pic.twitter.com/a8mvqTocCj

— Vala Afshar (@ValaAfshar) September 6, 2022
Also Read: Relish All Asian Cuisines Under One Roof At This Restaurant In BKC
Netizens Were In Total Awe Of The Waiter
Netizens lauded the waiter as he carried the whole stack and walked from his kitchen to the open area which took more than a minute. The waiter was able to manage and balance the whole stack single handedly. While some netizens lauded the waiter for his effort and asked the restaurant to pay him extra, some netizens called it stupidity. Yes, there were netizens who questioned as to who the waiter was trying to impress? Or what is the use of so much hard work? The reason why some netizens questioned so is that they knew for a fact that this effort will not be awarded by the restaurant in monetary terms.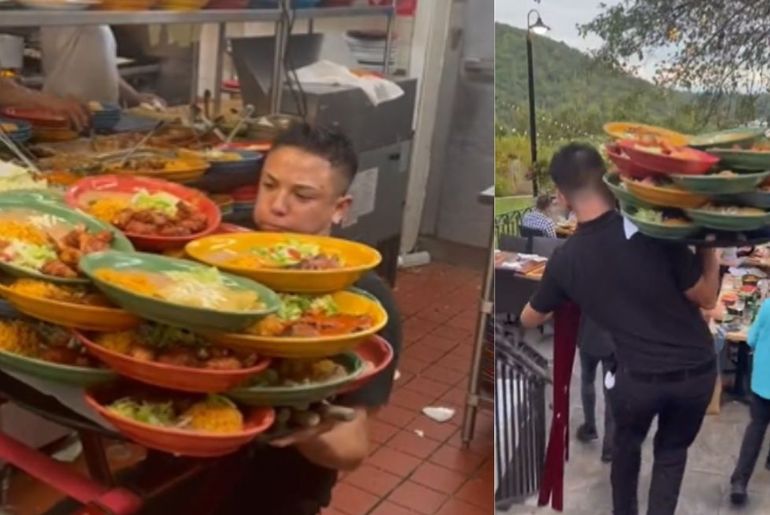 Also Read: Sikh Man Does Bhangra In The Middle Of Times Square; Wins The Internet!