There's something maddening about indulging in adventure activities. Your heart starts beating fast. You get a lump in your throat. Your stomach starts churning. But the best part undoubtedly is the adrenaline rush. While every traveller has his or her own bucket list. I love to push myself to achieve new heights, literally! From jumping off an aircraft or a cliff, I have always been up for anything. So, adrenaline junkies! Let me, Kamiya Jani, the Chief Travelling Officer at Curly Tales, take you through some of the craziest adventures I've experienced from across the world.
1. Mountain Climbing In Oman
Let's start this adventurous list with mountain climbing in Oman. Situated 150 km away from Muscat lies Oman's Jabel Akhdar, popular for its majestic mountains. This limestone mountain is one of the highest points in Oman and Eastern Arabia. So when in Oman, I had to give mountain climbing a shot. So, I stayed at Anantara Al Jabel Al Akhdar, one of the world's highest resorts. And I went mountain climbing at the Ultimate Jabal Activity Wall. And let me tell you it's definitely not for the fainthearted. Climbing up one of the highest mountains in the Middle East was an exhilarating experience.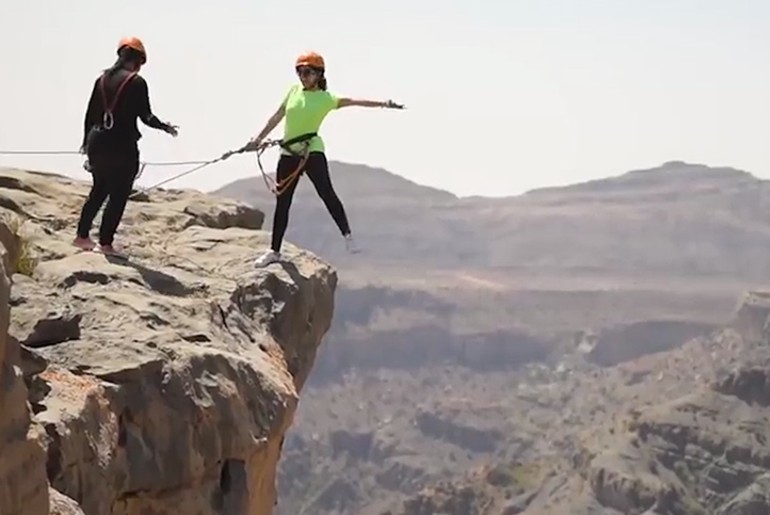 2. Bungee Jumping In Johannesburg, South Africa 
Next in line if bungee jumping in South Africa. To be honest, I was initially super excited for this adventure. But the minute I looked down,  I got cold feet. Soweto Towers offers a 100 m bungee jump from a suspension bridge. I acted all cool and managed to reach the top and stood at the edge. But I refused to jump. The instructor gave me 3 seconds to make a decision. So I just closed my eyes and took the leap of faith. The first 10 seconds felt like I jumped off my terrace without a harness. But then I felt a rope tugging me back and stopping from touching the ground. That's when I realised that I am very much alive. While I didn't quite like the whole experience, I pretty much did it for great video footage. Alas, my happiness and luck was short-lived as the camera crashed when I jumped. But they did offer me a free bungee jump, which I politely declined. Thanks, but no thanks bungee jumping!
Also Read: Check Off Your Bucket List At The World's Highest Bungee Jumping Now In Manali
3. Sky Diving In Queenstown, New Zealand
When it comes to jumping from heights, sky diving takes the cake. Taking the leap of faith from a flying aircraft is definitely an out of the world experience. And skydiving is personally one of my all-time favourite adventure sports. After trying it in Lonavala's Aamby Valley, I took things a notch higher. Literally! I headed to Queenstown New Zealand, the adventure capital of the world. I had to jump from 15,000 feet here. Since I did it before I wasn't really nervous But let me tell you, the height makes a big difference. However, thanks to an experienced instructor tugging along, I jumped without any hesitations. And I experienced a freefall with a splendid view for a good 60 seconds at the speed of 200 km per hour. I felt like a free bird flying in the open skies.
View this post on Instagram
It's truly a superb feeling but if you have a cold, the air pressure can get to you and hurt your ears a bit. If safety is your concern while sky diving then remember that there's a higher chance of dying in a car crash than from sky diving.
 4. White Water Rafting In Kolad In Maharashtra 
I'm full-blown Mumbaikar, so I love to explore adventure locally. Now, I know Rishikesh offers the best river rafting experience, but I decided to try this in Kolad since its closer to home. Just 4 hours away from Mumbai, I went on a 14km river rafting adventure on the Kundalika River. For those of you who don't know,  river rafting in Kolad is controlled y the dam on the Kundalika River. So it offers Grade II and Grade III rapids. I experienced 2 major rapids Rajdhani and Johnnie Walker. You might get scared about falling off, but don't worry that's what life jackets are for. I had the time of my life going river rafting here in Kolad, and I'm sure you will too.
Also Read: 5 Extreme Adventure Activities You Need To Try Once In Your Life
5. Hot Air Ballooning In Meghalaya
I've mentioned jumping off a cliff and even a flying airplane, but how about a much more nice and easy aerial adventure? Well, I'd definitely recommend hot air ballooning in Meghalaya. In fact, the Fédération Aéronautique Internationale (FAI) even recognised this as the safest air sport in aviation. The fatalities and accidents in a hot air balloon are rare. I tried this sport in Meghalaya and I enjoyed every bit of the early morning adventure and breathtaking views from the skies. After all, this activity depends on the weather and the climatic conditions. And I enjoyed the after much more than the before, as I landed on a school playground only to get a hearty welcome by the villagers here.
6. Giant Canyon Swing In Queenstown In New Zealand
If someone tells you to jump off the cliff will you do it? Well, I did it! And not just any cliff. I dumped off the world's biggest cliff, the Giant Canyon Swing in New Zealand. I leapt off a 109m high cliff. And that's the length of around 2.5 standard commercial aeroplanes. After jumping off the platform, I fell 60m below rushing past the rocky cliff, so close that I could almost touch it. If you love challenges, you can also plan to jump solo with someone or mix and match. Take things a notch higher by jumping with a chair, bike, wheelchair or even a drum on your head. So, are you up for it?
View this post on Instagram
Also Read: The Ultimate New Zealand Bucket List
7. Zip Lining In Koh Samui, Thailand
Let me now take you the gorgeous beach destination of Koh Samui in Thailand. It's not the water sports that interest me much here. In fact, the 50-metre-long ziplining at Lamai Viewpoint really fancied me. The zip lining here gives you the chance to go all across the mouth of the valley at a height of 80m before dropping you back to the viewpoint. It comes with a V-shaped wood to stop you from spinning around mid-flight. But funnily enough, I was stuck in the middle of nowhere when my instructor came running to rescue me. Lamai Viewpoint is not just the highest viewpoint but also the longest zipline in Koh Samui.
8.Hydro Attack In New Zealand
Did you ever wonder how it would feel to ride not on, but inside a shark? Well, I did in New Zealand. How? Let me tell you. I sat inside a unique shark-shaped semi-submersible machine and skimmed across the top of a lake. You can take the high speed thrill ride in the ultimate blend of a shark and machine. This reaches speeds of 80 kph on the water & 40 kph diving under the water. Next, my pilot pointed the shark at the sky and it blasted straight up into the air. If you're an adrenaline junkie like me,mI'd totally recommend the Hydro Attack shark . New Zealand Town's Mayor Goes Bungee Jumping To Celebrate Lifting Of Lockdown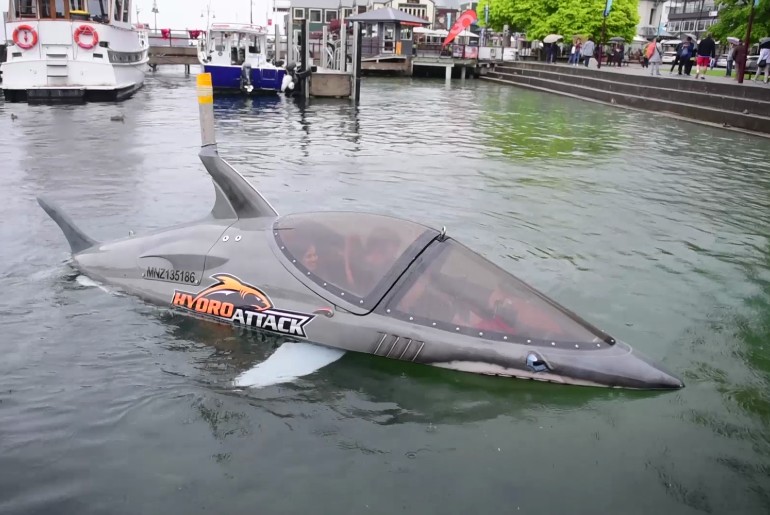 Also Read: 12 Best Luxury Hotels In The World To Live Life King Size
9. Dirt Biking In Koh Samui In Thailand  
The next adventure sport on my list is dirt biking in Koh Samui. But you must enjoy this with friends for a thrilling experience. Get your gang and race together on an all-terrain vehicle or an ATV. Ride through the streams, mucky roads or amid the jungle. Truth be told, dirt biking can get super fun if your vehicle gets stuck in the mud. I gave this adventure activity a shot when I went with my friends to Koh Samui. Boy! Did we have a great laugh?
View this post on Instagram
10. Mountain Slide in Switzerland
We all love slides don't we? But have you ever tried the baap of all slides, the mountain slide in Switzerland? Let me tell you it's adventurous, freaky and most all give you a gorgeous view of the snow-capped mountains. This almost 2500- feet metal slide at the Mountain Coaster takes visitors down the sides of green mountains, wildflower fields and lush green forests. Cars are banned on the mountain. So I took a cable car and some other hiked their way up. This slide involves a lot fo twisting, turning and of course screaming. I loved it and I can guarantee you will too! Also read Revenge Travel Is The Newest Travel Trend Taking Over During The Pandemic
Well, so these are some of the most amazing and craziest adventure activities I embarked on from across the world. These were thrilling, crazy, and I made plenty memories with when I tried these out. I'm sure you will have a gala time too. So add these to your wishlist.