India is known all over the world for its splendid natural beauty. From the lofty Himalayas, vast oceans and gushing streams to lush green rainforests and monuments, India has everything. Even the street food in India stand tall when compared to some similar international dishes. But interestingly, there are many other lesser-known intriguing aspects about the states and union territories of India. Here is a list of 17 such fun and unusual things of the various Indian states and UTs.
1. Jammu And Kashmir: World's Only Floating Post Office In Dal Lake Srinagar
The beautiful floating market of Srinagar on Dal Lake attracts a large number of tourists. The most mind-boggling aspect of Dal Lake is that it will give you a soul-captivating view of the majestic snow-capped Himalayas. The world's only floating post office is also on Srinagar's Dal Lake. The post office is inside a houseboat and it has a philately museum too.
2. Gujarat: Tulsi Shyam, The Hills Going Against The Gravity
Just think that your car is going up the hill all by itself without any driver! If you visit Tulsi Shyam near Gujarat's Amreli district, don't get freaked out by this bizarre sight. In this area, the hills act against gravity. Having said that, Leh-Ladakh's Magnetic Hill also has this anti-gravity aspect due to which objects and cars might appear rolling uphill automatically.
3. Gujarat: A Voting Poll Booth Set Up For Just ONE Voter
In a tiny hamlet named Banej in the middle of Gujarat's Gir Forest, a man named Mahant Bharatdas used to reside. A single voting poll was set up for him, as he used to live alone at a Shiva Temple-cum-ashram in Gir West forest division. The lone voter passed away in 2019 at a private hospital in Gujarat's Rajkot.
Also Read: Rare Whistling Dogs Spotted In Gujarat After 50 Years
4. Karnataka And Gujarat: Contactless Panipuri ATM
Big, round, crispy panipuris dropping out of a machine, say what? Yes, Karnataka and Gujarat have machines from where you can literally 'withdraw' panipuris. India's first automated panipuri vending machine had come up in Bangalore's ETA and GT mall. In the Banaskanth district of Gujarat, one man invented the contactless panipuri ATM for all hungry foodies during the coronavirus pandemic. This contactless panipuri vending machine works just like an ATM. All you have to do is insert money into the machine and wait for a plate of panipuri to emerge out of the conveyor belt.
5.  Maharashtra: A Meteor Created Lake
Lonar lake at Lonar in Buldhana district in Maharashtra was the result of a meteorite activity that took place about 52,000 years ago.  This hidden gem is just 4-hour drive from Maharashtra's Aurangabad. The Lonar crater is one of earth's four known, hyper-velocity, impact craters in basaltic rock. The other three are in southern Brazil.
6. Rajasthan: Temple of Rats
The Karni Mata Temple in Deshnok is one of the strange attractions of the state of Rajasthan. It's believed that Goddess Karni Mata manifests herself into rats, called kabbas. What's interesting about this place is the fact that it houses around 25,000 rats. Devotees eat the prasad after the rats taste it. It's considered a sin to kill or trample the rats here. If one does trample the rat, then he or she has to buy a silver or gold rat statue and offer it to the temple as atonement. Rats roam around the temple in huge numbers, even sipping milk from bowls.
Also Read: Jaipur Listed Among World's 50 Most Beautiful Cities
7. Mizoram: Biggest Family In The World
Mr Ziona Chana of Mizoram is the head of the biggest family in the world, consisting of 181 members. Chana has 39 wives, 94 children, 14 daughters-in-law and 33 grandchildren. He lives in a 100-room house in the Baktawng village.
8. Mizoram: Shop Without Shopkeepers
Many shops in Mizoram open up for the customers without any shopkeepers. The sellers keep boxes in the stores for the money to be deposited. The buyers can take the product they need, deposit the money in the box and leave. These shops function on the principle of trust. This tradition of opening shops without the presence of shopkeepers is known as Nghah-Lou-Dawr and is common among the inhabitants in and around Mizoram's Seling.
Also Read: Mizoram's Aizawl Has A Mini Roadside Library Where People Can Read Books For Free
9. Uttarakhand: The Skeleton Lake
Set in the lap of the Himalayas in the State of Uttarakhand, Roopkund Lake, is a mystery lake. At the bottom of the lake lie skeletons which were deposited under mysterious circumstances. The lake is roughly at an altitude of 16,470 feet (5,020 m) and overlooks snow-clad mountains and rock-strewn glaciers. It is also one of the most popular trekking destinations in India.
10. Guwahati: Celebration Of Menstruation
A large number of people in India still consider menstruation or periods in women a taboo. But there is a celebration dedicated to it that takes place in Guwahati. The four-day festival, the Ambubachi Mela happens around the month of June. Locals believe that during this time, Hindu Goddess Kamakhya undergoes her periods. While the Kamakhya Temple remains shut during this time, many sadhus, tantriks and aghoris from all across the world visit this fertility fair. The display of red flowers, red cloth and vermillion makes the celebration grandiose and remarkable.
11. Uttar Pradesh: Women Beat Up Men With Long Sticks As A Ritual During Lathmar Holi
Holi is the festival of colours. The celebration of Holi usually includes smearing gulal on each other's faces, spraying colours from pichkaris or throwing water balloons. But Barsana in Uttar Pradesh celebrates Holi in a one-of-its-kind way. In this festival, women beat up men in playfulness with long sticks. According to the folklore, Lord Krishna had visited the village and had teased Radha and her friends. The women got offended and chased him away. During Lath Mar Holi, men from the Nandgaon village, where Krishna was brought up, go to Barsana, the village of Radha to celebrate the festival of colours.
Also, during the Dhinga Gavar festival of Jodhpur, unmarried men wait to get beaten by women. They believe that if they are beaten, they might get married soon.
12. Himachal Pradesh: Highest Cricket Ground in the World
Did you know the world's highest cricket ground is at an altitude of around 2144 metres above sea level in India's Himachal Pradesh? The Chail Cricket Ground, Himachal Pradesh, in the mid of captivating deodar forests, has also entered the Guinness Book of World Records.
Also Read: This Charming Village In Himachal Pradesh Is A Love Aaj Kal Discovery
13. Sikkim: World's Highest Golf Course
The world's highest golf course, The Yak Golf Course, is also in our nation. It entered the Guinness Book of World Records in the year 2006. Himalayas, gurgling streams and sweeping lush greenery surround the hilly golf course. The Yak Golf Course in Kupup, East Sikkim is at an altitude of about 13,025 feet. It was initiated in the year 1972. Brigadier J M Singh redesigned it in 1979. Later, Brigadier Ranbir Singh and Colonel T K Murali completed it as an 18-hole golf course.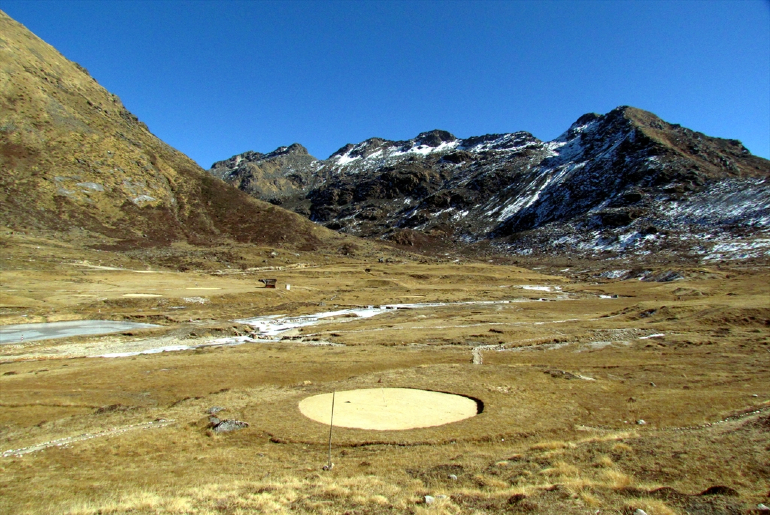 Also Read: Sikkim Becomes World's First 100% Organic State; Wins Oscar For Best Policies By UN
14. Kerala: Tiger Play Puli Kali
On the fourth day of Oman, many tigers in human form can take over the roads of Kerala's Thrissur district. During this traditional celebration, people flock to the streets, painted in bright yellow, orange, brown, black and red, performing form dances. Many people visit the state during this time to witness the spectacular sight.
Also Read: Malappuram In Kerala Is The Fastest Growing Urban Area In The World
15. Tamil Nadu: Tradition Of Walking On Fire
"I'll walk through fire with you, I'll walk through fire"! All those who have heard this song by Vicetone might have considered the lines metaphorical. But in India's Tamil Nadu, it happens for real. Theemithi of the fire walking ceremony of Tamil Nadu. It is the celebration of Draupadi, the wife of the Pandavas, from the Mahabharata.
16.  Maharashtra, Karnataka and Tamil Nadu: Varuna Yajna
This is one kind of yajna that the priests of Maharashtra, Tamil Nadu and Karnataka perform by immersing themselves into barrels of water. The priests chant the name of the Hindu God of Water, Lord Varun one lakh times. They offer prayers to him to give rains and make new lives grow.
17. West Bengal: Making Durga Idol With Brothel's Soil
The artisans of Kumartoli in Kolkata remain busy almost all around the year, crafting clay idols of Hindu gods and goddesses. As we all know, Durga Puja is the most awaited festival among the Bengalis. But did you know that a part of the mud for building Durga idols actually comes from the prostitute's quarter? The clay received from the sex workers is considered as 'punya mati' or sacred soil. As a matter of fact, as per traditions, the making of Durga idol is incomplete without this sacred soil.
Also Read: Kolkata's Immunity Sandesh Is Made With 15 Herbs
These are only a few of the long list of offbeat facts of the states and union territories of our country. Amazed already? The versatility of these features, practices, cultures and rituals make India phenomenal as a nation. On that note. here are 10 villages in India that are extremely bizarre: