Street food makes heads turn, tantalises tastebuds and even sets the internet on fire. Well, it's not the neighbourhood pani puri stall or the popular bhel puri adda we're talking about! It's the street food vendors of Gujarat who have innovative inventions that will surprise, shock and even put social media on a debate- to eat or not to eat? Well from a whopping 5kg goal, gigantic Bahubali sandwich to a wacky invention, replacing vada with ice cream for a fun vada pav, this list is exciting. So, here are 6 interesting street food dishes that Gujarat's street food vendors have in store for foodies.
1. 5kg Gola
A Surat street food vendor has invented a record-breaking goal weighing a whopping 5 kg. This larger than life goal consists of grated mava, cream, rabri, scoops of ice creams, dollops of raw mango and chocolate syrups and lots of other goodies. It's priced at ₹999. This goal can feed an entire army and the making of it is testimony to it. The vendor patiently adds layer on layer so the family size gola can slowly take its delicious form.
Also Read: This Street Food Vendor's Unique Dosa With Dry Fruits, Cheese & Cherry Is Making Foodies Unhappy
2. Bahubali Sandwich
Bahubali Sandwich is another record-breaking street food dish helmed by the gullies of Surat. This sandwich was first invented at the Bipin Big Sandwich stall. Since its invention, there have been many versions of this snack that have made their way across the country. The Bahubali Sandwich in Surat is made of bread, green and red chutneys, beetroot, capsicum, chat masala, bell peppers olives, carrots and more. The 2.5 kg sandwich is priced at ₹400.
3. Mango Dolly Chaat
A Vadodara street food stall made heads turn after it invented a bizarre chaat that uses Mango Dolly ice cream as a core ingredient. The video posted by IGTV food blogger @streetfoodrecipe shows the vendor first, dipping slices of bread in coconut water and turmeric syrup. He next adds strawberry sauce, chopped dry fruits to the mixture. Finally, he slices Mango Dolly with a knife and adds it to the chaat. If this isn't crazy, he garnishes the sweet chaat with oodles of stringy cheese. So, do you wish to try the Mango Dolly Chaat? 
View this post on Instagram
Also Read: This Iconic Food Joint Created Lucknow's Famous Basket Chaat & It Is The Best Thing You'll Eat
4. Fanta Omelette
What goes into an omelette? Eggs, spices, veggies and herbs right? Well, a street food stall has added another unique ingredient to the good old omelette, and that's fizzy soft drinks! Indian Eat Mania, a Youtube channel has featured the street food joint and their signature dish, 'Fanta Fry' or Fanta 'Omelette'. This sweet and spicy dish is prepared with boiled eggs or sunny side up with the aerated beverage Fanta along with spices, mashed potatoes and green chutney. This omelette is served with hot soda and loads of cheese on the side. Apart from Fanta Fry, you can also get your omelette in other soft drink flavours like Limca and ThumsUp.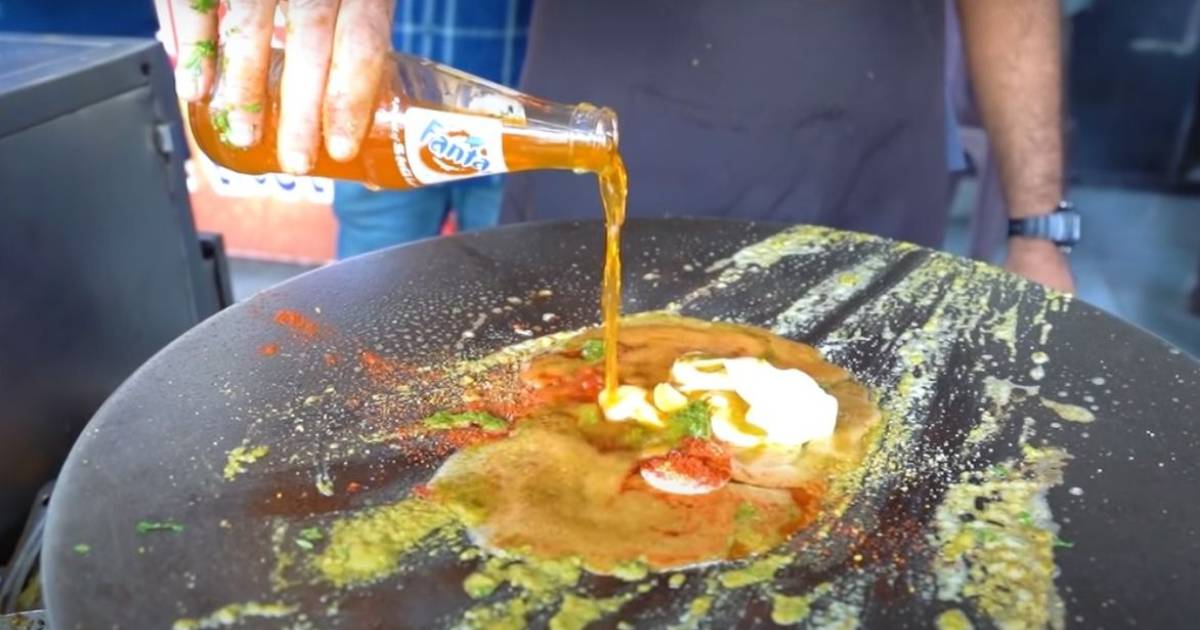 Also Read: This Restaurant In Bandra Is The Answer To All Your Breakfast Cravings
5. Cheese Cone Chaat
Chaat is often served in a small handmade bowl or a cute box, but how about a chaat that's served in a cone? Well, a small cart near Prime Arcade in Surat, Gujarat, you can gorge on delicious Cheese Cone Chaat. The street food vendor fills the deep-fried flour cone with a concoction of veggies like tomato, onion and corn. Next, he layers it with tangy chutneys and mayonnaise. He then adds loads of cheese, creamy sauce, crispy sev, chole, papdi and layers it. And villa! Your Cheese Cone Chaat is ready!
Also Read: Gorge On India's First Fire Pani Puri In Nagpur At Chaska Chaat Corner
6. Ice Cream Vada Pav
Can you get the best of both worlds- vada pav and ice cream? Yes, you can! In a video posted by Sahil Adhikaari, a vendor in Gujarat sells Ice Cream Vada Pav. In the viral video, the Gujarati street food vendor pours an assortment of sugary syrups inside the pav, stuffs it with scoops of ice cream instead of the usual potato vada. He garnishes it with colourful tutti-fruity and presents it to the customer. This wacky Ice Cream Vada Pav grabbed eyeballs on social media and customers flocked to the stall to try out these unique creations.
So, street food fans, these are some of the unique dishes that Gujarat vendors are proud to come up with! They are creating waves on social media, grabbing eyeballs and enthralling foodies.