There's hardly any food trend that's escaped the clutches of the humble Maggi. Instant noodles are a favourite among food bloggers and street food vendors for experimentation. Right from pani puri stuffed with Maggi, milkshake made of Maggi to momos cradled with Maggi, the food trend list is endless. The latest creation to leave foodies puking is the Jelly Maggi. In a video posted by a food vlogger on @oh.yyeah Instagram page, you'd find a video for the preparation of this dish. First, colourful jellies are melted in a hot kadai. After the jelly melts completely into liquid, Maggi is added and stirred. It's then poured into a plate, where the Maggi takes on a jelly-like texture. Voila! Your Jelly Maggi is ready. Don't ask us how it tastes like, try it for yourself, and let us know.
View this post on Instagram
Chocolate Noodles Is Taking Over The Internet And Here's The Recipe
The world has tried many new food experiments but none like this food enthusiast who made noodles with chocolate. We love chocolate in desserts, but have you ever thought of trying sweet noodles to satiate your cravings? Chocolate is heavenly in any form so, we don't mind the chocolate noodles. Micheal Ligier uses molecular gastronomy techniques to create noodles with chocolate. He uploaded the making video on his Instagram and we are salivating by the looks of it.
View this post on Instagram
Maggi Pani Puri Takes Over Social Media
Trust Maggi to be the key ingredient for every food trend out there. A video posted on Twitter by Mohammed Futurewala who goes by @MFuturewala shows a person stuffed a crispy pani puri with cooked Maggi. Next, spicy mint paani is poured into the puri, and then served. His caption states that he is dealing a mid-week crisis with Maggi Pani Puri. Leaving social media users confused, one person hilariously remarked that he will be banned from social media soon. Another one shared a video of Fanta Pani Puri.
Also Read: Video Of Unlimited Pani Puris At ₹40 From This Mumbai Food Joint Is Going Viral
Dealing mid week crisis with Maggi Pani Puri…Hope it helps you all too🥶🥶🥶 pic.twitter.com/qrWJ7IsQkM

— Mohammed Futurewala (@MFuturewala) February 23, 2022
Also Read: 5 Mind-Boggling Maggi Dishes You Must Try In Delhi
Edible Maggi Bowl With White Sauce Interests Foodies On The Internet
A food vlogger @swadishtdelights based out of Mumbai recently uploaded a video of edible Maggi cups on Instagram. In the video, she first cooks Maggi noodles, sprinkling the Maggi tastemaker.  The noodles are cooked normally in hot water. Next, she pours it in a plastic cup, using a spoon to neatly press the noodles to the cup, spreading them evenly, so it gets the shape of the cup. She leaves the noodles aside to rest. The food vlogger goes on to prepare white sauce, for which she uses butter, flour and milk. Black pepper, salt, oregano and chilly flakes are sprinkled to enhance the flavour.
Also Read: Maggi Ice Cream Roll Is The Latest Ice Cream Trend To Baffle The Internet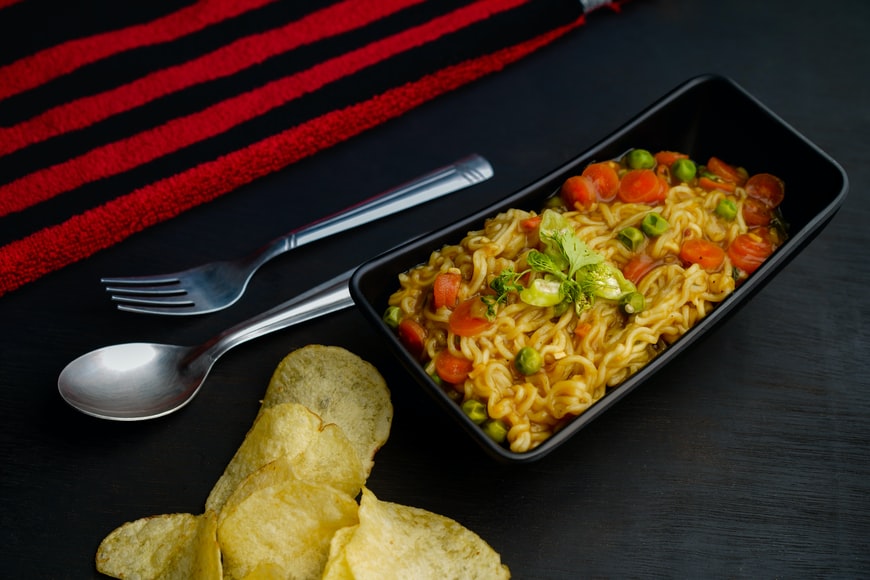 Also Read: Ghaziabad Street Food Vendor Prepares Maggi With Coke In Viral Video; Leaves Internet Shocked
Finally, she separates the plastic cup from the noodles, by cutting it open. The noodles take the shape of a cup. Voila! The edible Maggi Cup is ready! As a cherry on the cake, the hot white sauce is poured into the edible cup, and it's savoured like a perfect buttery, delicious dish. You can add any sauce or snack of your choice into the edible cup, even Gobi Manchurian. This innovative Maggi food trend went viral, garnering over 29,000 likes. Netizens hailed the vlogger for coming up with something unique and unexpected. If you're a Maggi lover, then try out over 30 varieties of Maggi at Messy Bowl in Mumbai.