Who doesn't love good street shopping? Every city has some markets known for selling anything and everything at a steal deal. Talking about Kolkata, the City of Joy also has some lively markets around the city. One of the most popular and oldest markets in this city has to be the 'New market'. New Market is a paradise for every shopaholic and they can get their hands on anything starting from clothing to accessories to decor to flower shops to shoes and much more, at a steal deal. If you are new to the city, here's a guide to walk around New Market and shop your heart out.
Guide To The New Market In Kolkata
Formerly known as the Hogg Market, this market is nestled within a walking distance of the Esplanade metro station. Come out of the Esplanade metro station and you will see a line of street shops lined around. Just follow the lines and in no time you have entered the lively bustling New Market. The market boasts every kind of shop you need, from shopping malls to street shops to classy restaurants to street food stalls.
Also read: Not Food, This Kolkata Hotel Has 'Sleep' On Menu With Pillows, Duvets, Sheets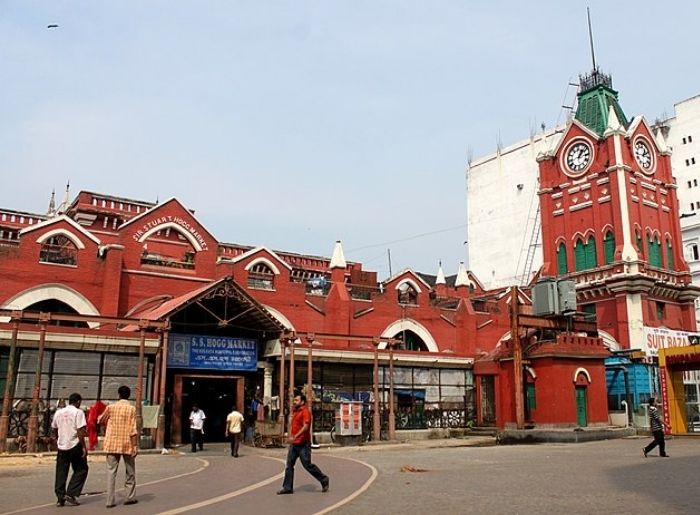 Best Places To Shop In New Market
The number of shops in this market is endless. No matter wherever you look, you will see a long stretch of shops standing tall. The best way to find out great products here is to walk around the market and explore the shops properly and grab the best pieces available.
From your daily wear PJs to bridal lehengas, New Market is the home to every kind of shop. You can get your hands on both traditional and western pieces at reasonable prices. The best part about shopping here is that everything is very trendy, fashionable, and of good quality.
When it comes to jewellery, the market is full of shops selling the most trending pieces of jewellery at the most affordable price. You can buy an earring starting from ₹30 to ₹300 to even ₹3000 here. If you want to spend money on some lavish jewellery pieces, then take a quick trip to Chamba Lama. They are one of the oldest jewellery shops in Kolkata and are known for selling the most unique pieces.
New Market boasts some great shops for shoes and bags too. Everything that you see on Pinterest and Instagram, you can get easily here.
If you are thinking to revamp your house and buy decor for that, then you are at the right place as the New Market has a wide range of home decor shops.
Also read: 5 Cosy Books And Coffee Places In Kolkata To Satisfy The Bookworm In You
Best Places To Eat In New Market
If you are in the New Market, you cannot miss out on Nahoum & Sons. Established in 1902, this confectionery is a favourite of everyone in the city and the place is maintaining its top quality since the beginning.
You can even indulge in phuchka, jhalmuri, ghugni, chole bhature, aloo chaat, juices, and so much more here. The street food joints here are simply the best and you won't regret spending money on these vendors.
To dine in inside restaurants, you can quickly take a stop at Nizam's Restaurant for the most famous Kolkata Rolls.
To taste the best biryani in the town, you can grab a plate of biryani from Aminia as well.
There are more renowned restaurants here such as The Scoop, Jimmy's Restaurant & Bar, Baan Thai, Aaheli, and more. Choose one restaurant from here and gorge on the delectable dishes
There is a lot to explore here. So while visiting come with a lot of time hand and also bring some bags with you.