Maggi is one easy-to-make comfort dish we all love. But Maggi always tastes better in the mountains, ain't so? And when the aromatic noodles are coupled with piping-hot chai, that's true emotion. The lofty heights, the slopes, the cold winds and the picturesque views make the simple combination of chai and Maggi come heartily alive. Here is a list of 7 hilltop stalls in India that serve absolutely delicious Maggi and tea:
1. Rinchen Cafeteria, Ladakh
Nothing can beat the experience of slurping Maggi at the highest cafeteria in the world. Perched at 18, 360 feet, this cafeteria in Ladakh offers some of our all-time favourites! You can sip on some piping hot tea, heartily devour some soupy Maggi, and sometimes, if you're lucky enough, you can gorge on momos too.
2.  Tsomgo Lake Market, East Sikkim
The snowy expanses at Tsomgo Lake, Sikkim are spellbinding to the core. And the Maggi also tastes heavenly here. Right beside the lake, there is a cosy China market with stalls where there are a few shops selling Maggi and chai. When I went to Tsomgo, I bumped upon a little cafe hanging from the mountain, behind the market, run by a middle-aged couple, where I had Maggi and tea. The Maggi here tasted much better than what it tastes in the cities. I Explored Gangtok To Rinchenpong In Sikkim In 5 Days & Here's How I Did It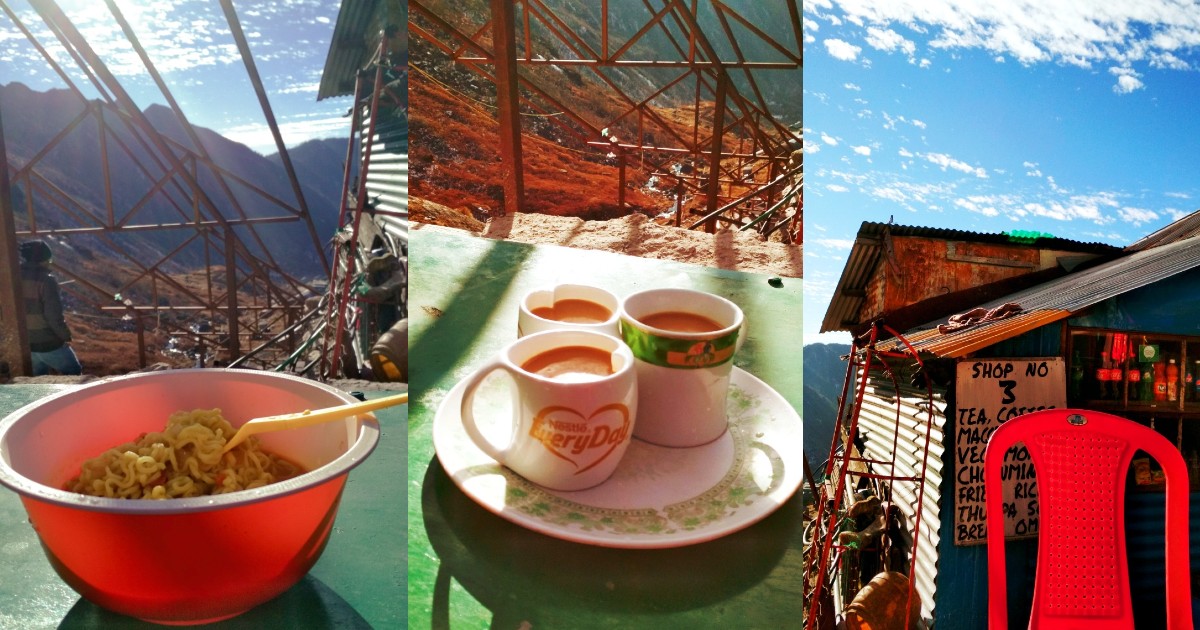 Also Read: Enjoy Chai Along LoC At This New Cafe In Kashmir's Uri By Indian Army
3. Char Dukan, Landour
A few metres uphill from Mussoorie, lies this pretty area named Char Dukan. The place, which sits in the old French–British quarters of Landour, got its name after four tea stalls, which once used to exist there. Now, the spot is full of chai tapris where one can enjoy chai, Maggi and many more humble dishes.
4. Maggi Point, Rafting Miles, Rishikesh
Rishikesh is the haven for water sports in India. At this hill station, you can enjoy a plethora of water sports like river rafting, kayaking, waterfall rappelling and more. Also, while in the rafting miles, you can grab a mouth-watering bowl of Maggi at the Maggi Point as you might be hungry after taking part in the adventures. Maggi Point is located between Shivpuri and Laxman Jhula. This Glasshouse In Rishikesh Has An Infinity Pool Overlooking The Ganges
5. Deepika Tea Stall, George Everest Point, Mussorie
This is the one and only tea and Maggi stall in one of the most remotest points in Uttarakhand, the George Everest Point. Here lies the house and laboratory of the former Surveyor General of India, Sir George Everest, after whom Mount Everest is named. The valley embraces serene beauty with lush green meadows where one can spot sheep and goats grazing. The Deepika Tea Stall here makes soul-satiating adrak wali chai and Maggi.
6. Praveen Tea Stall, Triund
Trekking to Himachal's Triund goes incomplete without trying some refreshing Maggi and tea in the mountains. There are many stalls serving tea, Maggi and parathas, along the trekking route. One of them is the Praveen Tea Stall, which allows you to have the delicacies with a mesmerising view of the hills. One user who visited the stall, wrote, "Never have chai and Maggi noodles tasted so good!"
7. Zero Point, North Sikkim
The Zero Point is always covered with snow and locals have set up stalls here, where Maggi, beer, eggs, choley and a special beverage, coffee with brandy are sold. These are small open stalls serving hot food and beverages to provide some comfort in the stone-cold weather. Zero Point, Sikkim is perched at a height of 15,300 feet. Permit Guide To Sikkim: Passes You'll Require To Explore The Land of Kanchenjunga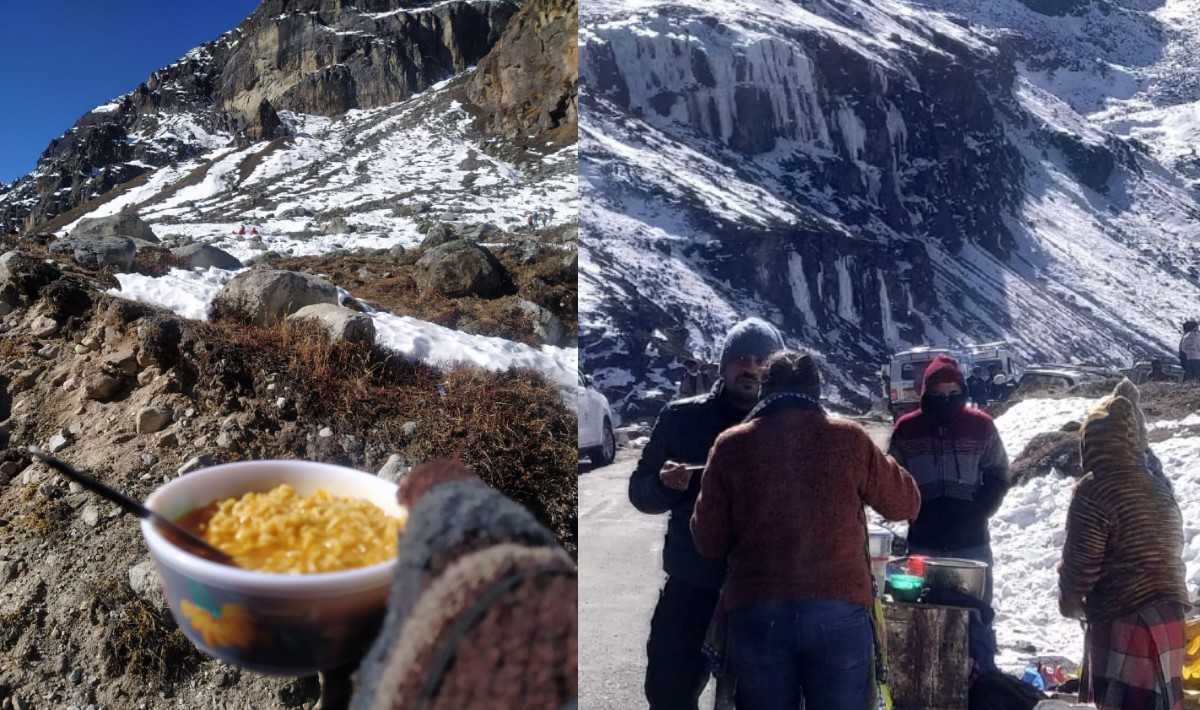 Also Read: I Stayed At This Homestay In Lachung Perched At 12,000 Ft That Isn't Traceable On The Internet
Which is your favourite Maggi spot in the mountains? Tell us in the comments section below.