Siddharth Agarwal, an aerospace engineering graduate from IIT-Kharagpur and environmentalist trekked along the length of one of the world's mightiest rivers, Ganga for two long years. Agarwal hails from a middle-class Marwari family, who chose activism after gaining a degree from IIT. With twin passions of cycling and photography, his journey on foot along Ganga was a special one. He spoke to the locals, collected stories of the majestic river, made interesting findings and even shot a documentary about the river. Trekking through river Ganga, here's what Siddharth found.
Siddharth Agarwal Walked Along The Length Of Ganga
While Agarwal belongs to a Marwari family, he grew up and currently lives in Kolkata. In college, he first cycled from Kolkata to Mumbai with a friend. The duo spoke to strangers and collected fascinating stories along the way. But Siddharth found that cycling was a fast mode of transport to connect to people. Once he trekked 700km across Rajasthan, and that experience sowed the seed for his next ambitious project- to trek the length of one of the world's strongest rivers, Ganga.
Also Read: The Ganga Trail: 7 Destinations To Witness The Holy River At Its Best
He Walked From West Bengal To Uttarakhand
In 2015, Siddharth started a non-profit NGO Veditum India Foundation. 'Veditum' translates to "understand". This foundation aimed to document and create public archives on significant environmental issues like water management. He also wanted to find out the state of India's rivers and the policymaking in those areas. That was when he funded his Ganga walk and a film through three crowdsourcing campaigns and raised around ₹6 lakhs. Over the next two years, Siddharth walked along the length of Ganga. He commenced his journey from Ganga Sagar in West Bengal and traced its source to the 13,000-foot-high Gangotri Glacier in Uttarakhand. More than 400 million people stay in the river basin.
Also Read: Tent City To Come Up On The Banks Of Ganga In Varanasi; Tourists Can Camp By The River
Walking Made It Easier For Him To Connect To Locals
According to a report by South China Morning Post, Sidharth Agarwal felt that the simple act of walking gave him a whole different perspective. It made it easier for him to connect to strangers. Initially few friends accompanied him on his journey in their vehicles. But he walked solo for the most part of the trip. With no fixed itinerary, he went with the flow, like the river. Most often, he depended on the kindness of strangers, who often mistook him for a sadhu or a mullah thanks to his flowing beard.
What Did Siddharth Agarwal Find During His Journey?
Before taking on the journey, while researching Ganga, Siddharth discovered that most news reports carried only the words of politicians or bureaucrats. He wanted to know the perspective of the holy river from the locals. Just like most people, Siddharth also knew about only major cities on the banks of Ganga like Allahabad or Varanasi. But during his walk, he came across many smaller cities like Hastinapur and Kannauj that had rich histories. In his words, the walk was both a lesson in ecology and the effects of development.
On speaking to fishermen, he realised that they faced threats like the building of dams and the difficulty in finding hilsa fish in certain months of the year. Agarwal also learnt about the endangered Indo-Gangetic dolphin, whose habitat is threatened by climate breakdown and cargo ships, using the route to travel. The already endangered Gangetic dolphin uses sonar waves to communicate, hunt and navigate. Walking along the Ganga, Agarwal realised that we all have a very skewed sense of what a river looks like. While we expect a river to look crystal clear, it's actually muddy due to the ecological profile of how to flows.
Also Read: Varanasi Authorities To Issue A Fine Of Rs 50,000 For Dumping Waste In Ganga
Huge Amounts Of Plastic Strewn Across Ganga 
His experience trekking along the Ganga opened his eyes to huge amounts of plastic strewn across the river. The sewage directly exited into the river. The apathy frustrated him. Further north, Agarwal met locals who fought the construction of Tehri Dam in Uttarakhand. The dam has led to the displacement of locals and it's a grave situation. But what struck him the most was how wide dry riverbeds were stretched ut and redirected for hydroelectric and irrigation projects. Through his film, Agarwal explores how the mighty river Ganga has been pulled in all directions possible for its most valuable resource, water.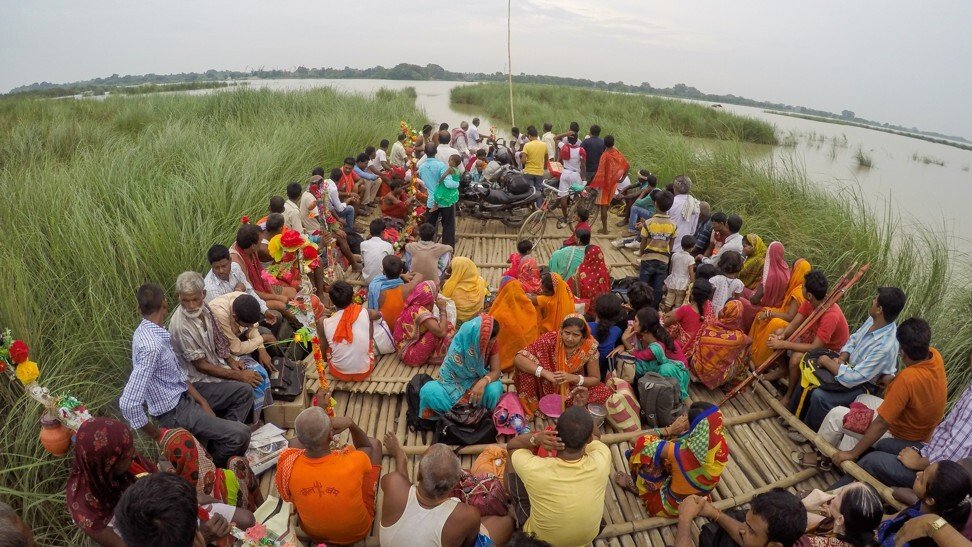 Also Read: My Unexpected Dehradun & Mussoorie Trip Took Me To The Ganga Aarti In Rishikesh
His Documentary Moving Upstream Will Be Screened In Film Festivals
This short article makes just a tiny attempt to show you Siddharth's fascinating 2-year journey along river Ganga. But his documentary Moving Upstream, will you a closer look from the start of his trek in June 2016 in West Bengal till the end of his journey in Gangotri, Uttarakhand. Along the way, you'd see his walks through the interiors of Bihar and Uttar Pradesh. The environmentalist commenced his trip with a film crew who travelled with him in a car. But by the end of the month, they left and he continued walking.
He shot the footage on a DSLR and GoPro. Patna filmmaker Shridhar Sudhir joined him on the last leg of his journey in Uttarakhand. Sudhir went on to become the director of the film, Moving Upstream, which will be screened at the SiGNS Film Festival in Kerala and other film festivals across India. His journey is indeed a special one that gives you a closer look into various issues climate change, endangering of animals and the effects of development on river Ganga.