Do you remember the times when you went riding on your cycle with a bunch of friends without a care in the world? Well, it's time to relive those fun days again but on a bigger and better scale. Cycling tours are emerging as a popular travel trend among many travelers. And to be honest, given the travel scenario in the forthcoming months, it is probably the most safest, cheapest and sustainable form of travel to undertake when leisure travel finally resumes in India.
Why Should You Go On A Cycling Tour?
Imagine cycling across snow-clad mountains, towering alpine trees and meandering rivers in the lap of the Himalayas. Or pedal across the beautiful coastline of India. Or even better across the stunning valleys of the North-East or among the picturesque coffee plantations of the South. Sounds dreamy right? Hold on, there's more.
Cycling is one of the easiest ways to keep oneself fit. Especially at a time when taking care of your health is a priority, both physical and mental, cycling is a perfect travel trend to engage in. It is known to improve heart health and works wonders for both the body and your mind.
Also before you think of it as a kind of a sport, hold on, it is more than just that. Cycling around the various landscapes of India, you get to take the path less-known, literally and figuratively. A luxury that road trips provide, but better when on a cycle. You can stop to meet the locals, indulge in banter, learn about their culture and even taste their local food. Something which most 'touristy' trips don't allow you to.
And lastly, at a time when travelling through other modes of transport seem risky, cycling becomes one of the easiest and safest ways for every traveler willing to go the extra mile.
What Will You Need?
Basic repair and maintenance kit – this includes spare inner tube, tire levers, patch kit, mini-pump, and a folding multi-tool
Rain covers
Water and/or  rejuvenating drink and light snacks
Helmet, elbow pads, riding gloves, jackets (depending on the weather conditions)
10 Best Cycling Tours In India
Now that we've convinced you as to why you must try a cycling tour once-in-your-lifetime, here is a list of cycling trails you must undertake.
1. Chennai To Puducherry
This route is one of the most easiest and scenic cycling routes in South India. Linking Chennai to Puducherry, the 150 km route passes through Mahabalipuram and is sure to enchant you with its breathtaking seaside views. Clear roads, gulmohar trees, beautiful beaches and the lush green of the East Coast Region will calm your mind and make it a ride to remember. Make sure you stop at the numerous beaches that you will come across. Stop. Breathe. Feel Grateful. Ride Along.
Once in Puducherry, you can take your time to explore the quaint French town, which is dotted with pastel-colored European-style villas, cathedrals and cafes. You can also peddle your way to Auroville and stay a day to two to take in that spiritual positive energy that the space emanates.
Difficulty Level: Easy
Duration: 1-2 days
2. Somnath To Diu 
Slightly challenging than the above East Coast trail, this 200 km route from Somanth to Diu is extremely picturesque. You will peddle through coconut farms, clear blue skies and also spot migratory birds. With the sea running along the route, the road is slightly rough and rugged but the view will make up for it. You can also take a detour and visit the Gir National Park, which is home to some majestic Asiatic lions. Another fun fact about Gir Forest Is That It Is Now Home To 674 Lions, 29% Higher From Last Year.
Also, when in Diu, don't forget to visit the Diu Fort, and indulge in some beach-basking.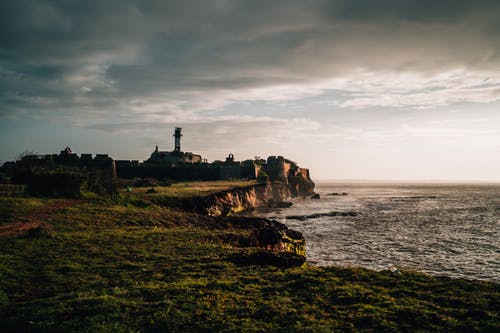 Difficulty Level: Moderate
Duration: 3 days
Also Read: Gujarat's Statue Of Unity Will Soon Become Plastic-Free
3. Rameshwaram
Rameshwaram is undoubtedly one of the best cycling routes in India. Open stretches, blue waters, and undulating roads will leave you spellbound. If you loved the views from the film Chennai Express, you will love this route even more. Also, en route, you must Visit This Hidden Spot Near Rameshwaram, Kathadi Beach: The Water Sports Hub Of India.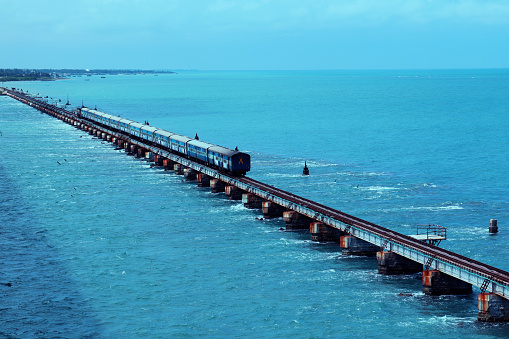 Difficulty Level: Moderate
Duration: 5 days
4. Mangalore To Goa
Another scenic adventure along the coastline, Mangalore to Goa on a cycle is a beautiful journey. You will again traverse through beautiful beaches and see quaint villages. You will also pass by waterfalls, temples and national parks, where you can stop and take in the beauty that is South India. One of the prettiest stretches along the route is when you'll find the Maravanthe beach on one side of the road and the Suparnika river on the other.
Also, once you reach Goa, doesn't mean you turn to the susegaad life. Continue cycling around Goa's heritage and cultural sites, churches as well as secluded beaches and you will definitely see Goa through a different leans altogether.
Difficulty Level: Moderate
Duration: 6 days
Also Read: Goa Is Now Open For Tourism But Here's All You Need To Know Before You Get There
5. Coorg To Munnar
Cycling in the Nilgiris is a different experience altogether. The serpentine roads, forests and hills will make for breathtaking views but will also pose its fair share of challenges. However, the coffee lover in you will be delighted as the numerous coffee plantations along the way will keep you fresh, energised and awakened and will definitely make it a ride to remember.
Difficulty  Level: Moderate
Duration: 7 days
6. Ahmedabad To Jaipur
Going further North, cycling from Ahmedabad to Jaipur will be seem like getting lost in rich history and culture. You will pass through desert highways that will leave you spellbound. You will also have the opportunity to pass through the magnificent Thar Desert, whose unending landscape will leave you gaping. Once in Rajasthan, you can admire the many forts and lakes, all of which will seem like one royal journey.
Difficulty Level: Moderate
Duration: 10-12 days
7. Shillong To Cherrapunji
The 60-km long stretch from Shillong to Cherrapunji is an unexplored yet gorgeous cycling trail in Meghalaya. Definitely one of the more difficult trails on this list, it works best with those up for a challenge. The hilly terrain, lush-green valleys, lakes and peaceful monasteries will be a treat to the eyes as well as the soul.
Difficulty Level: Difficult
Duration: 1-2 days
8. Gangtok To Nathu La 
One of the most beautiful trails in India, cycling from Gangtok to Nathu La is nothing short of magical. At a distance of 60 km from the capital of Sikkim, Nathu La pass is situated at an elevation which makes this ride the most challenging. Since the road is at an altitude of over 14,000 ft, the thin air and cold weather will test your endurance and motivation. But trust us, the unforgettable view will stun you and motivate you to get further.
Also, you will require a permit before you set on this journey since is close to the Indo-Chinese border and is often used by the army.
Difficulty Level : Difficult
Duration: 1 day
9. Bomdila To Tawang
This beautiful yet challenging route through Arunachal Pradesh will take you through mountain passes, rice plantations and lush forests. It will test your strength but it is not all that difficult. Also, the amazing views of lush greenery and snow-topped mountains will work as a much-needed break.
Difficulty Level : Difficult
Duration: 1 day
10. Manali To Leh
Manali to Leh will be one of the most life-changing trips you'll ever take in your lifetime. You will travel to Leh by passing through the famous Rohtang pass, which is at a height of at a height of 3978 m. The snow-capped mountains, paradisaic lakes, clear blue skies will leave you gasping for air literally. So ensure that you undergo sufficient training and make yourself fit enough. The ride is sure to test your endurance skills and push your limits but will be one hell of a ride. Also, don't forget to fuel yourself up with the numerous Maggi stalls along the way.